From Real-Time AI Signals to Advanced Analytics: YPRED Offers Unbeatable Market Advantages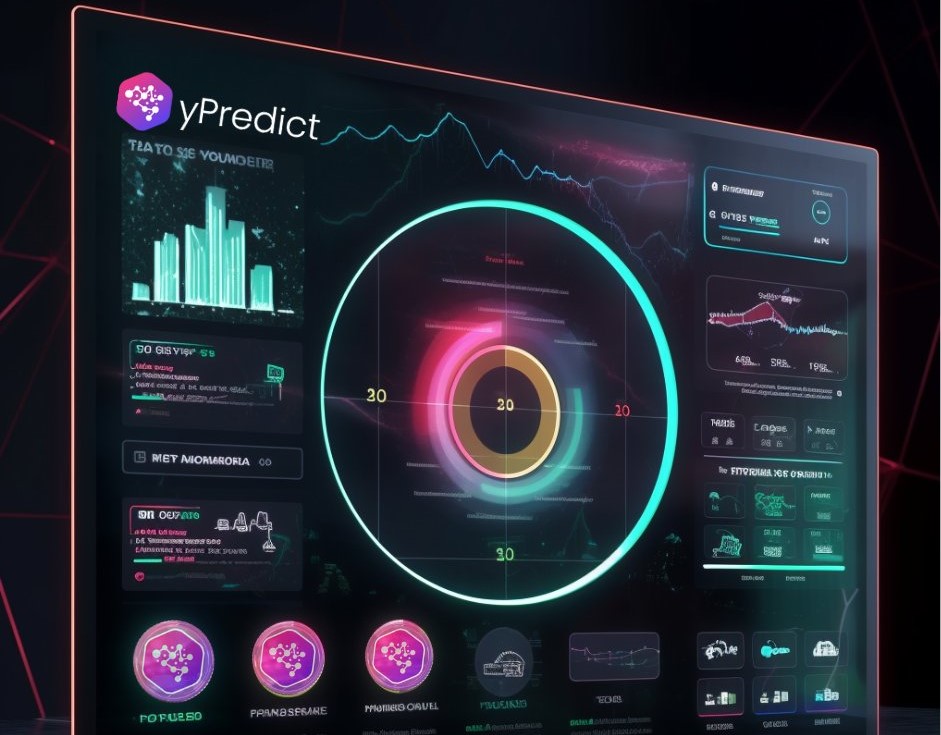 As traders and investors grapple with market unpredictability, yPredict, a project currently under development, is preparing to offer a blend of traditional and modern analytical tools. The project has raised an initial $3.69 million for its native token, $YPRED, and is setting the stage for beta releases in late 2023 and full releases in 2024.
yPredict promises to assist market participants in making more informed decisions by combining established statistical models with advanced artificial intelligence technologies.
How yPredict Utilizes AI Signals for Financial Forecasting
yPredict will use a blend of old and new analytical methods. On one hand, it employs traditional models like ARIMA (Autoregressive Integrated Moving Average), a model that has been effective since the 1970s in various sectors, including finance.
On the other, yPredict is integrating more recent AI models such as Long Short-Term Memory (LSTM) and Support Vector Machine (SVM) for real-time AI signals.
ARIMA focuses on analyzing past values to identify patterns that could be useful for future forecasting. LSTM, a type of recurrent neural network, is particularly good at predicting time series data. It can analyze historical prices to provide insights into future price trajectories.
Meanwhile, SVM is a supervised learning model used for both classification and regression tasks. For price prediction, yPredict uses SVM to predict continuous target values based on past data.
The combination of these various models will give traders and investors a multi-faceted approach to understanding market trends. This blend of traditional and modern techniques is what sets yPredict apart from other financial forecasting tools.
Democratizing Financial Analytics Beyond AI Signals
Beyond offering advanced AI signals for price prediction, yPredict has another goal—to make predictive analytics accessible to everyone. Developers are working on a subscription-based Prediction Marketplace that will allow financial data scientists to earn money from their models, and traders can subscribe to models that align with their trading strategies and assets.
This is a significant shift from the usual scenario where only major hedge funds have access to high-quality quantitative analysis.
Future Developments and Roadmap
As for what's next, yPredict has a roadmap that starts with the beta launch of its Repository and Marketplace in the third quarter of 2023. By the end of the year, beta releases of the Marketplace and Analytics products are also expected. Full versions of these platforms are planned for 2024.
These platforms will offer various trading tools. For example, yPredict Analytics will provide sentiment analysis and pattern recognition to understand market dynamics. The yPredict Terminal is designed to focus on swift trade execution and diverse order types, and the yPredict Repository will serve as a hub for historical market data that can be used for model building.
By designing products that cater to different stakeholders such as developers, quants, and traders, yPredict plans to offer insights throughout the trading lifecycle, from model building to execution.
In short, yPredict is an upcoming project that seeks to change how we think about financial forecasting by using a blend of traditional statistical models and modern AI signals. With a well-planned roadmap and a focus on making predictive analytics accessible to all, yPredict is a project to watch in the coming years.
Disclaimer: Crypto is a high-risk asset class. This article is provided for informational purposes and does not constitute investment advice. You could lose all of your capital.
---