Evil Pepe Meme Coin Pumps 2x at Launch as Trading Volume Swells to $1.6m in Minutes – Is This the Next Pepe, 100x Gains Coming?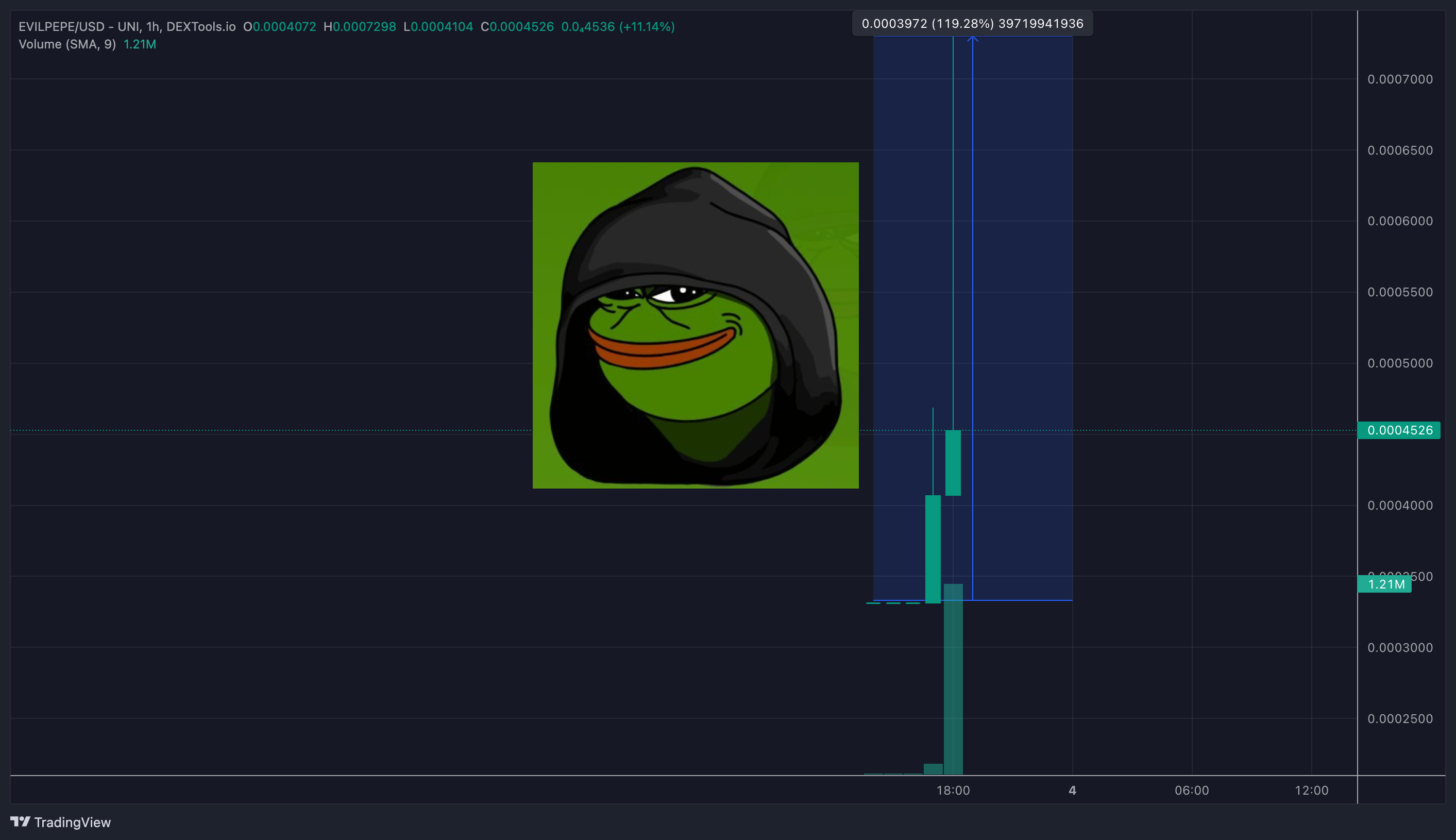 Evil Pepe coin has just listed on Uniswap and pumped 2x in minutes, giving early investors a 100% profit.
The original Pepe coin made a 73,500% gain from its listing price on Uniswap to its all-time high, which it registered on May 5, and Evil Pepe could do the same.
Those still holding the Pepe meme coin after buying at the list price are sitting on a return above 20,000%.
Proft-taking by presale buyers has opened up room for new money to come in, and another surge higher is expected over the next hour or two.
Many who missed out on the Pepe bonanza will be watching the progress of Evil Pepe carefully as they eye the chance to make a fortune.
Big buyers coming out for Evil Pepe coin
Crypto Tony, with 326k followers on Twitter is buying Evil Pepe, as our many other A-list alpha callers:
Evil Pepe Coin ($EVILPEPE) has a total token supply of 6,660,000,000, of which 90% was made available to the public in the presale before the coin listed on decentralized exchanges (DEXs).
The large token allocation in the presale means Evil Pepe was one of the fairest initial coin offerings, with no insiders with huge bags to dump after the coin lists.
Evil Pepe liquidity locked for three months
The outstanding 10% of the token supply is subject to a three-month liquidity lock, a feature that demonstrates the team's commitment to the project and, for buyers, shows there is zero chance of a rug pull by nefarious developers.

You can see for yourself the Evil Pepe coin 3-month lock transaction on Etherscan.
Evil Pepe is riding the wave of continuing enthusiasm for meme coins in the crypto space. Priced at $0.000333, $EVILPEPE has a market capitalization of $2,217,780.
To ensure you don't miss the listing date and to keep up-to-date with all the Evil Pepe coin news, follow the Twitter account and join the Telegram channel.
The smart contract has no blacklist function, and the contract is in the process of being renounced. There is also no buy or sell tax.
$EVILPEPE targets a market cap of $100 Million – 50x gains incoming
As a consequence of that success, a family of Pepe coins has been spawned, of which Evil Pepe is the latest standout addition.
Evil Pepe calls on buyers to "embrace their evil side" to help the coin achieve its near-term goal of a market cap valuation of $100 million.
Reaching that milestone would see $EVILPEPE increasing in value by 50x, or 5,000%. That is an ambitious target, but for Pepe meme coins, it is not such a challenging task.
Pepe, for starters, has a market cap of $514 million at the current time. Even Pepe 2.0, at its height, recorded a market cap of nearly $97 million.
Indeed, it should be remembered that when it printed its all-time high, it saw its market cap soar above $1 billion, a remarkable achievement for a coin only a couple of weeks old.
$PEPE made millionaires overnight – could Evil Pepe do the same
YouTuber Michael Wrubel, with 300k-plus subscribers, thinks Evil Pepe could be the next Pepe coin. DYOR, Listen to what he has to say in the video below and make your decision.
Buying Evil Pepe could be a lifechanging trade, but don't invest what you can't afford to lose.
You can buy $EVILPEPE direct on Uniswap or at sites such as DexTools.
Disclaimer: Crypto is a high-risk asset class. This article is provided for informational purposes and does not constitute investment advice. You could lose all of your capital.

---