Dogecoin, Swords of Blood, and Stacks will be the Biggest Crypto Winners in 2023
Disclaimer: The text below is a press release that is not part of Cryptonews.com editorial content.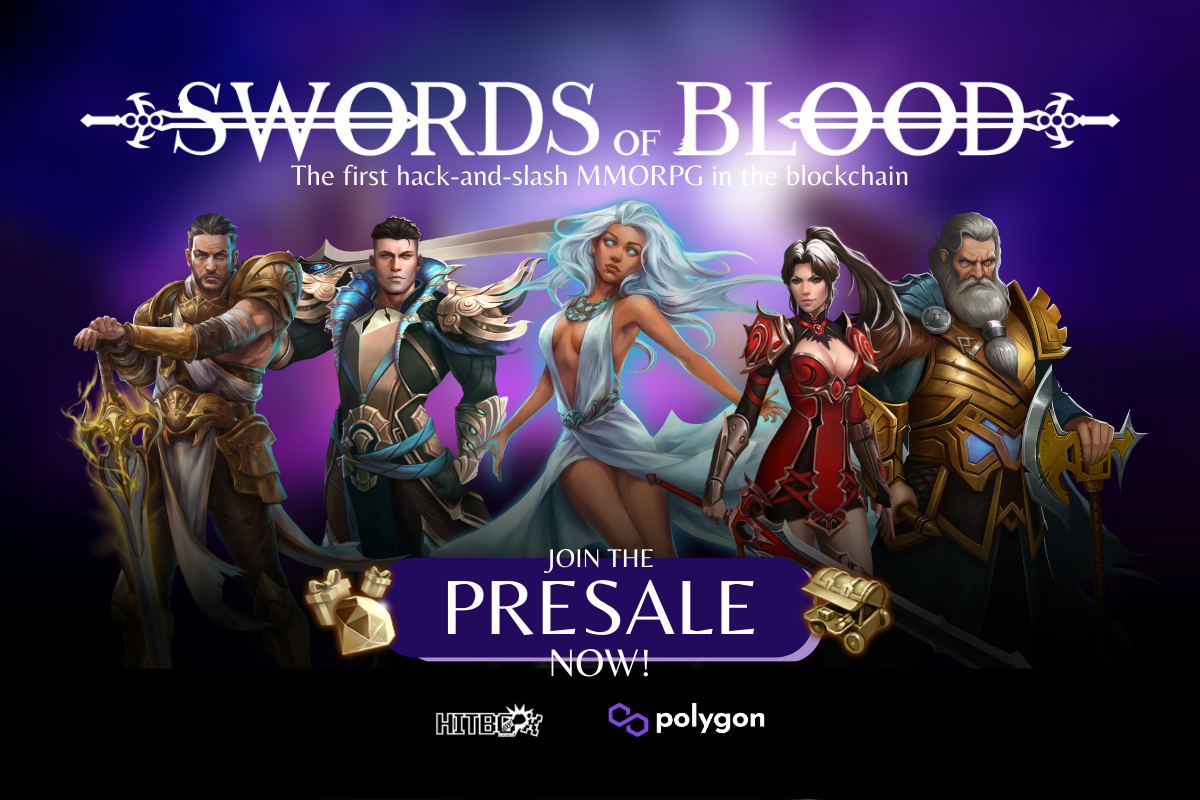 Which cryptocurrencies are going to bag the highest returns for early investors this month? Listed below are three candidates which excel in terms of popularity, market relevance, and blockchain innovation.
1. Dogecoin – Meme Coin that can Take the Crypto Market to New Heights
If you're looking for an adventurous investment in 2023, with lots of steep ups and downs, it doesn't get better than Dogecoin. As long as Dogecoin is on Elon Musk's radar, it will continue to surprise shrewd investors with delightful returns throughout this year. And if you've been keenly following Elon Musk's tweets, you should know that's the case.
The meme coin, which started the year at a modest $0.070, has climbed to $0.07916 in April. Not a lot? Well, that's the thing about meme coins. You need to know where your entry and exit points are before putting your money into these volatile assets. To give you a better perspective, Dogecoin was selling for $0.099 just a few days back on 4 April 2023, capitalizing on its hype. And on 10 March 2023, it was selling for $0.063. Investors who bought the dip had the last laugh.
Given that Elon Musk is the head of Twitter, and he has a weirdly obsessive affection for the meme coin, it has a bright road ahead this year. We can expect more steep hikes and plunges in the coming days, which can take it to $0.5 at one point. So, if you have time to keep track of the market and plan your entries and exits, Dogecoin is an excellent crypto investment this year.
The fact that Dogecoin is increasingly adopted as a payment cryptocurrency on online websites adds to its appeal.
2. Swords of Blood – The Most-Awaited Blockchain Game of 2023
The key highlight of Swords of Blood in the crypto gaming market crowded with flimsy projects is that it has already proven its mark. The free-to-play, play-to-own game is built on the framework of an award-winning title that was first released by Artifex Mundi in 2019 and now boasts a 4.8 out of 5 average user rating. It has over 4M downloads on App Store and Play Store.
The gripping gameplay and usability of the game need no more testimonies, but Hit Box Games LLC believes that it has room for improvement. Their reimagined version of the game will take it to more users, powered by crypto incentivization and advanced Web 3.0 features.
Here is a quick look at what to expect:
Payment support from multiple chains and fiat currencies via SphereOne and Simplex.
A play-to-own rather than a play-to-earn game.
Brand new and more engaging F2P mechanics
4, 8, and 16-player PVP modes
New soundtrack featuring members from many famous acts such as Disturbed and Trivium.
Weapons specialist and creator, Ben Abbott, from the famed show forged in fire.
E-Sport Micro Tournaments
Community-based gaming with guilds and clans
G.U.T.'s, game utility tokens (NFTs) that can be used in-game and sold in the open market.
150-hour game expansion pack, the narrative of which is written by members from Cyberpunk, The Witcher, Gord, Command and Conquer, and Ghost Recon.
Community-based communication areas
4 million USD planned in added development
40% of all tokens and payments brought in will be managed by the project's market-making team.
Set in the World of Ezura, which is now crumbling under the leadership of a cunning evil, the gameplay opens plenty of creative possibilities. The epic quest of might and revenge has the potential to onboard a wide range of gamers.
Swords of Blood's Web 3.0 MVP will be launched in 2023, marking a key milestone in its path to becoming a community-centered MMORPG in Web 3.0. The playable MVP will feature asynchronous game modes like Main Campaign Dungeons in three difficulty levels, Monster Hunt Dungeons, Boss Fortress, Daily Dungeons, Event Dungeons, Challenge Dungeons, and Shattered Maze in the first stage.
Despite being free to play, Swords of Blood offers premium content for experienced gamers which can be unlocked using $SWDTKN tokens. As the native cryptocurrency of one of the most-awaited games of 2024, $SWDTKN has a large growth potential. The fact that $SWDTKN is in the presale stage with attractive discounts expands its room for returns. The presale is designed in a way that rewards early investors with the highest profits.
3. Stacks – Blockchain Innovation at its Best
Third on our list is Stacks. Not surprising, since the token started the year at $0.2 and sells at $0.7488 now. But for some bizarre reason, it remains unsaturated. It has a lifetime ROI of 521.89% and a market cap of $1,029,190,763.
Stacks is building a Bitcoin Layer for smart contracts, which, as you can imagine, is a game changer. It will power decentralized applications and allow transaction settlements on the Bitcoin blockchain.
The Proof of Transfer consensus mechanism and Clarity language introduced by the platform have already won the approval of developers. Within a short space of time, it has managed to capture the attention of the market with its technical competence.
As the ecosystem grows, the market cap of Stacks can explode anywhere up to $3-5 billion in a few months.
---