Dogecoin Price Prediction as DOGE Shoots Up 13% – Can it Reach $1 by 2023?
Disclosure: Crypto is a high-risk asset class. This article is provided for informational purposes and does not constitute investment advice. By using this website, you agree to our terms and conditions. We may utilise affiliate links within our content, and receive commission.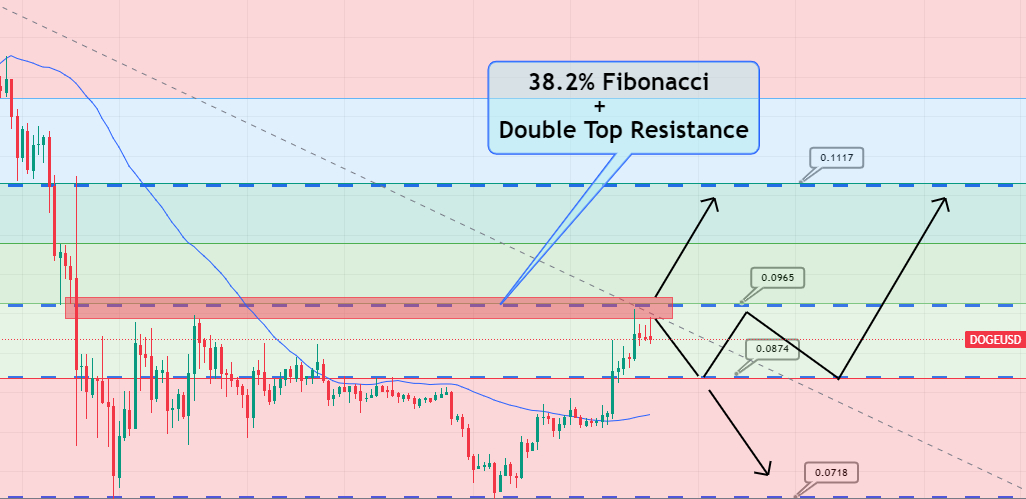 Dogecoin price prediction is positive, as it has risen above $0.0870 and is now trading at $0.0910. Dogecoin, on the other hand, is struggling below the $0.0965 resistance level, which is extended by a 38.2% Fibonacci retracement level and a double top resistance level.
Let's take a closer look at the market's fundamentals and technicals for Dogecoin.
Elon Musk May Launch Phone
On November 26, Elon Musk responded to a tweet from podcaster Liz Wheeler, who was concerned that Twitter would be barred from the stores where the two manufacturers of smartphone operating systems sell apps using iOS and Android software under Elon's new policy.
If Apple & Google boot Twitter from their app stores, @elonmusk should produce his own smartphone. Half the country would happily ditch the biased, snooping iPhone & Android. The man builds rockets to Mars, a silly little smartphone should be easy, right?

— Liz Wheeler (@Liz_Wheeler) November 25, 2022
In a tweet, Musk expressed his concern that it does not happen. If he is wrong, he has promised to build his own phone.
I certainly hope it does not come to that, but, yes, if there is no other choice, I will make an alternative phone

— Elon Musk (@elonmusk) November 25, 2022
A new operating system and an online application store may also be included.
Elon Musk says he would make his own smart phone if app stores ban Twitter https://t.co/hreZpLCTmy pic.twitter.com/Of0YrGLPv9

— The Hill (@thehill) November 26, 2022
DOGE/USD has risen dramatically since Elon Musk, Twitter's newly appointed CEO, announced that if the company encounters difficulties in the major mobile app stores, he will release his smartphone.
Speculations of Dogecoin integration with Twitter
Dogecoin (DOGE) continues to take center stage as Elon Musk, also known as "The Dogefather," transforms Twitter. Since Musk acquired Twitter on October 27, 2022, the market value of the top dog memecoin has more than doubled, rising from $10.6 billion to a whopping $21.77 billion on November 1, 2022.
Furthermore, with 396 million users worldwide, DOGE is the second-largest Proof-Of-Work (PoW) cryptocurrency after Bitcoin. Musk has praised Dogecoin as the "people's cryptocurrency" and even joked that Dogecoin could be used to pay for his online polls. In this scenario, Twitter users will be able to reward creators with popular cryptocurrencies such as Dogecoin DOGE.
Elon Musk, the co-founder of PayPal will turn Twitter into the ultimate digital payment platform with #Dogecoin at the center.

This is where Twitter is heading

— FunnyMike (@1funnymike) November 23, 2022
Musk confirmed it on Twitter Spaces, adding "Dogecoin to the moon!" before confirming his support for the canine coin with his trademark wild dancing moves.
Furthermore, the adoption of Dogecoin as the default payment method on Twitter may break the ice for crypto adoption. The news that Twitter may soon integrate Dogecoin has boosted the DOGE/USD price.
Switch to Proof-of-Stake
David Gokhshtein, the founder of Gokhshtein Media and a cryptocurrency podcaster, believes Ethereum co-founder and Twitter CEO Elon Musk will collaborate to upgrade Dogecoin.
I feel that we'll all see Vitalik and Elon working together to somehow upgrade $DOGE.

— David Gokhshtein (@davidgokhshtein) November 25, 2022
Gokhshtein tweeted on November 25 that he expected Musk and Buterin to work together on Dogecoin. He assumed it because Ethereum's co-founder had previously suggested in his comments that the original meme token should use the proof-of-stake consensus mechanism.
Musk has already been working hard to make DOGE more powerful.
Vitalik has the legal authority to approve such requests. It is a member of the Dogecoin Foundation as well as an observer and co-creator of Ethereum.
Dogecoin Jumps 10% As Gokhshtein Claims Buterin And Musk Will Work Together For DOGE / Crypto influencer David Gokhshtein has told his nearly 700,00 followers on Twitter that he expects Ethereum co-founder Vitalik Buterin and and Elon Musk to join forces to upgrade Dogecoin.
Th… pic.twitter.com/C87QO8S1Cg

— jjz.eth (@somethingpool) November 25, 2022
Furthermore, the switch to PoS is mentioned in Dogecoin's roadmap.
Such a change could increase Dogecoin's appeal, especially among cryptocurrency users concerned about the environment. It could have a positive impact on the DOGE/USD price.
Dogecoin Price & Tokenomics
Dogecoin's current price is $0.0919, with a 24-hour trading volume of $971 million. Dogecoin has increased by over 4% in the last 24 hours. CoinMarketCap currently ranks #8 with a live market cap of $12 billion. The circulating supply is 132,670,764,300 DOGE coins.
On Saturday, the DOGE/USD opened the day at $ 0.0894 and surged to place a high of $0.09539 and a low of $0.0890.


The DOGE/USD has completed a 38.2% Fibonacci retracement at $0.096 on the 4-hour chart. At the same time, the double top pattern is extending resistance to Dogecoin, and candles closing below this level are likely to cause a bearish correction.
On the downside, the immediate support for DOGE is at $0.087, and a break below this can expose the price to $0.0800 or $0.0717.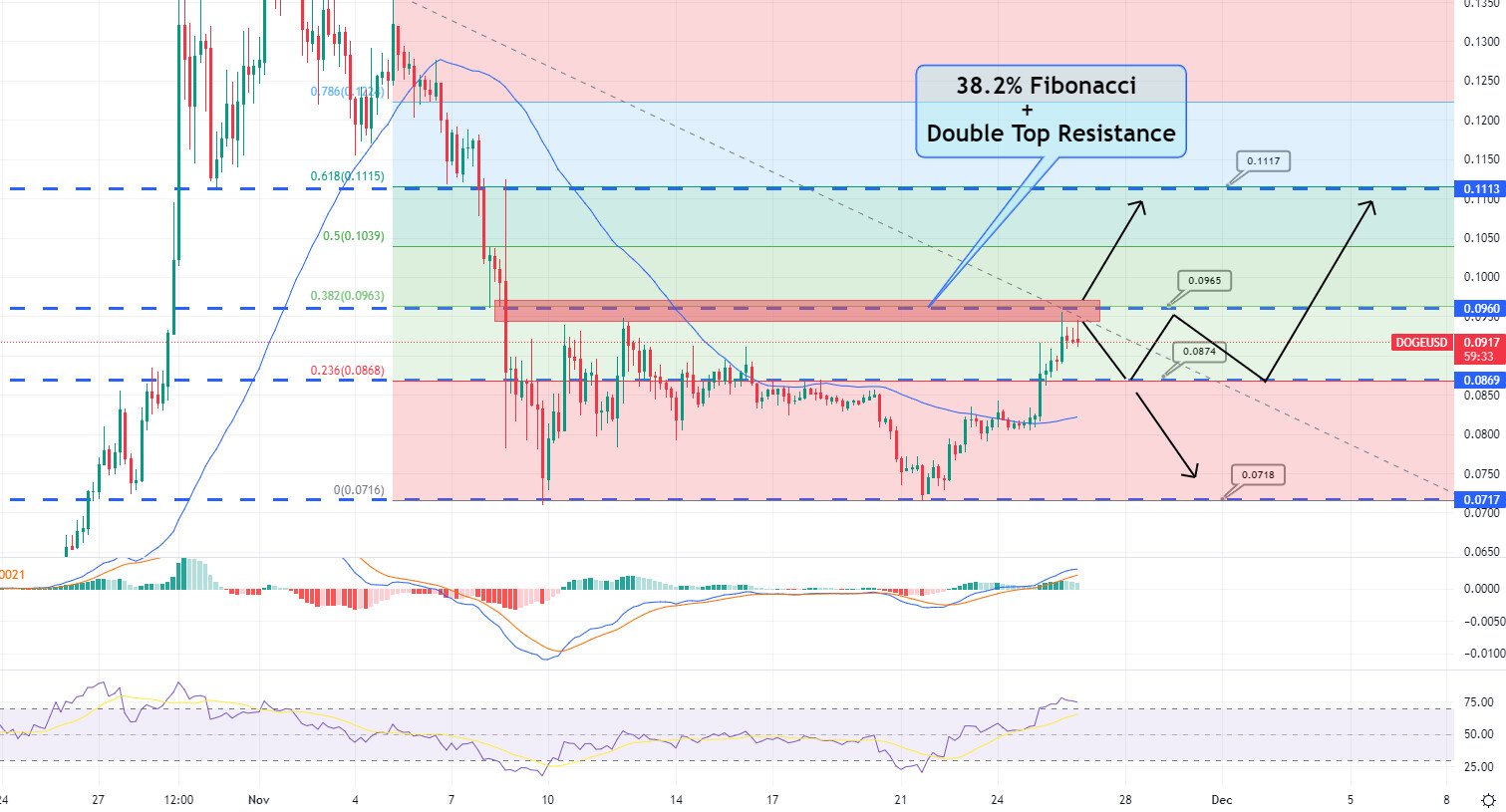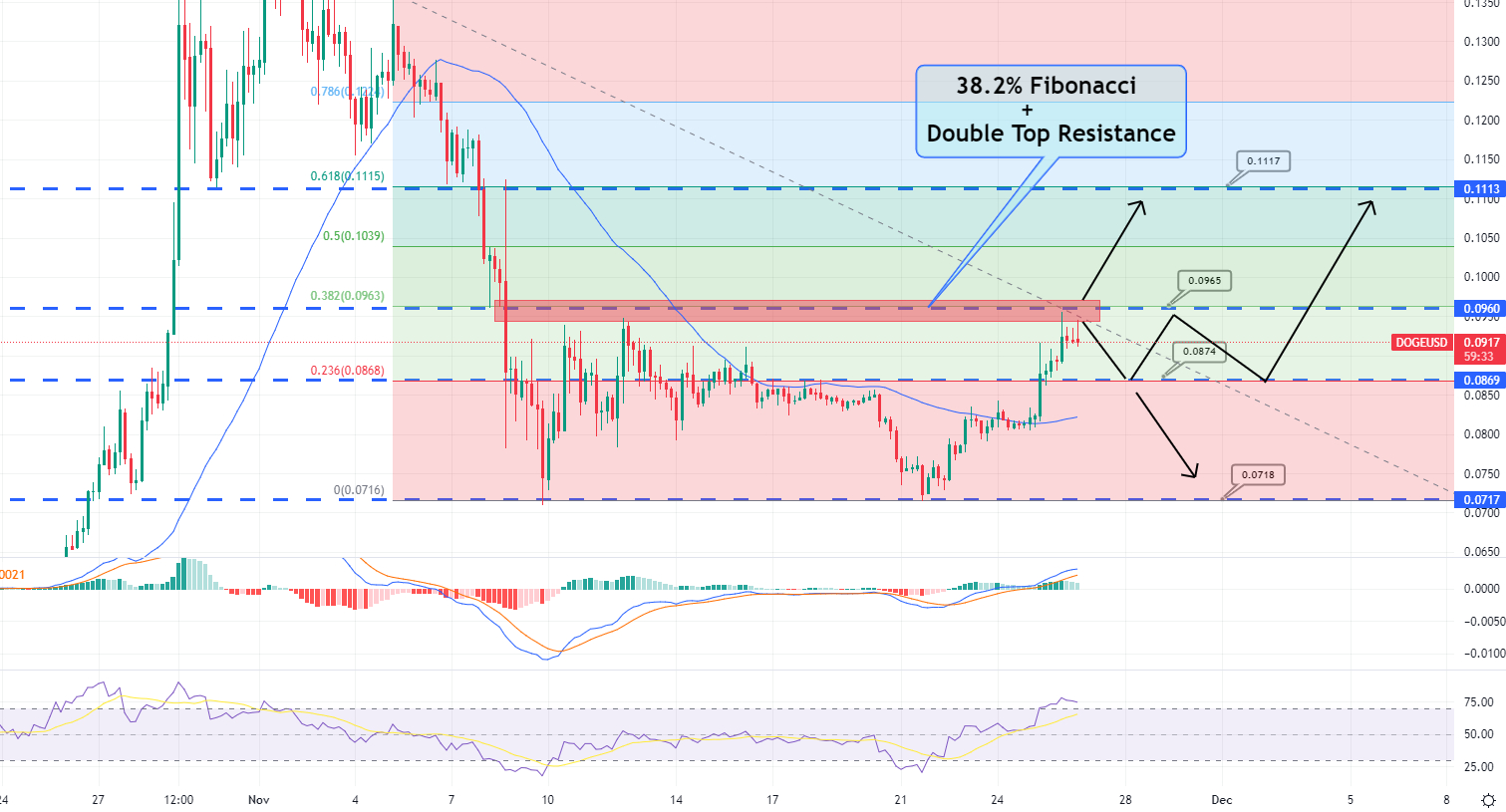 Since then, leading technical indicators such as the relative strength index (RSI) and moving average convergence divergence (MACD) have remained in a buying zone, indicating the possibility of a bullish trend continuation.
In addition, the 50-day moving average is keeping the DOGE bullish above $0.0800. Therefore, increased demand for DOGE could cut through the $0.0965 resistance level, exposing DOGE to the $0.1040 or 0.1115 levels that have been extended by 50% and 61.8% Fibonacci retracement, respectively.
Keep an eye on the $0.0965 level, as it will determine Dogecoin's future price movement.
Dogecoin Alternatives
Dash 2 Trade
Dash 2 Trade, a platform for crypto trading intelligence and signals, has piqued investors' interest after raising $7 million in just over a month. As a result, the D2T team has decided to call it quits at stage 4 and lower the hard cap target to $13.4 million. The team has decided to lower the hard cap for two reasons.
To start, the key presale analytics dashboard was finished ahead of schedule, allowing for an earlier deployment and the immediate allocation of presale investment funds toward marketing efforts.
Second, and linked to the first point, the market has evolved, making Dash 2 Trade's services appropriate for retail investors looking to conduct extensive due diligence in the aftermath of the FTX incident.
Dash 2 Trade has also been a success, with two exchanges (LBank and BitMart) promising to list the D2T token after the presale closes.
1 D2T is now valued at 0.0513 USDT, however, this will rise to $0.0533 in the last stage of the sale. D2T has so far raised almost $7 million by selling more than 82% of its tokens.
Calvaria (RIA)
Calvaria is a brand-new bitcoin gaming company with the potential to dominate the play-to-earn market. The demand for cryptocurrencies in order to play has proven to be a substantial obstacle to widespread Web3 game uptake, according to Calvaria (RIA) developers. As a result, the game will offer both free-to-play and pay-to-win options, with the free-to-play variant available to gamers without bitcoin.
Since its inception, the presale has raised approximately $2 million and is now in its final phases after the developers decided to finish it early. The presale was to run ten phases and offer 300 million RIA tokens.
Calvaria has further information available here.
However, the creators have decided to revise the presale offer, which implies that stage 5 will be the last opportunity for investors to purchase RIA before they are released to the public market, where prices are expected to increase.
RobotEra (TARO)
TARO is another project that has the potential to change the gaming community and the virtual world. The asset's presale has only recently begun, but there is already considerable interest from prospective buyers. The platform's native token is TARO, and it is a blockchain-based metaverse where users can create avatars and explore a digital world.
Players in RobotEra can buy land, build on it, and expand their regions with various infrastructures. The goal is to create a metaverse in which everyone feels secure in their personal property holdings.
TARO has so far raised more than $240,000, and one TARO is currently sold for 0.020 USDT (it can be purchased with either USDT or ETH), but this price will rise to $0.025 during the second stage of its presale, which will begin soon.
Visit RobotEra (TARO) Presale Now
---