Dogecoin Price Prediction as DOGE Sees $900 Million Trading Volume Come In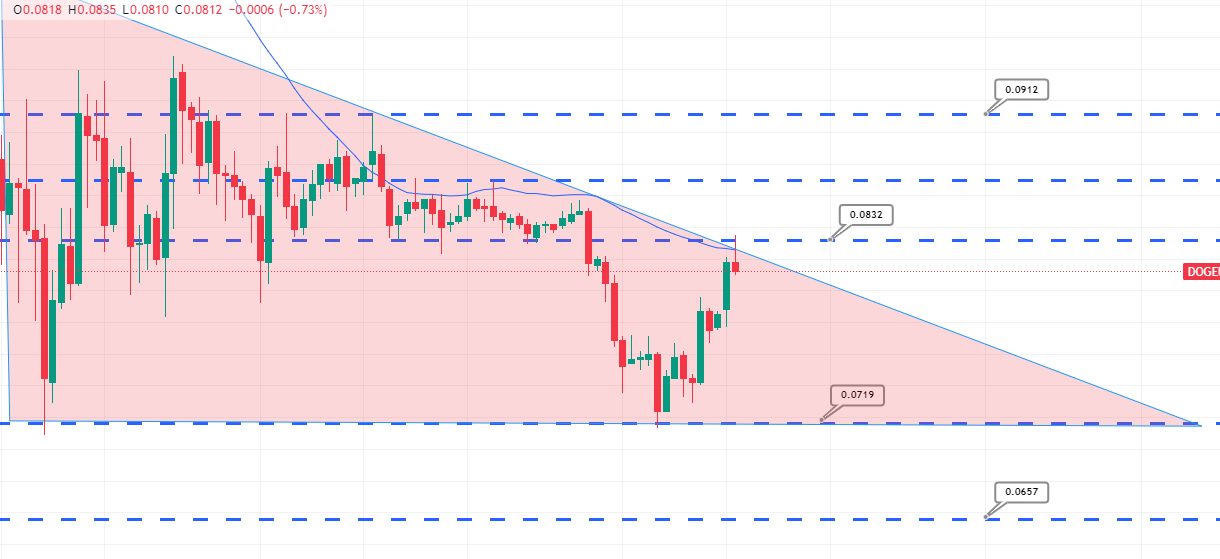 Dogecoin price prediction is positive, as it has risen above $0.0720 and is now trading at $0.0810.
However, the downward trendline and 50-day moving average continue to obstruct the upward movement.
Elon Musk; The Supporter of DOGE
Elon Musk's decision to pay a whopping $44 billion for the social media giant Twitter has been one of the year's biggest surprises. The acquisition sparked a number of debates, including one about Big Tech censorship. However, it has also raised concerns about Dogecoin's future.
It's also worth noting that the value of the DOGE/USD has skyrocketed in response to each tweet from Musk promoting it.
For example, he continued to refer to DOGE as the "people's crypto" throughout 2021, causing the coin's value to skyrocket by 4,000%.
Furthermore, Musk's Tesla, an American multinational auto and renewable energy company began accepting DOGE as payment for its goods, including their "Giga Texas" belt buckles and miniature automobile replicas, in January 2022.
DOGE can also be used to purchase Burnt Hair, Musk's recently released joke fragrance.
The famous memecoin DOGE is directly related to Elon Musk's acquisition of Twitter, and the outcome of the story may have a significant impact on cryptocurrency adoption.
DOGE is still under pressure, however, due to the uncertainties surrounding Twitter.
Genesis Faces Bankruptcy Risk
The crypto market came under new selling pressure on November 22nd, when crypto-focused investment bank Genesis warned of a potential bankruptcy risk due to its exposure to the recently insolvent exchange FTX.
Genesis Global Trading, one of the market's leading lending institutions, has warned that it may go bankrupt, becoming the latest victim of the crypto meltdown this year.
According to reports, the bank is looking for up to $1 billion in additional funding. It has not, however, found a supplier. However, the company stated that it has no immediate plans to file for bankruptcy.
According to reports, it has requested funding from Apollo Global Management and the major exchange Binance. Binance, however, rejected it due to potential conflicts of interest.
The announcement comes just one week after Genesis' lending arm halted withdrawals due to a bank run caused by concerns about its exposure to FTX.
According to earlier this year's reports, Genesis owed Alameda Research, the cryptocurrency trading desk closely associated with the FTX bankruptcy. Furthermore, according to reports, it had lost profits as a result of its early this year exposure to the bankrupt hedge fund Three Arrows Capital.
As the repercussions of FTX's failure began to spread, another cryptocurrency lender, BlockFi, declared bankruptcy earlier this month. Several other smaller firms have also halted withdrawals or stopped providing some lending and staking services.
As investor sentiment weakened, total crypto capitalization fell below $800 billion, with numerous cryptocurrencies suffering significant losses. The DOGE/USD fell in value as a result of the news.
Dogecoin Price & Tokenomics
Dogecoin's current price is $0.081, with a 24-hour trading volume of $605 million. Dogecoin has increased by over 7.5% in the last 24 hours. CoinMarketCap currently ranks #9, with a live market cap of $10 billion. The circulating supply is 132,670,764,300 DOGE coins, and the maximum supply is not known.

On the 4-hour chart, the DOGE/USD pair has formed a descending triangle pattern, with resistance at $0.0832 and support near $0.075 and $0.0710. The downward trendline of the descending triangle is extending strong resistance at $0.0832, and a bullish breakout of this level can expose the DOGE coin to $0.0870.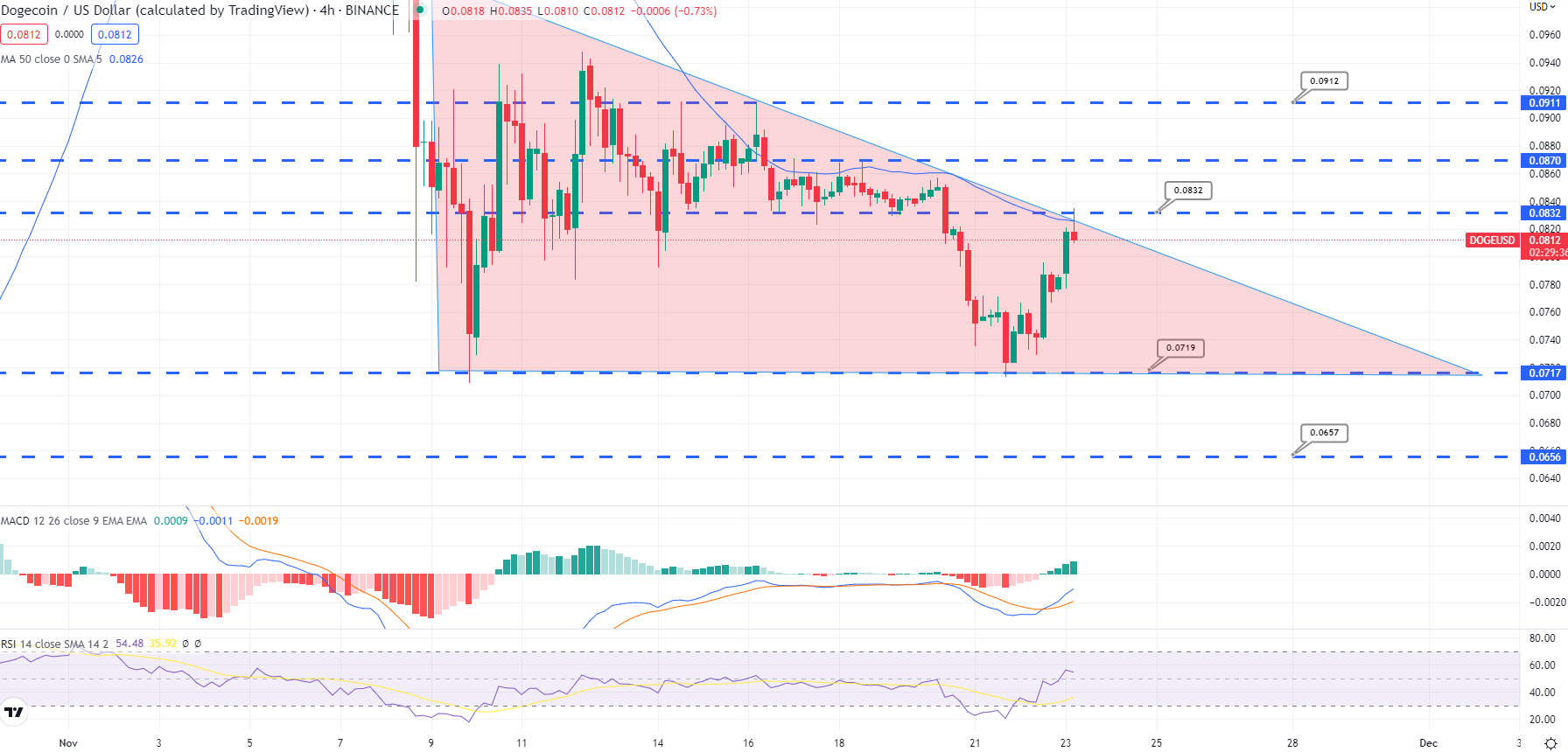 A further breakout of $0.0870 could open up additional buying opportunities until $0.0910. However, before Dogecoin can trade bullishly, it must first cross above the 50-day moving average at $0.083.
Dogecoin Alternatives
Dash 2 Trade
The Dash 2 Trade presale raised more than $6.8 million, and the D2T token will be listed on LBank exchange, according to the project team.
These achievements came just over a month after the company's public token sale began, indicating strong investor interest in its trading intelligence platform.
Calvaria (RIA)
Calvaria is a new cryptocurrency gaming project that has the potential to dominate the market for play-to-earn games. Two major barriers to widespread Web3 gaming adoption have been identified by Calvaria developers.
While investors see the potential of Web3 games, users do not. Calvaria's presale is picking up steam, with the project already in stage 4 of 10 and nearly $1.9 million in funding.
Investors are flocking to the rapidly growing GameFi project as the price of the native RIA token rises significantly at each presale stage. Tokens cost $0.025 each in stage 4, but by stage 5 the price had risen to $0.03, and tokens cost $0.055 in stage 10.
RobotEra (TARO)
TARO is another project that has the potential to change the gaming community and the virtual world. The asset's presale has only recently begun, but there is already considerable interest from prospective buyers. The platform's native token is TARO, and it is a blockchain-based metaverse where users can create avatars and explore a digital world.
Players in RobotEra can buy land, build on it, and expand their regions with various infrastructures. The goal is to create a metaverse in which everyone feels secure in their personal property holdings.
RobotEra also has a shared metaverse where users can participate in a variety of activities such as sports, concerts, and other competitive events. The first stage of TARO's presale has begun and is rapidly selling out.
Visit RobotEra (TARO) Presale Now
---