Dogecoin Explodes on Binance Listing News
Major cryptocurrency exchange Binance will list Dogecoin (DOGE), a "joke" cryptocurrency that became a serious one, today starting 12:00 PM (UTC).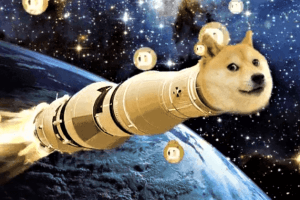 DOGE skyrocketed after the news more than 24% and at pixel time (07:49 UTC) trades at USD 0.0039. It's up by more than 20% in the past 24 hours.
DOGE price chart: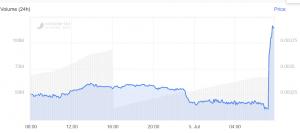 The exchange will open trading for these pairs: DOGE/BNB, DOGE/BTC, DOGE/USDT, DOGE/PAX and DOGE/USDC.
The coin, which is the 27th largest cryptocurrency by market capitalization, is listed on almost 80 exchanges, while the fex exchange is responsible for the biggest share of the trading volume (34% in the past 24 hours).
Dogecoin came into existence as an attempt to popularize a "lighter" approach to cryptocurrencies among the audience that was fed up with technicalities and stories of controversies. By choosing a Doge meme of the Shiba Inu dog as the coin's mascot, its creators Billy Markus and Jackson Palmer wanted to put the fun back in the world of cryptos, while offering the same level of functionalities as the bigger and more serious players. This means that Dogecoin can be used for peer-to-peer payment, conversion, trading or mining, just like its more "serious" counterparts. The team behind Dogecoin launched its creation in December 2013.
Last year, Binance CEO Changpeng Zhao said he is no longer involved in deciding which coin to list. He added back then that there is no hard metric to be listed, but if a project has a good working product and has users, they will list it.
---