Despite Bumpy Start, Second Life Rival Decentraland Expects Thousands of Players
Shortly after Ethereum-powered virtual-reality platform Decentraland opened its gates to users, its native MANA token started a race downwards, at one point reaching a double-digit drop before rebounding. Moreover, the platform's interface and features have triggered frigid reactions by a number of players.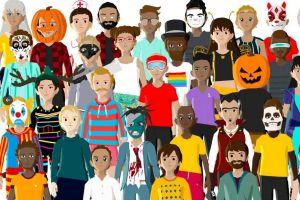 Decentraland bears many similarities to the popular online virtual world Second Life, but it requires its users to use crypto to secure avatar names and buy virtual land plots. This said, it is free of charge to explore this decentralized online metaverse.
At pixel time (15:56 UTC), MANA, ranked 101st by market capitalization, trades at c. USD 0.057 and is down 3% in the past 24 hours after the price rebounded from USD 0.054, reached earlier today. Also, the drop yesterday followed a period of bullish growth, as MANA jumped by 70% in the past month. The price is up 59% in a year.
MANA price chart: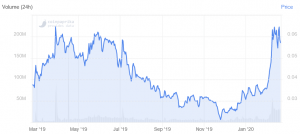 The platform celebrated its launch by kicking off a four-day Treasure Hunt with advertised prizes worth more than USD 100,000. However, users have complained about various technical issues that could spur negative publicity for the virtual world.
On Twitter, numerous users complained of the platform's sluggish loading and the lack of instructions that would make their gaming experiences more enjoyable.
"1. Loading is ENDLESSLY LONG on my high end PC and super fast internet. 2. No instructions of whatsoever. 3. When I change location, my character outlook is RESET," wrote one gamer.
The commenter's opinion was seconded by another user who complained that "the game doesn´t work properly. I get kicked out from the game every 2 minutes or the loading screen freezes".
Other critical remarks were directed at Decentraland's Treasure Hunt which some commenters accuse of not being what the platform claims it is.
"Prizes are a myth. I spent over two hours at launch wandering around the genesis plaza, a few other public plazas, a large area of non-plaza spaces, and even a bunch of the 'must-visit' locations mentioned on dcl-plazas and couldn't find a single thing," wrote one Reddit user.
However, another user disagreed, stating: "Not so. I found 3 or 4 NFT's in boxes in the Christmas Village. I'm sure there's still a lot of stuff hidden around. I'm surprised at how massive everything is.
In either case, Decentraland investors say they're optimistic about the project.
"We believe it's inevitable that people will spend a significant amount of time in virtual worlds," Mark Murphy, chief operating officer of Digital Currency Group, an investor in Decentraland and Mana, told Bloomberg.
Meanwhile, Ari Meilich, project lead for Decentraland, said that the community hopes to have several hundred thousand users within a year. Second Life, which launched in 2003, has about 750,000 users.
"The users are in control of the digital assets, which is something that hasn't happened before," Meilich told Bloomberg. "We think that over time players will gravitate toward games where they are more in control."
____
Learn more: Non-Fungible Tokens: What Is It and What's Been Happening in 2019
---