DeFiDrop Offers a Safety Net against Dangers in Alternative Financial System
The text below is an advertorial article that was not written by Cryptonews.com journalists.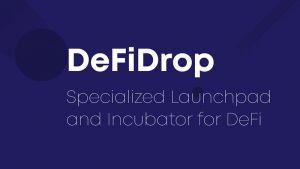 The point in Bitcoin has always been to disrupt the international financial system. Satoshi Nakamoto (Bitcoin's father) was very clear about his ambitions. His new digital currency is supposed to do away with banks and fiat currencies in the long term. But, unfortunately, we are not there yet.
In the beginning, the financial system didn't even notice Bitcoin. Later on, they laughed at it. Now they are denouncing it. Is it because they fear the potential they see in it to put them out of business? Most probably not yet, but the cryptocurrency trade does worry them.
The Bank of International Settlements (BIS) had something to say about cryptocurrencies in general and Bitcoin in particular. But, unfortunately, it wasn't very flattering.
Let's start at the beginning, however. Every country (or association of countries like the European Union) has a central bank that issues the legal tender of the land. In the US, it's the Fed, for instance. This organ issues the local currency and is also in charge of monetary policy.
Those central banks of the world came together to create the Bank of International Settlements. You can think of it as the world's meta central bank - the bank that can be the central bank for the world's central banks. This organization is 91 years old, and while it's far removed from street economics, it remains an influential authority when it comes to money.
BIS had something good to say about blockchain technology. First, it encouraged the world's central banks to create their own digital currencies to help the public maintain its trust in the monetary system. Then it recognized that the world is not the same and that alternative currencies are becoming attractive for the people.
BIS declared that cryptocurrencies are not money at all. Instead, it said they are speculative assets that can remove some friction in financing criminal activities such as money laundering, ransomware attacks, and other crimes.
The new report said it has a few redeeming things about Bitcoin but that too much energy is wasted in keeping the blockchain going.
The international organization also decried stablecoins. Stablecoins are cryptocurrencies that are supposed to be more reliable because fiat currencies of some type back them. But in the BIS' point of view, these new cryptocurrencies are only as suitable as the governance that backs them up, implying it's not that good a thing.
A third problem is the possible future involvement of big data companies in the financial business through cryptocurrencies (Facebook issuing Libra is the foremost example in everybody's mind). BIS said that as these companies advance in offering financial services, the data they already have about their users can empower them too much.
The panorama is pretty bleak in the BIS view. The proposed solution is for every central bank to issue a digital currency to be used along with its own fiat money.
But Bitcoin is not the only threat to the planet's central banks. Over the last year, a new kind of doing business has exploded that derives from blockchain technology. It's known as Decentralized Finance (DeFi).
This sector of the cryptoverse is not new at all, but it was off everybody's radar because it moved only small amounts of money. Not anymore. As DeFi shows the world other ways to profit from crypto besides pair trading, the new cash flows in and new users too, and it's growing exponentially. BIS knows this too, and it doesn't like it.
Enter DeFiDrop
However, the DeFi industry already knows what BIS is just discovering, and it has solutions for those problems. DeFiDrop is one.
DeFiDrop is a specialized launchpad and incubator for new DeFi projects. As DeFi explodes, new projects are popping up all the time, but there is no platform explicitly tailored for DeFi, especially for anonymous teams. DeFiDrop streamlines the process for teams that want to hit the DeFi industry hard, providing them with security.
DeFiDrop gives new DeFi teams the ability to implement DROPS (that's the name of the utility cryptocurrency issued by the platform) staking/LP staking programs, token buybacks or burns, burns using IDO, DROPS stakers governance for IDOs, cross-chain IDOs and fees, and cross-chain token listings and atomic swaps.
So how is DeFiDrop related to the BIS's objections to DeFi and cryptocurrencies? It helps investors to bring their money safely into DeFi projects created by anonymous teams.
The platform audits each project it hosts and makes it easy for projects and investors to join the IDO process. So this solution, also based on blockchain and cryptocurrency technology, addresses most of the objections in BIS's report, thus making things safe for all the parties involved.
The latest projects on DeFiDrop.org are Simlancer, PancakeLock, and ApeTools. The trio was announced over the last months, which shows that the platform is already attracting new projects.
Every new launch helps DROPS holders with their asset's value. The good news for them is that there are at least a couple of IDOs expected for the next 30 days, so stay tuned!
---