Curve Price Prediction as CRV Rallies on Hopes Hacker Will Return Funds – Here's Why CRV's Outlook Remains Murky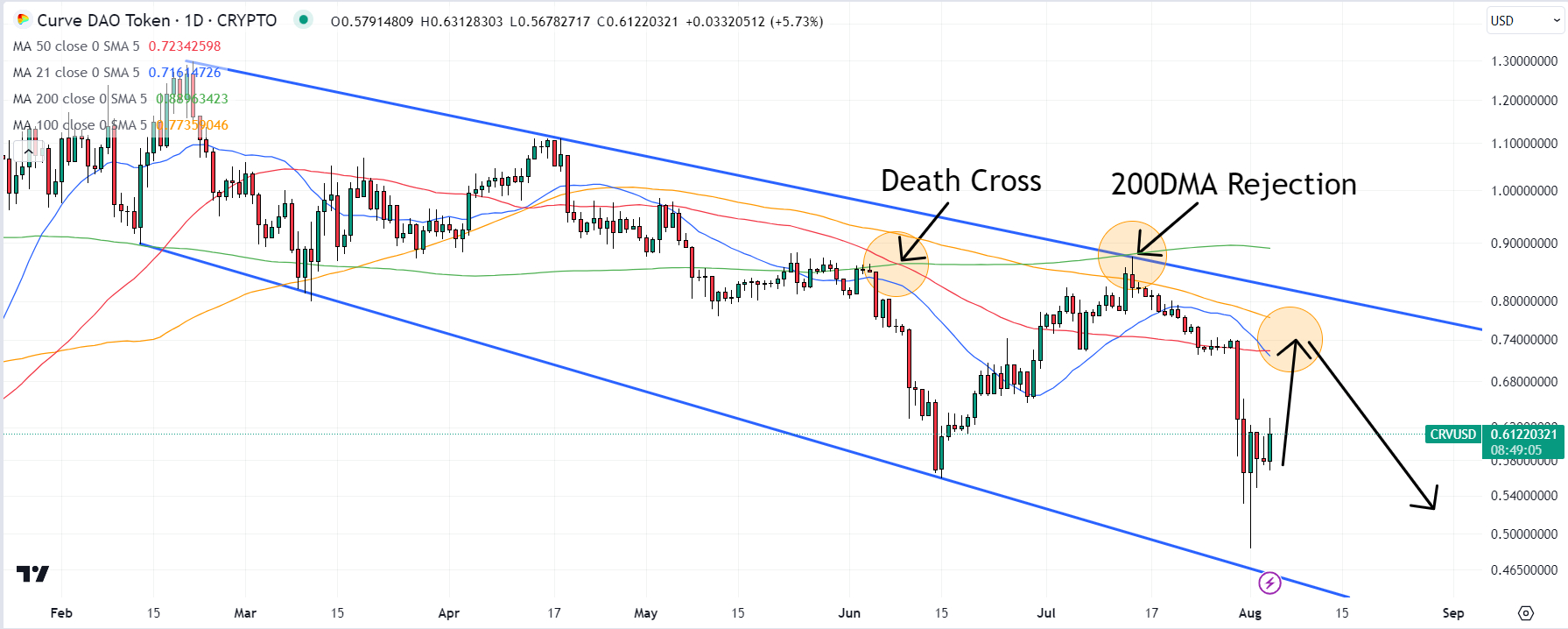 Curve (CRV), the native token of the Curve Finance decentralized exchange (DEX) and the governance token of the Curve DAO (decentralized autonomous organization) rallied 7% on Friday to $0.61 after a hacker who stole millions in funds from the exchange and other decentralized finance (DeFi) protocols began returning funds.
The hacker, who drained over $50 million in funds from Curve Finance, Metronome and Alchemix on Sunday, has now returned $8.9 million to Alchemix, as per on-chain data presented by Etherscan.
While the hacker is yet to return funds to Curve Finance, the move to refund Alchemix is spurring hopes that funds will soon be transferred back to the DEX, which, prior to Sunday's hack, had been regarded as a stalwart of the DeFi world.
But it is unclear whether a refund from the hacker can solve the major problem being faced by Curve Finance.
The hack, which was allegedly conducted by using an exploit in the Vyper programming language used by Curve (and other DeFi protocols), has dealt a devastating blow to confidence in the DeFi protocol, because it exposed a weakness that revealed DeFi investor funds not to be as secure as they once thought.
As a result, DeFi investors have yanked their crypto capital from the protocol – as per DeFi Llama, Curve Finance's total value locked (TVL) was last at $2.7 billion, down from $3.7 billion prior to the hack.
The hack will likely deal lasting damage to investor confidence towards the protocol, which could hamper its future TVL growth, which could be a major headwind for the value of CRV.
Curve Finance issued a 6th of August deadline for the hacker to return the funds in exchange for a 10% cut and a promise that no criminal action will be pursued via an on-chain message.
If that deadline is missed, Curve Finance has threatened that they will pursue the hacker with the full force of the law.
Price Prediction – Where Next for Curve (CRV)?
Even if Curve does now face long-term headwinds as a result of lack of trust in the protocol from DeFi investors, who are a crucial source of liquidity, the hacker returning the funds should ease the short-term risk that one of CRV's biggest whales gets liquidated on his long CRV position.
Curve Finance's founder Michael Egorov is thought to have borrowed as much as $80 million against his CRV holdings across different decentralized finance lending/borrowing protocols like Aave.
Traders had marked up $0.368 as a potential level that could trigger a liquidation of Egorov's CRV collateral that he has used to borrow $50 million in stablecoins on Aave.
If the liquidation is triggered, Aave would be forced to sell Egorov CRV collateral and some are questioning whether the CRV would be able to absorb this sell pressure.
Assuming the hacker does return the funds to Curve Finance (a big assumption), CRV could continue its recovery back towards its pre-hack levels around $0.74.
However, whether it can overcome significant resistance in this area in the form of its 21, 50 and 100-Day Moving Averages (DMA) is another thing.
Indeed, CRV remains trapped within a long-term downtrend and faces long-term technical selling pressure after early June's "death cross" and mid-July's rejection of a test of the 200DMA.
Crypto Alternatives to Consider
The long-term outlook for CRV is murky.
For those looking for a better possibility of near-term gains, one high-risk-high-reward investment strategy to consider is getting involved in crypto presales.
This is where investors buy the tokens of up-start crypto projects to help fund their development.
These tokens are nearly always sold very cheap and there is a long history of presales delivering huge exponential gains to early investors.
Many of these projects have fantastic teams behind them and a great vision to deliver a revolutionary crypto application/platform.
If an investor can identify such projects, the risk/reward of their presale investment is very good.
The team at Cryptonews spends a lot of time combing through presale projects to help investors out.
Here is a list of 15 of what the project deems as the best crypto presales of 2023.
Disclaimer: Crypto is a high-risk asset class. This article is provided for informational purposes and does not constitute investment advice. You could lose all of your capital.
---