Crypto Trading Signals Platform yPredict Secures $3.5 Million in Funding for AI-Based Predictive Models – How Does it Work?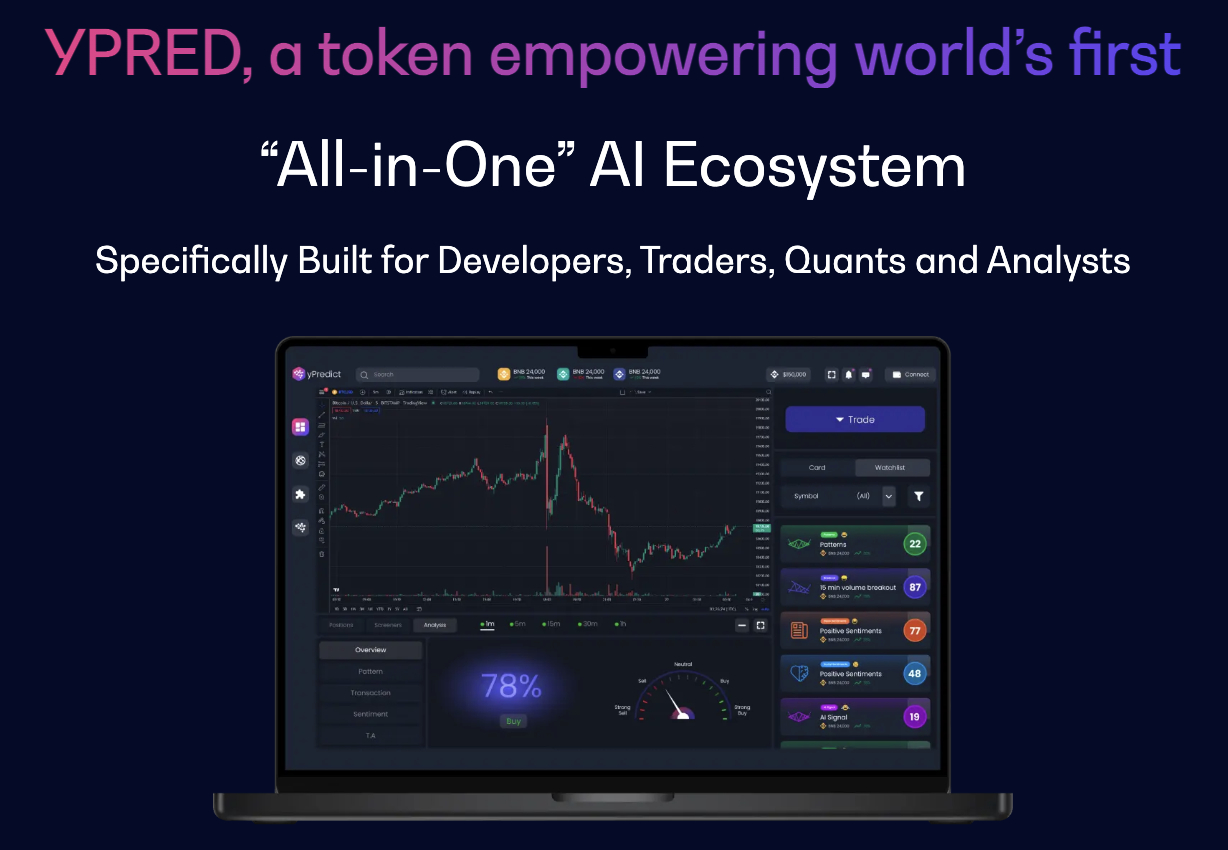 The age-old debate rages on—Can human intuition ever be truly replaced by machine insights? yPredict, a promising project in the blockchain domain, is positioning itself to offer an answer. While traditional trading methods rely heavily on human analysis, yPredict brings a touch of sophistication with its AI-driven analytics, hinting at a future where machines might just have the upper hand.
With recent funding achievements, yPredict has proven its appeal to investors. The platform has successfully amassed $3.56 million, with an average daily raise of $11,880.53, placing it among the best crypto presales.
Understanding the yPredict Ecosystem
yPredict is in the process of developing a suite of user-friendly trading features, augmented with advanced AI analytics, focused on crypto and SEO analysis. The platform's development is being financed through the presale of its native $YPRED token.
The token will be integral to yPredict's web3 ecosystem, offering a myriad of benefits to its holders, including potential staking rewards and discounts on yPredict's tool suite.
Out of the 100 million $YPRED tokens, 80% are available for public presale. Currently, in its seventh stage, the tokens are priced at $0.1 each. With the next funding milestone approaching, the price is expected to see an uptick to $0.11. Later in the year, a listing across cryptocurrency exchanges at a rate of $0.12 is anticipated.
A Glimpse into yPredict's Offerings
At its core, yPredict envisions creating an AI-driven crypto price prediction and analytics platform. Their Litepaper explains their mission---providing traders and investors access to a range of AI-backed signals, pattern recognition, and sentiment analysis based on news and social media. Its vision is backed by predictive models and insights crafted by a select group of AI developers.
Additionally, yPredict is extending an invitation to AI enthusiasts, offering a beta version of its platform. Alongside, the platform is designing a unique marketplace for Machine Learning developers to list their predictive model subscriptions.
Expanding the AI Horizon
yPredict doesn't limit itself to just crypto trading analytics. They're venturing into creating AI tools for content teams. Their Backlink Estimator tool, introduced recently, witnessed an overwhelming response with over 5,000 requests within the initial 24 hours. This demand led to a revised pricing model, charging $99 per query.
Those who participated in the presale are entitled to special privileges, including unlimited access to the Backlink Estimator and upcoming tools. yPredict is also working on a collaborative SEO-friendly content editor named WriteMingle.
Additionally, yPredict has hinted at releasing a content solution tailored for medium to large content teams in the foreseeable future.
The Role of $YPRED in the AI Ecosystem
$YPRED is a gateway to the services yPredict offers. With staking yields and discounts on tools, $YPRED token holders will have multiple incentives. For transparency, yPredict allocates the remaining 20% of tokens to liquidity (10%), treasury (5%), and development (5%).
yPredict's journey offers a refreshing glimpse into the evolving role of AI in trading. As they continue their developmental phase, the crypto community watches with interest. Platforms like yPredict are certainly carving out a space where advanced analytics and human intuition can coexist.
Disclaimer: Crypto is a high-risk asset class. This article is provided for informational purposes and does not constitute investment advice. You could lose all of your capital.
---