Crypto Trading Platform Launchpad XYZ Turbocharges Offering With 7,000% Alpha Calls, Presale Buyers Get 20% Token Bonus And Premium Access NFTs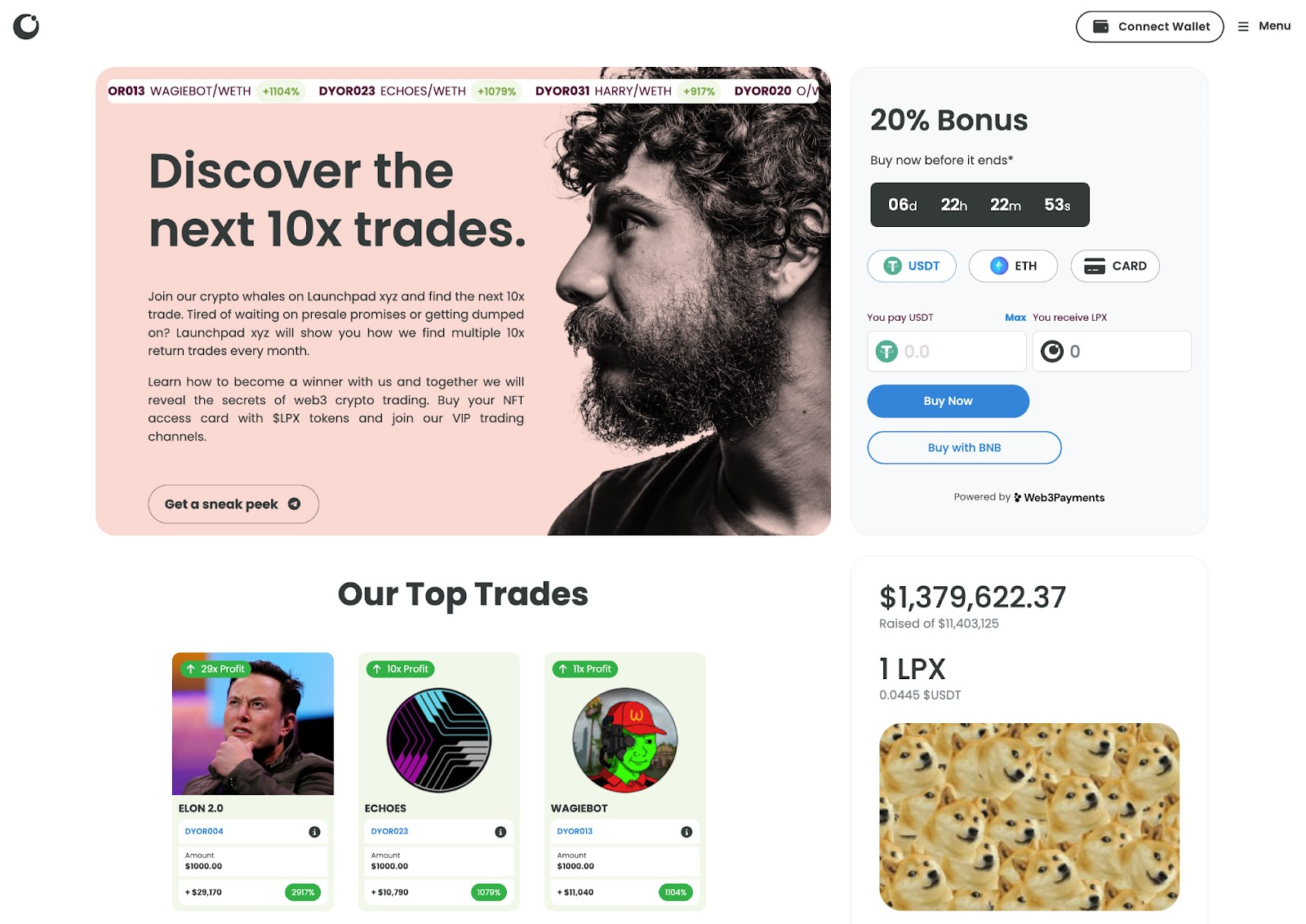 Wednesday, August 23, 2023 – If you are looking for the next 10x crypto trading opportunity, joining the turbocharged Launchpad xyz presale is a must, with its alpha call group earning traders up to 7,000% returns.
Today Launchpad xyz relaunched its website to showcase changes to its presale that incentivizes platform adoption over the pump-and-dump approach found elsewhere in the crypto presale space.
To that end, Launchpad xyz today is introducing a 20% bonus for all who have already contributed to the presale and for new buyers too.
However, new buyers must move fast because the token bonus drops 1% every seven days.
From today the team has also introduced exclusive NFT-based five-tiered premium access passes for presale buyers, depending on how many tokens are purchased.
The presale has raised an impressive $1,379,622 at the time of writing. But with news of the token bonus and the VIP NFT passes landing today, the run rate of the fundraising is sure to accelerate, so buyers will need to bear that in mind.
$LPX token is priced at $0.0445 and will stay the same for the duration of the presale.
For a limited time get free access to in-the-money alpha calls
And as a teaser of what the full-blown product will be offering its users, the alpha call group on Telegram is free for the duration of the presale. To join the group, click on the 'get a sneak peek' button above the fold on the new homepage
The beauty of the open Telegram group is that prospective buyers of the $LPX token can see a real-time demonstration of the power of the 100 metrics and data points that the team is bringing to bear behind the scenes to create their setups and calls.
According to data shared on a blog from the team, published earlier today, the alpha group has delivered 23 100%-plus trade setups so far, eight 1,000%-plus setups, and the best-performing call returning 7,000% this week.
The top alpha was a buy call on LINQ on August 10, identified when the price was 0.006114. Launchpad is no simple signals service - they have a mission to teach everyone how to generate as much yield from Web3 as possible. So it's up to users when to enter after doing their own research. Each of these alpha calls gets a reference name stating with DYOR, so the LINQ cal l was DYOR54, for example.
In addition to the alpha calls, there is general trading advice, such as judging when to close positions and take profits, as well as up-to-the-minute marketing-moving news and actionable information on trending coins.
As the project blog points out, you could make back the funds contributed in the presale over the next 30 days:
"If you use this alpha to learn and make your own trades — it's very easy to recover whatever you contribute to our presale within 30 days. Many have already."
In a clever move to incentivize platform adoption, access to the range of VIP alpha groups will be delivered to users via an airdropped NFT – token holders must retain this NFT to keep access to the alpha group. There's a tier for all user types, from basic to pro traders.
You may not be a pro trader yet, but if you contribute the required amount ($25,000), you can still join the group by getting the 'elon' pass for pro traders.
Alternatively, you want to put some skin in the game and see how it goes, so you contribute $200 at presale to obtain the Shiba NFT pass, suitable for new traders.
Launchpad xyz delivers AI-powered full-spectrum crypto trading
Powering Launchpad xyz is a multi-faceted suite of trading features that together make its unique selling point in the market.
Platform onboarding begins with Apollo, the AI chatbot that will help you create a trading framework based on your own risk profile, market sentiment analysis, news, and actionable insights. Individually tailored setups from experienced traders are also provided. All this is delivered by Launchpad xyz's bespoke Large Language Model AI.
Next, access the high liquidity superfast Launchpad xyz trading terminal so you never miss a money-making opportunity.
In this all-important endeavor of providing users with a trading edge, Launchpad xyz is working with some of the crypto industry's leading liquidity providers to ensure trades never fail to execute.
There is also a fully featured education offering to help users understand how the market works and the key factors to be aware of to inform your trading, such as risk control and learning how to avoid the psychological pressures that can distort decision-making.
Finally, Launchpad xyz has also developed its own proprietary innovative ranking system called Launchpad Quotient.
LPQ leverages more than 400 data points in its analysis of social, financial, and market data. Powerful machine learning AI enables the system to intelligently rank diverse digital assets, whichever sector they may operate in.
Launchpad xyz's 5 NFT passes each come with their own utility packages
Depending on your risk profile, experience, and investment goals, there is an NFT pass to match all customer requirements, as shown below:

$50

Basic level: Doge

$LPX token allocation

Weekly market summary email

Basic Telegram channel access

With purchases from $100 or more of $LPX tokens get your NFT access card and join our VIP trading channels.



$200

NFT pass level: Shiba

For new traders – Move your trading game up to the next level with our analytics, weekly market summary and 1 trade insight per week.

$LPX token allocation

NFT passcard drop

Weekly market summary email

Main Telegram channel access

1 minimum LPQ validated trade per week
$500

NFT pass level: Pepe

For casual traders – Get more advanced analytics on the big market moves before anyone else and 2 trade insights per week.

$LPX token allocation

NFT passcard drop

Weekly market summary email

Main Telegram channel access

2 minimum LPQ validated trades per week
$5,000

NFT pass level: Vitalik

For advanced traders – All the trading alpha from our dedicated VIP Telegram channel plus analysis, market data and 5 trade insights per week.

$LPX token allocation

NFT passcard drop

Weekly market summary email

VIP Telegram channel access

5 minimum LPQ validated trades per week
$25,000+

NFT pass level: Elon

For professional traders – Exclusive perks and VIP access to the founders. All the trading alpha from our dedicated VIP Telegram channel plus analysis, market data and 5 trade insights per week.

$LPX token allocation

NFT passcard drop

Weekly market summary email

VIP Telegram channel access

5 minimum LPQ validated trades per week

Special investor updates

Unlimited access to our launch

Exclusive private community

VIP AMA with founder

Exclusive ALPHA-only insight
Launchpad xyz is building a Web3 portal to take crypto mainstream
While Launchpad XYZ features all the tools a trader could ever need, the scope of the platform goes well beyond purely catering to crypto investors.
Launchpad is building an all-in-one Web3 platform. This is how the website describes its mission: "Launchpad xyz makes Web3 human by simplifying a complex world into one familiar home. Discover how things work, what the risks are, and how to operate safely."
Given the enticing pitch and excellent market fit of the project, it is not surprising that some top influencers are backing the $LPX coin.
For instance, YouTube crypto analysts Michael Wrubel and Crypto Gains, with hundreds of thousands of subscribers, are urging their communities to check out the project.
Launchpad xyz is certainly ambitious in its goals, as its roadmap reveals. From a gaming hub to a decentralized exchange, Launchpad xyz is positioning itself as the one-stop shop for accessing digital assets and the utility they unlock.
There are plans for a Token Directory and a Metaverse Library, so that Launchpad xyz becomes a true portal for accessing all the different flavors of Web3 products.
Ultimately, Launchpad xyz wants to facilitate crypto mass adoption by acting as a bridge between Web2 and Web3 for individuals and brands. That's an addressable market of potentially hundreds of millions of people around the world.
But first things first – Launchpad xyz is first set on delivering a best-of-breed trading experience with room for everyone. And even if you don't have the inclination to become a trader, you can still invest in the future of Web3 by contributing to the Launchpad xyz presale.
.Disclaimer: Crypto is a high-risk asset class. This article is provided for informational purposes and does not constitute investment advice. You could lose all of your capital.
---