Crypto Prices Crash on FTX Insolvency Rumors – 3 Coins to Buy the Dip
Disclosure: Crypto is a high-risk asset class. This article is provided for informational purposes and does not constitute investment advice. By using this website, you agree to our terms and conditions. We may utilise affiliate links within our content, and receive commission.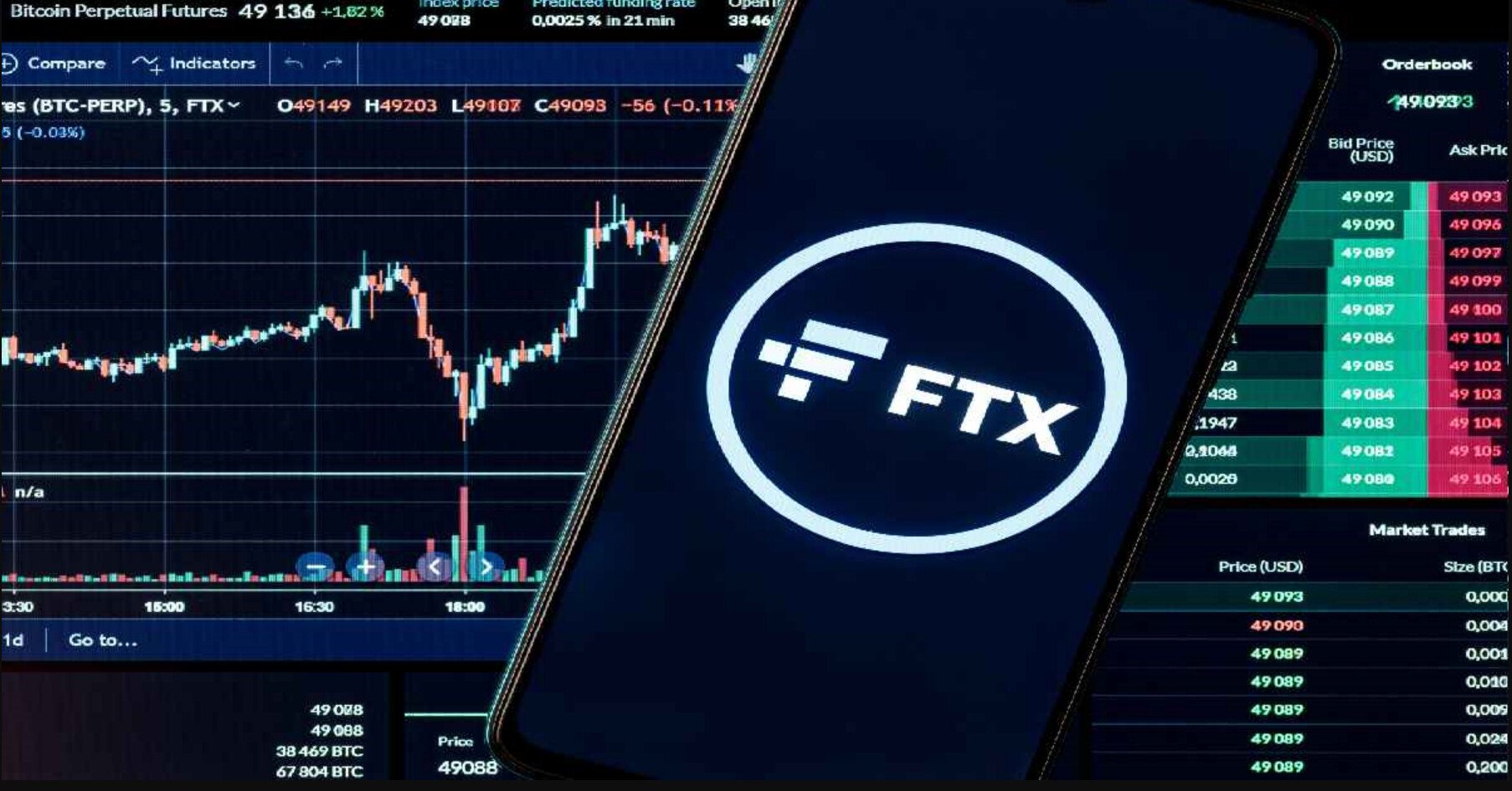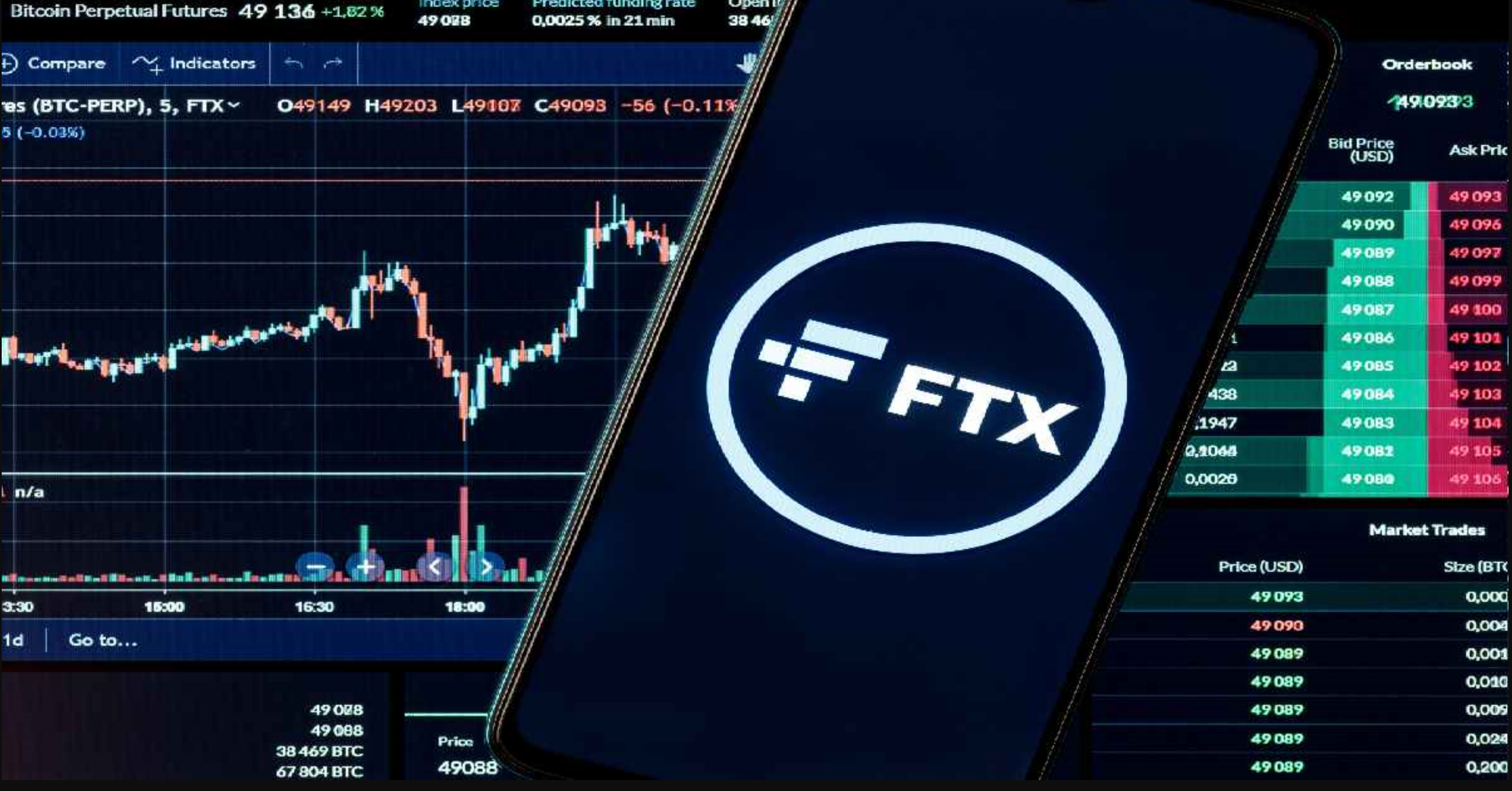 Cryptocurrency prices plummeted amid reports of FTX bankruptcy. Changpeng Zhao, the founder and CEO of Binance, the world's largest cryptocurrency exchange, announced on Sunday that his trading platform is about to sell its stake in FTT, a competitor platform to FTX's native asset.
Given that Binance CEO Changpeng "CZ" Zhao is selling off the native coin, FTT, he mentioned "new disclosures that have come to light," but he made no further public mention of them or responded to questions about them.
Liquidating our FTT is just post-exit risk management, learning from LUNA. We gave support before, but we won't pretend to make love after divorce. We are not against anyone. But we won't support people who lobby against other industry players behind their backs. Onwards.

— CZ 🔶 Binance (@cz_binance) November 6, 2022
In a subsequent tweet, Changpeng Zhao stated that the FTT liquidation was "merely post-exit risk management," citing the lessons learned from Terra Luna Classic's (LUNC) collapse and the impact it had on market participants.
"We will not assist persons who advocate against other industry participants behind their backs," he added.
However, Binance's decision may have been influenced by a recent balance sheet statement from Sam Bankman-Alameda Fried's Research. According to this statement, Alameda's assets are worth billions of dollars and are linked to the FTX coin.
FTT Price & Tokenomics
The current price of FTX Token is $16, with a $1.1 billion 24-hour trading volume. FTT has dropped by more than 28% in the last 24 hours and more than 35% in the last seven days. CoinMarketCap is now ranked #30, with a live market cap of $2 billion.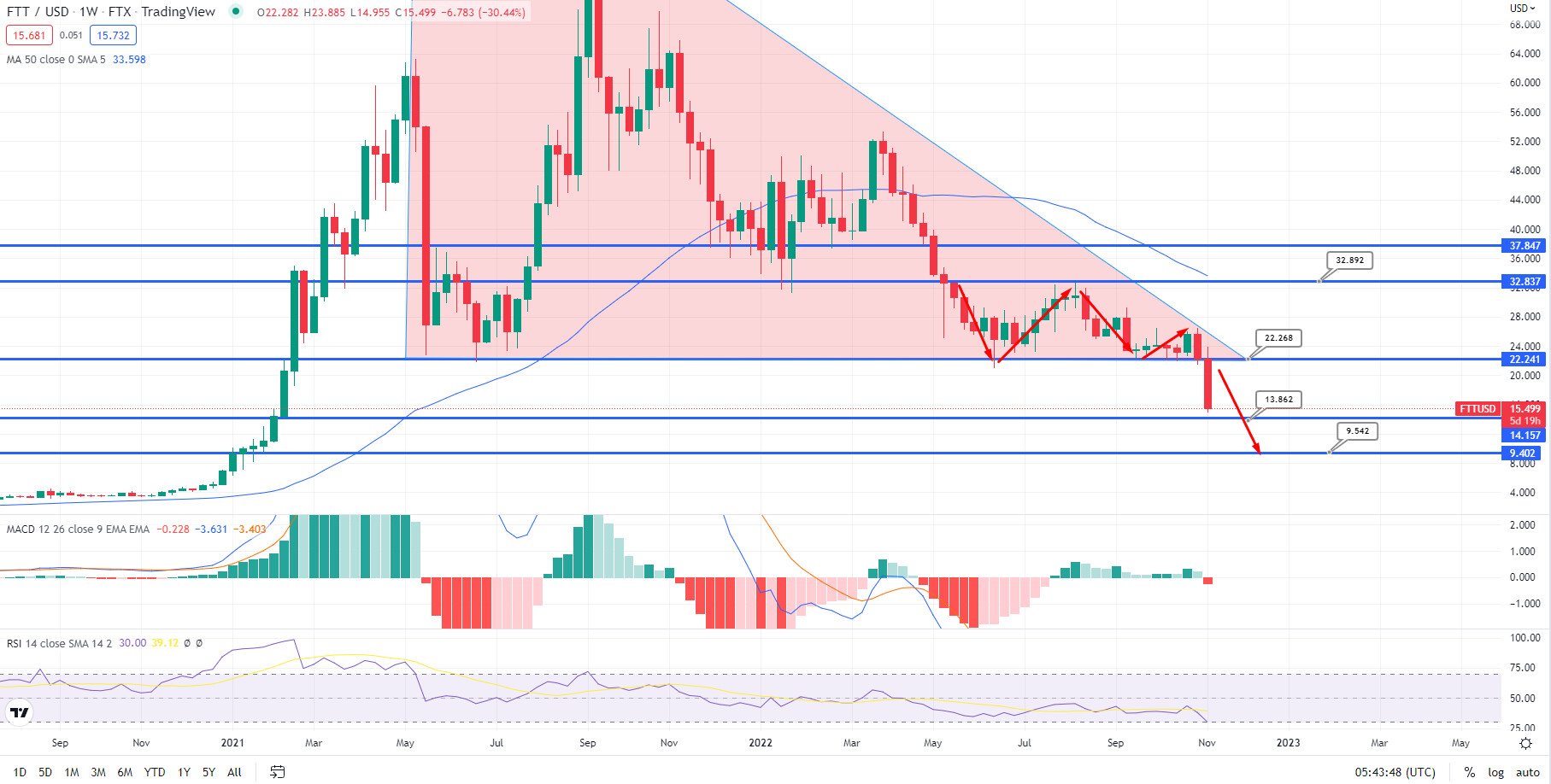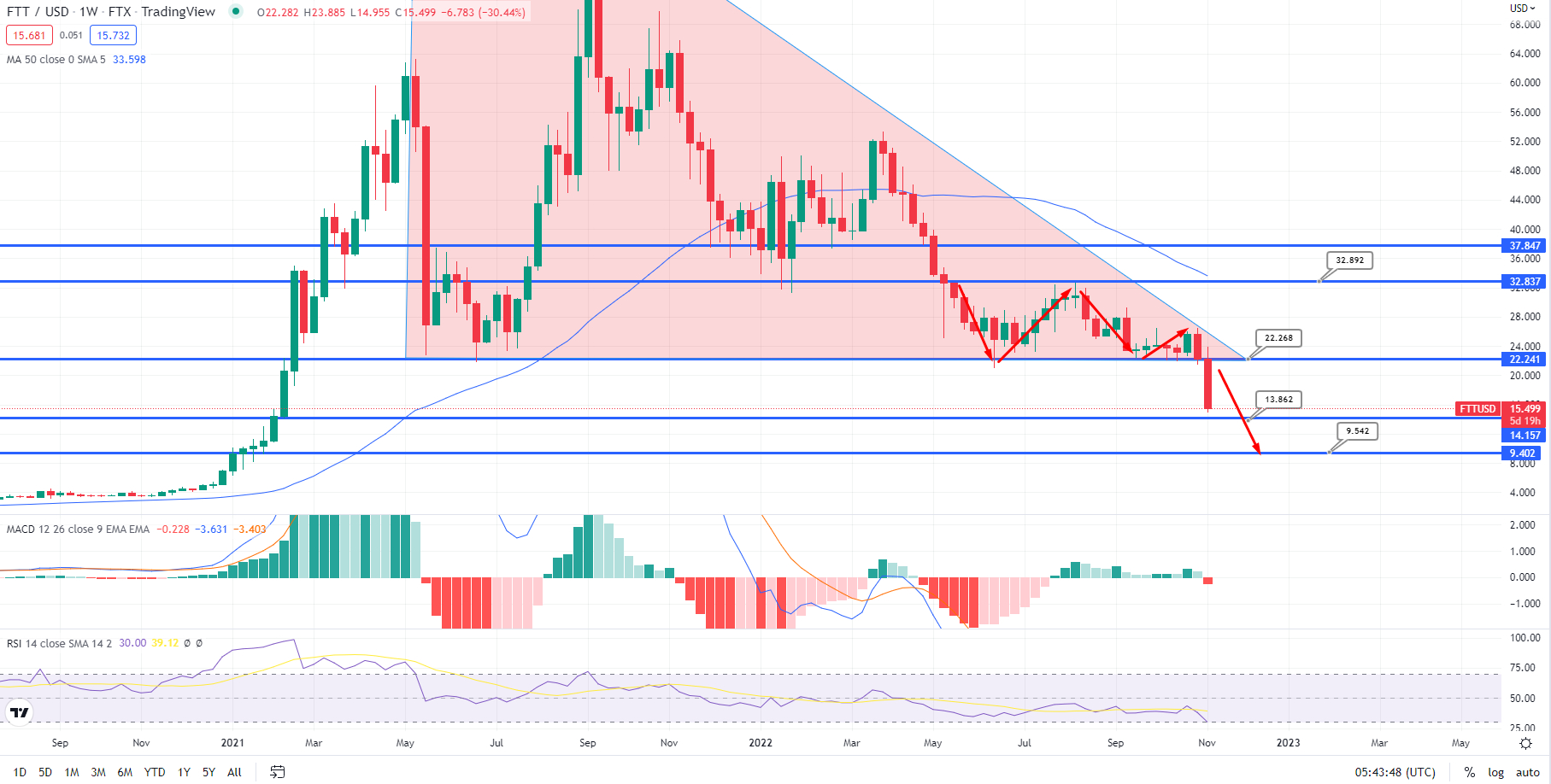 Being Divided in Their Opinions
For weeks, Sam Bankman-Fried, the CEO and creator of FTX, has been chastised for legislative suggestions he made in an earlier piece that recommended restrictions on DeFi. These criticisms have been addressed by Changpeng Zhao. He has since promised to reconsider his stance on the legislation. Meanwhile, Binance purchased the FTT funds last year as part of its exit from an earlier equity investment in FTX that it had held since 2019.
According to Zhao, FTX paid $2.1 billion in FTT and BUSD, the stablecoin that is only available on Binance's market, for Binance's stake in the company. Changpeng Zhao predicted that due to market conditions and a lack of liquidity, the liquidation would take many months to complete. Furthermore, he stated that it would be carried out in such a way as to minimize the impact on the FTT market.
However, according to reports, FTT, which had risen from a low of around $22 on Sunday, has dropped 9.5% in the last day, from $25.55 to $23.03. On Saturday, Etherscan reported that 22,999,999 FTT, worth $584 million at the time, were transferred to Binance's exchange. It represents exactly 17% of the current supply of FTT.
Alameda's CEO Explains Their Financial Situation
Changpeng Zhao's statement responds to rumors about Sam Bankman-trading Fried's company Alameda Research's financial standing, which surfaced after a leaked balance sheet revealed that the trading company had $5.8 billion in FTT assets as of June 30. (including FTT tokens pledged as collateral).
https://www.twitter.com/BkingDan/status/1589375211148673024?s=20&t=mtJuaU8YTxcdWS5sgFOzdA
Alameda had $14.6 billion in assets, $8 billion in liabilities, including $7.4 billion in undisclosed loans, and $14.6 billion in holdings. On Saturday, Caroline Ellison, CEO of Alameda Research, responded to the allegations on Twitter, claiming that Alameda had more than $10 billion in assets that were "not disclosed" on the leaked balance sheet.
BREAKING: ​
* Alameda CEO Caroline Ellison says leaked balance sheet misses full story

​* #FTX announces a partnership with the American Baseball League (MLB)

— Whale (@WhaleChart) November 6, 2022
According to Ellison, Alameda has various hedges in place and has already paid off the majority of its current debts. Furthermore, Zhao advised purchasing Binance's outstanding FTT at a fixed price of $22 in order to "minimize the market effect."
FTX CEO SBF Responds As Binance Dumps FTX Token
Sam Bankman-Fried, CEO of FTX, has addressed Binance's decision to sell its FTT (FTX) assets. In his conflict with Binance CEO Changpeng "CZ" Zhou, SBF has decided to go the diplomatic path.
https://www.twitter.com/SBF_FTX/status/1589598284322328579?s=20&t=y-Xsju1iUEy-iu-ukvMxmw
Instead of addressing the particular claims, he called for cooperation amongst major industry participants rather than focusing on Alameda Research or Binance dumping FTT.
https://www.twitter.com/SBF_FTX/status/1589598285798707202?s=20&t=y-Xsju1iUEy-iu-ukvMxmw
The cryptocurrency industry is preparing for an all-out fight between FTX and Binance, the two largest cryptocurrency exchanges. The CEOs of both companies, though, are trying to play down the tension between them.
To lessen the potential impact on the market, CZ says he will liquidate FTT gradually. This, he adds, is not meant to harm FTX.
Likewise, SBF says he appreciates CZ's work for the crypto community. Market leaders, he says, should focus on blockchain development rather than conflict.
3 Coins to Buy the Dip
Dash 2 Trade (D2T)
The second stage of the D2T presale has already sold out, raising $5.16 million in just over two weeks. Dash 2 Trade is a concept created by the hugely popular trading signal company Learn 2 Trade that will be launched in the first quarter of 2023. The platform's goal is to provide market-driven insights to investors to help them make informed decisions.
To improve the trading experience, D2T provides trading signals, social analytics, and even market sentiment analysis.
Dash 2 Trade aspires to be the Bloomberg trading terminal for cryptocurrencies, according to the development team. For automating trading processes and optimizing all trading methods, the platform also includes automation and backtesting capabilities.
Dash 2 Trade includes a notification service that alerts investors to all new coin listings on centralized exchanges, providing them with information that was previously only available to elite investors. It's no surprise that D2T presale numbers have been phenomenal with so much potential.
The digital currency has already raised more than $5.6 million ($5,604,587).
Calvaria (RIA)
Calvaria, a new cryptocurrency gaming project, is poised to take the industry by storm and become one of the market's top play-to-earn games. Calvaria developers have discovered two major barriers to widespread Web3 gaming adoption. While investors have recognized the potential of Web3 games, players have not.
Calvaria continues to accelerate its presale, which is already in stage 4 of 10 and close to the $1.5 million mark. With the price of the native RIA token rising significantly at each presale stage, investors are flocking to the rapidly expanding GameFi project.
Tokens cost $0.025 each in stage 4, but by stage 5, the price has risen to $0.03, and by stage 10, tokens cost $0.055.
IMPT
IMPT's team is making the world of carbon credits significantly more efficient than ever by putting them on the chain. Until recently, the carbon credit system was incredibly opaque; it was only applicable to businesses, and trading with them was inefficient and archaic. Carbon credits can be traded as NFTs on the blockchain 24 hours a day, seven days a week.
According to Broadridge Financial Solutions, the carbon credit market is likely to surpass $50 billion by 2030, with the ESG industry surpassing $30 trillion.
Over 25,000 firms have already joined the IMPT shopping platform, including industry titans such as Microsoft, River Island, Amazon, and Samsung. With that, the IMPT presale has now raised $12 million and is selling out swiftly.
The IMPT token's price is increasing with each stage of the presale and is now at $0.023.
---