Cosmos is Going to Zero as the SEC Clamps Down on ATOM Token While Eco-Friendly Crypto Ecoterra Just Raised More Than $5.1 Million – How Does it Work?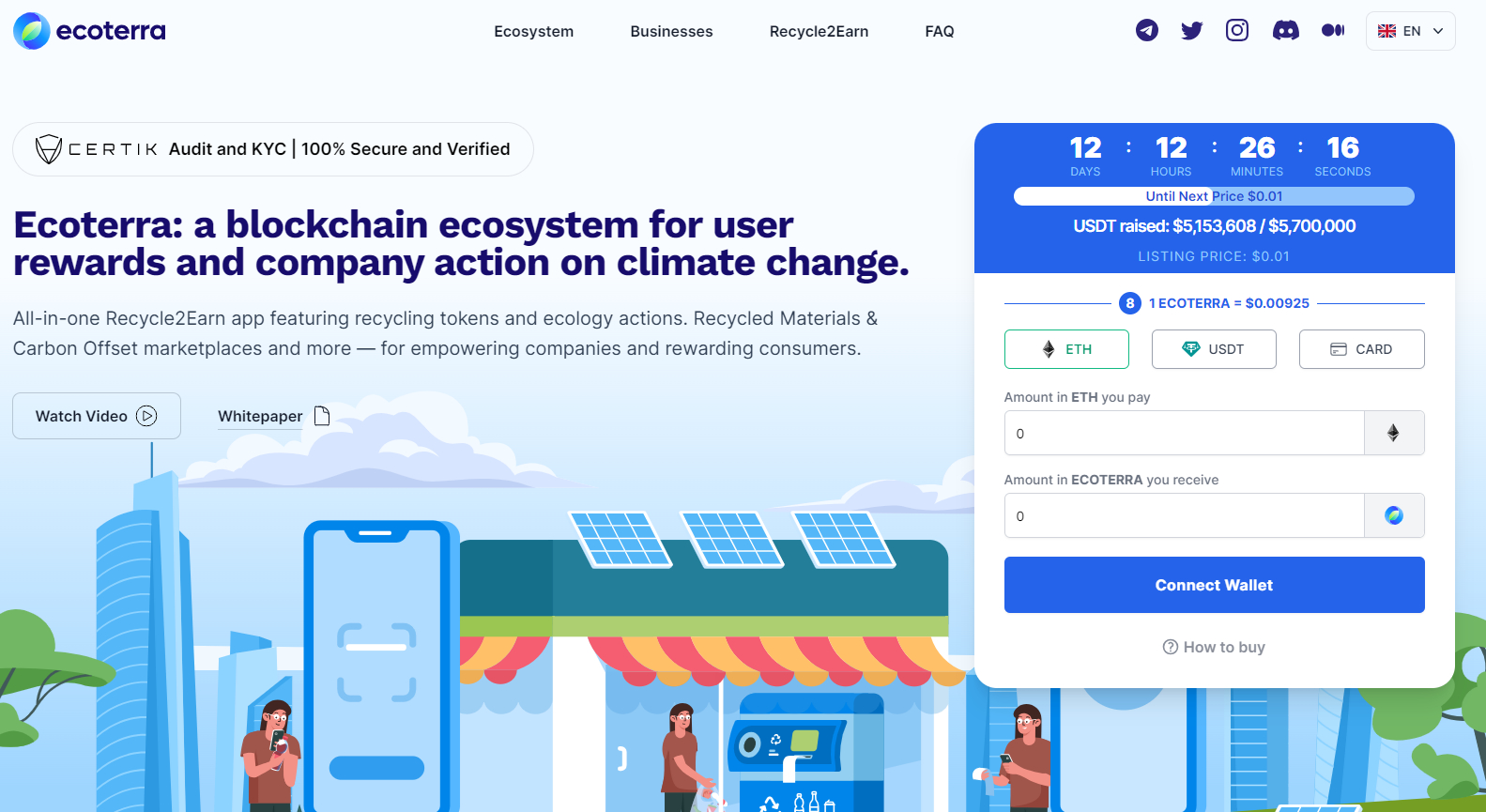 $ATOM, the cryptocurrency that powers the Cosmos network of independent, parallel blockchains, is rallying on Friday in tandem with a broader lift in crypto market sentiment.
ATOM/USD was last nearing weekly highs and a retest of the $9.0 per token level. It gained close to 3.0% on the session, as crypto markets rally on hopes that BlackRock's spot bitcoin ETF application will be approved.
$ATOM is now trading an impressive more than 20% up versus the near one-year lows it posted last week in the $7.30 area.
However, many investors will still be fearful that Cosmos is going to zero.
That's because in its recent clamp down on Coinbase and Binance, the US Securities and Exchange Commission (SEC) labeled the crypto as a security.
If the US courts side with the SEC in its lawsuit against the two crypto exchanges, $ATOM could face significantly higher regulations in the US that could all but kill ecosystem growth.
Indeed, $ATOM is still more than 16% lower versus its pre-SEC lawsuit levels around $10.75.
Unless the cryptocurrency can muster a sustained breakout back above key resistance in the $10.20-30 area, the technical outlook continues to look downbeat for $ATOM.
A retest of 2022's lows under $6.0 remains a strong likelihood.
Eco-Friendly Crypto Ecoterra Just Raised More Than $5.1 Million
While the $ATOM outlook is downbeat, things are looking up for this lesser-known green crypto project called ecoterra.
As outlined in the project's whitepaper, ecoterra is building an all-in-one $ECOTERRA-powered Web3 ecosystem, designed to encourage recycling via its first-of-its-kind Recycle-to-Earn (R2E) app.
The platform will also facilitate trade in recycled materials and encourage individuals and businesses to offset their carbon footprint.
And the project's presale of its native $ECOTERRA token has been absolutely flying.
Sales recently surpassed $5.1 million, a strong vote of confidence from the crypto investing community in the project's vision.
Investors have no time to lose if they want to secure their $ECOTERRA bag at a favorable price.
That's because when ecoterra's presale hits $5.7 million, it will enter its ninth and final stage and the $ECOTERRA price will rise 8% to $0.01.
Observers expect the pace of the presale to pick up now that the project is accepting invitations for users to try out a demo version of the flagship R2E application.
The presale will then end once the $6.7 million, a milestone that could be hit in a matter of weeks given the pace at which $ECOTERRA has been selling recently.
$ECOTERRA will then launch across major crypto exchanges next quarter, with many analysts predicting big upside for the token as a broader investor base rushes into to secure one of the crypto industry's most promising green crypto tokens.
Nascent green Web3 projects such as ecoterra are expected to play an increasingly important role in global efforts to address climate change in the decades ahead, as crypto's broader adoption increases.
Ecoterra's Game-Changing Platform - How Does It Work?
When harnessed effectively, blockchain technology provides a unique ability to promote environmentally friendly behaviors by rewarding recycling.
Ecoterra's decentralized ecosystem will make it easy to offset carbon emissions and track environmental impacts by utilizing the blockchain's transparency properties.
And ecoterra is building an all-in-one application that does all of those things and more.
Ecoterra rewards users with the platform's native $ECOTERRA crypto token every time they recycle.
The green Web3 start-up's R2E app is supported in any country that uses Reverse Vending Machines (RVMs), meaning there's a huge potential market.
The platform features a marketplace where individuals and businesses can offset their carbon footprint.
Last but not least, ecoterra allows individuals and businesses to track their environmentally friendly practices via their Impact Trackable Profile.
Observers expect this feature to be very popular amongst environmentally-conscious businesses, who can use Impact Trackable Profile to boost their brand image and bolster customer loyalty.
Disclaimer: Cryptocurrency projects endorsed in this article are not the financial advice of the publishing author or publication - cryptocurrencies are highly volatile investments with considerable risk, always do your own research.
---