ChangeNOW, The Merge, and Forked ETH Tokens
Disclosure: Crypto is a high-risk asset class. This article is provided for informational purposes and does not constitute investment advice. By using this website, you agree to our terms and conditions. We may utilise affiliate links within our content, and receive commission.
Disclaimer: The text below is an advertorial article that is not part of Cryptonews.com editorial content.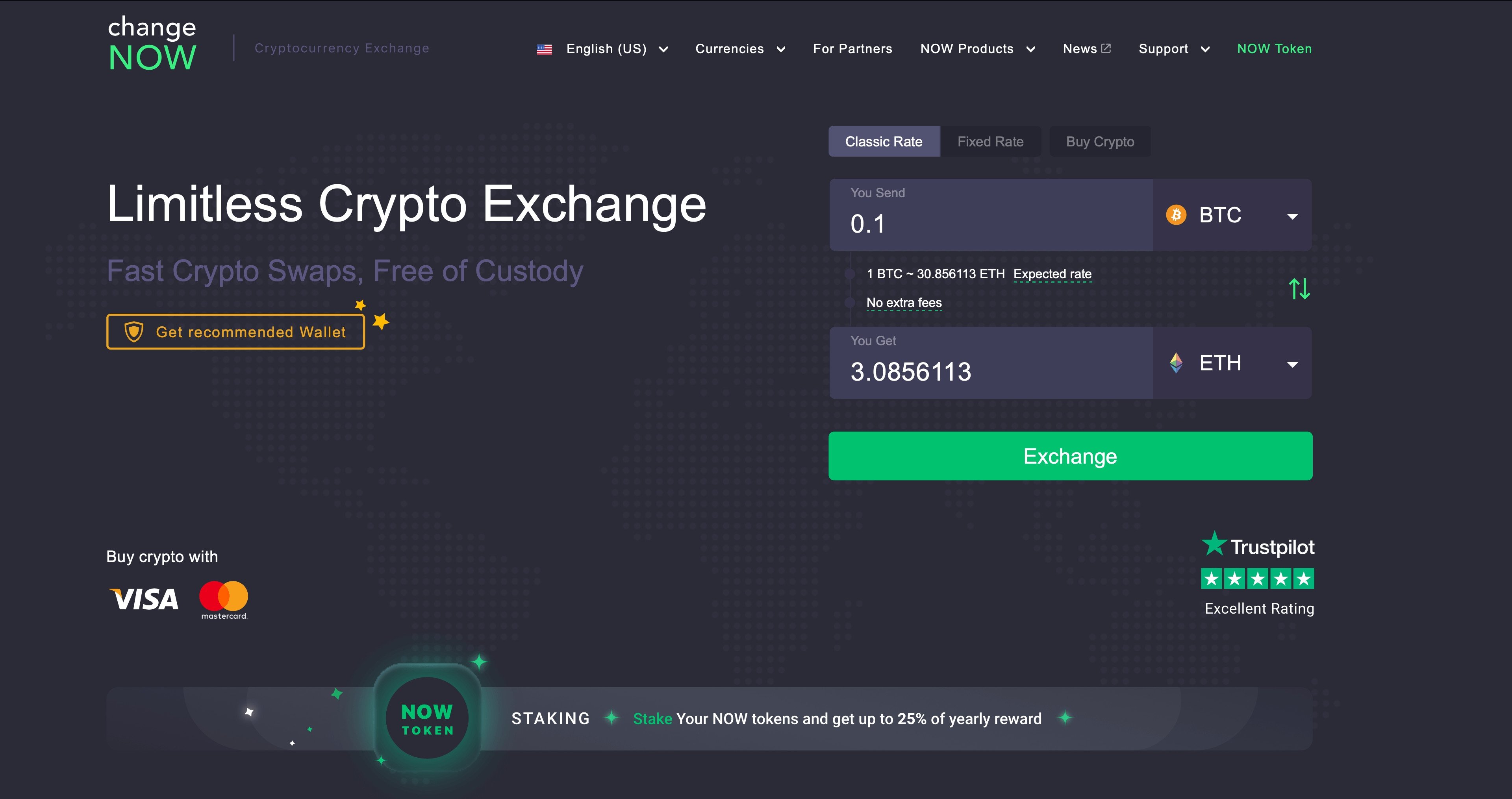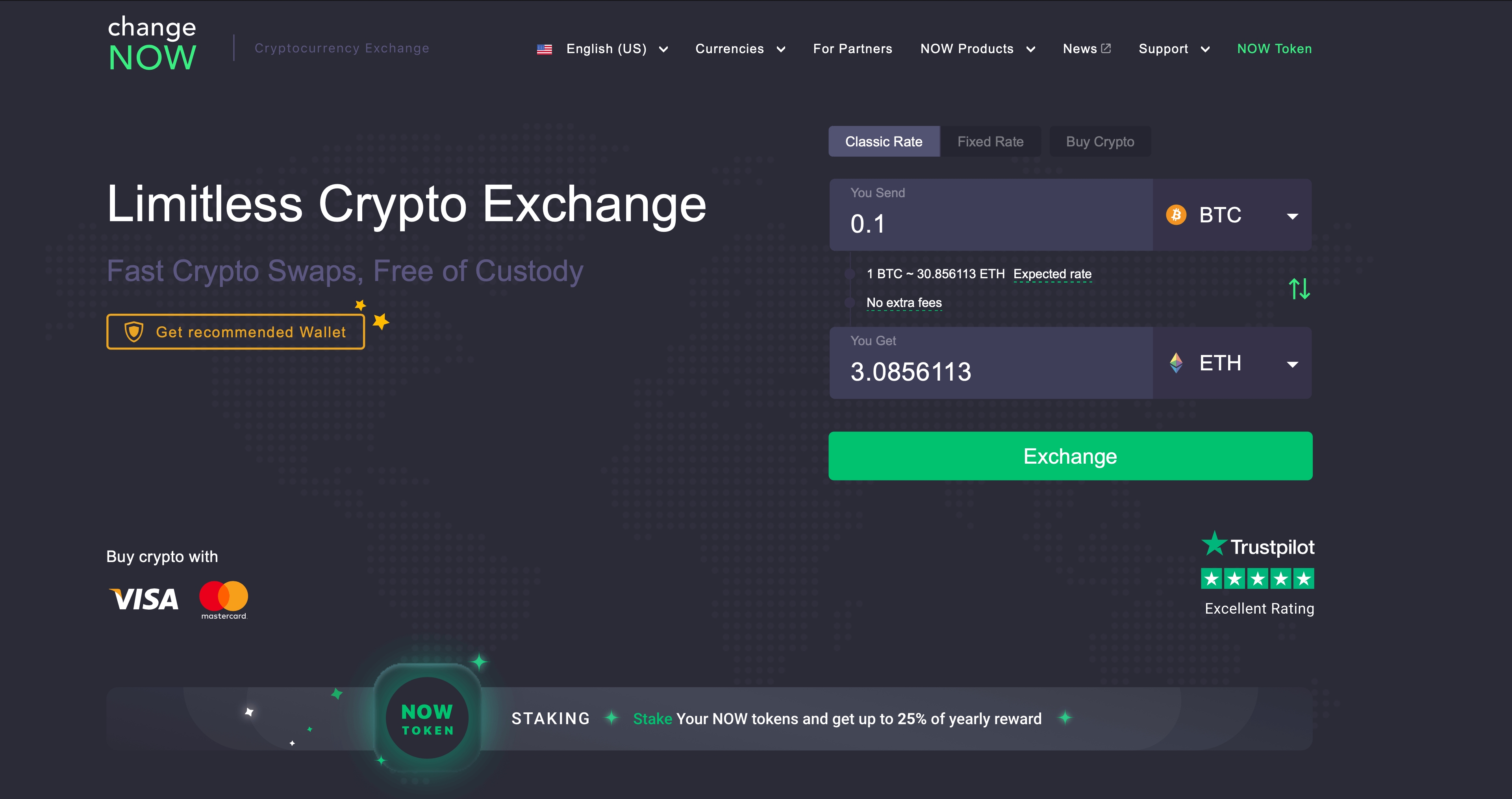 The Merge, one of the most important and most sought-after Ethereum software upgrades is around the corner! In fact, it is scheduled for around the 15th of September!
The upgrade should speed up transactions a bit, introduce a more eco-friendly version of the second biggest cryptocurrency, and make a switch from minting to staking. No wonder why the crypto crowd is so excited about the upcoming overhaul.
Bellatrix hard fork, which was supposed to prepare the chain for The Merge, occurred two days ago, on the 6th of September. The next stage that is about to happen in the next few days is called Paris and it will really set the stage for the PoW (Proof-of-Work) to PoS (Proof-of-Stake) transition.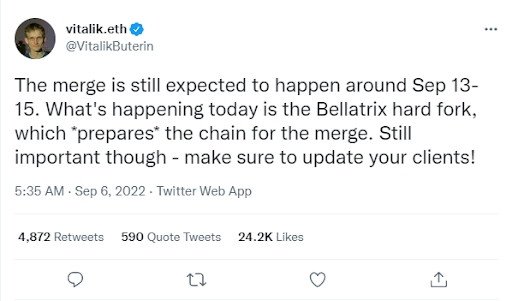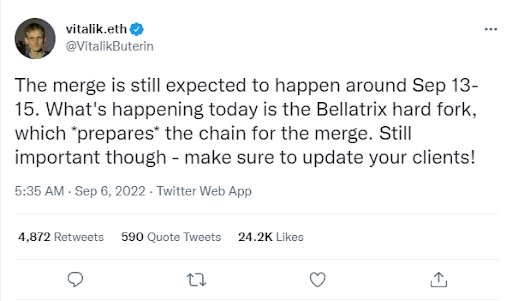 PoW vs PoS
At first and all until 2016, Ethereum used the PoW consensus mechanism. Yet, after the DAO attack, Ethereum was split into PoW and PoS forks. Ethereum has been using a PoW mechanism, the same mechanism Bitcoin was using, to regulate the creation of new blocks on the network that requires members of the network to practically compete with each other on who is going to solve the complex mathematical task faster.
On the other hand, PoS hands over the control of the network to holders, although the asset-rich ones in the first place (the ones that have more than 32 ETH tokens staked) have a greater chance of being the next ones to add copies of their ledger to the blockchain.
In either system, PoW or PoS, miners are rewarded with newly minted tokens and transaction fees. However, PoS also makes it possible for validators to get rewarded for helping secure the network and other tasks. The Merge will literally merge the two above-mentioned forks and Ethereum will entirely switch to the PoS consensus mechanism.
How Did The Merge Affect the Price of Ethereum?
Ethereum hit the lows in June this year when it was traded at around $897. However, once it was official that the long-awaited merge would take place this September, the price of this cryptocurrency started rising back up. It even touched $2,000 in August, although this was a result of multiple factors and not only because of the upcoming merge.
Currently, ETH is trading at $1,641, and, according to experts, it is likely to slice through the $2,200 resistance by the end of the year. However, it is also likely for its price to start dropping after the Merge, once whales start selling off the amassed coins.
What Are Crypto Exchanges Doing Ahead Of The Merge?
In anticipation of The Merge, numerous crypto exchanges have announced that they would pause ETH and wETH (Wrapped Ether) deposits and withdrawals on networks that will be impacted. For instance, Binance suspended ETH and wETH transactions on Arbitrum, Optimism, and Ronin on the 6th of September, the day of the Bellatrix upgrade. The pause in activity would remain valid all until the Merge is completed. It's worth mentioning that regular trading activity on the Ethereum mainnet remains unaffected during this time.
The team behind another popular cryptocurrency exchange, Coinbase, announced that they would halt ETH and ERC-20 token withdrawals and deposits during the Merge. The same goes for Kraken.
However, not all crypto exchanges have paused the ETH and wETH transactions on the aforementioned networks, and ChangeNOW is one of them. Although deposits and withdrawals take slightly longer than usual, users can still have their transactions completed.
The reason why some exchanges are suspending the aforementioned deposits and withdrawals is that they want to ensure a smooth allocation of any airdropped tokens as well as the replacement of the existing ETH1 tokens with ETH2 tokens.
ChangeNOW has the capacity to ensure that their users will get PoS ETH tokens and hard-fork ETH tokens (ETHW) without any delay or interruption. A snapshot of all users holding ETH will be taken on time in order to determine the number of tokens that will be sent to each of these addresses.
However, note that if your entire ETH balance is on Arbitrum or Optimism, you'll have to switch to the Ethereum mainnet to be able to receive new tokens. Also, you should draw any ETH that is being held in liquidity pools and unwrap wrapped ETH in order to receive ETH 2.0 or ETHW tokens.
What's the Thing With ETHW?
A group of developers and believers in the PoW consensus is currently working on an Ethereum hard fork that is supposed to be launched ahead of the merge. The main idea of Chandler Guo, a man who's leading this group and is a miner himself, is to help everyone who would be left out in the cold once the merge happens.
After the switch to PoS, miners will no longer be needed, which is an unattractive side of the Merge. Thus, Chandler has plans on launching a new network and a new ETHW token. Forked ETHW tokens would be airdropped to everyone holding Ethereum in their wallets at the time of the hard fork.
Again, not all crypto exchanges will support ETH PoW tokens. For instance, Kraken said that it could be that they would not support forked tokens (although they could allow custody). Centralized exchanges will have to list forked tokens in order for holders to automatically receive new tokens after the fork. Will they actually make room for forked tokens? Very few of them decided to speak openly about this.
ChangeNOW stands from the crowd once again. This exchange has already announced that they would support all coins that come to life after the Merge, new PoS ETH and ETH PoW (if it comes into life) while ETC is already listed and can be traded regardless.
ChangeNOW's ecosystem consists of several amazing products, one of which is a non-custodial NOW Wallet that makes it a breeze to store, buy, exchange, and stake cryptocurrencies. NOW Wallet also supports NFTs built on Solana and Ethereum. If you're holding your ETH on ChangeNOW Ethereum Wallet, you can rest assured that you'll get your ETH 2.0 tokens or ETHW tokens in the shortest timeframe possible.
Summary
Ethereum, the backbone of DeFi and NFTs, is about to undergo one of the greatest updates, and we'll be able to witness it.
However, not everyone is a fan of PoS ETH. Some of you may like PoW ETH or Ethereum Classic better, and that's totally fine, as long as you are able to get your hands on tokens of your choice. ChangeNOW can certainly help with that since it has ETH and ETC already listed while its smooth listing process can ensure that forked tokens (ETHW in this case) will be added automatically. All this takes out any guessing for you as a user and gives you enough room to plan your next step and build a better, more diversified portfolio.
Finally, if you are a true believer in Web3, at the same time, a business owner willing to start accepting payments in ETH (or any other cryptocurrency of your choice), why don't you check NOW Payments? With NOW Payments, fees get lower and funds get deposited into your wallet faster! And, just in case you'd like to see what ChangeNOW has in store besides all this, visit their website by clicking on this link.
---