CapyMagi (CMAGI) Token Presale Goes Live – Play and Earn MMORPG Game
Disclosure: Crypto is a high-risk asset class. This article is provided for informational purposes and does not constitute investment advice. By using this website, you agree to our terms and conditions. We may utilise affiliate links within our content, and receive commission.
Disclaimer: The text below is an advertorial article that is not part of Cryptonews.com editorial content.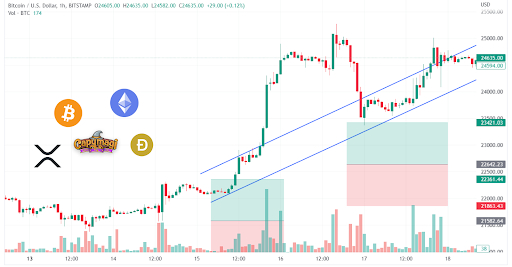 In the last 24 hours, the cryptocurrency market has experienced a 1% increase, with its total cap reaching $1.17 trillion. Over the last week, the market has seen a 12.5% increase, providing hope that the market may be turning a corner after a challenging year in 2022.
Although crypto faced a difficult year with collapses of Terra and FTX, as well as a 64% decrease in prices, recent market movements and various macroeconomic indicators suggest that 2023 may bring more sustainable rallies. Inflation is easing in many countries, employment is increasing, and bond yields, particularly those of US Treasuries, suggest that interest rates will peak at below 5% this year, which is lower than anticipated by some analysts. This is good news for speculative risk assets such as bitcoin and cryptocurrency, which may spend much of this year correcting the losses of the previous year.
Why These Cryptos Will Explode in 2023
The crash in crypto prices in 2022 was partly due to the Federal Reserve's rate hikes, as higher interest rates make speculative assets like crypto less appealing. However, the growing sentiment that rates will not move much higher has helped drive the recent crypto rally in 2023.

This is because high rates make borrowing money more expensive, reducing the appeal of purchasing speculative assets, while also increasing the yields on other investments. Miller suggests that the latest rate hike was smaller than previous ones, giving investors hope that the central bank may be nearing the end of its tightening cycle.
In addition, some investors may be regaining confidence in crypto as time passes since the dark days of 2022, when major players in the industry collapsed, leading to successive waves of negative news. The recent improvement in economic numbers and signs that the Federal Reserve may slow down the pace of interest rate hikes have also contributed to a strong start to the year for speculative assets.
Best 5 Crypto To Invest Now
1. CapyMagi Token (CMAGI)
The newest presale, CapyMagi World, is a Play and Earn MMORPG game that focuses on the gaming experience. The team at CapyMagi understands the problems of Play-to-Earn games and has found solutions. Running on Ethereum, players will be able to convert their time into an unforgettable gaming experience and earn tradable NFTs, such as resources, tools, skins, and playable characters. Gamers will be rewarded for the native token, CMAGI, which can be staked and traded.

The sale of CapyMagi World will be divided into five stages, with the first stage currently underway offering 1 CMAGI for $0.006. This price will increase to $0.011, providing early investors with more than 100% profit even before the listing of CMAGI. CapyMagi team doxxed and contract audited by SolidProof. CapyMagi already has their NFT collection that sold out in one minute.
Due to the launch of the CapyMagi World game, the growth of CMAGI is expected to be rapid. According to experts, if market conditions and the global economy show positive signs, CMAGI has the potential to skyrocket, making it one of the top beneficiaries.
2. Bitcoin (BTC)
Bitcoin (BTC) is the first cryptocurrency that was created by Satoshi Nakamoto in 2009. Like other cryptocurrencies, BTC operates on a blockchain, which is a distributed ledger that records transactions on a network of thousands of computers. The process of adding transactions to the ledger is secured through a cryptographic puzzle known as proof of work, making Bitcoin resistant to fraud.
Bitcoin's popularity has significantly increased, leading to a tremendous surge in its price. In May 2016, one Bitcoin was valued at approximately $500, while on Feb. 19, 2023, the value of a single Bitcoin was around $24,587. This represents a growth rate of more than 4,500%.
According to crypto experts and their bitcoin pice prediction, BTC price will grow to $50,000 before the end of the year.
3. Ethereum (ETH)
Ethereum is a blockchain platform and cryptocurrency popular among programmers for its versatile applications, including the use of "smart contracts" and non-fungible tokens (NFTs) that automatically execute when specific conditions are met.
Ethereum has also shown remarkable growth, with its price surging from roughly $11 in April 2016 to around $1,693 by the end of February 2023, marking an impressive increase of more than 14,000%.
4. Dogecoin (DOGE)
Dogecoin was famously started as a joke in 2013 but rapidly evolved into a prominent cryptocurrency thanks to a dedicated community and creative memes. Unlike many other cryptos, there is no limit on the number of Dogecoins that can be created, which leaves the currency susceptible to devaluation as supply increases.
Dogecoin's price in 2017 was $0.0002. By February 2023, its price was at $0.08, up 41,496%.
5. XRP (XRP)
XRP was created by the same founders as Ripple, a company that provides digital technology and payment processing services. XRP is used on Ripple's network to facilitate the exchange of different currency types, including fiat currencies and other major cryptocurrencies.
In early 2017, the price of XRP was $0.006. As of February 14, 2023, its price had increased to $0.38, representing a rise of 6,181%.
---