Can Cowabunga Coin Explode Like the Pepe Coin Price? Hot New Meme Coin is a Trending Crypto During Film Launch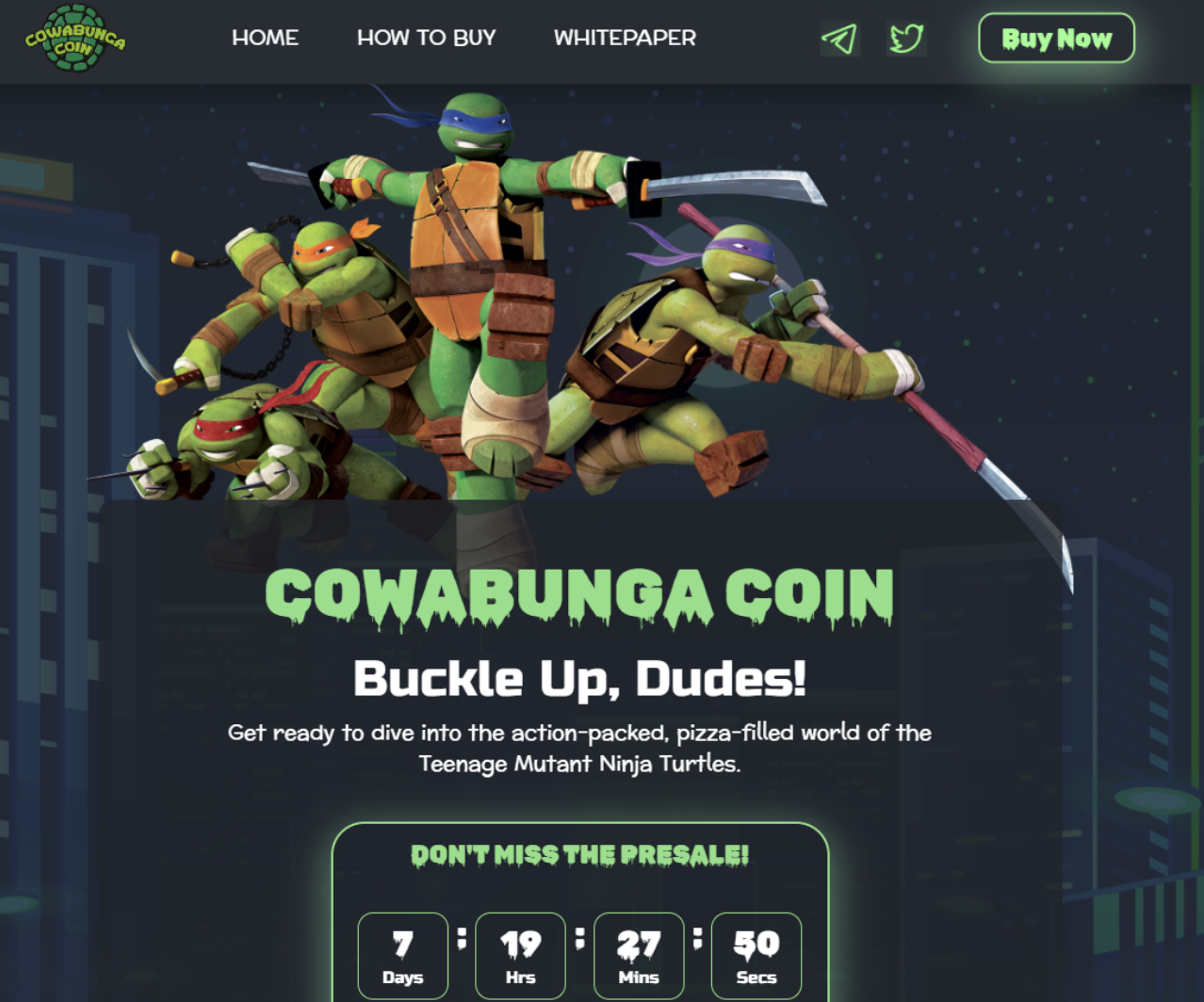 Thursday, 3rd August – Crypto investors can get in early on a promising new meme coin themed on the Teenage Mutant Ninja Turtles films – Cowabunga Coin.
As the Teenage Mutant Ninja Turtles: Mutant Mayhem film takes the box office by storm, a team of savvy crypto entrepreneurs has just launched a stealth presale of their Cowabunga Coin ($COWABUNGA).
The coin follows the release of the Teenage Mutant Ninja Turtles: Mutant Mayhem blockbuster film of the comic book-to-multi-decade media franchise that its many fans know affectionately simply as TMNT.
As TMNT Mutant Mayhem Frenzy Grips, $COWABUNGA Could Sell Out Fast
Cowabunga Coin, aptly named after one of the show's main catchphrases, is looking to raise a modest $500,000 in a limited availability presale of 35% of the token supply. There are only seven days left to grab the tokens before they are gone
$COWABUNGA is being sold at a flat price of $0.000357 for the duration of the presale, so investors who arrive later aren't unfairly penalized.
The Cowabunga team's marketing campaigns have just gotten underway, as evidenced by the token starting to pop up across the crypto media landscape.
Marketing Blitz to Take Cowabunga Coin on A Viral Odyssey – 100x Pump Incoming?
The project has already been featured on reputable websites such as Analytics Insight, The Tech Report, and Finbold.
It's understood that Cowabunga is backed by the same marketing team that brought us successful meme coins like SpongeBob ($SPONGE), which pumped 100x from its DEX launch price.
That means waves of crypto influencers across Twitter and YouTube are expected to promote the token soon.
Expect Cowabunga Coin's Twitter and Telegram groups to see explosive growth.
This activity will translate into a rush to secure $COWABUNGA tokens early and on the cheap via the project's presale.
And with just $500,000 worth of tokens on offer, the presale could sell out well before its 8-day time limit ends, especially if some large buyers start getting involved.
Community is the lifeblood of any meme coin project.
That's where the HODLers and dip-buyers come from, forming the foundation for a coin's future appreciation.
Potential investors should move quickly to secure their bag and position themselves ahead of the curve, given that $COWABUNGA has all the ingredients of a meme coin that could see the explosive upside.
Cowabunga! Teenage Ninja Mutant Turtles Trending Higher
Teenage Ninja Mutant Turtles is a major trending topic right now as the release of Teenage Mutant Ninja Turtles: Mutant Mayhem film tops expectations regarding box office performance and audience reception.
According to the entertainment industry Bible Variety, the film will take in $35 to $45 million in its first five days of release.
Meme coin markets are a fickle beast that loves to jump from one trend to another.
However, as long as it's getting a lot of traction online, a relevant meme coin could potentially ride some of this hype.
Given the hype around the film and its likelihood of being one of the summer hits, Cowabunga Coin will likely be a meme coin that hits the mark and sticks around.
Over the past 30 days, the 'Teenage Mutant Ninja Turtles' search term has been trending higher in Google searches. See below the chart for the United States:
Cowabunga Coin is a Low Cap Gem
While Cowabunga Coin's thematic relation to the Teenage Mutant Ninja Turtles franchise will likely bring a lot of eyes to the project, its compelling tokenomics will convert these onlookers into investors.
The project's presale values $COWABUNGA at a tiny $1,428,571, making it a true low-cap gem with plenty of room for exponential upside.
Think about it.
Random shitcoins with no compelling marketing story or plan routinely reach millions of market capitalizations.
Just a few days ago, a shitcoin called $BALD was able to hit a $100 million market cap momentarily.
If Cowabunga Coin can hit a $100 million market cap, it will likely hand its presale investors as much as 70x.
Just imagine turning $500 into $35,000.
Limited Presale Availability = Explosive DEX Launch?
Given $COWABUNGA's limited availability and super low presale price, many willing investors will miss out unless they jump in soon.
Ahead of the coin's DEX launch, FOMO will begin to build.
Investors who missed the presale will likely worry that if they don't get in on $COWABUNGA as soon as it launches on DEXs, they may have to pay a substantially higher price for the token.
Pent-up demand and FOMO thus set the stage for a potentially explosive DEX launch that could see Cowabunga Coin notch quick exponential gains.
Community Airdrops – Cowabunga Coin $400,000 in Giveaways
Everyone loves freebies. That's why airdrop campaigns are a potent tool for drumming up hype and interest in crypto.
The savvy team behind Cowabunga Coin is acutely aware of this and, in fitting with their community approach to this project, they have pledged to dedicate 25% of the token supply to community rewards and airdrops.
Assuming the token can hold onto its presale valuation of $1.666 million when it debuts on decentralized exchanges (DEXs), Cowabunga will be doling out giveaways worth over $400,000 to its community.
But the Cowabunga coin can pull off a 10x and hit a reasonable market cap of around $16 million.
We would discuss community giveaways worth as much as $4 million.
The distribution mechanism hasn't been announced yet.
But most airdrops are handed out to wallets based on their average token balance and trading volumes. At the same time, community members who actively support the project and generate social media engagement are rewarded.
Could you gain a couple of grand by buying a Cowabunga Coin bag and championing the coin on Twitter for a few days?
Quite possibly!
The possibility of significant airdrop gains should be a strong incentive for early investors to HODL their $COWABUNGA bag, even if they start getting tempted to sell following exponential price gains.
Plentiful Liquidity Means Smooth Trading Conditions
In a further continuation of its community-first approach, Cowabunga Coin's team is dedicating 20% of the token supply to decentralized exchange (DEX) liquidity and 10% to centralized exchange (CEX) liquidity.
Without plentiful DEX liquidity, meme coin degens often need help with efficient buying and selling and significant potential losses due to price slippage – that won't be an issue with Cowabunga Coin.
Notably, the project has pledged to lock this DEX liquidity at the token's launch, ensuring that there will be no rug pull.
Meanwhile, the team is holding back the supply for CEX liquidity because they want to widen the token's accessibility to the largest possible audience.
That means entering the world of centralized exchanges, which are much easier for crypto beginners/newbies to begin trading on than DEXs.
Buy $COWABUNGA Now and Get Ahead of the Curve
Everyone loves being ahead of the curve.
Whether that's petty everyday life situations ("I liked this musician before they were popular and cool") or in an investment setting ("I got in early on this stock and made x amount of money").
Well, potential investors can get ahead of the curve again by getting in on the Cowabunga Coin presale now.
The project will likely trend across crypto media in a few short days, and the presale will probably have sold out.
Don't miss out.
Cowabunga Coin can be purchased using ETH or USDT. All buyers need to do is connect their crypto wallet directly to the project's official website.
Disclaimer: Crypto is a high-risk asset class. This article is provided for informational purposes and does not constitute investment advice. You could lose all of your capital.
---