BTC 20K and ETH 790K Still Might be Dumped on the Market By PlusToken
At least BTC 20,000 (USD 138 million) and ETH 790,000 (USD 104 million) are still waiting to be dumped on the market by the criminals from the "one of the largest Ponzi schemes ever," PlusToken, according to Chainalysis, a U.S.-based blockchain analysis company.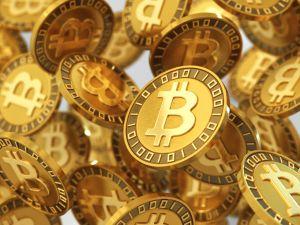 The researchers claim that the thieves have already cashed out c. BTC 25,000 and ETH 10,000, and conclude that PlusToken cashouts via Huobi OTC (over the counter) brokers and other means correlate with drops in bitcoin price.
"We can't say for sure that PlusToken cashouts caused bitcoin's price to drop. However, we can say that those cashouts cause increased volatility in bitcoin's price, and that they correlate significantly with bitcoin price drops," Chainalysis said in a report, released on Monday, when bitcoin price dropped below USD 7,000 again.
The researchers stress that PlusToken cashouts are just one of many potential influences on bitcoin's price.
"But none of those components on their own provides a compelling explanation for the large spike in volatility in the time period we studied absent the influence of PlusToken."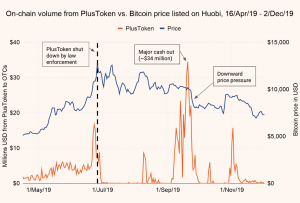 According to the report, some OTC brokers have significantly lower KYC (know your customer) requirements than most exchanges, which can make them attractive for criminals like the PlusToken scammers.
"Some even specialize in the movement and laundering of criminal money," Chainalysis said, urging regulators to recognize this as a consumer protection issue, and consider how they might apply anti-money laundering regulations to prevent scams like this from happening in the future.
Cryptonews.com has contacted Huobi for comment.
At pixel time (05:13 UTC), BTC trades at c. USD 6,907 and is down by 2.6% in the past 24 hours and by 6.6% in a week. Ether dropped 7% in a day and now trades at c. USD 132. The price is down by 10.6% in a week.
_____
PlusToken
Based in China, PlusToken presented itself as a cryptocurrency wallet that would reward users with high rates of return if they purchased the wallet's associated PLUS cryptocurrency tokens with Bitcoin or Ethereum. The scammers claimed those returns would be generated by "exchange profit, mining income, and referral benefits." PlusToken would go on to be listed on several Chinese exchanges and hit a peak price of USD 350, raking in "investments" from millions of people.
Chinese media reports that the scam attracted over $3 billion worth of cryptocurrency. We tracked a total of BTC 180,000, ETH 6,400,000, USDT 111,000, and OMG 53 that went from scam victims to PlusToken wallets, equating to roughly USD 2 billion. Either figure would make PlusToken one of the largest Ponzi schemes ever.
While six individuals connected to PlusToken were arrested in June, the stolen funds have continued to move through wallets and be cashed out through independent OTC brokers operating mostly on the Huobi platform, showing that one or more of the scammers are still at large.
Source: Chainalysis
---