BNBFort: Yield Farming Dapp on Binance Smart Chain
Disclosure: Crypto is a high-risk asset class. This article is provided for informational purposes and does not constitute investment advice. By using this website, you agree to our terms and conditions. We may utilise affiliate links within our content, and receive commission.
Disclaimer: The text below is a press release that was not written by Cryptonews.com.
It is now that people are slowly moving to cryptocurrencies from fiat money. Cryptocurrency is the future of money. There will be a day when people say goodbye to traditional currencies and embrace this new revolutionary form of money. However, high price volatility and high transaction fees are significant barriers to the mainstream.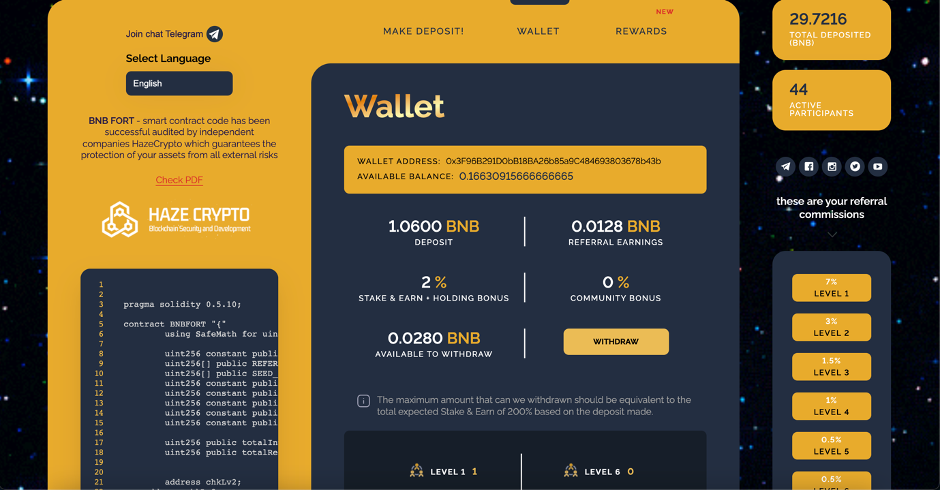 Binance is trying to resolve this issue with its smart chain technology to provide a quality blockchain experience for users and reduce overall costs. BNB has been launched on the Binance Chain, allowing people to trade using cryptocurrency with complete confidence in the value of their holdings.
However, with the use of cryptocurrencies, people are always looking to earn money with their holdings. And even if one has some BNB, what is the best way that they can use to make more with an investment.
BNBFORT is a platform to earn money by depositing cryptocurrency. It is a Dapp based on Defi protocol that provides a high return on a BNB deposit. It offers a unique way to take advantage of their cryptocurrency holdings and turn it into a profitable income source. The return can be as high as 200%.
Security
Smart contracts on Blockchain guarantee the security of the BNB. Thanks to the Defi protocol, people can now use their crypto assets differently and get a high return on their deposits.
BNBFORT assures security to all parties involved in this transaction thanks to smart contract management. People can withdraw money from the smart contract at any moment. There won't be a problem since all activities are recorded in the blockchain ledger.
Also, the HazeCrypto audit found no vulnerabilities, backdoors, or any scam scripts in this project.
HazeCrypto audit found no vulnerability, no backdoors, and no scam scripts on the project below:
👉 For full Audit Report and project details:
https://hazecrypto.net/audit/bnbfort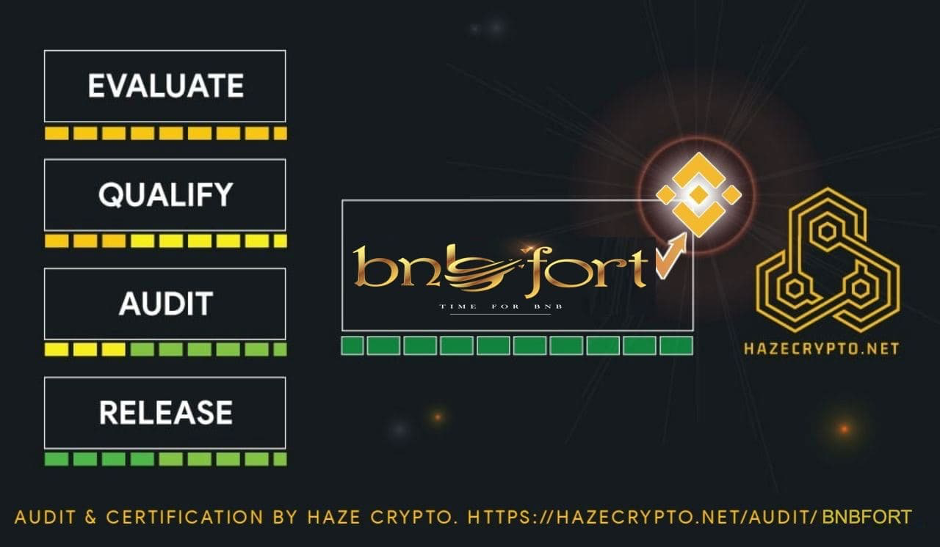 Minimum deposit
The minimum deposit in BNBFORT is only 0.01 BNB. This is the most minimal deposit than any other Dapp on BSC. As soon as a user deposits BNB, they will start getting the reward every day.
Benefits of using BNBFORT
➡️ 0.01 BNB Minimum Investment
➡️ Basic interest rate: 2% every 24 hours(0.0832% Hourly)
➡️ Personal hold-bonus: +0.1% for every 24 hours without withdraw Max.1%
➡️Community Bonus
Everyone in the Community will earn an additional 0.% reward for every 20,000 active participants in the contract (Max 0.5%)
✅ Contract ID : https://bscscan.com/address/0x68ACdE780C94901b0Ab1d149FE27f3cAe2228677#code
✅ Start Date : 25-12-2021
Referral program
BNBFORT offers a reward program to its users that offers five different levels for their referrals. Users can earn up to 15% of additional profit.
➡️ 10th -level referral commission:
7% – 3% – 1.5% -1% – 0.5% – 0.5% – 0.5% -05% – 0.5%

GET STARTED
Create a Wallet
Download MetaMask or TrustWallet and create a wallet. Add the Binance Smart Chain to your network-list. Guide here
Get BNB
Buy BNB on an exchange (i.e. Binance). Transfer BNB to your wallet address. BEP-20 addresses start with a "0x"
Connect your Wallet
At the top of the site, click "Connect wallet", confirm the action, after which you should see the numbers of your wallet
Make a deposit
Click on the "Deposit" button. In the window that opens, enter the amount, click again on the "Deposit" button and confirm the action
Get dividends!
You have successfully created a deposit! Now every second you will receive dividends that you can withdraw at any time by clicking on the "Withdraw" button
BNBFORT is an exciting project since it can provide people with an easy way to earn money. It's a risk-free way of getting a return on one's investment in BNB tokens.
To visit their website, click here
Check out their Smart Contract here
For full Audit Report and project details, click here
If you have any questions, you can ask on their telegram channel
https://www.youtube.com/watch?v=n7-udUckOMY
---