Blockchain Summit Global Is One of The Most Outstanding Technology Events of the Year (Now Also Virtual)
Disclosure: Crypto is a high-risk asset class. This article is provided for informational purposes and does not constitute investment advice. By using this website, you agree to our terms and conditions. We may utilise affiliate links within our content, and receive commission.
Disclaimer: The text below is a press release that was not written by Cryptonews.com.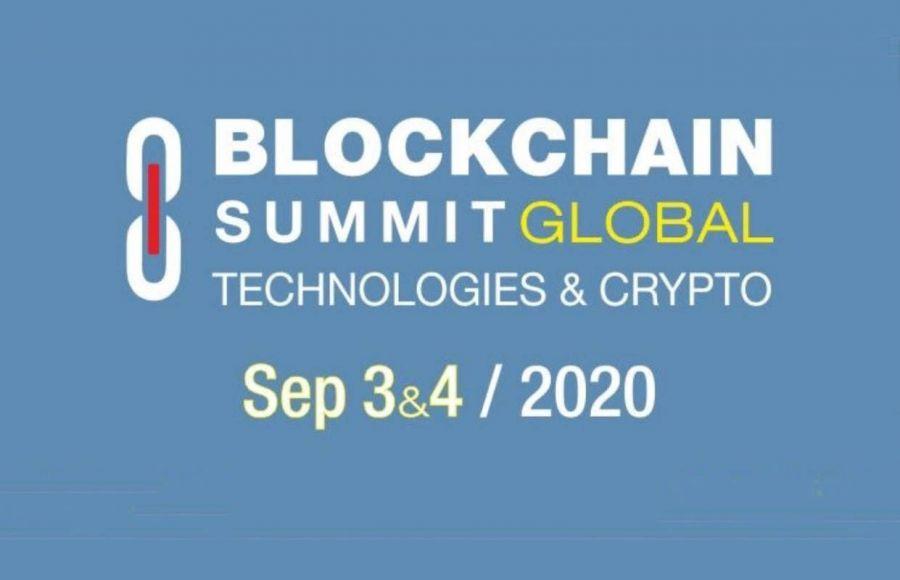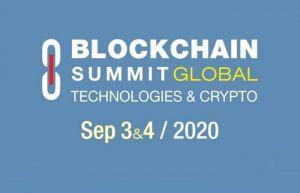 2020 has been conditioned by a pandemic that has disrupted everything, especially the presential events. Blockchain Summit UY reinvented itself as Blockchain Summit Global 3rd Edition with great strength, an incredible lineup of Speakers and a truly outstanding audience.
In the manner of a live TV program, conducted by Alejandra Labraga, the third edition of Blockchain Summit Global was launched, with a truly cosmopolitan audience, reaching more than 3,000 attendees from many countries around the world … here is the list: Germany, Argentina, Australia, Bahrain, Belgium, Belarus, Bolivia, Brazil, Canada, Chile, Colombia, Costa Rica, Czech Republic, Ecuador, Spain, Finland, Guatemala, India, Italy, Luxembourg, Malta, Mexico, New Zealand, Panama, Paraguay, Peru, Poland, Portugal, Puerto Rico, Dominican Republic, Romania, Switzerland, Turkey, UK, USA, Venezuela …


Conference data
It was 2 days – September 3 and 4:
With more than 3,000 attendees
Streaming on WEB + Channel on YouTube + Cable channel TCC / AP
10 panels of different topics
84 Featured Speakers
6 Workshops with 200 registered participants
1 Virtual Networking Room by IBM
22 hours of broadcasting
Summary of the main activities
Between talks, forums and a great agenda, the two-day event held from a TV Studio in Montevideo, have been broadcasted live for the whole world, with professional work from controls led by co-organizing partner Alejandro Panuncio.


The event agenda had Blockchain technology topics as a trigger in a dialog with the new technologies that come together in the so-called Revolution 4.0.
Experts analyzed the current situation and perspectives of the financial system and Blockchain technology in Latin America.
All the most important topics happening today in the Blockchain world were presented. If there is a conference that has all the themes and for all the profiles, it is the Blockchain Summit Global.
High-level speakers from 15 different countries participated, all referents and leaders on their subject.
Blockchain, cryptocurrencies, decentralized finance, platforms, use cases, tools, smart contracts, applications, communication, everything came together from the hands of world leaders.
On the other hand, on both days 6 workshops were developed arousing great interest, in which 200 people participated. IBM conducted one of the Workshops with a very timely topic: "How to make an electronic voting system with IBM Blockchain Platform" and challenged those who finished it with the incentive of a special award.
Firms and brands such as IOVLabs, Hyperledger, Microsoft, IBM, ConsenSys, FedEx, Amazon Web Services (AWS), IECISA El Corte Inglés – Gfi Group, Decred, Novablock, Kleros, AAVE and Grant Thorton, among others, were present at this event that was born in Uruguay and that has already been consolidated with a truly global reach.
Many personalities from the tech and financial industries provided their vision during the Blockchain Summit Global. In addition, also speakers at the governmental level, such as the now classic conference of the president of Banco Central del Uruguay, the CEO of Uruguay XXI and the president of UTE, the Uruguayan state energy company.
During the first day, Jaime Miller, executive director of Uruguay XXI, gave the opening speech where he described how the country is planted to offer a broad panorama in terms of industrial and commercial development and also the implementation of Blockchain, both legally and technological. He declared that Uruguay is a perfect testing ground for the development of this technology and that the clear national plan is to become a technology and business hub, mainly due to the growth that points towards electronic government.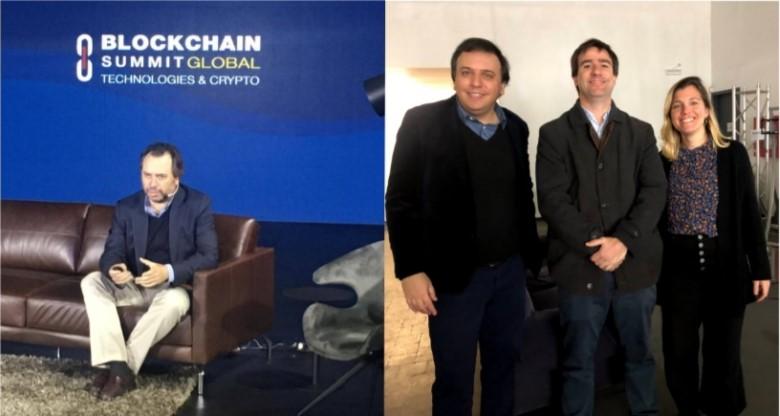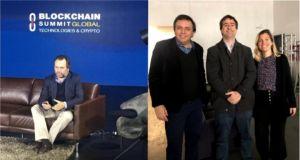 The presence of Jerry Cuomo, IBM Fellow, and IBM's vice president of blockchain technologies was also highlighted: "Being an IBM Fellow is being part of a kind of "superstar" category. "Cuomo does not usually give talks, so it was really an honor to have his participation", Ignacio Varese, founder and co-organizer of the event, said.
Another presentation that called great attention was about the possibility of tracing with transparency the stages of production of an ethical and environmentally sustainable line of clothing. Pablo Benítez, from Blockfashion, explained that ensuring and validating the proper information on industrial products is a commitment that the industry can offer to the consumer, thanks to the power of validation of the information on the process that Blockchain has.
Representatives of UNICEF and FedEx organizations also discussed their experiences in this regard.
Cecilia Chapiro, from UNICEF, explained how this technology could validate the identity of refugee minors who, due to their own condition, have lost the means to prove their nationality. UNICEF is supporting humanitarian undertakings that can improve the quality of life of children with Blockchain-based procedures.
Regarding the control of the supply chain, Dale Chrystie, Blockchain strategist at FedEx, explained how FedEx, a famous company, began to implement Blockchain-based procedures in its business model to promptly report the status of shipments and offer accurate information on their services to the final customer.
The challenges that cryptocurrencies present were also discussed in a panel of Exchanges and also in another panel, they discussed about the current situation of Cryptocurrency Mining. It was moderated by Ken Tenzer, co-organizing partner, and with the participation of prominent entrepreneurs in the industry such as Vincent Vuong from Novablock.
A presentation with a "fireside chat" mode was highly expected and very applauded at the end. It was held by the PR of Aeternity Mariana Sanguinetti and Amiti Uttarwar, recognized as the first developer woman of Bitcoin Core. Among other exciting topics, they also concluded that there is still a long way to go in terms of the presence of more women in this industry.


DeFI is one of the outstanding topics in the Blockchain world, and it was one of the most important topics on the first day, with a participation of Alberto Toribio from Spain giving an excellent introduction and then a panel with experts from different DeFi companies. Perhaps the most expected conference was that of Stani Kulechov, CEO of AAVE, about how a Blockchain spearheads the Decentralized Finance movement. DeFi offers financing possibilities to sectors that historically have not had access to the benefits of traditional banking through investment in cryptocurrencies. This large-cap company can not only issue collateral loans but also arbitrage services, a useful feature to enable international business flow for faster payment transactions.
Among other important topics addressed was the governance of the Blockchain. After all, who keeps order in a community that belongs to no one in particular? According to what was stated by Elián Huesca, from DECRED, it is the active consensus of the participating members that makes the decisions about the direction of a Blockchain; For this, it is necessary to develop more and more sophisticated consultation mechanisms to ensure representation.
Opening the second day, Diego Labat, president of Banco Central del Uruguay, started reflecting on the novelty that someone from the economic sector refers to a technological issue as a turning point in national finances. He did so to offer the public the point of view and assimilation of this technology in his office, which aims to apply new and better practices in pursuit of financial stability.
Labat explained that the monetary leveling of the financial sector begins with the evaluation of the true contribution of technologies to the assimilation of more actors into the economy. The highest financial institution in Uruguay is in this observation process, seeking comparative advantages with the rest of the world.
With the co-organizing partner Nicolás Ribeiro, Silvia Emaldi, president of UTE (energy state company) spoke live about the importance of the certification of renewable energy contracts in the country, which has the challenge of accounting for energy demand and inform each electrical user how much it consumes. With a transparent and unalterable system, a process under Blockchain would provide more information to the user and would not allow third-parties to modify the system to avoid deviations of the records.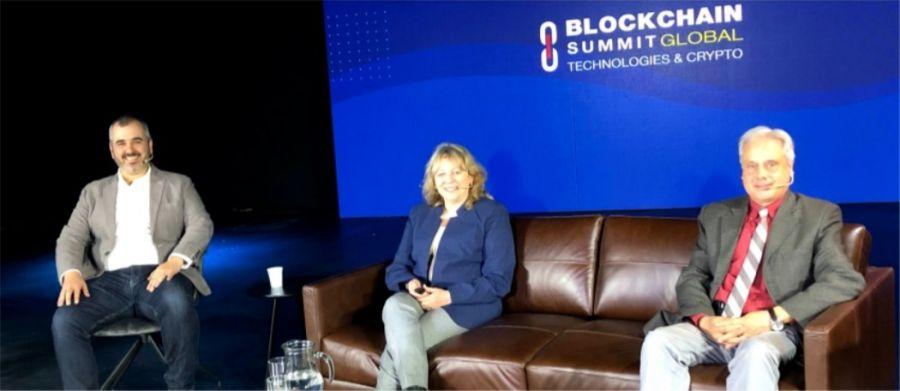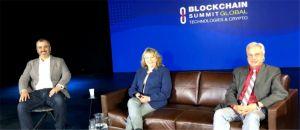 The legal and regulatory challenges were also discussed with an exceptional legal panel, and another panel analyzed how Blockchain impacts the traditional financial system. We had the now-classic conference by Dr. Ian Gauci from Malta, talking about Smart Contracts in the legal field. In turn, there was time to present the different education options with a panel of experts in Blockchain education.
IOT and Blockchain was the subject of speakers of the stature of Gustavo Gianatassio, Diego Suárez and the co-organizing partner Luis Eirea.
As every year there was a fantastic presentation of the renowned businessman Pablo Coirolo live from Switzerland.
Journalism had its space with a participation of the award-winning Sasha Iannova.
Gabriel Kurman, Master Advocate at IOVLabs, gave us an excellent presentation on Bitcoin as the financial foundation of the future.
Wilson Pais provided a fantastic presentation with his great experience and support from a very distinguished professional career at Microsoft and Grant Thornton's team brought us "Challenges for Blockchain Implementations in Productive Environments" and an excellent analysis of payment systems and CBDC.
The Summit had outstanding conferences in English such as "Health and digital identity are intertwined" by two world figures such as Dr. Jonathan Holt and Dr. David Koepsell from ConsenSys Health. From ConsenSys too, with a beginners guide, delivered theProduct Lead (DeFi) John Lyall.
From Amazon Web Services (AWS), Lana Kalashnyk, presented nothing less than "Amazon building solutions with blockchain" and also with an outstanding presentation, talked at the Summit, the renowned Marta Piekarska-Geater from Hyperledger.
Many more speakers offered their vision and experience in Blockchain technology issues, but we must also mention those who used the event space to teach workshops. In total, 200 virtual assistants received in-depth updates in six training workshops about the creation of smart contracts, tokenization and implementation of blockchain systems to business models.
Finally, Networking was in high demand with the IBM Virtual Room by a high-level executive team as the hosts that received and answered questions to visitors.
At the end, we add another excellent news: all the conferences will be broadcasted on YouTube on the Blockchain Summit channel as well as on the programming of TCC / Asuntos Públicos cable channel, who as a premiere, will begin to broadcast them on Tuesdays and Thursday at 9 p.m. There you will be able to see the conferences that you have lost past days or relive those that were your favorites.
The Speakers will be Jaime Miller, Ignacio Varese, Rodolfo Andragnes, Marta Piekarska-Geater, Pablo Benítez, Jonathan Holt, David Koepsell, Alberto Toribio, Stani Kulechov, Pablo Candela, Nadia Álvarez, Manuel Ferrari, Alejandro Santander, Yonathan Lapchik, Juan Pablo Mejía, David Battaglia, Nicole Pabello, Maximiliano
Hinz, Sebastián Serrano, Amiti Uttarwar, Mariana Sanguinetti, Wilson País, Ken Tenzer, Ethan Vera, Vincent Vuong, Alejandro de la Torre, Emiliano Grodzki, Elian Huesca, Jerry Cuomo, Cecilia Chapiro, Dale Chrystie, Pedro Rey, Martín Benítez, José Rodrígues, Gonzalo Arzuaga, Diego Labat, Federico Ast, Florencia Castagnola, Pablo
Zanetta, Daniel Rybnik, Rosine Kadamani, Agustina Pérez Comenale, Ian Gauci, María Salgado Iturrino, Carol Lago García, Fernando Arriola, Diego Amarillo , Javier Borkenztain, Eloísa Cadenas, Nicolás de Marco, Bruno Baccino, Raúl López, Sasha Ivannova, Ezio Rojas, Fernando Quirós, German Guismondi, Alexis Trujillo, Pablo Coirolo, Tomás Groos, Cristóbal Per eira, Joaquín Moreno, Gonzalo Sobral, Gustavo Gianatassio, Diego Suárez, Luis Eirea, Pedro Gutiérrez, Daniel De Michele, Pamela González Perilli, Gabriel Kurman, Silvia Emaldi, Nicolás Ribeiro, Lana Kalashnyk, Jordan Lyall, Omar Saadoun, Ricardo Ruano, Alberto Sigal and José Trajtenberg.
A great team have worked hard to make Blockchain Summit Global a success: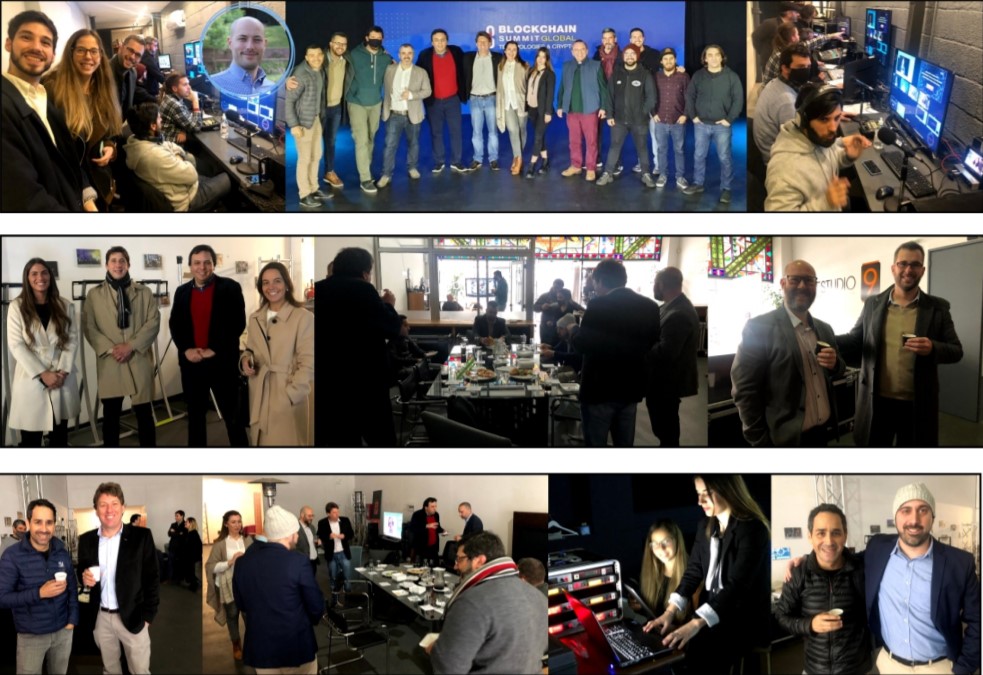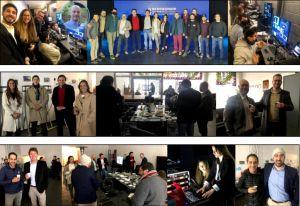 SPONSORS, PARTNERS & MEDIA PARTNERS – BLOCKCHAIN SUMMIT GLOBAL 2020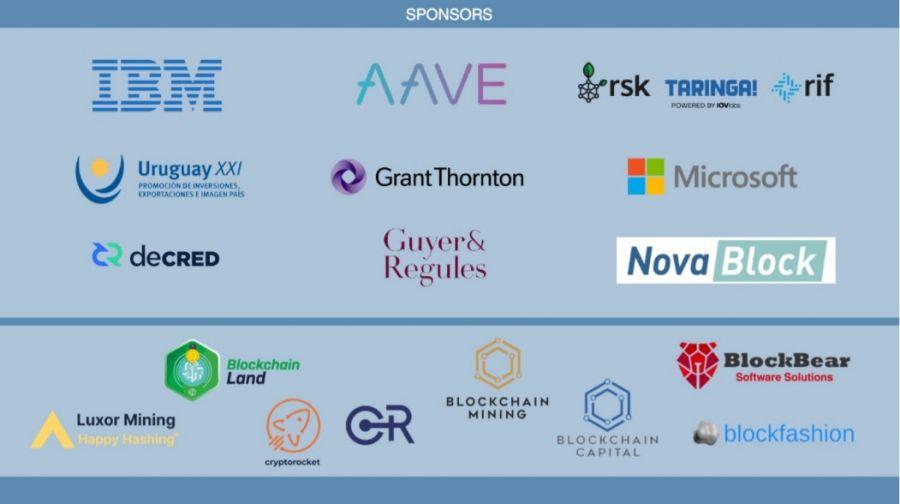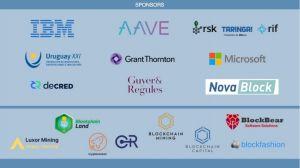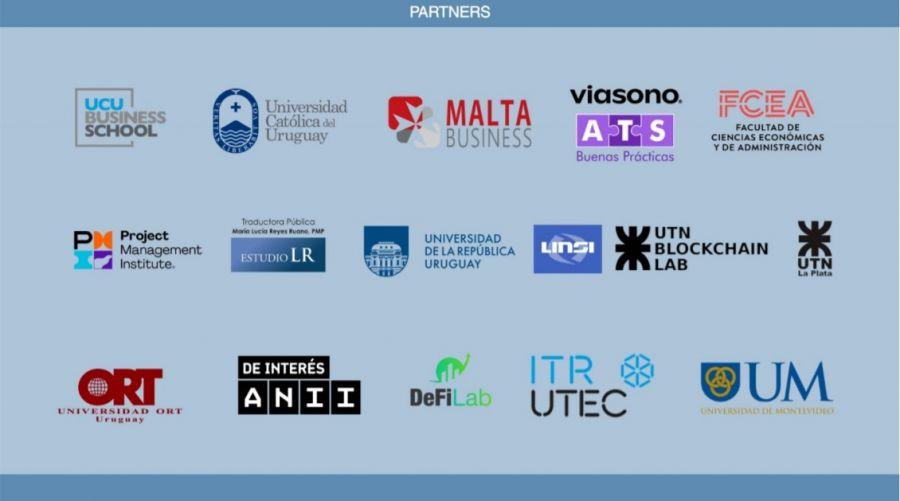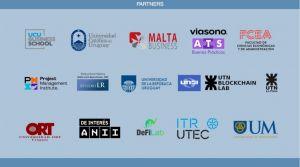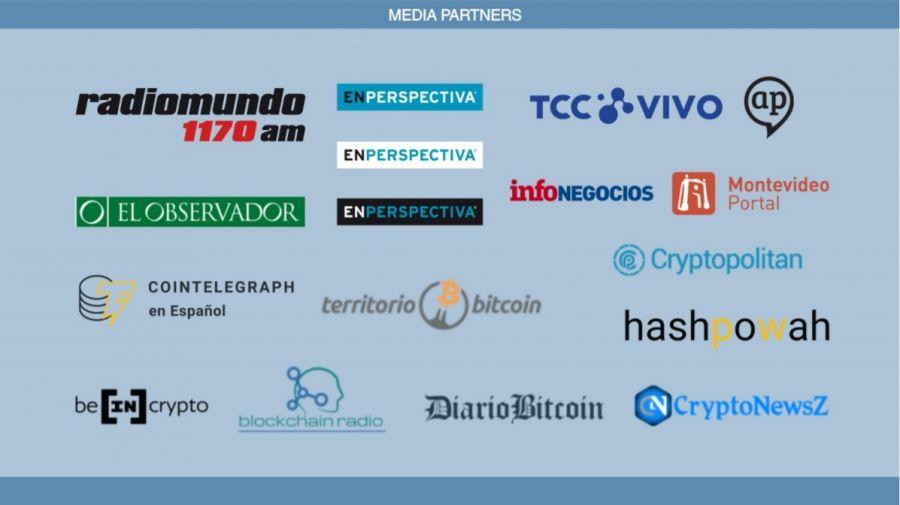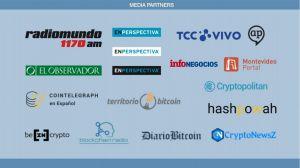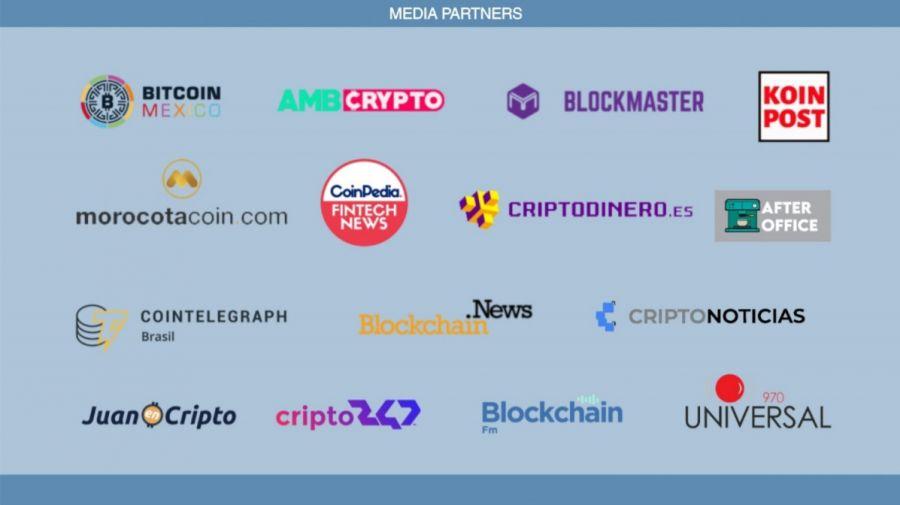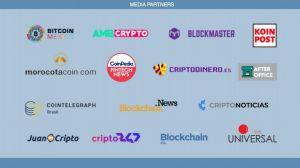 ---