Blockchain: The Answer to All Your Financial Burdens
Disclaimer: The text below is an advertorial article that was not written by Cryptonews.com journalists.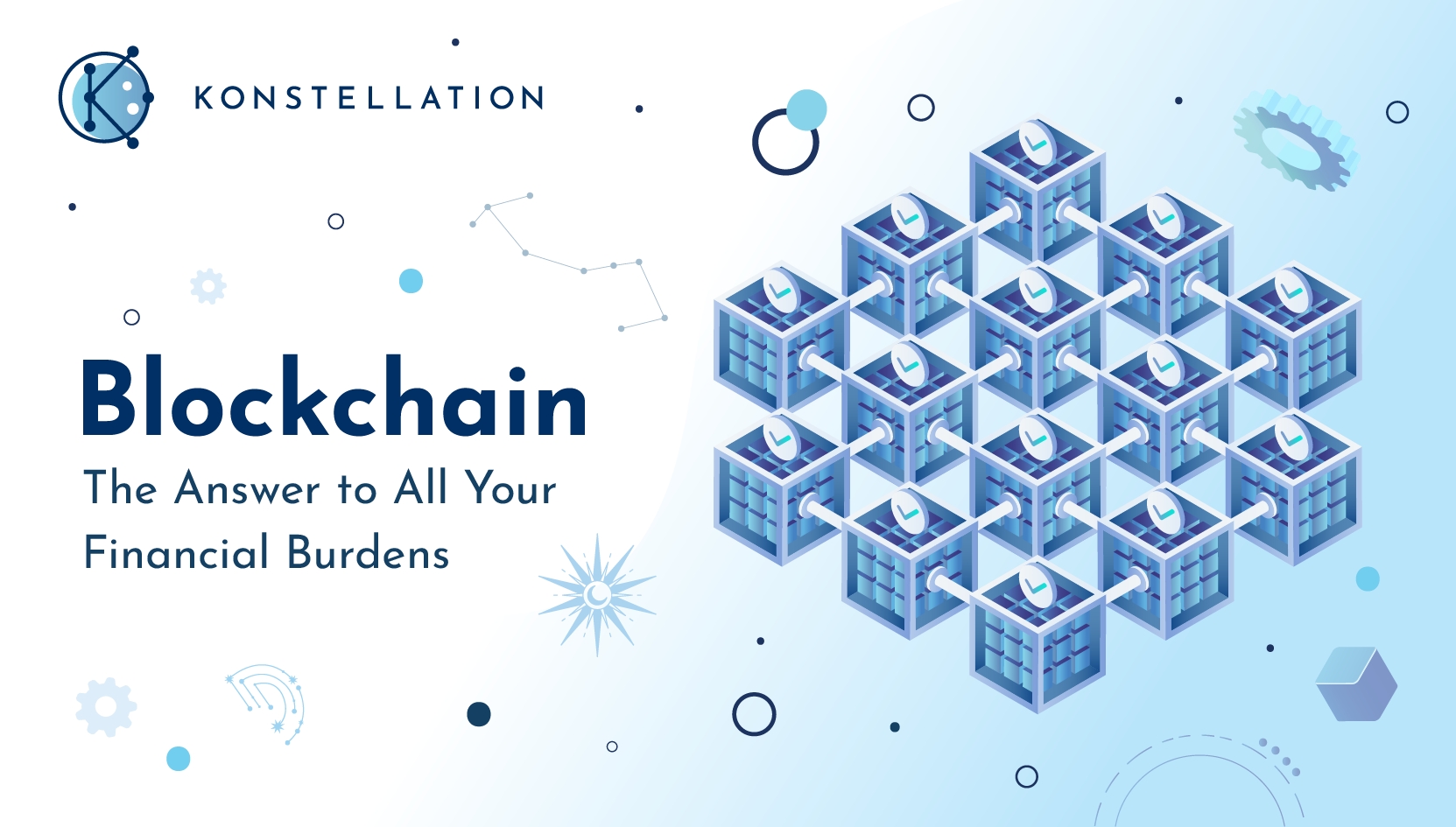 The global financial system handles trillions of dollars every day while employing millions of people to keep things running smoothly. It controls almost every aspect of a country's economy, including the way personal finances work for every individual. However, the system is riddled with flaws that raise costs through fees and delays, create friction through duplicate and onerous paperwork, and provide chances for fraud and criminality.
Every year, 45% of financial intermediaries, such as payment networks, stock exchanges, and money transfer services, are victims of economic crime. In fact, the overall economy suffers about 37% of the time from such crime, while the professional services and technology sectors suffer from 20% and 27%, respectively. Even the regulatory expenses are continuing to rise and have become a major source of anxiety for bankers. All of this has added up to costs, which are eventually borne by consumers.
As a solution, blockchain was created. Blockchain is a massive, globally distributed ledger capable of recording anything of value and running on thousands of machines. Money, stocks, bonds, titles, deeds, contracts, and almost all other types of assets may be moved and held safely, anonymously, and in a peer-to-peer manner since trust is generated not by strong middlemen like banks and governments but by network consensus of thousands of nodes, cryptography, and creative programming.
Bringing Transparency into Finance
Blockchain is making the financial industry more transparent because a public ledger registers all user activities. This openness helps expose inefficiencies such as fraud, which is leading to problem-solving that may lower risk for financial institutions. A report by The Harvard Business Review claims that blockchain will do to banking what the internet did to media.
When it comes to today's banks and financial institutions, blockchain has the ability to tackle a wide range of issues. It can provide all of the appealing properties needed in a trustworthy system dealing with money. Moreover, its safe, secure, decentralized, transparent, and reasonably inexpensive nature can be a game-changer for the entire economic landscape.
With a blockchain system in place, banks would be able to conduct transfers quickly without having to incur any risks because the system would be self-sufficient enough to settle everything on its own. With the help of decreasing fees and transaction scalability, blockchain technology will make modest payments possible and rapid.
Moreover, many financial services companies other than banks are continually improving their systems with the help of cutting-edge technology in order to secure markets by delivering economically accessible services at lower prices. Banking and other financial institutions should also anticipate the adoption of new blockchain technologies to guarantee their place in the ecosystem.
Emerging Financial Solutions Across Blockchains
Blockchain-based financial solutions are rising as a result of inefficiency in TradFi. Many DeFi applications have emerged with unique financial solutions to benefit the masses. From spot markets to structured financial products, DeFi is offering a wide range of efficient solutions to maintain and grow your financial positions. One such unique project offering the best capital market access in DeFi is the Konstellation network.
Konstellation is a decentralized cross-chain capital markets protocol built on Cosmos. It is allowing both new and seasoned investors to pursue a wide variety of investment opportunities in the DeFi and cryptocurrency market. Moreover, the platform intends to be the financial services industry hub for Cosmos and other blockchain ecosystems through strategic inter-blockchain communications.
The platform is a robust ecosystem in itself that has the best infrastructure. First is VegaX, a digital asset management platform creating investment products like an option call strategy that use risk mitigation to improve the monthly and yearly return for Bitcoin and Ethereum holders. There is also cryptocurrencies indexes to invest in the best projects in the NFT / DeFi / Solana ecosystem. The Second is Alkemy, an omni-currency stablecoin powering Solana blockchain. Third is Taebit, a decentralized exchange that will enable korean users to have access to the global digital asset market. Ultimately, Konstellation is the king of capital markets powering blockchains financially.
Powering the Future of Finance
Despite the rigorous regulations that surround the banking sector, financial institutions have begun to see the potential of blockchain technology in light of the present market popularity of cryptocurrencies. The banking industry's behemoths have begun testing to determine the potential applications of this decentralized technology for their business processes.
Furthermore, with projects like Konstellation building financial infrastructure across blockchains through capital markets is worth considering. The introduction of financial solutions into blockchain could solve several problems while also making the system more transparent, easy to access, and reliable.
---