Bitcoin Reverses Losses After Fed Makes Unprecedented Move
Bitcoin (BTC), major altcoins reversed losses today after the U.S. Federal Reserve (Fed) announced unprecedented measures to support the economy. (Updated at 13:47 UTC: updated throughout the entire text)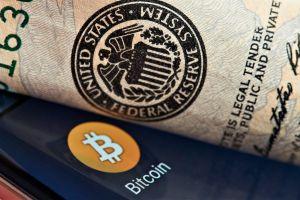 At pixel time (13:33 UTC), BTC trades at c. USD 6,283, and is up 3% in a day. Earlier on Monday, it was below USD 5,900 before rallying as high as to USD 6,535. Ethereum (ETH) is up less than 1%, to USD 131. Other coins from the top 10 are up around 1%-2% today.
The move by the Fed on Monday marks a major shift from earlier asset purchase arrangement such as the much-discussed Quantitative Easing (QE) program, which always had an upper limit associated with it. This time, however, assets will be purchased in an unlimited quantity, and will not stop until the Fed determines that it has achieved its objectives.
"We are now in [quantitive easing] infinity, again," Peter Boockvar, chief investment officer at Bleakley Advisory Group, said in a note, as reported by CNBC.
Most traditional assets, including stocks, precious metals, and oil all traded higher after the Fed pledged asset purchases with no limit to support markets. The stock market, in particular, reacted positively to the news, reversing earlier sharp losses in S&P 500 futures trading, which had once again traded "limit down" overnight.
Bitcoin jumped soon after the news was announced: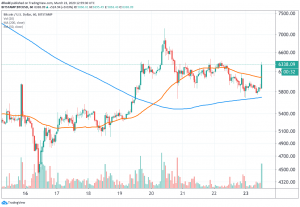 The same was also the case for the broad stock index S&P 500: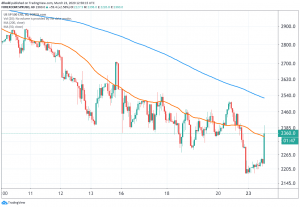 In addition to the asset purchase plan, the Fed also announced a new lending program worth USD 300 billion for non-financial businesses, although specific details are still scarce.
All of the new moves from the Fed comes on top of earlier measures announced last week, including the re-introduction of QE, direct payments to households often referred to as "helicopter money," and a new credit facility in the money market, which will now be expanded to include a wider range of securities.
According to CNBC, the announcement from the Fed represents "the most aggressive market intervention the Fed has made to date," and is effectively "an open-ended commitment to the QE program."
The market reaction on the Fed's announcement comes as crypto market participants were growing increasingly impatient about the correlation between stocks and crypto, with several community members claiming that bitcoin will "decouple" from the stock market.
The same sentiment was also shared by Mike Novogratz, CEO & Founder of the digital asset merchant bank Galaxy Digital, who wrote on Twitter that this year "will be and needs to be BTC's year."
Last week, he said that BTC will need to rebuild its confidence.
____
The Fed announced the following actions today:
Support for critical market functioning. The Federal Open Market Committee (FOMC) will purchase Treasury securities and agency mortgage-backed securities in the amounts needed to support smooth market functioning and effective transmission of monetary policy to broader financial conditions and the economy. The FOMC had previously announced it would purchase at least $500 billion of Treasury securities and at least $200 billion of mortgage-backed securities. In addition, the FOMC will include purchases of agency commercial mortgage-backed securities in its agency mortgage-backed security purchases.
Supporting the flow of credit to employers, consumers, and businesses by establishing new programs that, taken together, will provide up to $300 billion in new financing. The Department of the Treasury, using the Exchange Stabilization Fund (ESF), will provide $30 billion in equity to these facilities.
Establishment of two facilities to support credit to large employers – the Primary Market Corporate Credit Facility (PMCCF) for new bond and loan issuance and the Secondary Market Corporate Credit Facility (SMCCF) to provide liquidity for outstanding corporate bonds.
Establishment of a third facility, the Term Asset-Backed Securities Loan Facility (TALF), to support the flow of credit to consumers and businesses. The TALF will enable the issuance of asset-backed securities (ABS) backed by student loans, auto loans, credit card loans, loans guaranteed by the Small Business Administration (SBA), and certain other assets.
Facilitating the flow of credit to municipalities by expanding the Money Market Mutual Fund Liquidity Facility (MMLF) to include a wider range of securities, including municipal variable rate demand notes (VRDNs) and bank certificates of deposit.
Facilitating the flow of credit to municipalities by expanding the Commercial Paper Funding Facility (CPFF) to include high-quality, tax-exempt commercial paper as eligible securities. In addition, the pricing of the facility has been reduced.
__
Reactions:
---