Bitcoin Prices and Ethereum Prediction; Is The BTC Price Above $22,700 Enough To Trigger A Bull Run?
Disclosure: Crypto is a high-risk asset class. This article is provided for informational purposes and does not constitute investment advice. By using this website, you agree to our terms and conditions. We may utilise affiliate links within our content, and receive commission.
On Tuesday morning, Bitcoin (BTC) dropped below the $23,000 mark in advance of the first US Federal Reserve meeting on interest rates since 2023, which is slated to take place on Wednesday.
Bitcoin dropped to $22,800, down 3% from its peak of $24,000 over the weekend. Ethereum (ETH) has also declined by 4.34 percent in the past 24 hours and is now traded at $1,568.30.
4% drop of btc make them bear market is started🤣🤣🤣

— kk (@captk1990) January 30, 2023
Bearish Cryptocurrency Market
The reason for its bearish rally, on the other hand, could be attributed to the poor crypto market sentiment, which has suffered some losses and has been unable to maintain its positive attitude.
Moving on, the upcoming Federal Reserve internet rate hike and earnings from major tech companies will have a significant impact on the crypto market. In the coming days, the market will be closely watching the earnings of major technology companies.
#Bitcoin has broken out of the value zone on the MVRV Z-score indicator for the first time this bear market.

Only once before (2012) has it re-entered this zone shortly after a breakout. pic.twitter.com/6SLmrV20uk

— Gaz (@defi_gaz) January 31, 2023
Investors are concerned because the US Federal Reserve meeting is expected to discuss another rate hike. The consequences are visible in the cryptocurrency market, where Ethereum has dropped more than 4% and Bitcoin has dropped more than 3% in the last day.
Revenue Growth for Bitcoin Miners
Bitcoin (BTC) is beginning to show signs of a modest bull run, indicating that its efforts are bearing fruit. Mining incentives and transaction fees increased the mining community's income by nearly 50% in the first month of 2023. This was thought to be one of the most important factors that could help BTC limit its losses.
In the first month of 2023, the #Bitcoin mining community experienced a 50% increase in revenue through mining rewards and transaction fees.

On Dec. 28, 2022, $BTC mining revenue dipped to $13.6 million for the first time since October 2020.

— Cointelegraph (@Cointelegraph) January 31, 2023
On December 28, 2022, bitcoin mining revenue reached $13.6 million for the first time since October 2020. As a result, mining companies faced severe financial strain, leading to the closure of some of them. Energy prices were also rising as a result of geopolitical unrest.
According to the graph below, revenue in the cryptocurrency mining industry increased by 50%. This increase occurred as Bitcoin remained in a favorable position for long-term recovery. Bitcoin mining revenue increased from $15.3 million on January 1 to around $23 million in just one month.
Nonfungible Token protocol on Bitcoin
The cryptocurrency community is divided over whether the recently adopted nonfungible token (NFT) protocol on the Bitcoin mainnet will benefit the entire Bitcoin ecosystem. Casey Rodarmor, a software developer, created the Ordinals protocol.
After writing a blog post on January 21, he is also in charge of formally launching the program on the Bitcoin mainnet.
📌 Crypto proponents would be wise to keep their eyes on nonfungible token (NFT) and metaverse trademark applications this year.

Follow 👉 @thenftist #nfts #nft #nftart #nftcommunity #nftcollector #nftartist #crypto #digitalart #cryptoart #ethereum #opensea pic.twitter.com/5nZG7aLwdk

— THE NFTiST (@thenftist) January 30, 2023
The protocol's implementation, on the other hand, has sparked debate within the Bitcoin community. While some argue that it broadens Bitcoin's financial applications, others argue that it further distances the cryptocurrency from Satoshi Nakamoto's original vision of it as a decentralized peer-to-peer cash system.
Bitcoin Price
The current Bitcoin price is around $22,887 as of today, with a 24-hour trading volume of around $26 billion. It has a market cap of $456 billion and ranks first on CoinMarketCap.
BTC/USD has had a tumultuous 24 hours, starting at $23,746 and decreasing by 0.92% to its present value of $23,238. Over the past day, it has oscillated between highs of $23,784 and lows of $23,110. Despite this decrease in value over the past day, it has seen an overall increase of more than 2% over the last week.
The BTC/USD pair in the 4-hour timeframe has been stuck at the $23,500 resistance area, unable to break through. Currently, it is striving to reclaim its footing at the $22,700 support level.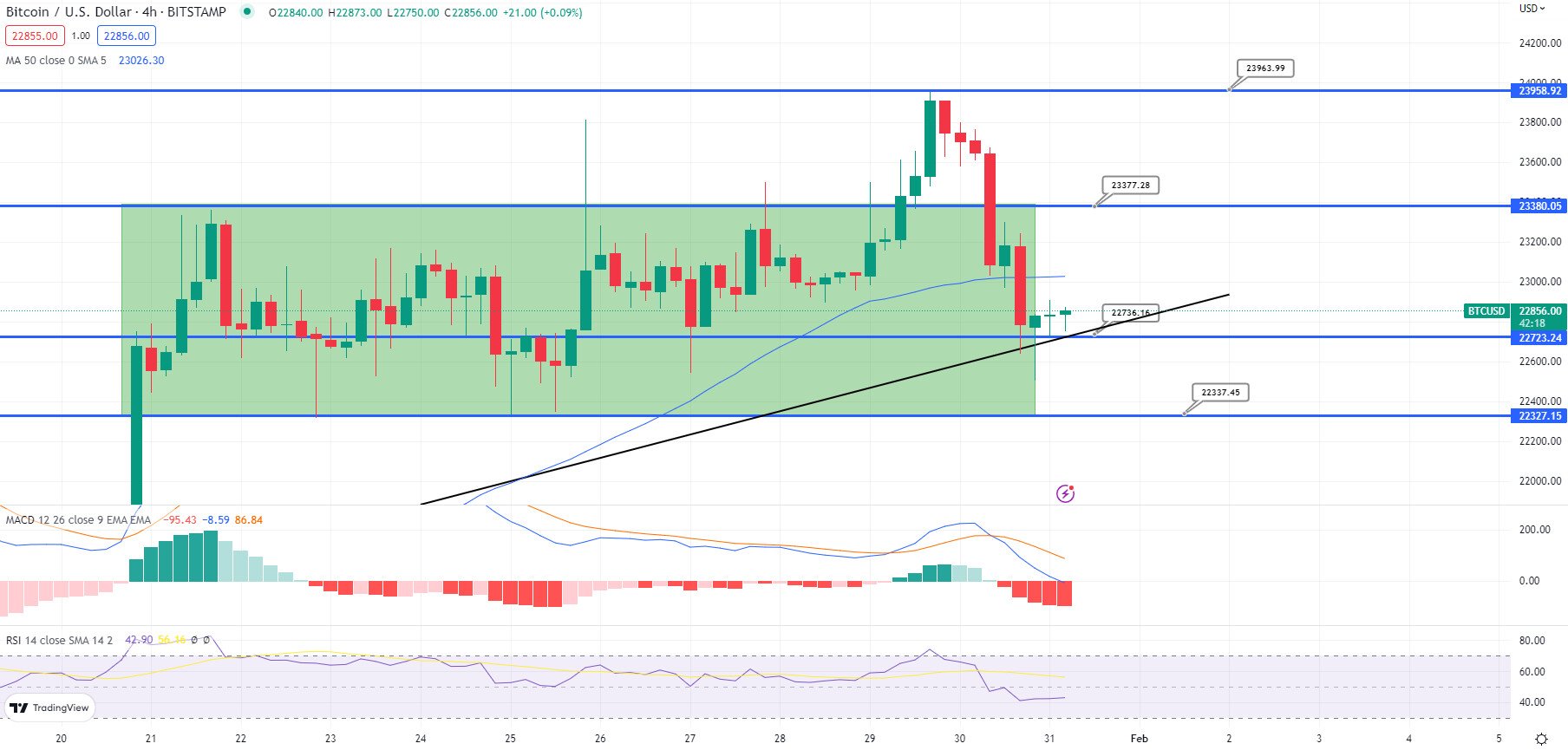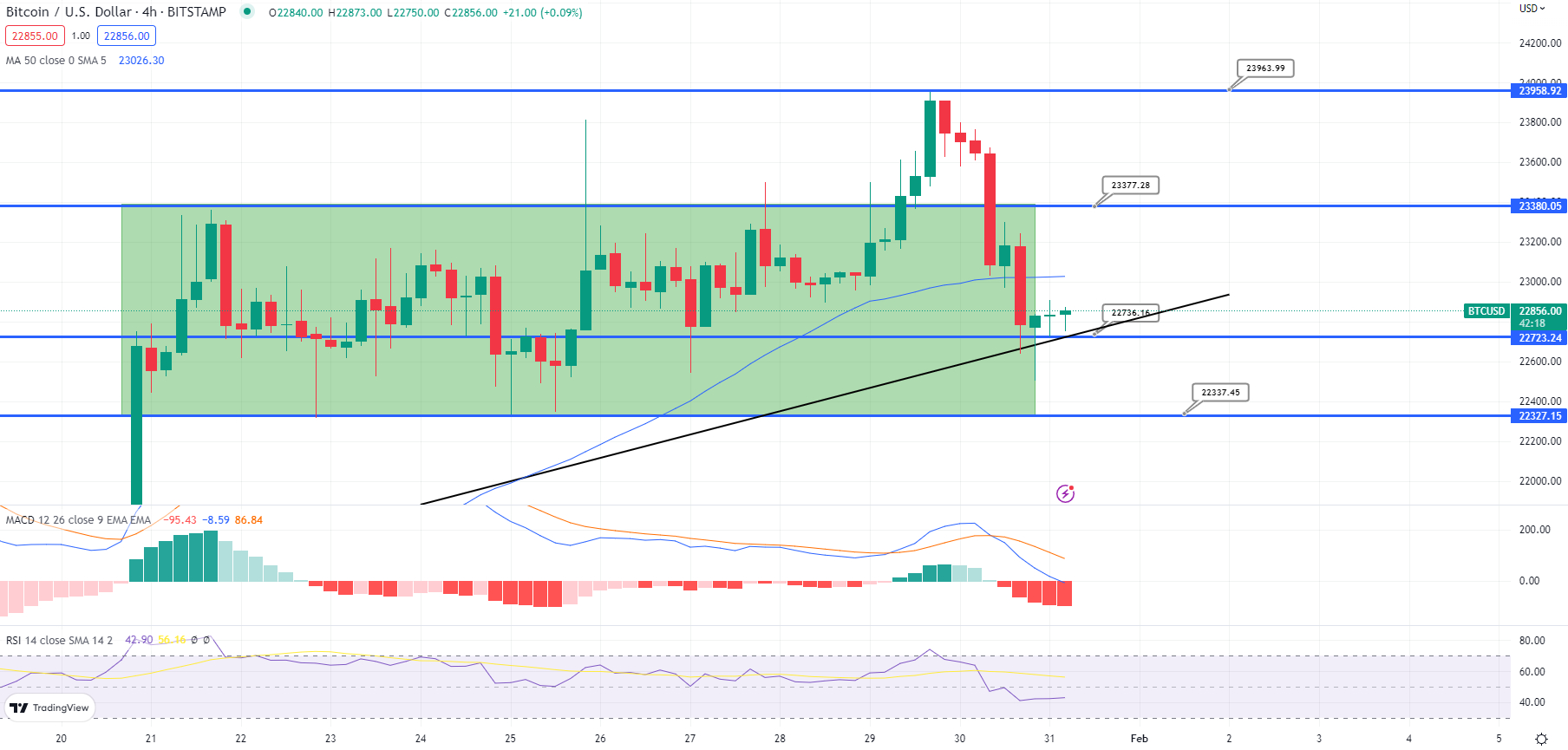 If the 4-hour timeframe's 50-day moving average of $22,700 is not exceeded then Bitcoin might fall to either $22,600 or $22,350. But if closing candles manage to remain above this resistance then a reversal of the bearish trend may be seen in the BTC/USD market.
Investing in positions with prices higher than $22,700 could potentially yield a good return with targets set at $23,550 or $24,000. On the flip side, selling positions may be considered if the support level of $22,700 breaks down.
Ethereum Price
As of now, Ethereum is being traded for $1,570 with a less than 0.10% surge in the last 24 hours & a trading volume of $9.2 billion. It's currently second on CoinMarketCap with a market capitalization of $193 billion.
On the technical front, a double-bottom support level of $1,500 is likely to drive a bullish reversal in Ethereum. On the upside, the ETH/USD pair may find an immediate resistance at $1,600; breaking above this could lead ETH towards the $1,625 level.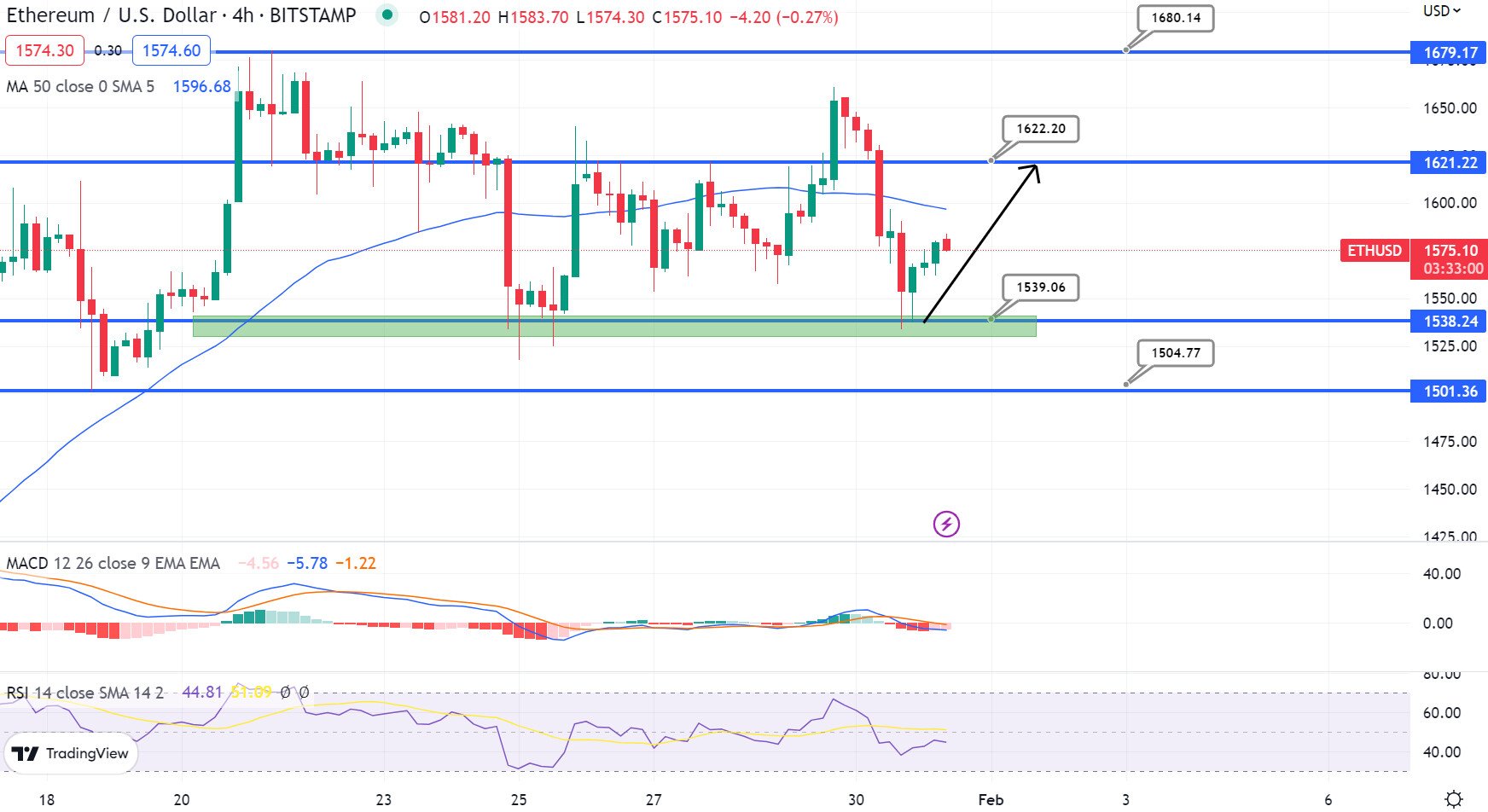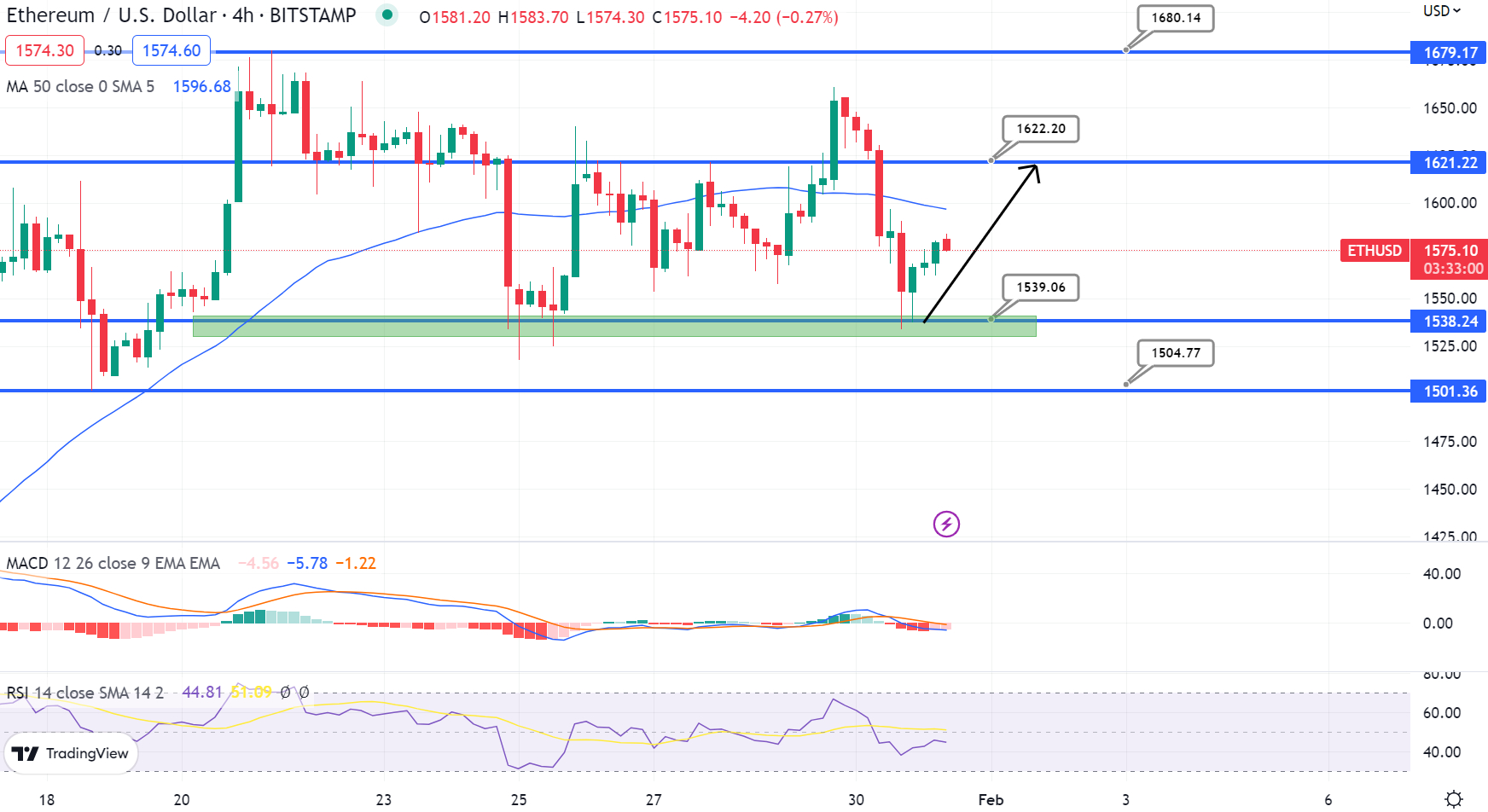 On the lower side, a break of the support level at $1,540 could extend the selling trend until the $1,500 level.
Bitcoin Alternatives
CryptoNews Industry Talk has evaluated the top 15 cryptocurrencies for 2023. If you're looking for a more promising investment opportunity, there are other alternatives to consider.
Every week, new altcoins and ICO projects are added to the list.
Disclaimer: The Industry Talk section features insights by crypto industry players and is not a part of the editorial content of Cryptonews.com.
Find The Best Price to Buy/Sell Cryptocurrency


---