Bitcoin Price Prediction: Stuck Below $30,000 Ahead of Potential Fed Rate Hike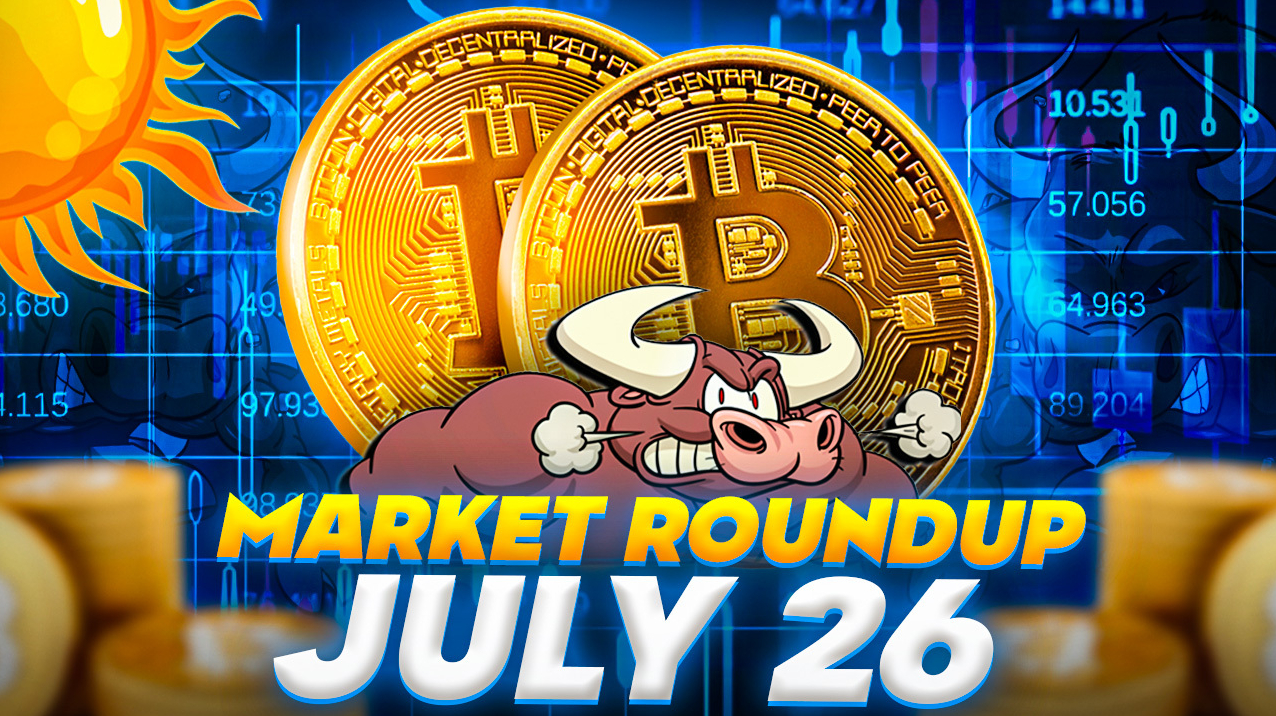 As of Wednesday, Bitcoin price is trading at $29,250, showing a modest increase of nearly 0.50%.
However, the cryptocurrency remains stuck below the critical $30,000 level, with investors closely monitoring the upcoming Federal Reserve (Fed) rate decision.
The anticipation of a potential rate hike has added uncertainty to the market, affecting Bitcoin's price movement.
In the midst of these developments, the UAE regulator has granted Rain permission to provide cryptocurrency brokerage and custody services, reflecting the growing interest and recognition of the digital asset market.
Bitcoin Struggles to Break $30,000 Ahead of Potential Fed Rate Hike

BTC surged beyond the $30,000 mark a month ago, driven by the excitement surrounding financial giant BlackRock's proposal for a Bitcoin ETF.
The prospect of regulatory approval for the world's largest asset management firm to invest in digital assets sparked speculation that significant institutional funds could flow into the cryptocurrency market.
However, Bitcoin's price has remained relatively stagnant since then, primarily due to apprehension surrounding the Federal Reserve's upcoming decision on July 26, which is widely expected to include a 25 basis point (bps) interest rate increase.
Market participants have already factored in the potential impact of the Fed's decision by entering long positions, resulting in today's boost in BTC value.
However, post the Fed's decision, it is anticipated that the value of BTC will decline, potentially pushing prices further below the $30,000 range. The market remains cautious as the cryptocurrency awaits the Fed's monetary policy update.
UAE Regulator Approves Rain for Cryptocurrency Brokerage and Custody Services
The Abu Dhabi Global Market (ADGM) Financial Services Regulatory Authority has granted Rain, a cryptocurrency firm, the official permission to provide brokerage and custody services for virtual assets to residents in the UAE.
With this regulatory approval, both institutional and retail users in the UAE can now buy, sell, trade, and securely store cryptocurrencies through the Rain platform.
CEO Joseph Dallago expressed that obtaining this regulatory approval resulted from a dedicated five-year effort, positioning Rain as one of the early pioneers seeking licensure in the region.
This recent development follows Binance, another well-known crypto exchange, receiving similar regulatory permission in Abu Dhabi back in November 2022.
The growing acceptance of cryptocurrency services by regulators in the UAE signals a positive trend that could impact the value of BTC and other cryptocurrencies.
As the ease of access to crypto trading through regulated platforms improves, more investors in the UAE might be encouraged to enter the market, potentially driving the value of BTC to higher levels.
Bitcoin Price Prediction
Based on the latest analysis of Bitcoin's price, the $29,550 level is identified as a significant resistance point, while the psychological level of $30,000 carries considerable importance.
The presence of doji and spinning top candle patterns above the $28,900 mark indicates a potential weakening of bearish sentiment, potentially creating an opportunity for a bullish trend.
However, it's crucial to consider the 50-period exponential moving average around $30,000, which may serve as a resistance level, supported by neutral signals from the relative strength index and moving average convergence divergence indicators.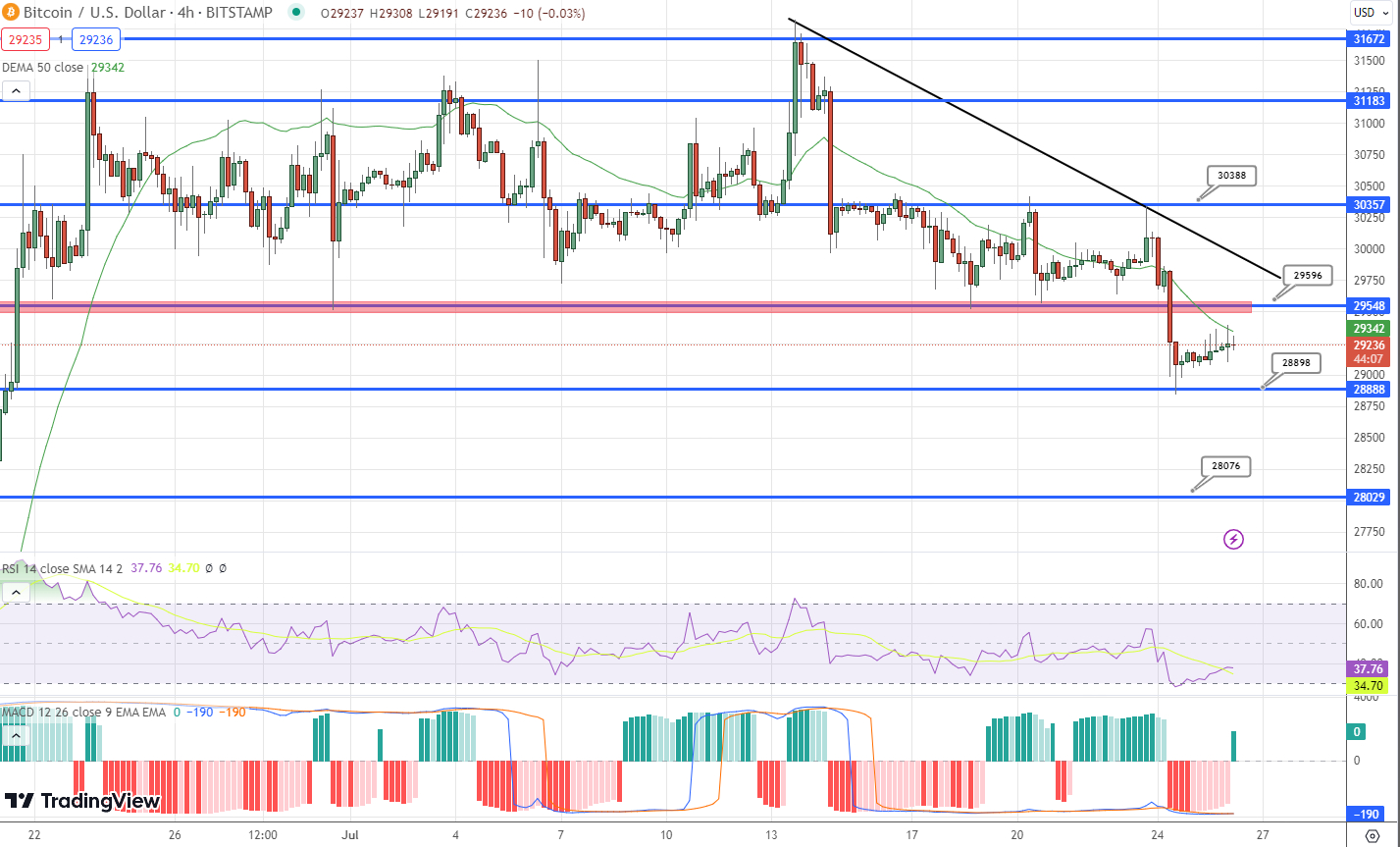 Given the current trading dynamics, Bitcoin's price movements are expected to remain within the range of $29,550 to $28,850.
A potential breakthrough above $29,550 could trigger price targets around $30,200 or even $30,900.
Conversely, a bearish breakdown below $28,850 could drive Bitcoin's price toward the $28,000 level. Traders are advised to conduct thorough analyses, considering relevant factors, before making any trading decisions, as market conditions can change rapidly.
Top 15 Cryptocurrencies to Watch in 2023
Stay informed about the latest initial coin offering (ICO) projects and alternative cryptocurrencies by regularly exploring our carefully selected collection of the top 15 digital assets to watch in 2023.
This thoughtfully curated list has been compiled by industry experts from Industry Talk and Cryptonews, ensuring that you receive professional recommendations and valuable insights.
Stay ahead of the game and discover the potential of these cryptocurrencies as you navigate the ever-changing world of digital assets.
Find The Best Price to Buy/Sell Cryptocurrency

Disclaimer: Cryptocurrency projects endorsed in this article are not the financial advice of the publishing author or publication - cryptocurrencies are highly volatile investments with considerable risk, always do your own research.
---