Bitcoin Price Prediction: Lightspark CEO David Marcus Envisions Bitcoin as a Global Payment Network
In the ever-evolving landscape of cryptocurrency, Bitcoin continues to hold its ground, currently trading at $25,952, reflecting a noteworthy 3% increase on Wednesday.
Amidst this dynamic market, David Marcus, the CEO of Lightspark, has articulated a visionary perspective, heralding Bitcoin's emergence as a global payment network.
Furthermore, CoinDesk Indices has partnered with ICE, a leading exchange operator, to extend its presence into the burgeoning Asia-Pacific region in a strategic move that underscores the cryptocurrency industry's expanding horizons.
These developments provide valuable insights into the ongoing evolution of Bitcoin and its increasingly pivotal role in the world of finance.
Lightspark CEO David Marcus on Bitcoin as a Global Payment Network
David Marcus, CEO of Lightspark and co-creator of the defunct Diem cryptocurrency project, has outlined his ambition to transform Bitcoin into a global payment network.
Marcus emphasized the need for a universal platform that could enable seamless money transfers, similar to text or video communication on messaging apps. He compared the current state of global payments to the outdated "fax era."
Lightspark, Marcus's new venture, is dedicated to implementing solutions for enterprises using the Lightning Network, an extension layer for Bitcoin, to streamline and expedite payments.
Marcus emphasized the immense size of the payment industry, with trillions of dollars flowing through outdated cross-border systems like SWIFT. He also noted that Bitcoin might not be the primary currency for purchases due to its anticipated price growth.
Instead, Bitcoin would act as a platform for facilitating value exchange between various fiat currencies, using the Lightning Network for efficient, low-cost cross-currency transactions.
This perspective could positively impact Bitcoin's price, driving further interest and investment in the cryptocurrency.
CoinDesk Indices Launches in Asia-Pacific Region Through Partnership with ICE
ICE Futures Singapore, a global exchange operator Intercontinental Exchange (ICE) division, is revamping its bitcoin futures offerings by partnering with CoinDesk Indices.
Under this deal, ICE Futures Singapore's bitcoin futures contracts will be rebranded as CoinDesk Bitcoin Futures contracts. These contracts will now settle using the CoinDesk Bitcoin Price Index (XBX), commencing with the October contracts.
CoinDesk's index, operational since 2014, is a widely recognized benchmark, influencing approximately $17 billion in assets across various investment vehicles.
As ICE is a major player in the global futures exchange arena and owns the New York Stock Exchange, this collaboration expands CoinDesk Indices' presence into the Asia-Pacific region.
This development could positively impact the BTC/USD price, as it signifies growing institutional interest and integration of cryptocurrencies into traditional financial markets.
Such partnerships often enhance cryptocurrency legitimacy and may attract more investors, thereby contributing to Bitcoin's price rise
Bitcoin Price Prediction
Assessing Bitcoin's technical aspects, it demonstrates a notable uptrend, effectively breaking a significant barrier at the $25,900 level. This resistance was previously strengthened by a descending trendline visible on the four-hour chart, consistently impeding Bitcoin's upward progress.
However, during the early trading hours, Bitcoin successfully overcame this hindrance, surging to reach highs of $26,500. This newly established $26,500 level now assumes the form of a double top pattern, presenting a substantial hurdle for BTC.
Despite its initial surge, Bitcoin encountered difficulties in maintaining a position above the $26,500 threshold, subsequently retracing to hover just below $26,000. Currently, it remains slightly above the former resistance-turned-support level at $25,900.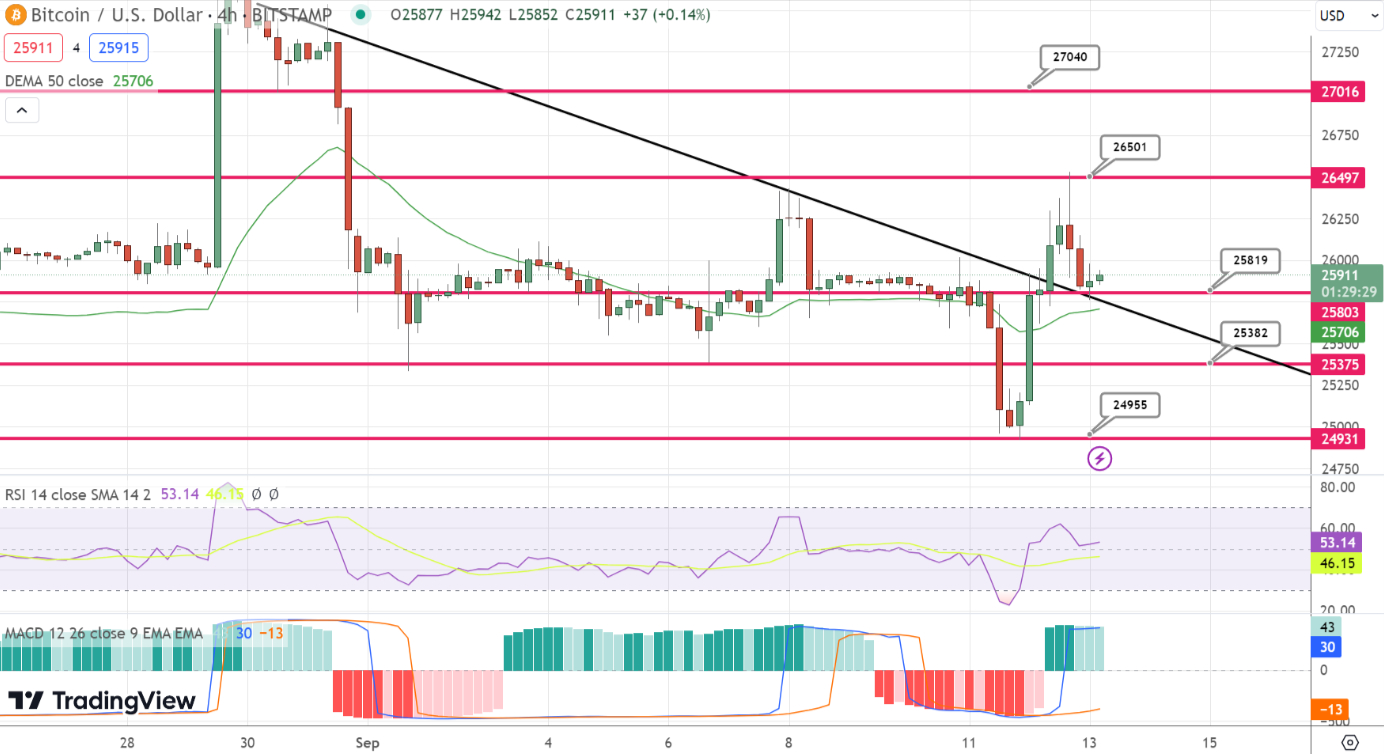 Examining key technical indicators such as the Relative Strength Index (RSI) and Moving Average Convergence Divergence (MACD), both indicators reside in the bullish territory.
Furthermore, the presence of the 50-day exponential moving average reinforces the potential for a sustained bullish trajectory, provided Bitcoin remains above the $25,600 level.
A potential decline below this mark could expose the subsequent significant support levels, notably at $25,400 and the critical $24,950 threshold.
Conversely, if Bitcoin manages to surpass the $26,500 resistance, it could set its sights on targets at $27,000 and $27,500.
In summary, the $26,500 level stands as a pivotal juncture: trading below it may indicate a bearish inclination, while trading above it could signal a continuation of the bullish momentum.
Top 15 Cryptocurrencies to Watch in 2023
In order to stay ahead in the world of digital assets, it's important to explore our hand-picked selection of the top 15 alternative cryptocurrencies and ICO projects to keep an eye on in 2023.
Our list has been carefully put together by experts from both Industry Talk and Cryptonews, providing you with professional recommendations and valuable insights for making informed decisions about your cryptocurrency investments.
Stay up-to-date with the latest trends and discover the potential of these digital assets.
Find The Best Price to Buy/Sell Cryptocurrency

Disclaimer: Cryptocurrency projects endorsed in this article are not the financial advice of the publishing author or publication - cryptocurrencies are highly volatile investments with considerable risk, always do your own research.
---