Bitcoin Price Prediction: Grayscale Win Fuels US Innovation Amid ETF Delays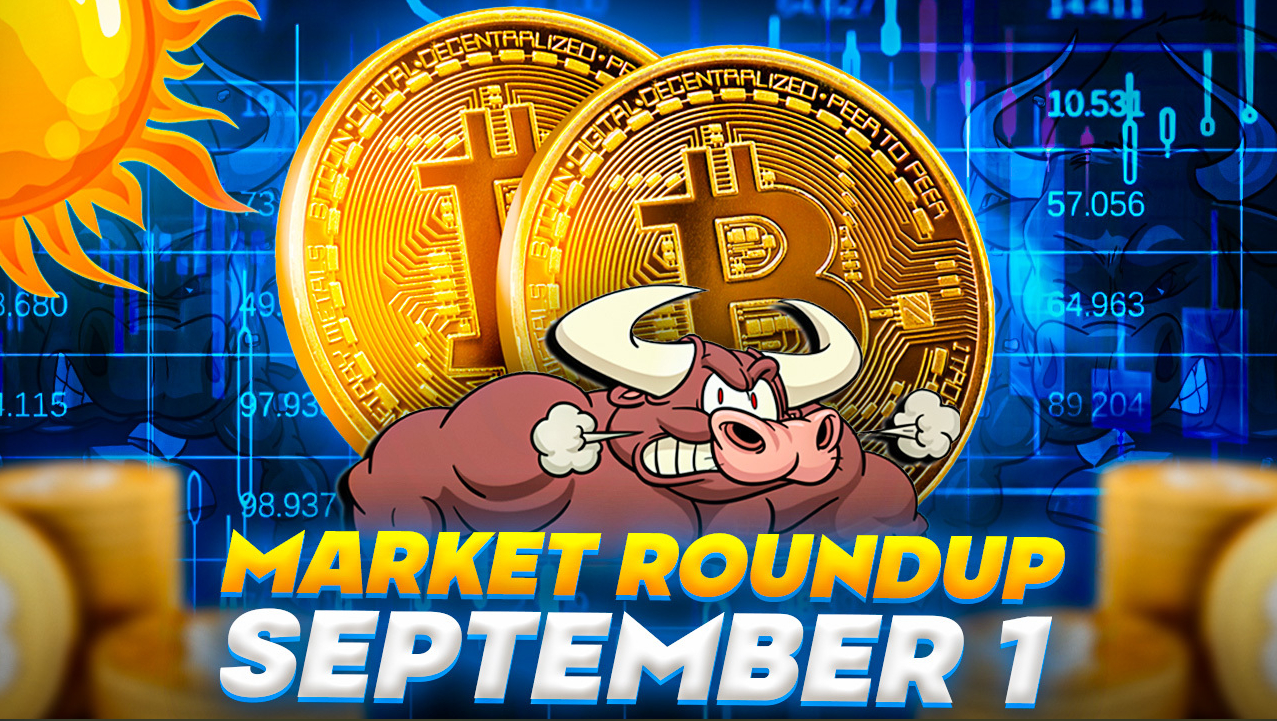 Bitcoin's price landscape remains dynamic and ever-evolving. As the cryptocurrency is currently trading at $26,081, marking an over 4% decline on Friday, the backdrop presents a mix of challenges and opportunities.
A landmark court decision favoring Grayscale has emerged as a beacon of hope, propelling avenues for Bitcoin innovation within the United States.
US Presidential Candidate Vivek Ramaswamy underscores the significance of this verdict in clearing the path for Bitcoin's growth in the nation.
Concurrently, despite the ongoing momentum where exchange holdings of Bitcoin have plummeted to a five-year low, there are concerns on the horizon.
The SEC's decision to delay the registration of seven spot BTC ETFs led to a sharp 7% decline in Bitcoin's value.
Amidst these developments, there's a growing chorus for collaboration; Biden's regulators are now being pressed to join forces with Congress to sculpt a robust regulatory framework for cryptocurrencies.
Court Ruling in Favor of Grayscale Clears Path for Bitcoin Innovation in the U.S., Says Vivek Ramaswamy
Vivek Ramaswamy, a Republican presidential candidate, believes that the recent court ruling favoring Grayscale Investments against the SEC will foster Bitcoin innovation within the US.
He praised the decision for ensuring that crypto development remains domestic, rather than abroad.
Ramaswamy criticized the case's escalation to courts, asserting that federal courts are now the defense against government agency actions.
He pledged to revoke federal regulations not meeting the Supreme Court's West Virginia vs. EPA standard if elected. While Ramaswamy's comments favored BTC, they failed to spark positive momentum in BTC/USD value.
Bitcoin Exchange Holdings Plummet to Five-Year Low Amidst Continued Buildup
Bitcoin accumulation by long-term holders persists as exchange holdings reach a 5-year low.
On August 31, Glassnode data indicated HODLed or lost coins at a 5-year peak of 7.841 million BTC ($213 billion).
These untouched balances reflect both long-term holdings and coins stored in older addresses.
Concurrently, Bitcoin held on exchanges has hit a 5-year low of 2.26 million BTC ($61.28 billion), possibly due to regulatory pressures on Binance.
Amidst SEC accusations, Binance seeks to address compliance concerns, while the BTC/USD decline today may be influenced by this news.
Congress Urges Collaboration with Biden's Regulators for Cryptocurrency Regulation
Multiple US legislators are urging regulatory agencies, particularly the SEC, to collaborate with Congress to create comprehensive cryptocurrency regulations.
After the court's ruling favoring Grayscale Investments against the SEC, lawmakers are asserting the need for clearer rules and robust consumer protections through legislation.
The House Financial Services Committee noted that Chair Gary Gensler's enforcement-focused approach lacks effectiveness in safeguarding consumers.
Congressman Patrick McHenry highlighted the SEC's struggles in court battles and emphasized the necessity of a comprehensive regulatory framework like the FIT for the 21st Century Act, recently passed by relevant House committees.
As BTC/USD faces a decline today, the ongoing debate about regulatory frameworks impacts the market sentiment.
SEC's Delay of Seven Spot BTC ETF Registrations Causes 7% Drop in Bitcoin Price
The price of Bitcoin (BTC) has experienced a decline of over 4% in the past 24 hours and is currently trading at $26,081.
This was triggered by the US SEC's decision to delay multiple spot BTC ETF applications, including those from prominent firms like BlackRock, Valkyrie, and Fidelity.
The SEC's move to stack decision deadlines for the next 45 days indicates a likely simultaneous decision for all seven applicants around October 15.
This setback follows a recent rally on August 29, which was catalyzed by Grayscale's news.
Bitwise also withdrew an Ethereum futures application, potentially paving the way for their BITC product to encompass ETH futures.
Bitcoin Price Prediction
Bitcoin's technicals indicate a recent bearish trend, with a sharp drop from 27,300 to a low of 25,900. Bitcoin has already reached a 61.8% Fibonacci retracement at the 26,335 level in the four-hour timeframe.
However, the downward momentum shows no signs of stopping. It has breached the 61.8% retracement and seems to be heading towards the next significant support level at 25,900, which coincides with the 78.6% retracement.
Both oscillatory indicators, the Relative Strength Index (RSI) and Moving Average Convergence Divergence (MACD), indicate bearish sentiment as they remain in the sell zone.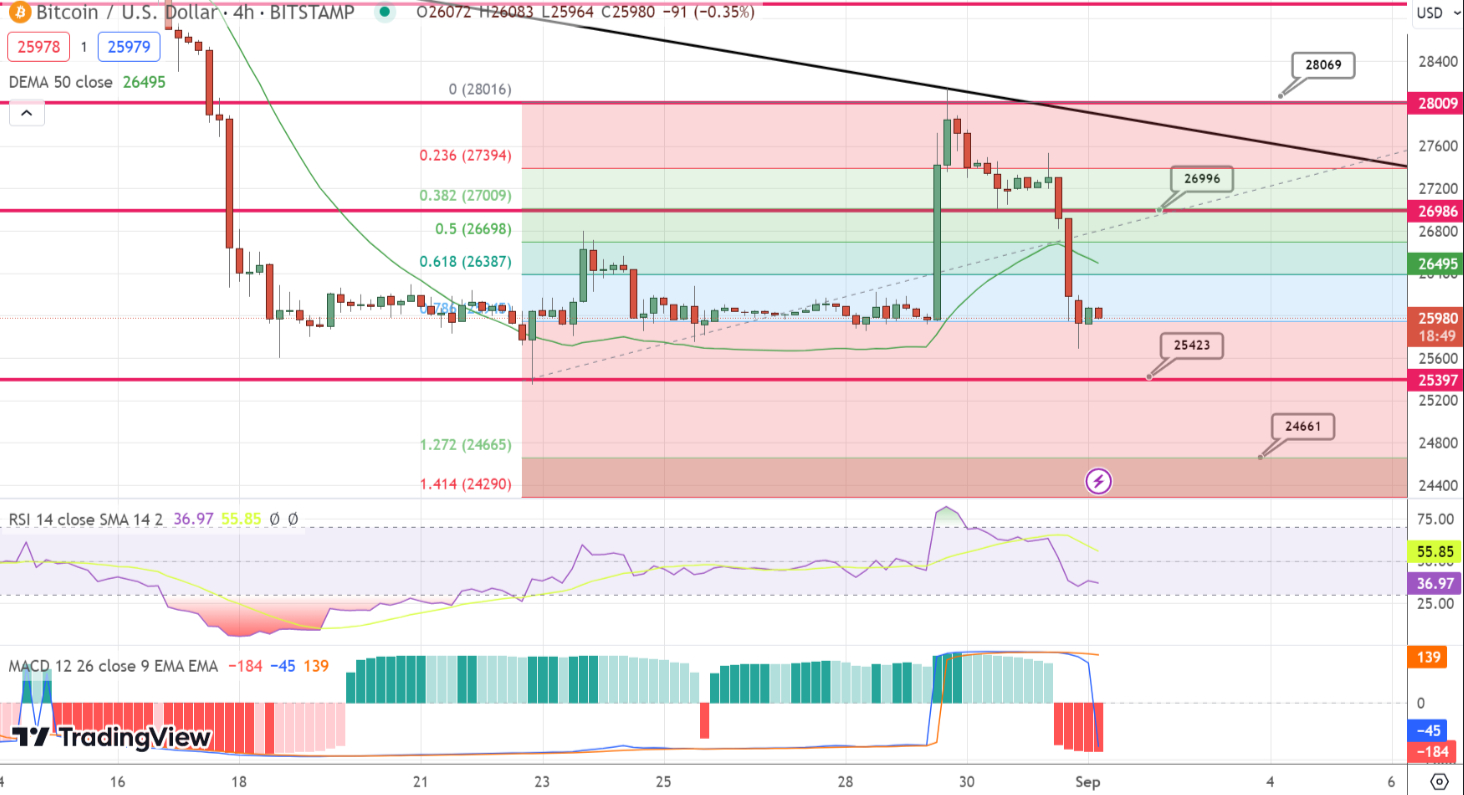 Continuation of the current bearish trend is indicated, and it is essential to closely monitor the $25,900 level.
Failure to break below this level could potentially trigger a bullish reversal, leading Bitcoin's price towards resistance levels at 26,700 and eventually $27,400.
The $28,000 mark is expected to pose a significant obstacle if Bitcoin manages to surpass this range.
If, on the other hand, Bitcoin does breach the $25,900 level, it could find support around $25,400, with a more profound decline potentially reaching $24,800.
In summary, the $25,900 level is a crucial determinant of Bitcoin's direction today.
Top 15 Cryptocurrencies to Watch in 2023
Stay informed about the latest initial coin offering (ICO) projects and alternative cryptocurrencies by regularly exploring our carefully selected collection of the top 15 digital assets to watch in 2023.
This thoughtfully curated list has been compiled by industry experts from Industry Talk and Cryptonews, ensuring that you receive professional recommendations and valuable insights.
Stay ahead of the game and discover the potential of these cryptocurrencies as you navigate the ever-changing world of digital assets.
Find The Best Price to Buy/Sell Cryptocurrency

Disclaimer: Cryptocurrency projects endorsed in this article are not the financial advice of the publishing author or publication - cryptocurrencies are highly volatile investments with considerable risk, always do your own research.
---