Bitcoin Price Prediction: BTC Up 2% Amid BitMEX CEO's $750K Prediction, El Salvador Mining & Blackrock ETF
Disclosure: Crypto is a high-risk asset class. This article is provided for informational purposes and does not constitute investment advice. By using this website, you agree to our terms and conditions. We may utilise affiliate links within our content, and receive commission.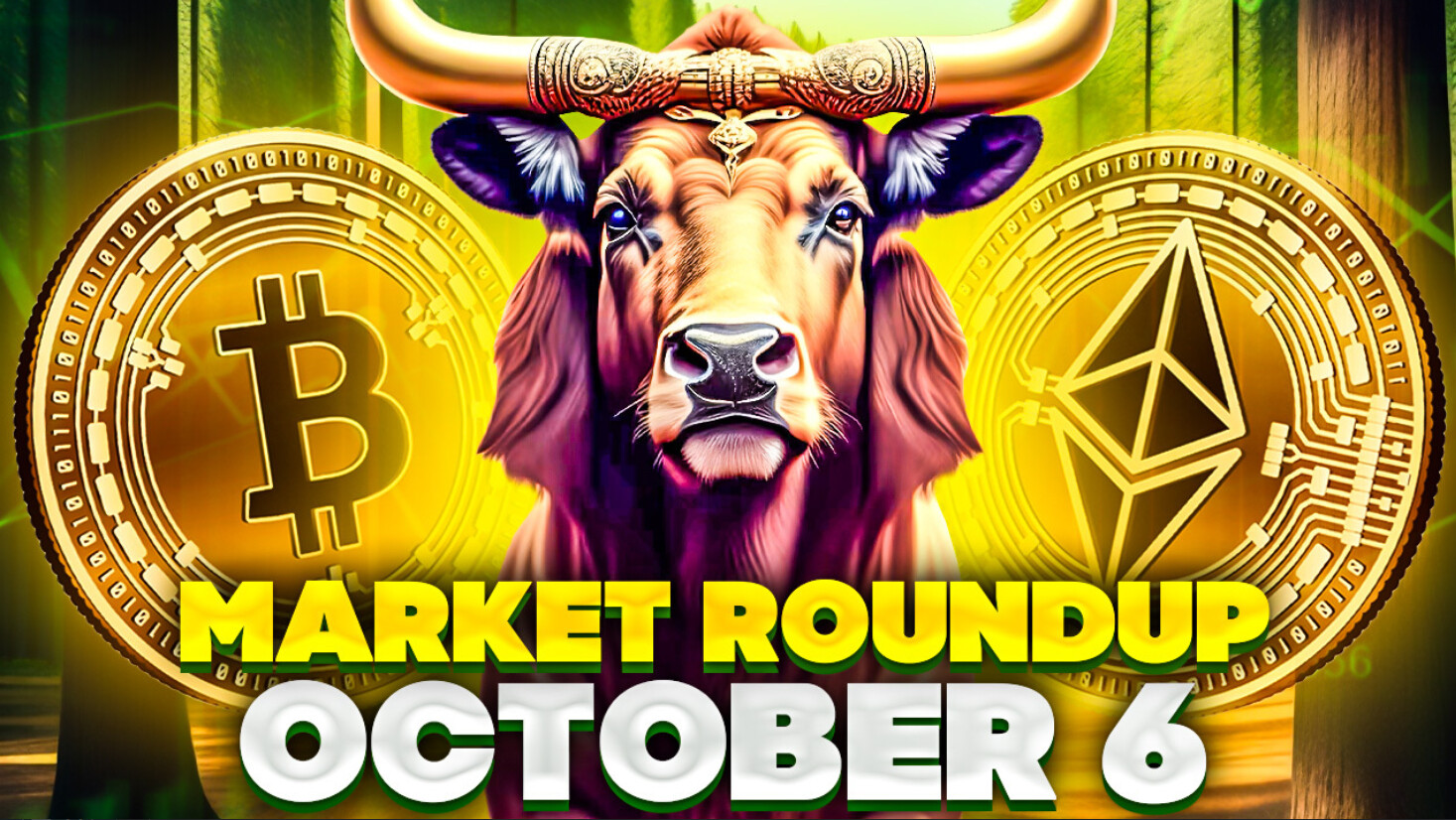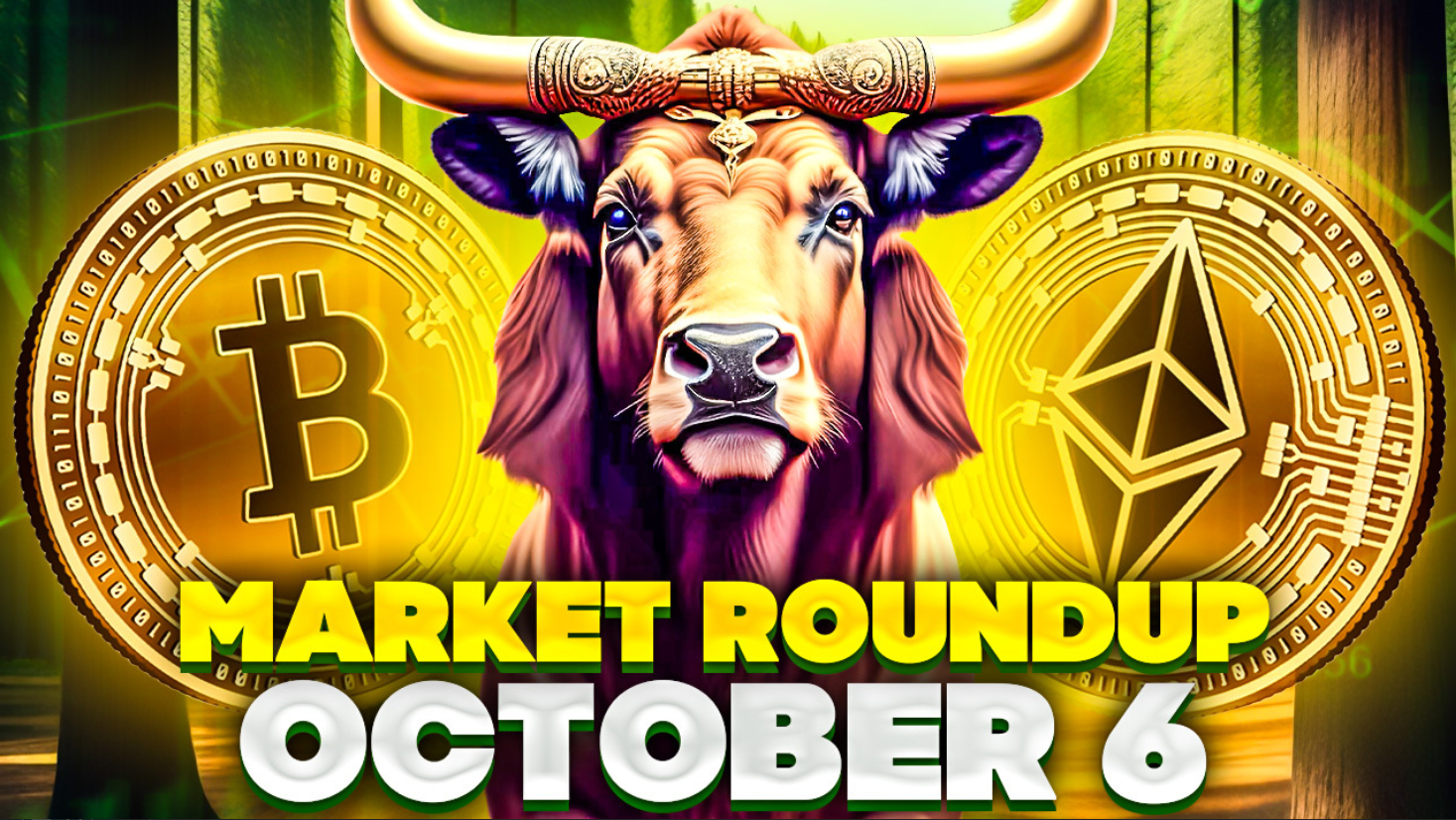 As Bitcoin continues its journey in the global financial landscape, its trajectory seems increasingly intertwined with expert predictions, sustainability initiatives, and strategic approvals.
As of Friday, Bitcoin's trading value is pegged at 27,578, marking a slight decrease of 0.38%. This, however, hasn't dimmed the optimistic outlook held by many in the crypto sphere.
The former BitMEX CEO has made a bold forecast, anticipating Bitcoin's price to reach a staggering $750,000 by 2026.
Parallelly, El Salvador, the first country to adopt Bitcoin as legal tender, has further showcased its commitment by inaugurating its first sustainable Bitcoin mining pool.
Meanwhile, Blackrock, a financial giant, has given its nod to a Bitcoin ETF – a move that could potentially propel crypto asset management by a massive $650 billion.
With such significant developments on the horizon, the Bitcoin narrative seems set for exciting times ahead.
Former BitMEX CEO predicts Bitcoin to soar to $750,000 by 2026
In a recent interview, former BitMEX CEO Arthur Hayes shared his optimistic outlook for Bitcoin (BTC), predicting that the cryptocurrency could reach a staggering $750,000 by 2026.
Hayes cited several factors to support his forecast, including potential financial crises and the upcoming Bitcoin halving event. He also anticipates a significant increase in Bitcoin's price to around $70,000 in 2024.
JUST IN: #Bitcoin to hit $750K-$1 MILLION by 2026 – Bitmex founder Arthur Hayes pic.twitter.com/39GdgTIzcd

— Bitcoin Archive (@BTC_Archive) October 5, 2023
According to Hayes, major asset managers, particularly in China, might introduce spot BTC exchange-traded funds (ETFs) in the future. This could drive Bitcoin to reach new all-time highs.
Furthermore, Hayes believes that Bitcoin's growth is a part of a larger global financial trend, which is being fueled by expansive government spending, low real interest rates, and an increase in investor interest in alternative assets like Bitcoin.
Despite Hayes' optimistic view, BTC prices are currently experiencing a slight decline.
El Salvador Takes a Step Towards Sustainable Bitcoin Mining with its First Mining Pool
El Salvador has entered into a groundbreaking partnership between Volcano Energy and Luxor Technologies to launch its Bitcoin mining pool. The primary objective of this venture is to leverage the country's unique regulatory advantages and its capacity for renewable energy.
A portion of the energy generated will be utilized for Bitcoin mining activities, and the remaining supply will be directed towards providing affordable electricity solutions for local communities in El Salvador.
JUST IN: The first El Salvador-based #Bitcoin mining pool just went live 🇸🇻 pic.twitter.com/nBTCSI2Mwv

— Bitcoin Magazine (@BitcoinMagazine) October 4, 2023
El Salvador's plan to decentralize the Bitcoin mining process is reflected in a new strategic move. The intention is to attract a more diverse range of miners.
Volcano Energy Switches to Full Pay Per Share Model, Boosting BTC Outlook
Volcano Energy has confirmed that the payment model for its new mining pool, Lava Pool, will be Full Pay Per Share. This will ensure that miners receive equitable earnings distribution based on their individual hash rate contributions.
Volcano Energy is at the forefront of setting up Bitcoin mining facilities in the western region of El Salvador, specifically in Santa Ana. These facilities will utilize wind and solar resources to generate 241 megawatts of renewable energy.
This clean energy will serve two purposes: supporting Bitcoin mining and providing affordable electricity to communities across the country.
This development has significantly boosted Bitcoin's market outlook, garnering substantial support within the cryptocurrency market today.
Blackrock's Approval of Bitcoin ETF Could Boost Crypto Asset Management by $650B
Former BlackRock executives, Steven Schoenfield and Martin Bednall, foresee the U.S. Securities and Exchange Commission (SEC) greenlighting several Bitcoin exchange-traded funds (ETFs) within the next three to six months.
This accelerated timeline could potentially attract around $200 billion into Bitcoin investments, according to Schoenfield, who is now the CEO of MarketVector Indexes.
BlackRock's ETF approval has the potential to significantly boost crypto asset management by an estimated $650 billion, as predicted by AllianceBernstein. Four congressional leaders have also petitioned the SEC for the immediate approval of spot Bitcoin ETFs.
Breaking News: Former BlackRock executive Schoenfeld predicts SEC approval for spot #Bitcoin ETFs within 3 to 6 months. He also mentioned a potential capital influx of up to $200 billion. #CryptoNews #BitcoinETF 🚀 pic.twitter.com/gUCYianhxc

— CryptoAmon (@amonbuy) October 4, 2023
Although there is optimism surrounding the approval of crypto ETFs, the SEC is still wary of potential fraud and manipulation risks associated with them.
However, the SEC's attitude towards crypto ETFs is gradually changing, with increased engagement and responsiveness observed.
CoinShares predicts that the approval of spot Bitcoin ETFs could inject $150-$200 billion into the market, indicating a positive trend for the cryptocurrency industry.
Today, Bitcoin has received strong support due to this news, leading to an improved market outlook.
Bitcoin Price Prediction
On October 6th, the BTC/USD pair of Bitcoin is at a crucial turning point as the cryptocurrency is currently valued at a substantial $27,279, demonstrating a resolute trend in the past 24 hours.
Key Trading Levels: The current pivot point for Bitcoin stands at $27,279, with immediate resistance at $27,873. Additional barriers await at $28,460 and a challenging $29,997. If selling pressure arises, Bitcoin may seek support at $26,798, followed by $26,414 and $25,982 levels.
Oscillators: The RSI indicates a nearly balanced market sentiment with a value of 49. The 50-day EMA aligns with the pivot point at $27,279, any movement above it might signal a short-term bullish trend, while a dip below it might hint at bearish momentum.
50 EMA: The observed chart pattern suggests that the 50 EMA line could inspire buying interest. No significant news has come to light that could influence Bitcoin's trajectory at this time.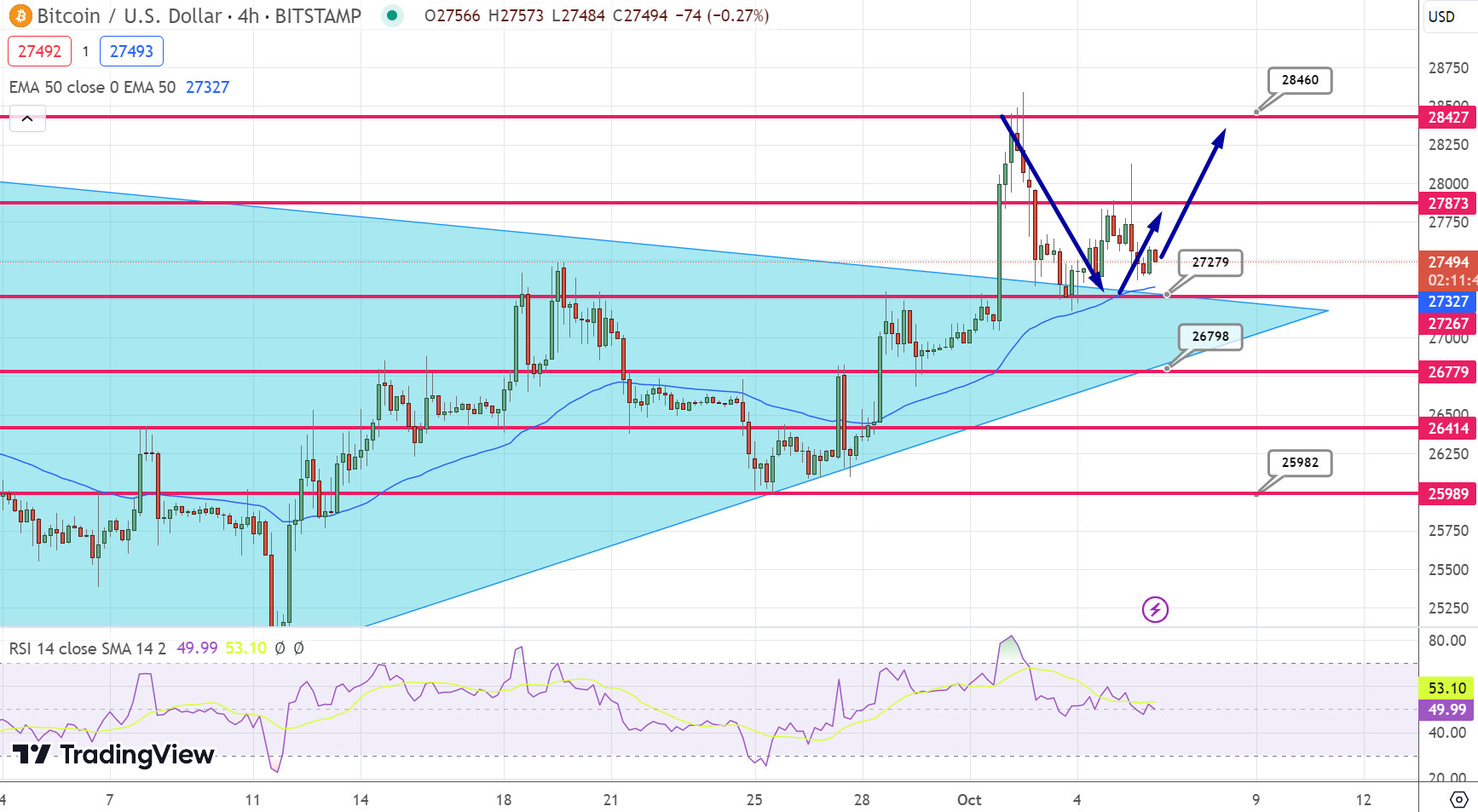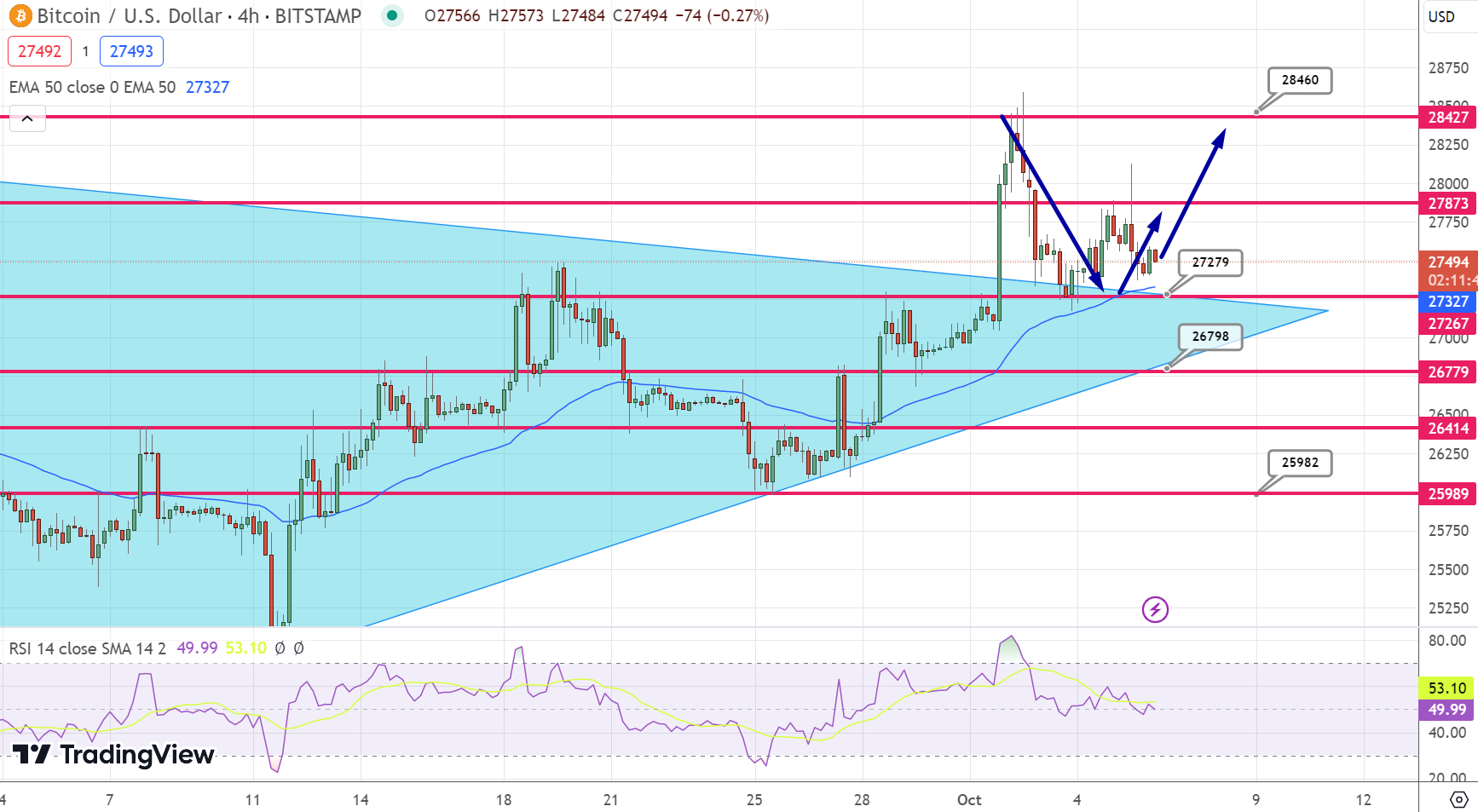 The future of Bitcoin seems uncertain. As long as the price stays above $27,275, it is expected to rise in value.
However, if it falls below this point, it could become bearish. It is important for traders and investors to monitor these critical levels closely, as Bitcoin's progress is expected to challenge them in the coming days.
Top 15 Cryptocurrencies to Watch in 2023
Stay up-to-date with the world of digital assets by exploring our handpicked collection of the best 15 alternative cryptocurrencies and ICO projects to keep an eye on in 2023.
Our list has been curated by professionals from Industry Talk and Cryptonews, ensuring expert advice and critical insights for your cryptocurrency investments.
Take advantage of this opportunity to discover the potential of these digital assets and keep yourself informed.
Find The Best Price to Buy/Sell Cryptocurrency


Disclaimer: Cryptocurrency projects endorsed in this article are not the financial advice of the publishing author or publication – cryptocurrencies are highly volatile investments with considerable risk, always do your own research.
---