Bitcoin Price Prediction: BTC Surges Above $31,000 Barrier Following Ripple's Legal Victory Against SEC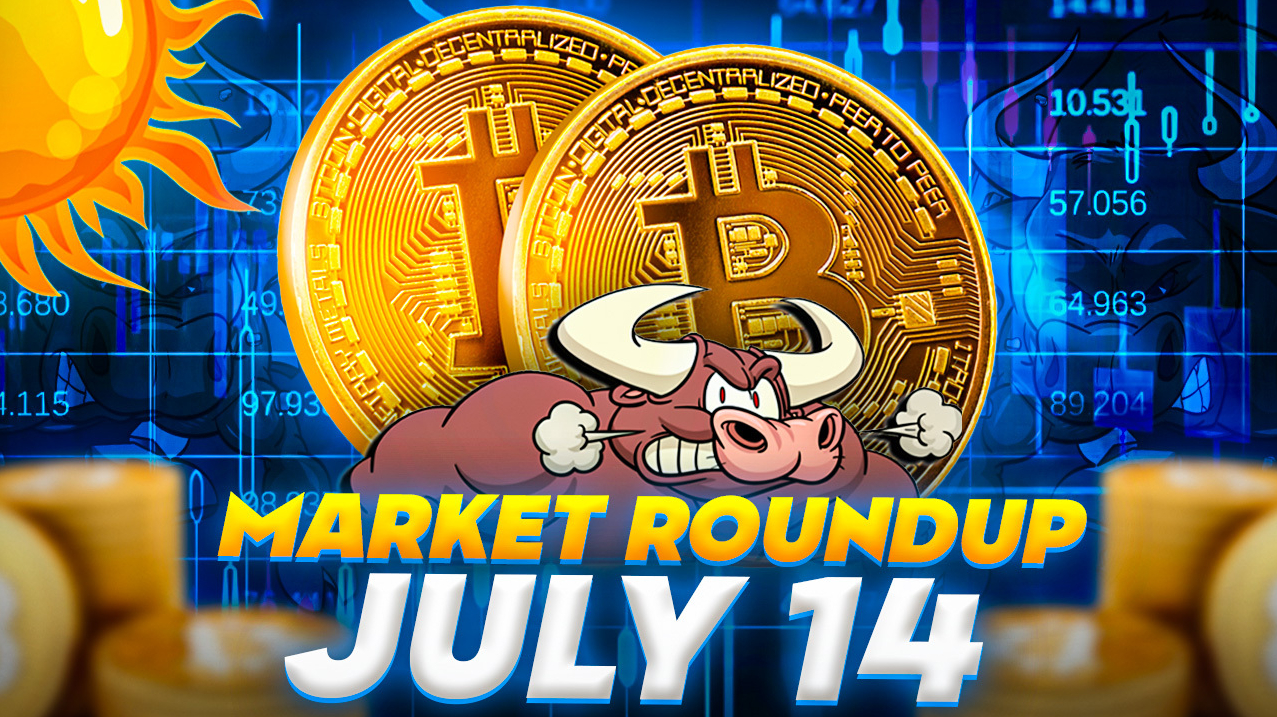 Bitcoin, the leading cryptocurrency, is currently trading at $31,449, marking a notable surge of over 3.5% on Friday.
This surge in Bitcoin's price coincided with Ripple Labs' recent legal triumph in its prolonged three-year battle against the US Securities and Exchange Commission (SEC).
As news of Ripple's partial success spread, Bitcoin experienced a significant boost on Friday morning, breaking above the crucial $31,000 resistance level.
The market response reflects an improved overall sentiment in cryptocurrency, fueled by Ripple's victory against the SEC lawsuit.
In this Bitcoin price prediction, we will explore the implications of Ripple's legal win and its impact on Bitcoin's price movement, offering insights and predictions for the future.
BTC Surges as Overall Crypto Market Sentiment Improves Following Ripple's Victory Against SEC Lawsuit
The chief legal officer of Ripple provided insights into the decision in the SEC vs. Ripple case on Thursday.
He highlighted the significance of the ruling, describing it as a "major victory" for Ripple Labs and affirming that, from a legal standpoint, XRP should not be classified as a security.
Furthermore, he stated that sales on cryptocurrency exchanges should not be considered securities.
The chief legal officer of Ripple highlighted the significance of the judge's ruling, emphasizing that it signifies a limitation on the SEC's authority over cryptocurrencies and addresses many of the challenges faced by the sector.
He expressed optimism that this ruling could pave the way for a constructive dialogue on cryptocurrency regulation in the country.
After the court's summary judgment, Ripple's hourly volume of crypto assets reached a peak of 2 billion, with Bitcoin accounting for 50.45K of that volume.
Gemini's management has expressed appreciation for the court's establishment of clear cryptocurrency regulations in front of the SEC and its Chair.
With the court's clarification and the Ripple lawyer's critique of existing exchanges, Gemini has solid justification for its plans to list XRP.
This follows Judge Torre's summary judgment, distinguishing between token sales to institutional investors and sales to the general public.
As investors assess a pivotal stage in the Ripple vs. SEC legal battle, the price of Ripple (XRP) demonstrates a significant bullish trend across all timeframes.
Crypto CEOs are now indicating their readiness to list XRP after Judge Analisa Torres published her summary judgment, outlining a distinct contrast between token sales on exchanges and those on launch pads.
The victory of Ripple over the SEC has positively impacted overall market sentiment, leading to a surge in BTC prices as a result.
Bitcoin Price Prediction
While analyzing the technical aspects of Bitcoin, it has encountered difficulty in breaking through the resistance at $31,750. The presence of bearish candles closing below this level suggests a weakening of bullish biases.
Additionally, the Relative Strength Index (RSI) has entered the overbought zone, and the Moving Average Convergence Divergence (MACD) indicator indicates significant upward movement in Bitcoin.
As Bitcoin entered the overbought zone, many investors started capitalizing on their profits, leading to an influx of sellers aiming to establish short positions in Bitcoin.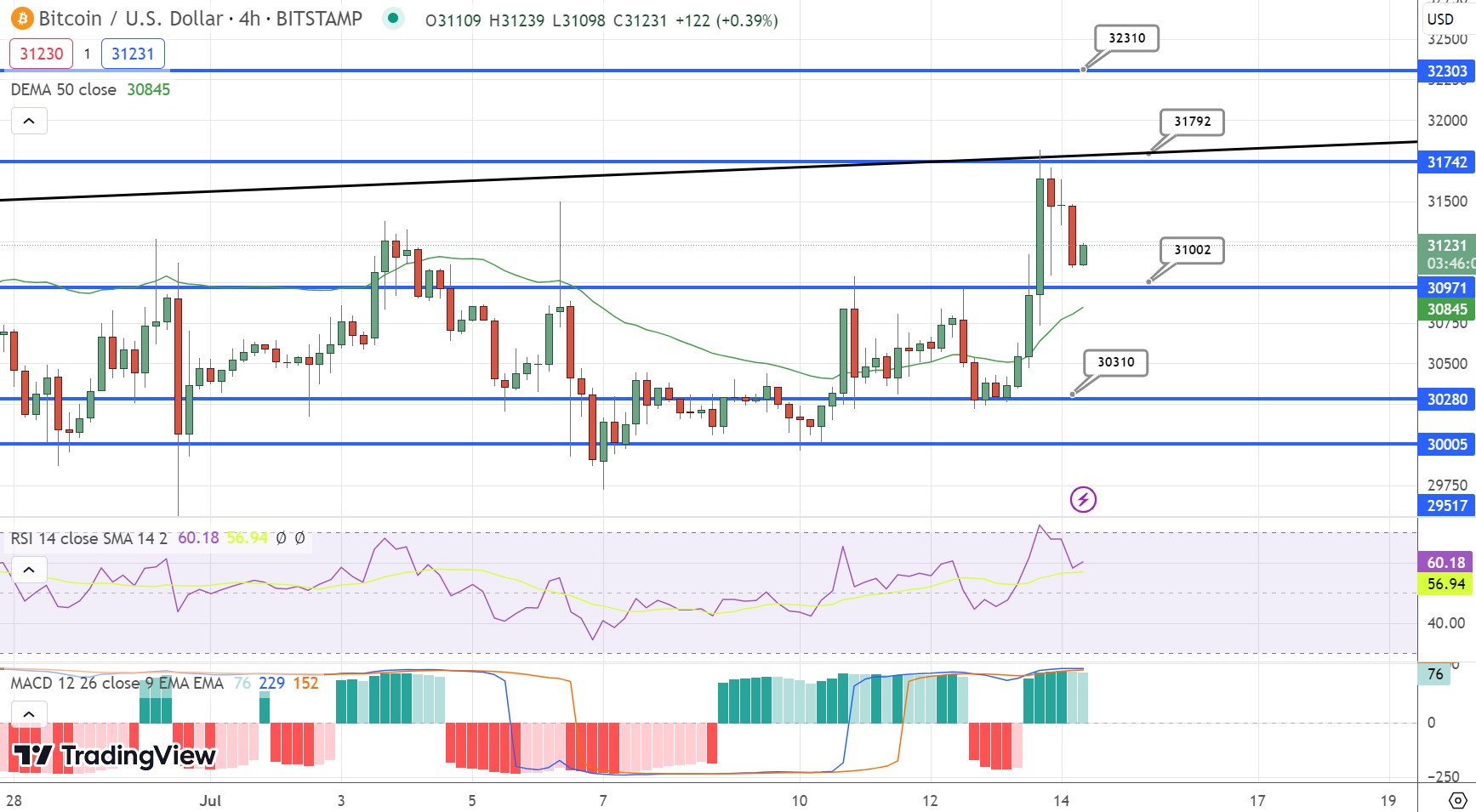 Currently, the support level for Bitcoin is around $31,000. If this level holds, we may anticipate a bullish rebound that could propel the price toward $31,750.
A successful crossover above this level could further expose Bitcoin to the $32,300 mark.
On the other hand, a break below the $31,000 level may create room for additional selling pressure, potentially pushing the price down toward $30,600 or even $32,200.
Top 15 Cryptocurrencies to Watch in 2023
Stay informed about the latest initial coin offering (ICO) projects and alternative cryptocurrencies by regularly exploring our carefully selected collection of the top 15 digital assets to watch in 2023.
This thoughtfully curated list has been compiled by industry experts from Industry Talk and Cryptonews, ensuring that you receive professional recommendations and valuable insights.
Stay ahead of the game and discover the potential of these cryptocurrencies as you navigate the ever-changing world of digital assets.
Find The Best Price to Buy/Sell Cryptocurrency

Disclaimer: Cryptocurrency projects endorsed in this article are not the financial advice of the publishing author or publication - cryptocurrencies are highly volatile investments with considerable risk, always do your own research.
---