Bitcoin Price Prediction as US Interest Rate Decision Sends BTC Down Before Bouncing Back Up – Where is BTC Heading Now?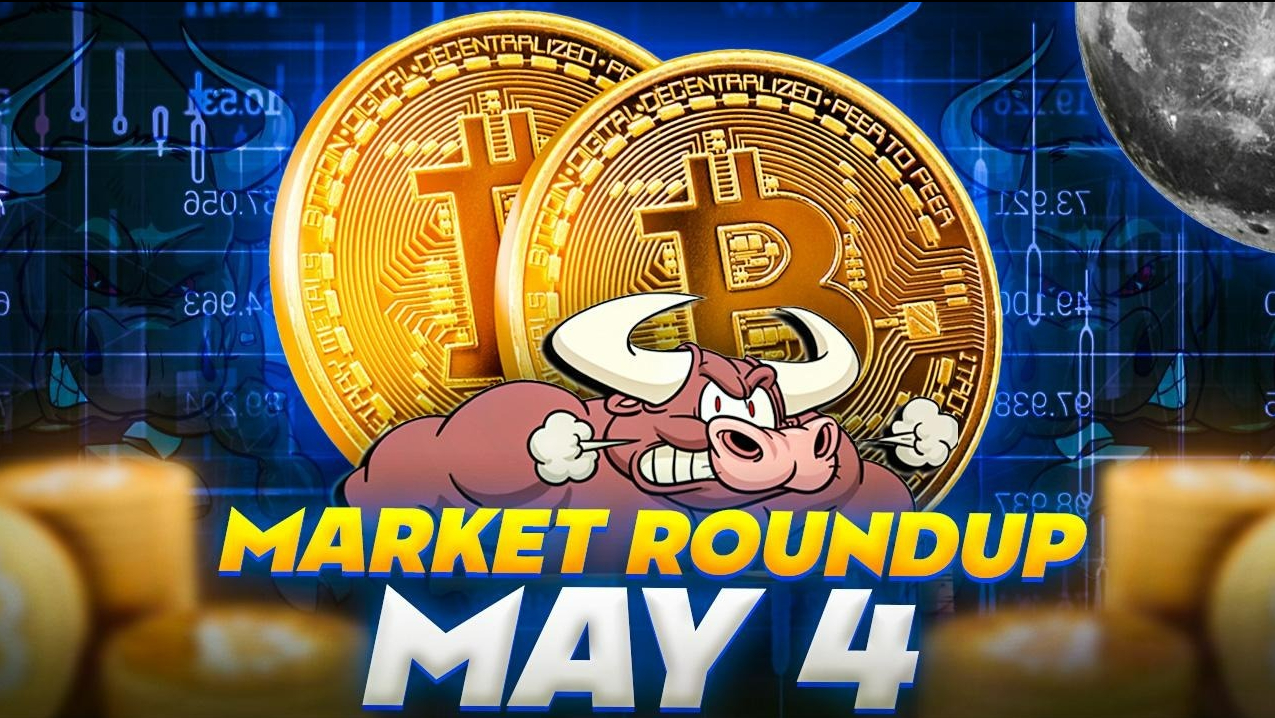 The recent US interest rate decision has sent Bitcoin's price on a downward trajectory before experiencing a bounce back – raising questions about where BTC is heading now.
As investors and market analysts try to decipher the future direction of Bitcoin's value, this update aims to provide valuable insights and predictions to help navigate the ever-changing cryptocurrency landscape.
US Interest Rates Reach 16-Year High

The Federal Reserve recently approved its 10th interest rate increase in just over a year, suggesting that this tightening cycle may soon come to a close.
In a widely anticipated decision, the central bank's Federal Open Market Committee raised the benchmark borrowing rate by 0.25 percentage points.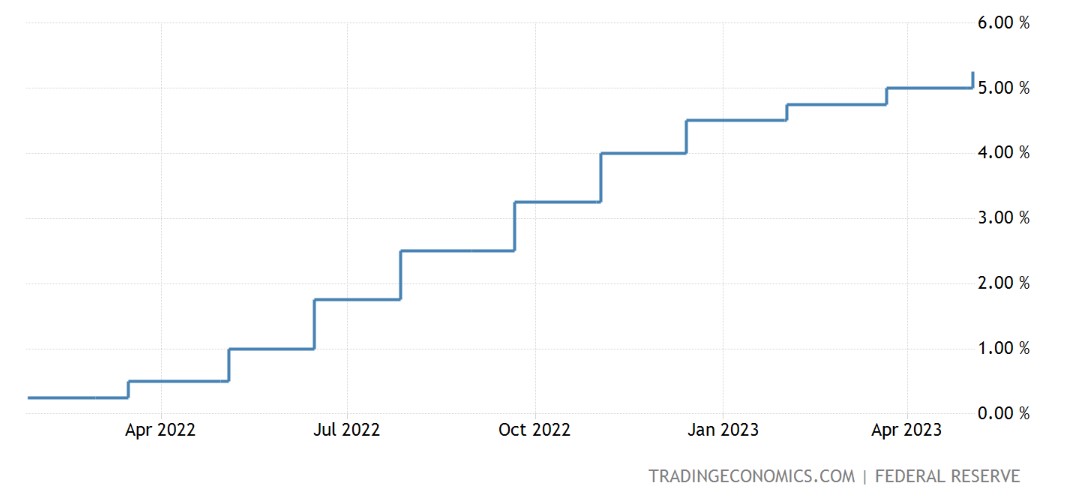 This rate affects various types of loans, including mortgages, auto loans, and credit cards, as it determines the rate banks charge each other for overnight lending.
The new fed funds rate is now between 5% and 5.25%, the highest since August 2007.
Market observers are keen to find out if the Fed will pause, particularly given concerns about economic growth and a possible banking crisis. Stocks and Treasury yields showed mixed responses following the announcement.
US Interest Rate Decision Sends BTC Down Before Bouncing Back Up
The recent decision by the Federal Reserve to raise US interest rates resulted in a brief decline in Bitcoin's price, as the cryptocurrency market reacted to the anticipated change in monetary policy.
This move by the central bank has had a direct impact on the global financial landscape, including the world of digital currencies.
As investors and traders adjusted their strategies in response to the higher interest rates, Bitcoin experienced a momentary drop in value.
However, Bitcoin's resilience was on display as it managed to bounce back up shortly after the initial dip.
This recovery highlights the growing maturity of the cryptocurrency market, as it weathers the effects of macroeconomic factors and global financial developments.
The ability of Bitcoin to rebound in the face of external pressures demonstrates its growing stability and the increasing confidence of investors in the digital asset space.
Bitcoin Price
Today's live Bitcoin price is $28,800, accompanied by a 24-hour trading volume of $15.8 billion. In the past 24 hours, Bitcoin has experienced less than 1% drop.
According to CoinMarketCap, it is currently ranked #1, with a live market capitalization of $551 billion.
In the four-hour chart, Bitcoin continues to trade above the 50-day exponential moving average, which now serves as a significant support level around the $28,700 mark.
This same level has acted as a major resistance for BTC throughout this week. However, the closing of candles above $28,700 bolsters the likelihood of a bullish bounce-off in BTC.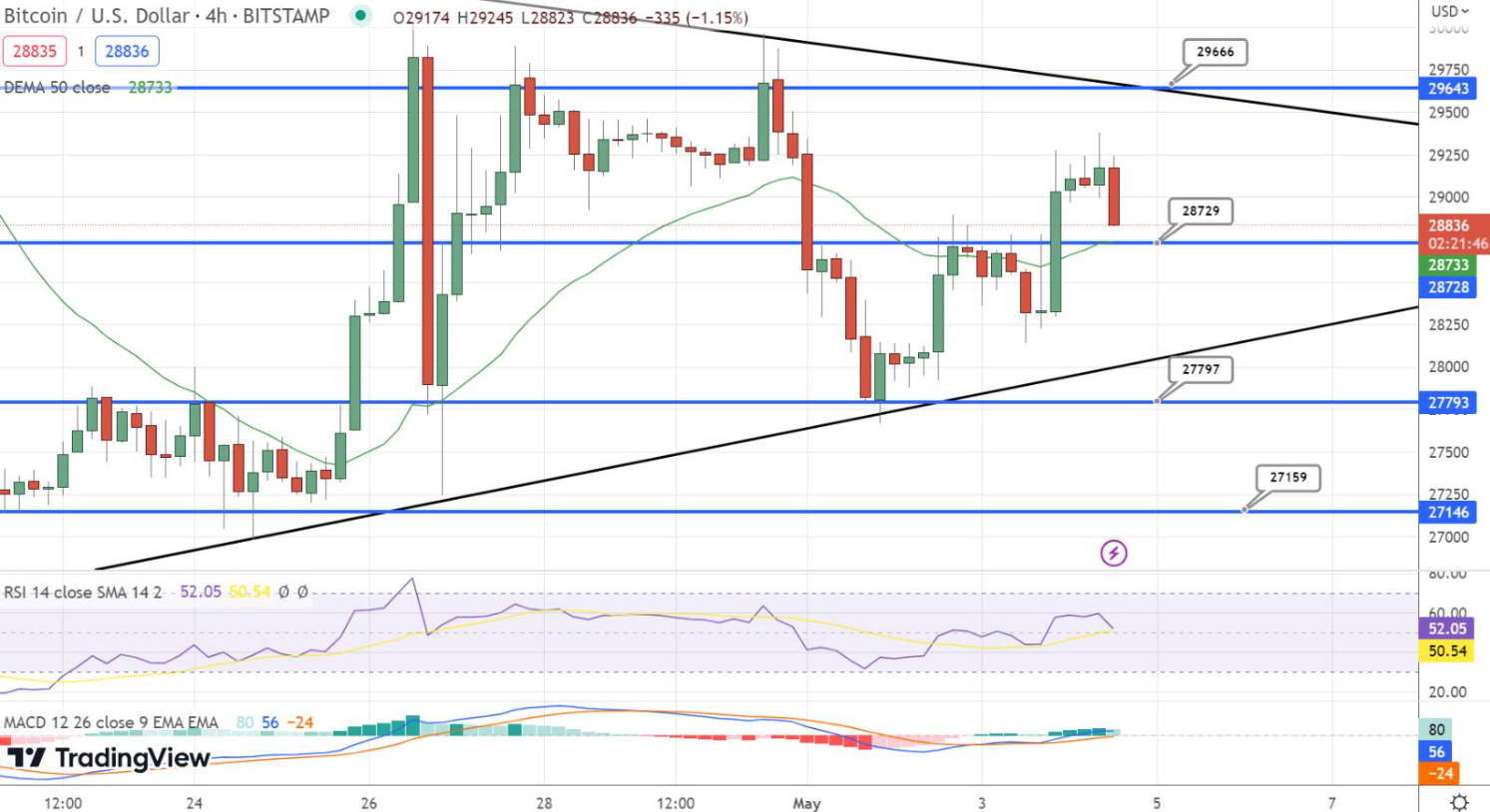 Candlestick patterns reveal a dominant bearish mood in the market, with RSI and MACD indicators pointing towards a possible downward trend for Bitcoin's price today.
Bitcoin might face immediate support around the $27,600 level, marked by a trendline evident on the 4-hour chart. If the price breaches this critical $27,600 level, BTC could be on its way to the next support level at $27,200.
Top 15 Cryptocurrencies to Watch in 2023
In addition to Bitcoin, the market boasts a variety of promising cryptocurrencies, including emerging altcoins and presale tokens that offer the potential for substantial returns.
Consequently, the Cryptonews Industry Talk team has compiled a list of the top 15 cryptocurrencies for 2023, each exhibiting impressive growth potential in both the short and long term. One of them also is ARPA, a trending coin on CoinMarketCap.
Disclaimer: The Industry Talk section features insights by crypto industry players and is not a part of the editorial content of Cryptonews.com.
Find The Best Price to Buy/Sell Cryptocurrency

---