Bitcoin Price Prediction as BTC Loses the $22,000 Level – Where is the Next Support?
Disclosure: Crypto is a high-risk asset class. This article is provided for informational purposes and does not constitute investment advice. By using this website, you agree to our terms and conditions. We may utilise affiliate links within our content, and receive commission.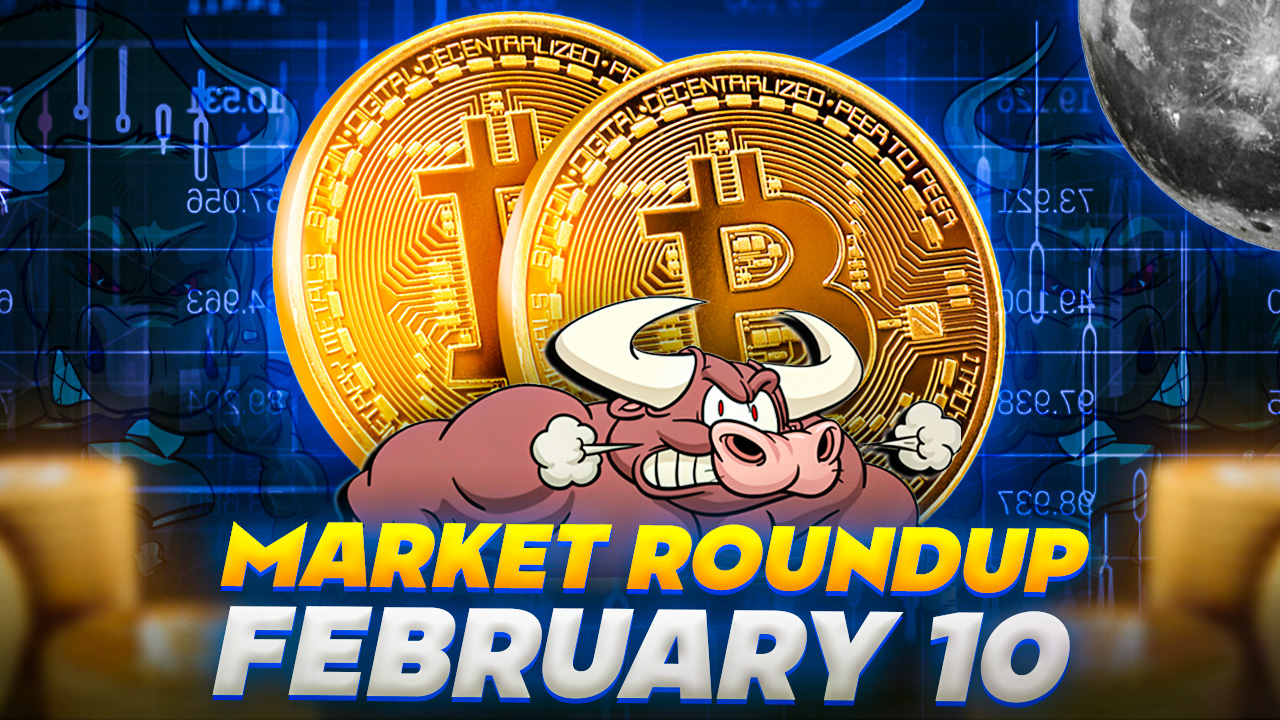 The price of Bitcoin has been volatile over the last couple of weeks. After breaking through $23,000, the cryptocurrency has lost significant value and is currently trading at around $21,800.
The price may fluctuate somewhat over time and it's wise to have some Bitcoin left in your portfolio, ready to buy back in when the price goes down.
SEC Launches New Regulations To Crack Down On Cryptocurrency Practices
The US Securities and Exchange Commission (SEC) has recently announced new regulations aimed at cracking down on fraudulent and misleading cryptocurrency practices. These new regulations are a response to the increasing popularity of digital assets and the potential risks they pose to investors.
In recent years, cryptocurrency has emerged as a popular form of investment, with many individuals eager to take advantage of the potential returns. However, the lack of oversight in the industry has made it a prime target for fraudsters who are looking to take advantage of unsuspecting investors.
Ethereum had an ICO . The SEC has always said ICOs are illegal. That's what Ethereum did. The SEC always said the technology has to be developed first & then you can sell the tokens. That's what Ripple did.
Then the SEC put aside Ethereum's ICO and sued Ripple's way of funding.

— Mr. Huber🔥🦅🔥 (@Leerzeit) February 7, 2023
To address this issue, the SEC has introduced new regulations that aim to increase transparency and accountability in the cryptocurrency market. The regulations will require cryptocurrency exchanges and other platforms to register with the SEC, provide regular reports on their operations, and implement measures to protect the assets of their customers.
US Retailer Overstock Welcomes SEC Ruling on Trading Regulated ICOs . US retailer Overstock has lauded the SEC in its decision to regulate the trading of initial coin offerings (ICO).

— Nathan (@shanzi73338680) February 8, 2023
Additionally, the SEC will be cracking down on Initial Coin Offerings (ICOs), which are a popular way for companies to raise funds by issuing new digital assets. The new regulations will require companies to provide detailed information about their operations, financials, and the risks associated with their offerings. The SEC will also be monitoring these offerings to ensure that they are not fraudulent and that they comply with all applicable securities laws.
The Kraken Crackdown: What You Need To Know
The recent announcement by the Securities and Exchange Commission (SEC) to file securities violations against the cryptocurrency exchange, Kraken, has caused concerns among executives in the crypto industry. This decision has intensified fears about the agency's stance on regulation.
U.S. SEC targets crypto 'staking' with Kraken crackdown https://t.co/on6NZw55lS pic.twitter.com/aCMEwwLFEr

— Reuters (@Reuters) February 10, 2023
The Securities and Exchange Commission (SEC) has been paying attention to staking, a process where individuals offer a portion of their cryptocurrency holdings, such as Ethereum, to organizations in return for substantial profits. These borrowed assets are then utilized to validate cryptocurrency transactions.
The SEC is Kraken down on crypto staking, stablecoins, and crypto-related banking.

Meanwhile Blackrock is getting into #Bitcoin – they bought 7.4% of Marathon, and 7.2% of Silvergate.

You didn't think the big boys were just going to compete with the small fish, did you? pic.twitter.com/HscbzTo3iO

— Stack Hodler (@stackhodler) February 10, 2023
Companies like Kraken simplify the staking process for regular users by gathering their assets and facilitating staking, allowing them to earn income.
In conclusion, the SEC's new regulations on cryptocurrency practices are a sign that the government is taking the issue of digital assets seriously and is committed to protecting investors. While the regulations are a positive step, it is up to individuals to remain vigilant and do their own research before investing in any digital assets.
UoM Consumer Confidence Index Surprises to the Upside in February, Coming in at 66.4
In addition to SEC and Crypto regulations, the stronger US dollar is also adding downward pressure on the Bitcoin. One of the reasons behind the strong US dollar is the release of UoM Consumer Confidence.
Consumer confidence in the US improved in early February with the University of Michigan's (UoM) Consumer Confidence Index rising to 66.4 from 65 in January. The US Dollar Index, which is a measure of how much the dollar falls against other currencies, has been holding up on a daily basis near 103.50 and improved slightly to overcasts near 103.
FYI, YouGov/CEBR #Consumer Confidence Index adds to evidence that businesses and households are becoming less gloomy about the prospects for the rest of the year, despite a rocky start.

(Overall confidence still v low, but household finance measures saw significant improvements) pic.twitter.com/ot8pZCfXlt

— Julian Jessop (@julianHjessop) February 10, 2023
This led to a move in markets this month, with inflation expectations rising to 4.2%. This reading was better than markets had been anticipating when the reading came in at 65%.
Bitcoin Price
Bitcoin is the most popular cryptocurrency and the live Bitcoin price today is $21,654.63 with a 24-hour trading volume of $31.7 billion. The current coin market cap ranking for BTC is 1, with a live market cap of $417 billion.
Technically, the price of BTC/USD trading is extremely bearish at the moment. The price is sitting at $21,600, and has just dropped below 61.8% Fibonacci retracement which means that it could be heading towards a drop down to $20,000 soon.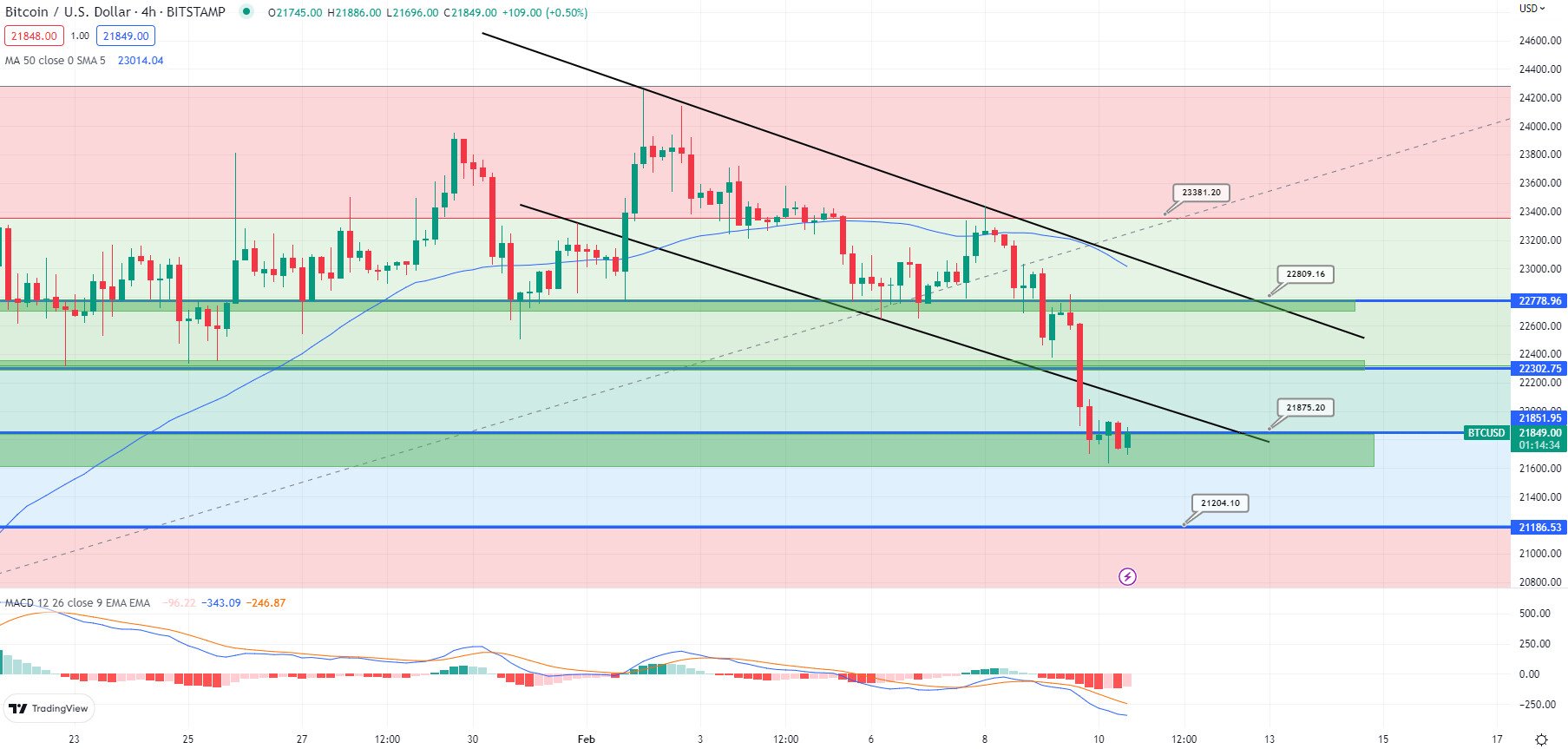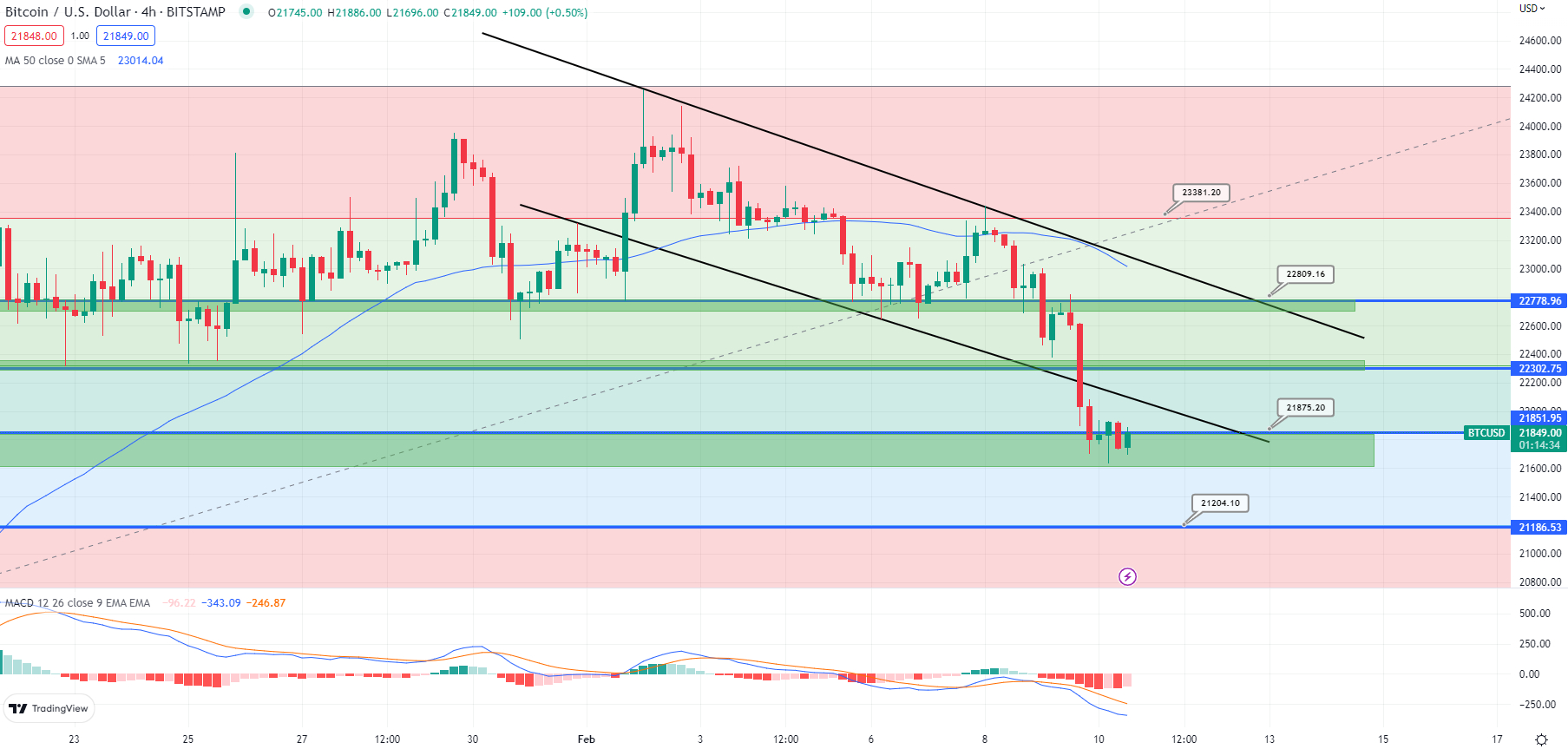 Analysis of historical data shows that the resistance for Bitcoin is expected to remain near its average of $22,300 or $22,775. The RSI and MACD are in a sell zone, so we may see BTC drop until $21,100 and $20,500 before further bearish price action.
Bitcoin Alternatives
Cryptocurrencies and related ICOs are causing quite a stir throughout the world. To assist you in making investment decisions, CryptoNews Industry Talk has reviewed the top 15 cryptocurrencies to watch in 2023.
There are other possibilities to consider if you're seeking for an investment opportunity with a high return potential.
Disclaimer: The Industry Talk section features insights by crypto industry players and is not a part of the editorial content of Cryptonews.com.
Find The Best Price to Buy/Sell Cryptocurrency


---