Bitcoin Price Prediction as BTC Dips Back Below $31K as Binance Lays Off 1000 Workers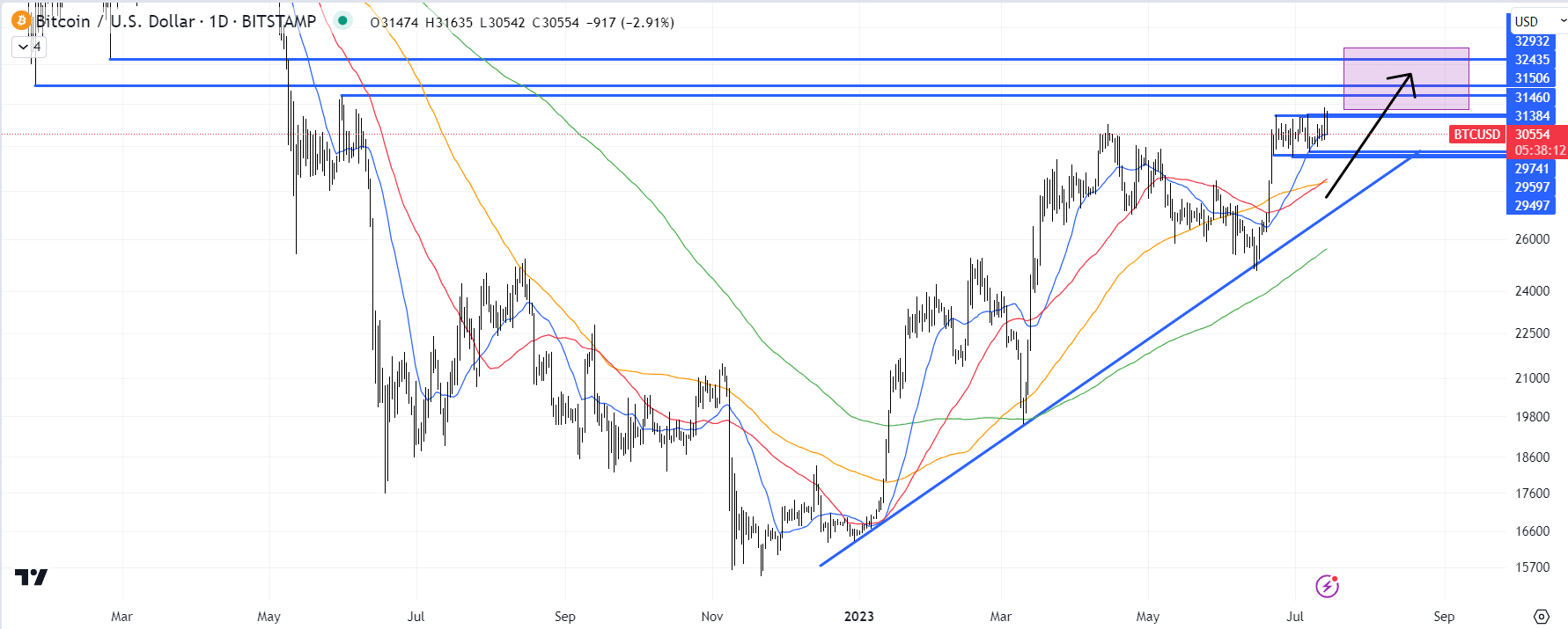 A hint of caution has returned to the cryptocurrency market on Friday in wake of the emergence of reports that Binance has laid off roughly 1,000 workers in recent weeks, and that layoffs could continue.
Bitcoin (BTC) slipped back under $31,000 per token on the news, which was first reported by the Wall Street Journal, and was last trading with losses of around 2.5% on the day in the $30,700 area.
As per the WSJ's report, Binance could eventually let go of up to one-third of its workforce, which had numbered around 8,000 prior to the start of layoffs.
Bitcoin's reversal back under $31,000 comes after the cryptocurrency hit fresh highs for the year on Thursday in the $31,800s.
Crypto markets were buoyed on Thursday by the news that a US judge had ruled that Ripple's sales of XRP tokens via public exchanges did not constitute a security offering, and that the token was not a security.
Bitcoin has also benefitted from macro tailwinds this week in the form of falling US yields, a weakening US dollar and an impressive US stock market rally, all of which was triggered by lower-than-expected US Consumer Price Inflation data released on Wednesday.
This data led to markets pulling back on Fed tightening bets for the remainder of 2023, with markets now expecting just one more hike, not two (as guided by the Fed), as per the CME Fed Watch Tool.
Bitcoin is also likely still benefitting from tailwinds relating to the bombardment of new spot exchange-traded fund (ETF) filings made by numerous Wall Street giants like BlackRock and Fidelity last month.
And BlackRock's CEO Larry Fink continues to jawbone regarding the pros of crypto and bitcoin.
He was quoted on Friday as saying the cost of transacting physical gold is "absurd", something that bitcoin, which he calls digital gold, solves.
And he also noted that crypto interest is "broad-based" and "worldwide".
Price Prediction – Where Next for Bitcoin (BTC)?
Bitcoin's about-turn on Friday, which likely is also a result of heavy profit-taking in light of this year's impressive rally, confirms that the cryptocurrency isn't quite yet ready to break out of its recent multi-week range.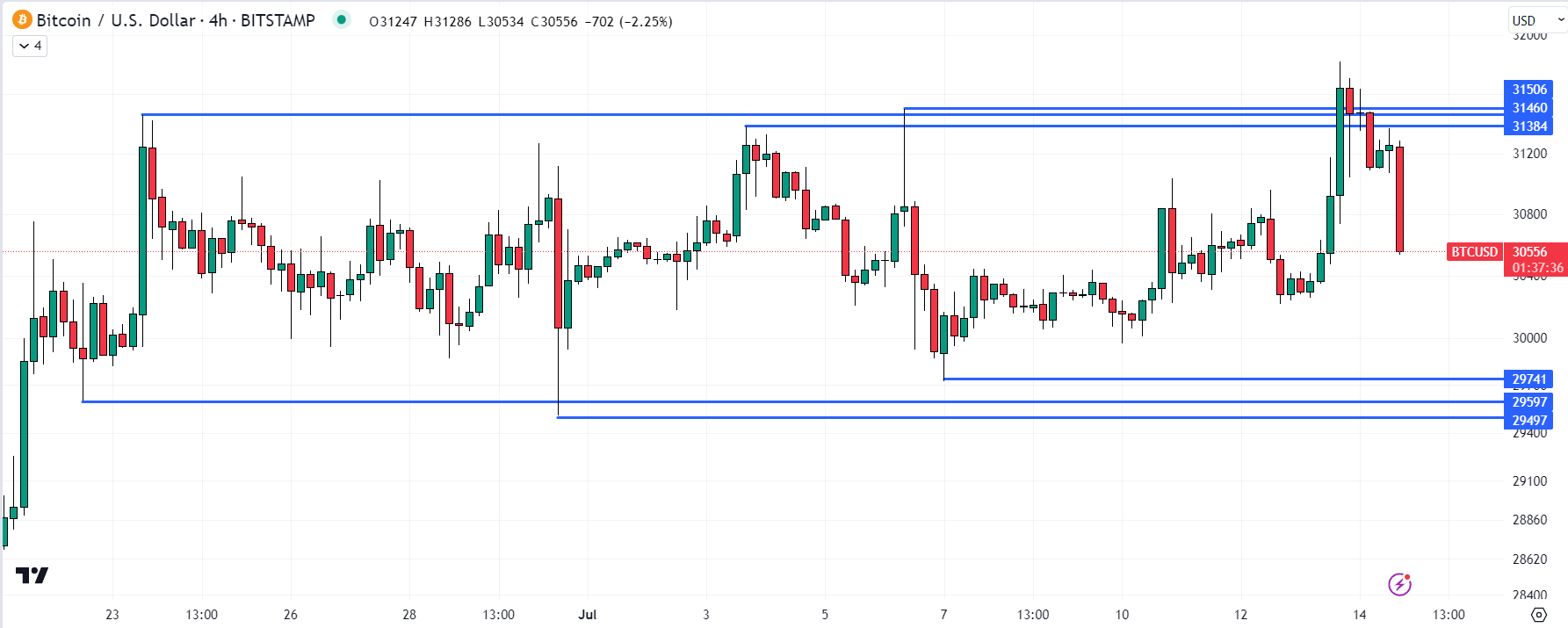 However, the cryptocurrency is still trading above its all of its major moving averages and the 2023 uptrend remains strongly intact.
With macro conditions improving and institutional interest on the rise, bulls will remain confident.
BTC will probably soon test major long-term resistance in the $32,500, $33,000 and $34,500 areas.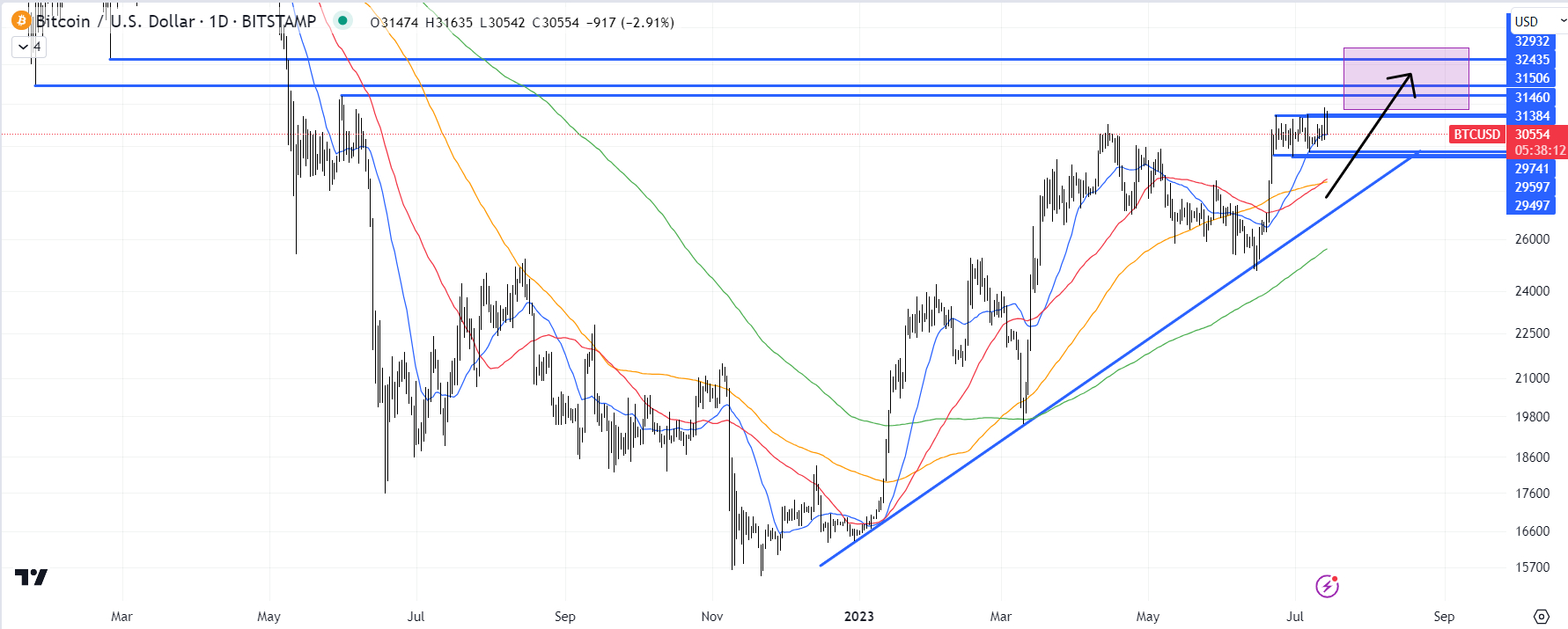 High-Risk Bitcoin Alternative to Consider – Mr Hankey Coin (HANKEY)
Bitcoin is widely viewed as digital gold.
The cryptocurrency that powers the most reliable, secure and decentralized crypto network in the world.
The complete opposite of a new shitcoin that exploded onto the scene on Friday called Mr Hankey Coin.
Mr Hankey Coin, which is based on the famous South Park character of the same name and proudly markets itself as the meme coin world's top shitcoin, is currently up around 200% since its launch on Uniswap earlier in the day.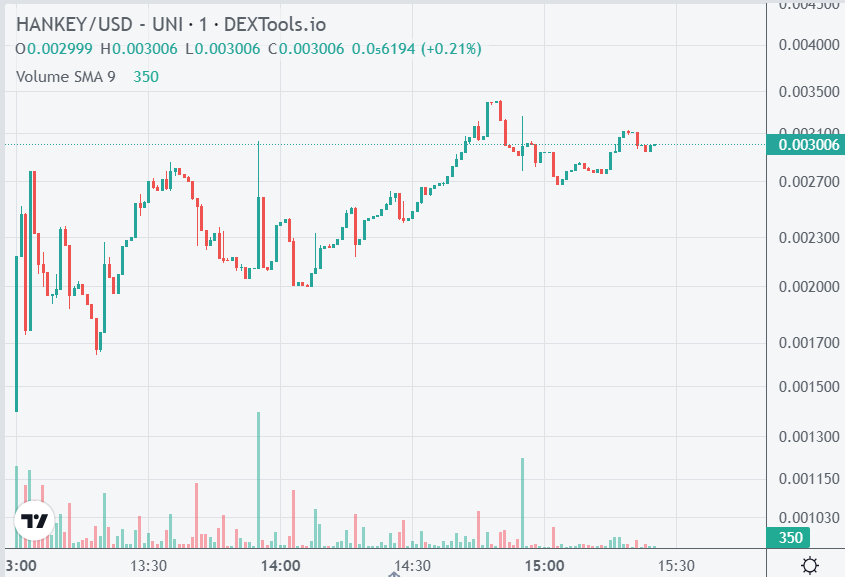 While it certainly isn't the next bitcoin, Mr Hankey Coin certainly has all the makings of the next 10 or even 100x meme coin.
That's thanks to its massive liquidity lock, still super low market cap, fast-growing social media community and already trending status on DEXTools.com, which is every meme coin degens favorite shitcoin trading tool.
While Mr Hankey Coin is far from a sure bet, its potential to pump is high.
Mr Hankey Coin can be purchased on Uniswap Here.
Disclaimer: Crypto is a high-risk asset class. This article is provided for informational purposes and does not constitute investment advice. You could lose all of your capital.
---