Bitcoin Price Prediction as BTC Blasts Past $24,000 – Is a New Bull Market Starting?
Disclosure: Crypto is a high-risk asset class. This article is provided for informational purposes and does not constitute investment advice. By using this website, you agree to our terms and conditions. We may utilise affiliate links within our content, and receive commission.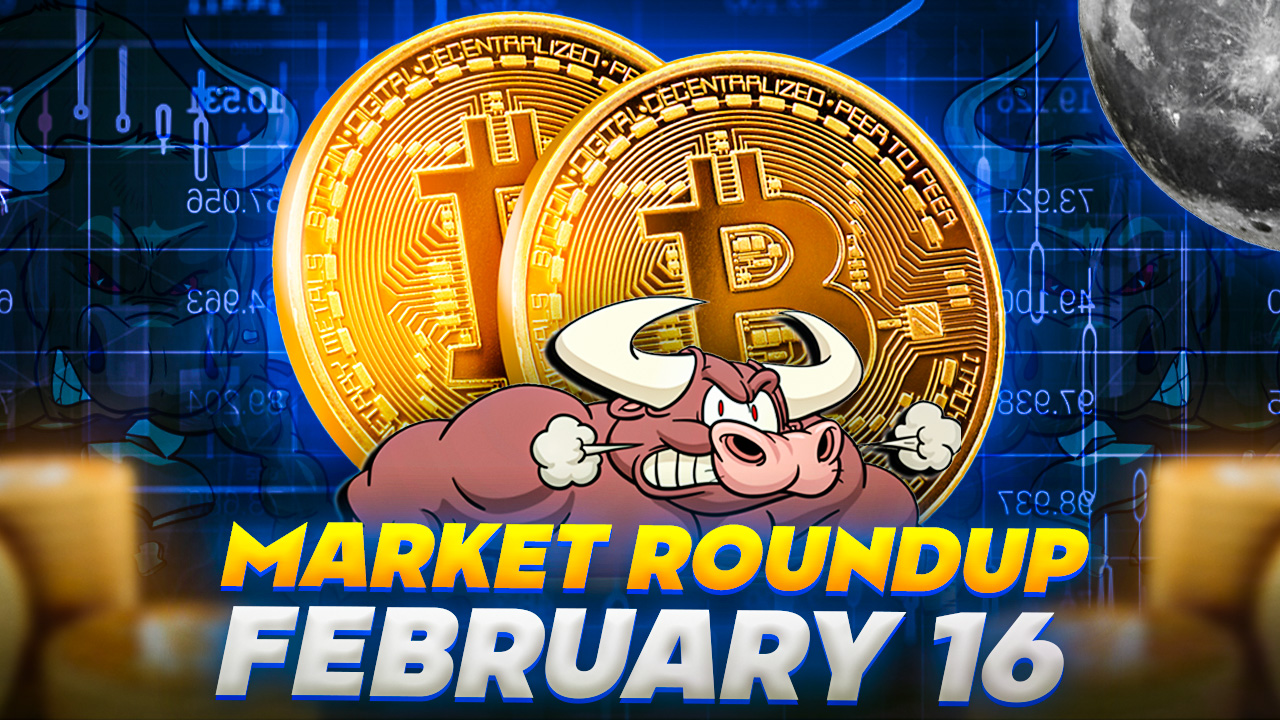 Bitcoin is on a roll as it blasts past the $24,000 mark, and investors are wondering whether a new bull market is starting. After Bitcoin hit an all-time high in December 2017, it suffered a major crash and has been struggling to regain its previous heights ever since.
However, recent events such as major companies investing in Bitcoin and institutional adoption have fueled a surge in prices, leading many to speculate that a new bull market is on the horizon.
1/ Why did the price of $BTC/$ETH suddenly rise today?

We found that several funds/institutions poured nearly $1.6B into the crypto market since Feb 10!👇 pic.twitter.com/WRaSv4YtgP

— Lookonchain (@lookonchain) February 16, 2023
In addition, the recent establishment of a new unit by the Bank of New York Mellon aimed at helping customers to hold, transfer, and issue digital assets has been seen as a significant contributing factor to the recent surge in the value of Bitcoin.
Let's take a closer look at what's driving Bitcoin's rise and what analysts are saying about its future price predictions.
Crypto Market Surges amid Adoption and Strong US Retail Sales Data
The global cryptocurrency market has witnessed a surge today, primarily due to the rise in institutional adoption and interest from significant companies. Investors have also been encouraged by the robust US retail sales data, which is seen as good news for earnings rather than a concern that it would boost interest rate hikes.
With #Bitcoin's 11% Rise, the #Crypto Market Turns Bullish again⬆️ pic.twitter.com/53C0DKeL0J

— Crypto Insights (@CryptoInsightsX) February 16, 2023
Additionally, the launch of the non-fungible tokens (NFTs) protocol Ordinals in January 2023 has led to the average size of a Bitcoin block reaching 2.5 gigabytes (GB) for the first time since the cryptocurrency's founding in 2009, contributing to the market's upward trend.
As a result, the global crypto market cap has reached a new all-time high of $1.11 trillion, up 8.55 percent in 24 hours at the time of writing.
Bitcoin's Average Block Size Witnesses a Sharp Increase
Bitcoin's average block size has reached an all-time high, topping 2.5 gigabytes (MB) for the first time since the cryptocurrency's creation in 2009. This is thanks to the implementation of the non-fungible tokens (NFTs) protocol Ordinals, which was introduced by software engineer Casey Rodarmor in January 2023.
Bitcoin's average block size hit a new all-time high. The surge follows the creation of Bitcoin's nonfungible token protocol called Ordinals in January. pic.twitter.com/7Z5SsFyX0N

— Florence Harrod(💙,🧡)❤️ Memecoin (@florence_harrod) February 16, 2023
The protocol has allowed Bitcoin network users to produce digital artifacts, including JPEG photos, PDF documents, audio files, and video files. The block sizes increased by more than 2 MB in the weeks following the protocol's launch, indicating significant growth in Bitcoin's network activity.
This highlights a noteworthy development in Bitcoin's growth, as it has the potential to stimulate network activity even without the traditional transfer of cash volume for financial purposes.
US Dollar Losing Its Strength
The US dollar, which had surged to nearly a six-week high of 104.11 in the previous session, has started to weaken lately. Profit-taking following this week's significant gains has led to a decline in the US dollar against a basket of currencies.
The dollar index and the dollar index futures have fallen by around 0.2%. With positive indications of improvement in the US labor market and inflation, markets are uncertain about where interest rates will peak this year. This has resulted in traders being cautious about taking riskier bets on Asian currencies.
US Weekly Initial Jobless Claims Lower Than Expected, Dropping to 194K
The US Department of Labor released an update on Thursday indicating that there were 194,000 new claims for unemployment benefits in the week ending February 11th. This reading is marginally higher than the 190,000 number from last week; it's also similar to the 195,000 read from the prior week.
*US JAN. PRODUCER PRICES RISE 0.7% M/M; EST. 0.4%

*US JAN. PRODUCER PRICES RISE 6.0% Y/Y; EST. 5.4%

*US WEEKLY JOBLESS CLAIMS AT 194,000 LAST WEEK; EST. 200,000 pic.twitter.com/V36gNubND5

— Christian Fromhertz 🇺🇸 (@cfromhertz) February 16, 2023
The report revealed that the advance seasonally adjusted insured unemployment rate was 1.2%, while the four-week moving average stood at 189,500 which represented a slight increase of 500 from the previous week's adjusted average.
Unemployment Insurance Weekly Claims

Initial claims were 194,000 for the week ending 2/11 (-1,000).

Insured unemployment was 1,696,000 for the week ending 2/4 (+16,000).https://t.co/ys7Eg5Miqu

— U.S. Department of Labor (@USDOL) February 16, 2023
They also highlight that the seasonally adjusted figure for the number of people who have jobs in the U.S. last week was 156,000 when compared with the previous week's revised figure of 146,000
Bitcoin Price
Presently, the current live Bitcoin price stands at $22,974, having registered a trading volume of $25 billion in the last 24 hours. During this period, the price of Bitcoin has increased by nearly 4%. Notably, it retains its position at the top of CoinMarketCap, boasting a live market capitalization of $443 billion.
On a technical level, Bitcoin has surpassed a major double top resistance level of $24,300. With the current candles closing above this level, there is a higher possibility of a bullish trend continuation in BTC. The immediate resistance levels for Bitcoin are $25,450 and $26,000.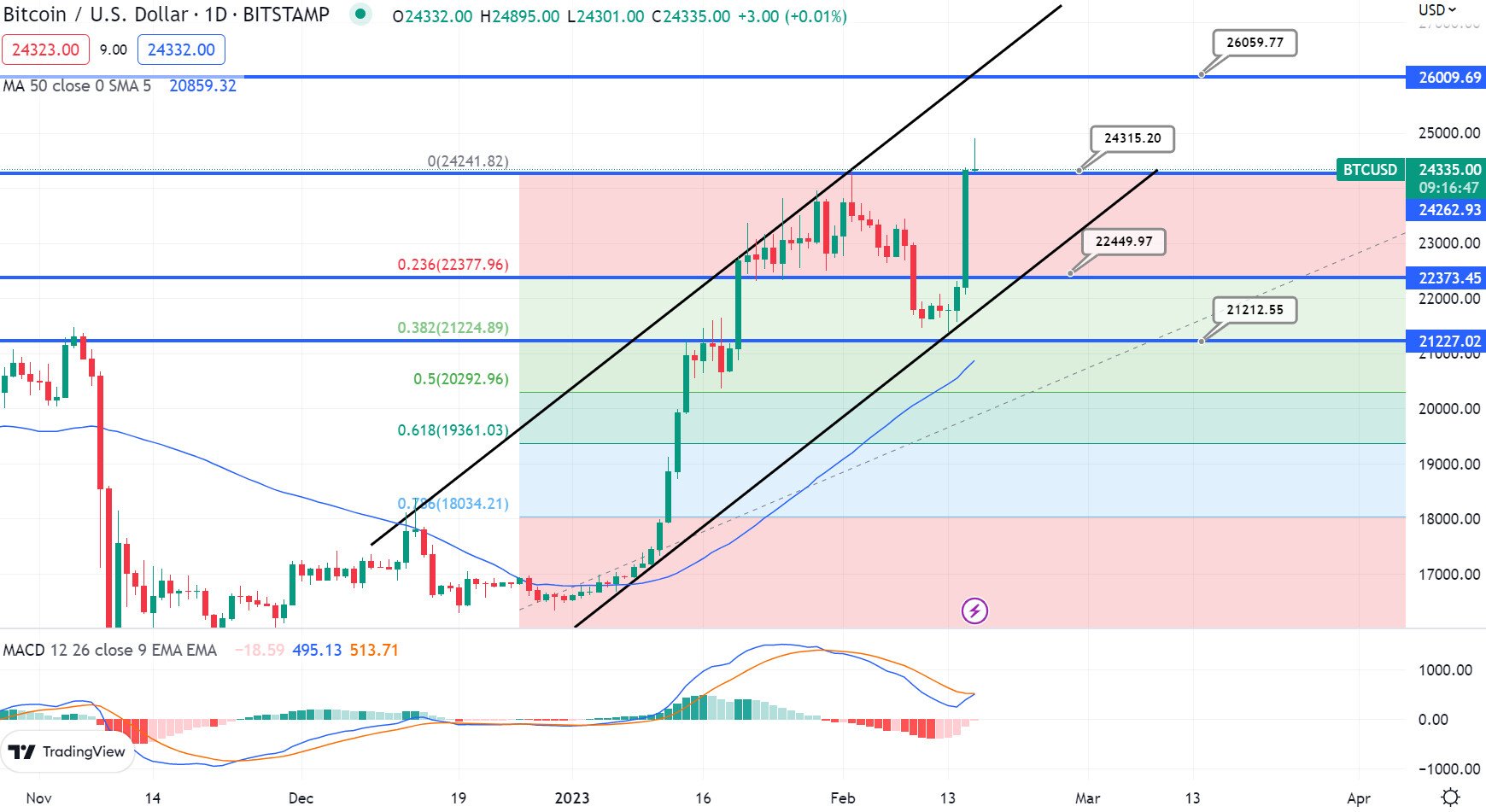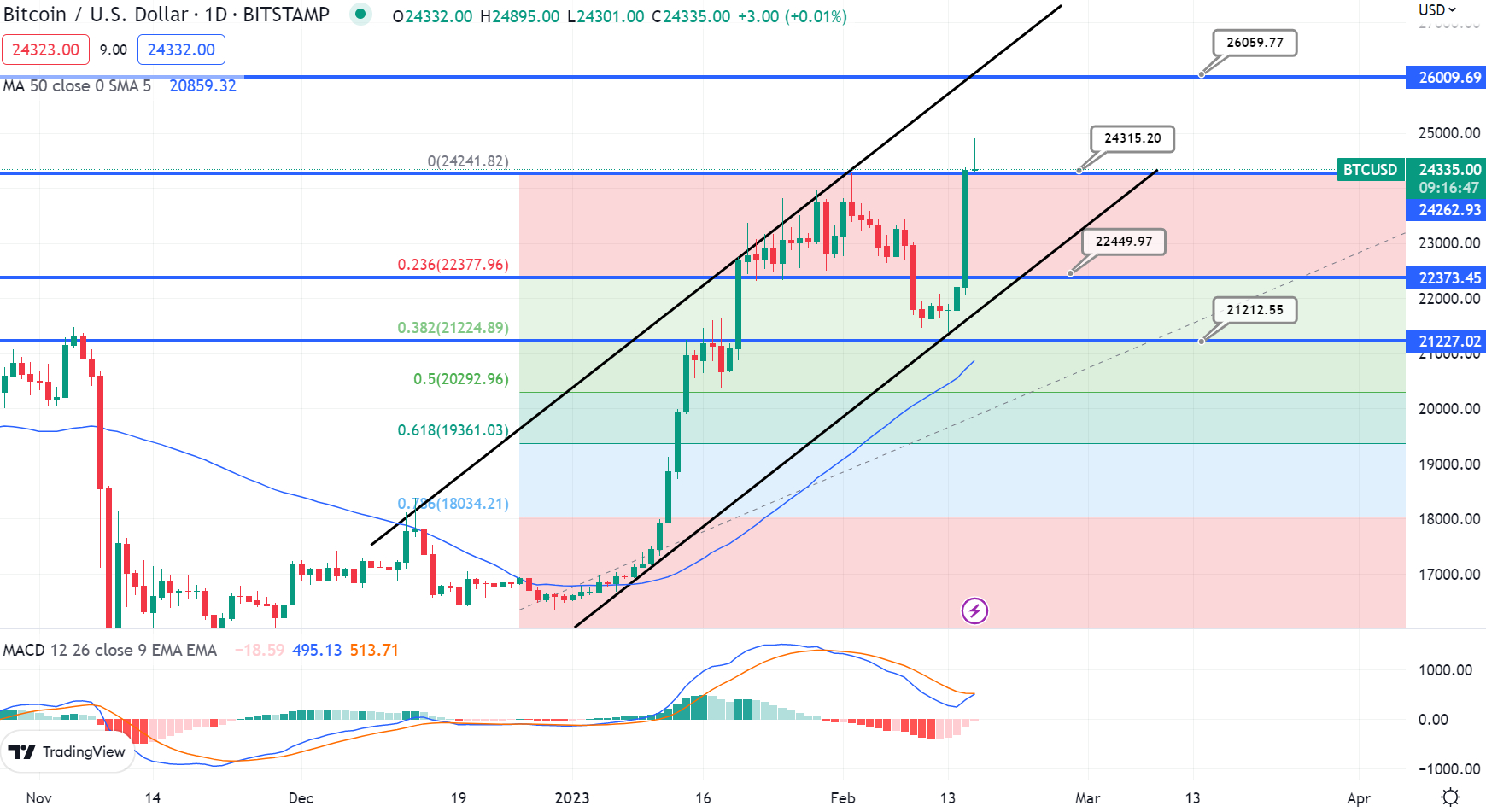 In the event of a bearish breakout below the $24,300 level, Bitcoin's price could fall toward the $22,500 level, which is backed by an upward channel.
However, the RSI and MACD indicators are in the buying zone, and Bitcoin has also formed an upward channel, indicating a strong probability of continued bullish trading above the $24,300 level.
Bitcoin Alternatives
CryptoNews Industry Talk has published a review of the top 15 cryptocurrencies to keep an eye on in 2023, aimed at assisting with investment decisions.
In addition, there are other investment opportunities with the potential for high returns that may be worth considering.
Disclaimer: The Industry Talk section features insights by crypto industry players and is not a part of the editorial content of Cryptonews.com.
Find The Best Price to Buy/Sell Cryptocurrency


---