Bitcoin Price Prediction as $5 Billion Trading Volume Sends BTC Back in the Green – Time to Buy?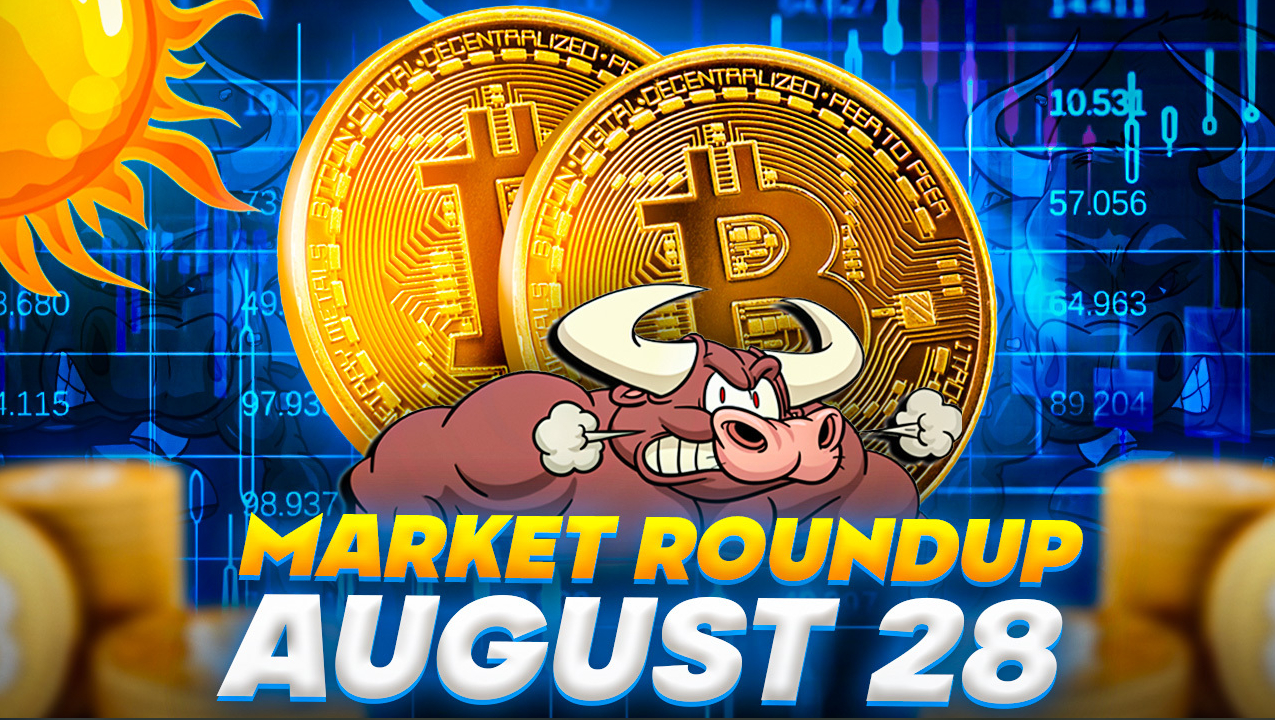 In the intricate realm of cryptocurrency, Bitcoin stands at the forefront of strategic discussions, underscored by its formidable $5 billion trading volume that has adroitly positioned the asset back in the positive domain.
Despite this momentum, the asset's current valuation hovers at $26,011, marking a nuanced dip of nearly 0.10% as of Monday.
This valuation is not solely a function of trading dynamics but intricately entwined with prevailing sentiments.
The global cryptocurrency consortium has been deeply engrossed in deliberations, primarily spurred by President Biden's recent propositions surrounding cryptocurrency tax reporting standards.
Additionally, the financial markets exhibit discernible prudence following Chairman Powell's pointed remarks on the prevailing US inflation rates, which he characterizes as unduly elevated.
As stakeholders navigate this sophisticated tapestry, the quintessential query arises: Given the prevailing financial architecture, does Bitcoin present a judicious investment avenue?
Cryptocurrency Community Divided Over Biden's Proposed Crypto Tax Reporting Standards
Prominent figures in the cryptocurrency space are expressing concerns over the new crypto tax reporting regulations proposed by US President Joe Biden.
The Internal Revenue Service's (IRS) plan to enhance tax compliance through stricter rules for brokers has sparked criticism.
Crypto commentators worry that these regulations could deter crypto firms from operating in the US. Some believe that the stringent measures might hinder innovation and drive the industry away from the country.
Messari CEO Ryan Selkis and CoinFund President Chris Perkins are among those who believe that the rules could impede growth and innovation.
Amid these concerns, BTC/USD is currently experiencing a decline, possibly influenced by these regulatory developments.
Investors Nervous as Powell Warns of High US Inflation
Amid caution stemming from US Federal Reserve Chair Jerome Powell's remarks on lingering high inflation, the crypto market observed stability on Monday in Asia.
Bitcoin, Ether, and other top 10 non-stablecoin cryptocurrencies maintained their positions.
Though investor sentiment remains guarded, JPMorgan Chase & Co. analysts noted a deceleration in the market's downward price momentum.
Meanwhile, the Forkast 500 NFT Index surged following a spike in sales of Donald Trump's NFT collection after his arrest.
In contrast to Bitcoin's decline, Ether consolidated around $1,650, while Bitcoin remained at $26K, and the total crypto market capitalization grew to $1.05 trillion with a trading volume of $16.28 billion, despite macroeconomic concerns like Evergrande's bankruptcy potentially affecting market sentiment.
Revolutionizing Bitcoin Valuation: Cointime Economics by Glassnode and Ark Invest
Glassnode and Ark Invest have jointly introduced "Cointime Economics," a novel model for assessing Bitcoin's value based on on-chain metrics.
This collaborative effort by researchers James Check of Glassnode and David Puell of Ark Invest presents a unique approach to evaluating the economic activity and value of Bitcoin.
The model introduces the concept of "coinblocks," calculated by multiplying the number of held bitcoins by the dormant blocks, aiming to capture their economic importance over time.
This framework suggests alternative metrics like "liveliness" and "vaultedness" and could enhance existing valuation models.
This development might not be a factor behind the BTC/USD price movement, but it will help investors.
Sam Bankman-Fried's Lawyer Pushes for "Temporary Release" Before Trial in October
FTX founder Sam Bankman-Fried's defense has renewed efforts for his "temporary release" ahead of his October trial, following the revocation of his bond due to bail condition violations.
Attorneys argue that his right to prepare his defense is hindered by limited online document access in jail, impacting his Sixth Amendment rights.
They propose either release or more frequent meetings for document review. Meanwhile, BTC/USD is currently experiencing a decline, potentially adding to the concerns around this legal situation.
Bankman-Fried's trial, scheduled for early October, involves charges including wire fraud and conspiracy to commit securities fraud.
Prosecutors must respond to defense letters by August 29, with a virtual hearing set for Wednesday regarding discovery issues.
Bitcoin Price Prediction
Bitcoin currently hovers in a modest price band just above the pivotal $25,900 support.
Bitcoin's price trajectory is confined above a critical $25,900 support, following its inability to sustain above the $26,500 resistance.
Currently trading under the 100 hourly SMA and $26,200, the cryptocurrency faces significant resistance at $26,200 and $26,500.
A decisive break above the latter could usher in an upswing to potentially $27,800.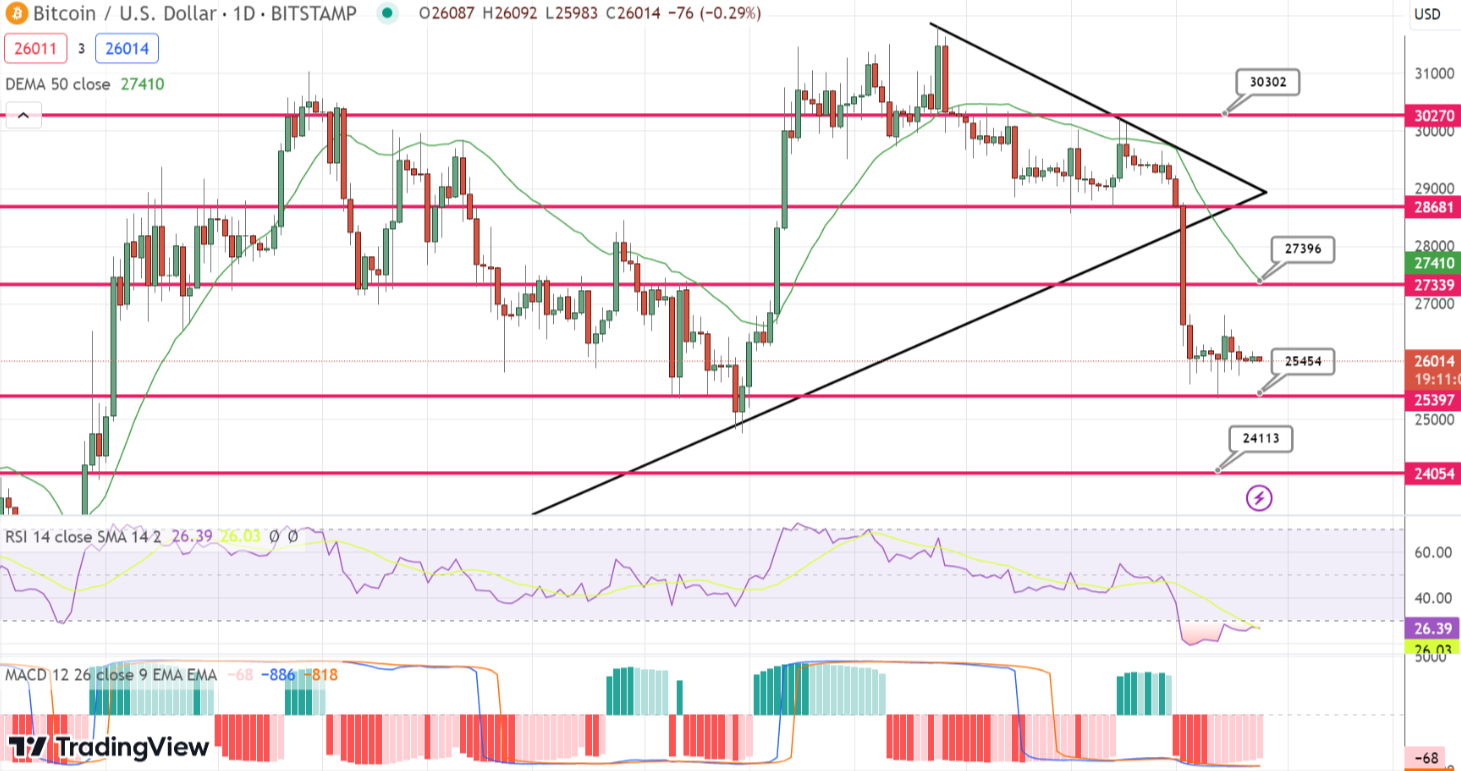 However, failure to surpass $26,200 might lead to a decline, with crucial support at $25,400, and a potential dip to as low as $24,800 if that support is breached.
Top 15 Cryptocurrencies to Watch in 2023
Stay informed about the latest initial coin offering (ICO) projects and alternative cryptocurrencies by regularly exploring our carefully selected collection of the top 15 digital assets to watch in 2023.
This thoughtfully curated list has been compiled by industry experts from Industry Talk and Cryptonews, ensuring that you receive professional recommendations and valuable insights.
Stay ahead of the game and discover the potential of these cryptocurrencies as you navigate the ever-changing world of digital assets.
Find The Best Price to Buy/Sell Cryptocurrency

Disclaimer: Cryptocurrency projects endorsed in this article are not the financial advice of the publishing author or publication - cryptocurrencies are highly volatile investments with considerable risk, always do your own research.
---