Bitcoin Price Prediction – $120,000 by End 2024 Says Top Bank But Bitcoin ETF Token Reels in $500,000 And Can Explode 10x
Disclosure: Crypto is a high-risk asset class. This article is provided for informational purposes and does not constitute investment advice. By using this website, you agree to our terms and conditions. We may utilise affiliate links within our content, and receive commission.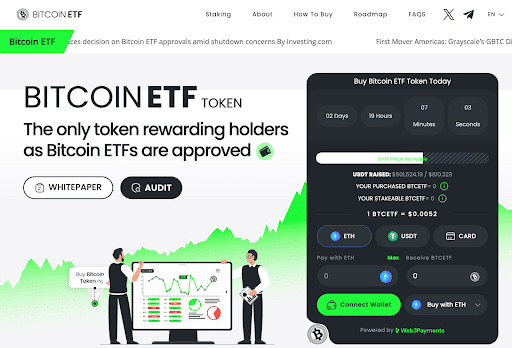 Monday, November 13, 2023 – The Bitcoin price predictions are rolling in, and among the most bullish is $120,000 by the end of 2024 from Standard Chartered Bank – but Bitcoin ETF Token has raised $500,000 and could gain 10x at launch. 
Since Sunday, the crypto industry has been focused on the opening of an eight-day window that the US Securities and Exchange Commission (SEC) has in which to approve 12 spot Bitcoin ETFs from various issuers, including fund giants BlackRock and Fidelity.
If approval doesn't happen then the next date is January 10, when a spot Bitcoin ETF from ARK Invest and 21Shares comes up for consideration. 
Either way, the market likes what it sees, and derivative Bitcoin tokens based on the spot Bitcoin ETF investment theme, like the Bitcoin ETF Token, are set to be top-performing coins as the crypto spring sprouts new millionaires. 
Bitcoin to $50,000 by year-end, Bitcoin ETF Token is the best way to play the ETF upside, raises $500k

With the FOMO building, the new Bitcoin ETF Token, in presale now, has raised $504,000 as traders increasingly see it as one of the best ways to gain exposure to the upside from the spot Bitcoin ETF theme.  
Stage 2 of the Bitcoin ETF Token presale ends in less than three days, after which the price of $BTCETF rises in Stage 3 from $0.0052 to $0.0054. 
There is no time to lose to buy the Bitcoin ETF Token, given the positive vibe in the market regarding ETF approvals and the halving bull cycle. 
🌐Grayscale Bitcoin Trust aims for a spot #ETF transformation, narrowing its discount to the slimmest since inception.

Recent legal strides and @BlackRock $BTC ETF entry fuel optimism. Are you bullish on the future of #Crypto ETFs?#BitcoinETF has also now raised over $500K!🪙 pic.twitter.com/HaKz0g6BLw

— BTCETF_Token (@BTCETF_Token) November 13, 2023
Asia-focused global bank Standard Chartered made its prediction based on rising miner profitability. Higher free cash flow from the miners means fewer bitcoin sales will be required to cover operating expenses.
Critically for Bitcoin bulls, Standard Chartered did not factor in approving a Bitcoin ETF in its analysis, which means the $120,000 target could be revised upwards. It also means that Bitcoin ETF-themed crypto assets such as Bitcoin ETF Token will continue to be the recipient of a fast-growing pot of trader and investor funds.
Steering the bank's bullish view is the Bitcoin block rewards halving event in April 2024, which will reduce the Bitcoin emission rate by halving block reward payments to miners from 6.25 to 3.125 BTC.
All previous halving events have triggered bull runs, and this cycle is shaping up to be no different, except this time, the bull run could be even more explosive than in previous halving cycles. Bitcoin's all-time high price is $68,000.
The highest-valued cryptocurrency is currently trading at the $37,000 level after surging on spot Bitcoin ETF news developments, indicating a strong chance of approval in January or perhaps even sooner. In addition, BlackRock made regulatory filings for a spot Ethereum ETF last week, adding to the bullish furor in the market.
Standard Chartered's super positive Bitcoin price prediction was made in July, and that was a revision of its previous prediction of $100,000. The bank's analysts updated their forecast on an improved outlook for miner profitability.
The analysts' profitability figures are based on Bitcoin achieving a price of $50,000 by the end of 2023, which is now well within the sights of bulls.
$BTCETF burns are triggered by real-world events affecting spot Bitcoin ETFs and coin performance 

Bitcoin ETF Token is deflationary – it has a price-supporting burn mechanism because it reduces the total token supply.
At launch, the Bitcoin ETF Token will have a 5% burn on all transactions, while up to 25% of the total token supply is eligible to be burned.
All the burn mechanism events are triggered by real-world events related to spot Bitcoin ETF milestones, such as the first approval and launch dates, among other things.
There are also triggers related to the performance of the $BTCETF token. For example, when the trading volume of $BTCETF hits $100 million, the transaction tax is reduced from 5% to 4%. Other milestones include the approval date of the first spot Bitcoin ETF, at which point the sales tax is reduced from 4% to 3%
Austin Hilton, a YouTube analyst with 235,000 subscribers, is a $BTCETF fan. He informs his audience that $BTCETF is "like nothing you have ever seen" as he encourages his viewers to find out more.
Grayscale Bitcoin Trust's narrowing discount speaks to a bullish future for Bitcoin funds and $BTCETF

The nearest thing to an ETF in the US market is the Grayscale Bitcoin Trust. It is, however, a close-ended fund, meaning it has a fixed share structure and the price moves up and down in relation to supply and demand. As such, this means the asset can trade above (premium) and below (discount) its net asset value (the value of the Bitcoin it holds for its investors).
Over the past couple of months, the discount of GBTC has continued to narrow, so as of Friday it sits at -10.35%. In July the discount was in excess of -40%. 
Grayscale recently won a court case in which the judge found that the SEC was at fault in rejecting Grayscale's request to convert the trust into an ETF. The narrowing discount is indicative of the bullish sentiment in the market as institutional buyers load up.
Having said that, not everyone is buying. Cathie Wood's actively managed ARK New Generation Internet ETF (ARKW) sold 201,047 shares of GBTC, amounting to 0.4591% of the ETF. 
Around 9% of ARKW is held in GBTC but ARK Invest has a spot Bitcoin ETF fund awaiting approval at the SEC and is presumably reducing its GBTC holding as part of its preparation for a reallocation of resources.
Wood's trading is indicative of how smart money is on the move and provides yet another explanation for why traders are looking to Bitcoin ETF Token.
$BTCETF helps you gain exposure to an investment opportunity worth billions of dollars

Returning to Bitcoin mining economics, it is important to appreciate that the Standard Chartered analysis cited above was conducted before consideration of the latest ETF-inspired excitement in the market or the impact it is having on prices across the crypto complex. A spot Bitcoin ETF is expected to unlock an inflow of billions of dollars coming into the crypto space. 
For instance, financial advisoers and pension fund managers who, for due diligence and regulatory reasons, may have been barred from investing clients' funds in Bitcoin or Ethereum, will, post-approval, have a regulated route into the asset class.
But there's no need to wait for an ETF to be launched. You can position your crypto portfolio now by buying Bitcoin ETF Token, so you are ready to grab the profits as the news flow generates more price upside. 
And it is not just a short-term story you will be benefiting from. The impact of a spot ETF could be comparable to the impact of the first gold-based vehiclesETFs which were the first ETFs to be launched. 
Spot crypto ETFs can take digital assets into the financial mainstream and that is a billions- of- dollars opportunity you don't want to miss. $BTCETF staging and burning locks in ETF-driven value for the long term.
---