Bitcoin Minetrix Presale Hits $3 Million Milestone as Bitcoin Price Finds Feet Above $34k – Don't Miss Last Chance to Buy in Stage 4
Disclosure: Crypto is a high-risk asset class. This article is provided for informational purposes and does not constitute investment advice. By using this website, you agree to our terms and conditions. We may utilise affiliate links within our content, and receive commission.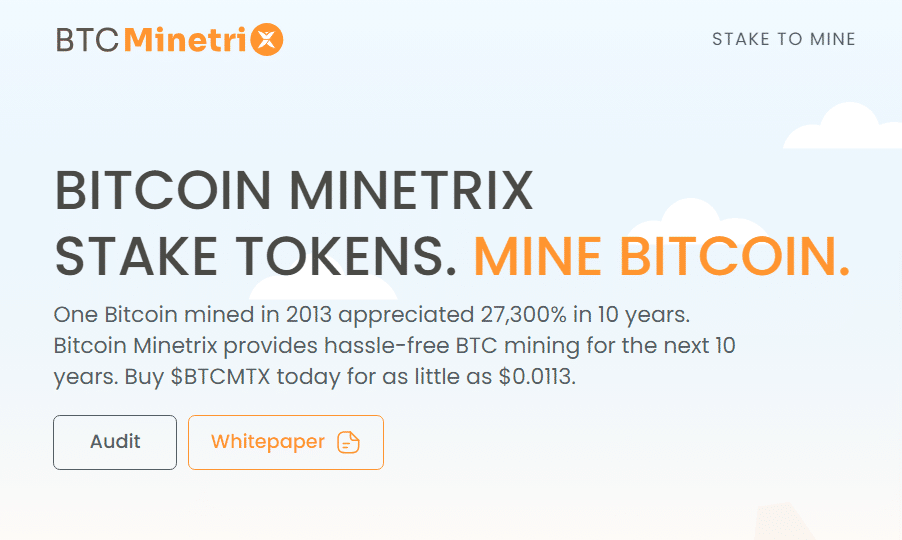 Wednesday, November 1, 2023 – As the Bitcoin price stabilizes above $34,000, traders are flooding into Bitcoin alternatives for market-beating returns, fuelling rapid growth beyond $3M for Bitcoin Minetrix. But as the $BTCMTX presale approaches the end of Stage 4 – here's why you don't want to miss out.
Bitcoin has seen a strong recovery with a 107.16% YTD move, and now with BTC finding its feet at a 17-month high above $34,000 – markets are racing to find alternative plays like Bitcoin Minetrix ahead of the next recovery leg.
This comes as Bitcoin markets are invigorated by a highly-anticipated (but still unconfirmed) approval of BTC Spot ETFs.
NEW: Spot #Bitcoin ETF for Invesco and Galaxy gets the ticker $BTCO listed on the DTCC. pic.twitter.com/XvVGIvXJ6h

— Bitcoin Archive (@BTC_Archive) November 1, 2023
Indeed, BTC traders are keenly following the 10 Bitcoin Spot ETF applications for any signs of progress such as ticker listings on DTCC, with the latest entrant being a new application from VanEck submitted on Monday, October 30.
Bitcoin On-Chain Signals Suggest the Bitcoin Spot ETF Recovery Rally Is Different – Here's Why

The excitement around Bitcoin ETFs appears to have triggered defiance in Bitcoin's performance on-chain, marking a juncture with past cycles.
A glance at the Stablecoin Supply Ratio Oscillator (SSRO – a measure of whether markets are sat in stablecoins or Bitcoin) reveals a new all-time high of 4.13 as traders appear to have ladened their portfolios with Bitcoin.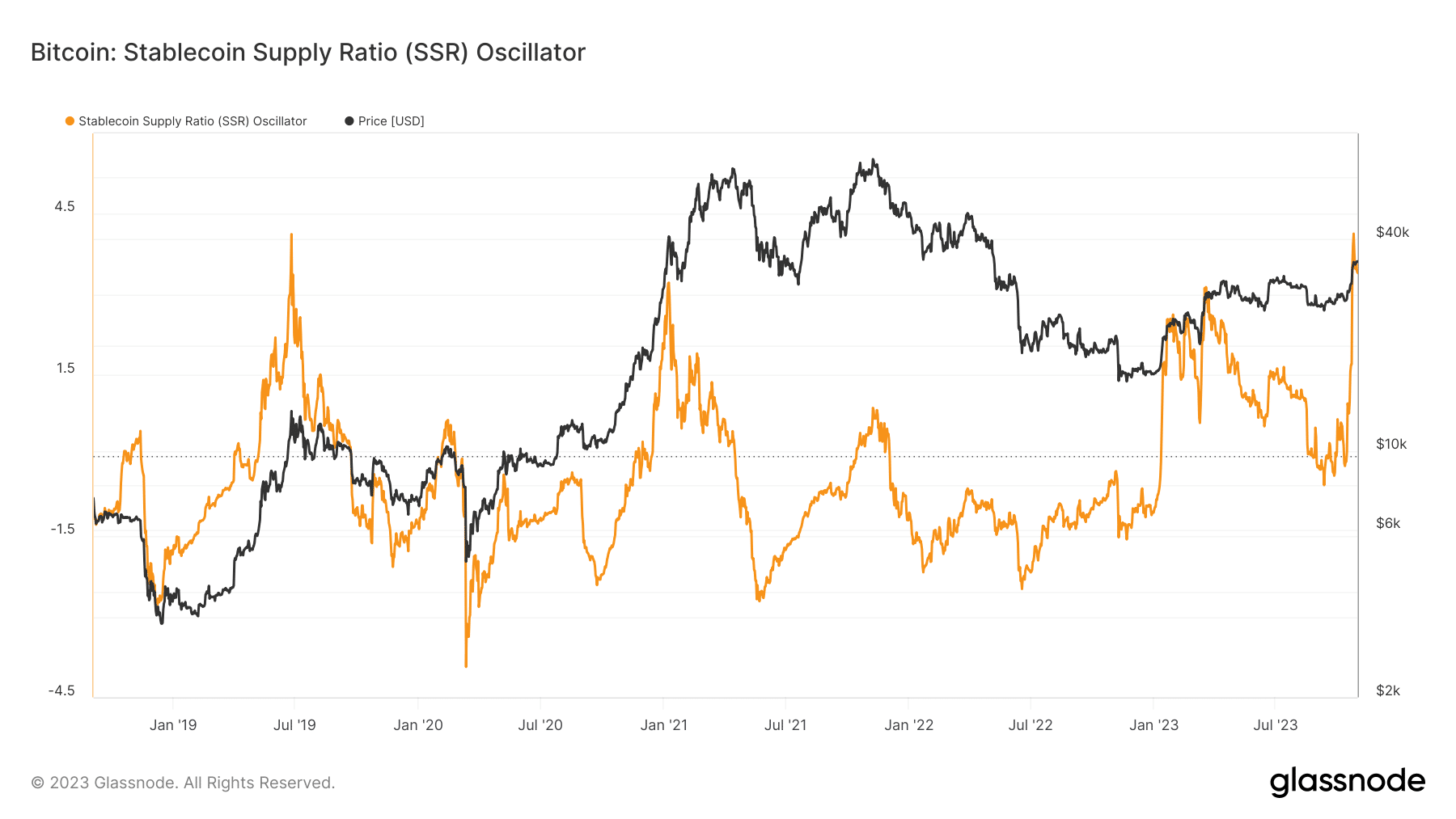 While this suggests limited stablecoins on-hand to pump the Bitcoin price further, it also reflects growing excitement in market sentiment ahead of a theorized Bitcoin Spot ETF approval – with traders positioning themselves for significant gains.
However, the last time this occurred in June 2019, it coincided with a massive bearish spike in Reserve Risk (a measure of confidence in Bitcoin's risk/reward proposition).
Uniquely, despite the aggressive shift over the past month from stablecoins to Bitcoin, the Reserve Risk has remained extremely low – suggesting that markets have strong confidence in BTC's current risk/reward proposition.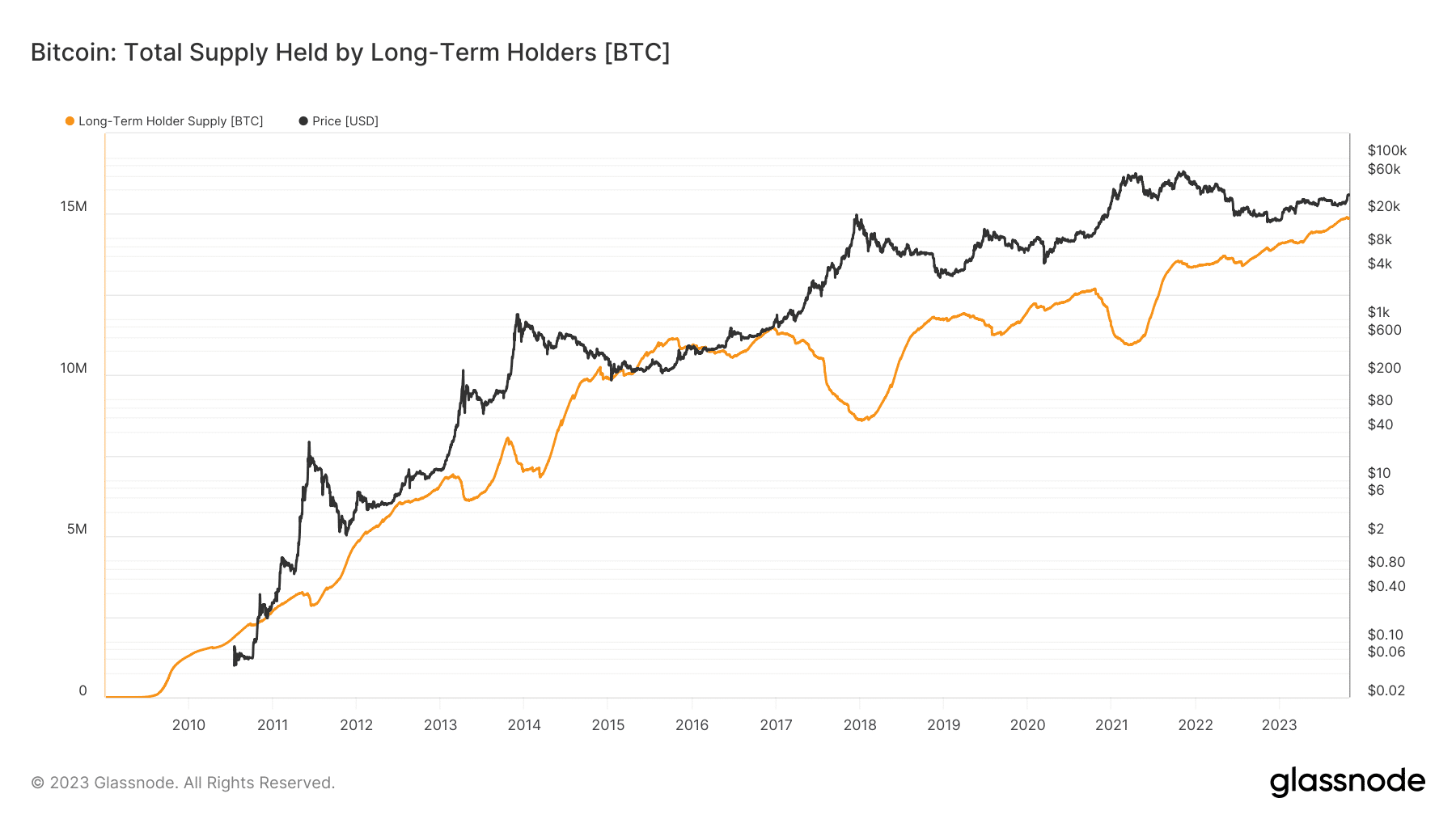 With more than 70% of Bitcoin supply in the hands of long-term holders, expectations of a wave of Bitcoin Spot ETF approvals delivering multi-billion dollar inflows could see institutional money fighting for a slice of only 30% of remaining circulating supply.
This would see huge demand-side pressure against a relative supply shock – potentially fuelling a skyrocket rally to a new Bitcoin all-time high.
Although such a move will require BTC to defy significant fundamental headwinds, such as increased geopolitical risk in the Middle East, and macroeconomic constraints such as a Fed at war with stubborn inflation
How Could Possible Bitcoin Price Explosion Fuel Bitcoin Minetrix Skyrocket?

One industry specialist is anticipating a remarkable surge in Bitcoin's value, projecting a potential increase to $135,000 in the near future, while another expert envisions an even more dramatic rise, predicting a peak of $750,000. 
In the midst of this, Bitcoin Minetrix, a tokenized Bitcoin cloud-mining project, has successfully garnered $3 million in funding as the end of Stage 4 rapidly approaches, positioning itself as a potentially lucrative investment opportunity.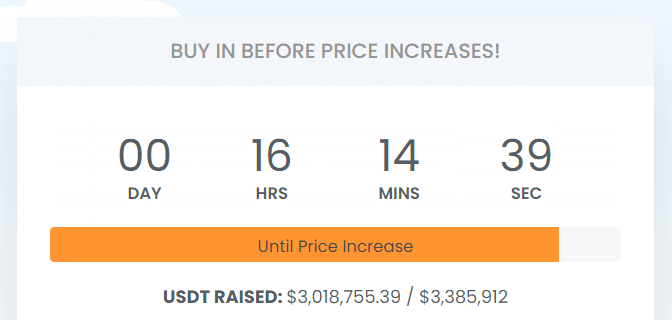 Trading at just $0.0113 at present, but only for less than one day longer with a price increase expected tomorrow, Bitcoin Minetrix presents a compelling risk-reward scenario that may outshine Bitcoin's potential gains. 
Achieving a 100% increase from its current price would propel Bitcoin to unprecedented heights, breaking into the $70,000 range and setting a new all-time high.
At this moment, traders and investors are keenly watching Bitcoin, anticipating a significant upward movement into the $46,000 to $52,000 bracket. Such a move would be a clear indicator that Bitcoin is poised to reach new all-time highs.
Another great milestone unlocked by #BitcoinMinetrix!

More than $2,800,000 raised! 🪙 pic.twitter.com/PoH28Wjd7x

— Bitcoinminetrix (@bitcoinminetrix) October 31, 2023
While this prospect is indeed exciting, it pales in comparison to the potential returns of investing in Bitcoin alternatives like $BTCMTX. 
Due to its significantly lower market cap, and its role in connecting retail traders with the Bitcoin mining revolution, $BTCMTX stands to increase in value by several thousand percent, offering investors a more affordable entry point into the booming Bitcoin narrative.
Furthermore, any positive developments for Bitcoin tend to have a ripple effect, benefiting a variety of similar cryptocurrencies and derivative coins such as $BTC20 and $BITCOIN.
Bitcoin Minetrix is emerging as a favorite among these beneficiaries, standing out due to its unique and genuine contribution to the expansive world of opportunities within the Bitcoin ecosystem.
Bitcoin Minetrix Can Boost Your Portfolio With More Than Just Value Accrual
#BitcoinMinetrix Stage 4 is ending in less than 24 hours! 🕑 pic.twitter.com/VbNQprvh84

— Bitcoinminetrix (@bitcoinminetrix) November 1, 2023
But the potential of the Bitcoin Minetrix ecosystem doesn't stop at possible value accrual.
Users who proactively stake their $BTCMTX tokens are rewarded with more tokens at 195% current APY. These extra tokens earned before the Bitcoin Minetrix stake-to-mine feature goes live will grant holders a larger piece of the mining power pie once they can be staked for mining credits.
Mining credits, while being ERC-20 tokens, hold a unique utility – they can be redeemed for designated BTC cloud mining time slots, enabling retail investors to tap into the supply of fresh Bitcoin rewards.
Once this mechanism becomes fully active and operational, those who stake can look forward to reaping actual BTC rewards through the act of cloud mining, thereby opening the doors to an additional, lucrative revenue stream. 
With so much promise, Bitcoin Minetrix has unlocked star status amongst leading crypto influencers, such as top crypto analyst Jacob Bury – who has highlighted the presale's rapid ascent to $3 million in his latest video.
However, with just one day left to claim your slice of the pie at a superior entry price of $0.0113, don't be sidelined by yet another high-growth play.
Disclaimer: Crypto is a high-risk asset class. This article is provided for informational purposes and does not constitute investment advice. You could lose all of your capital.
---