Bitcoin Price Explodes With One of the Biggest Rally in History
Disclosure: Crypto is a high-risk asset class. This article is provided for informational purposes and does not constitute investment advice. By using this website, you agree to our terms and conditions. We may utilise affiliate links within our content, and receive commission.
The Cryptoverse is stunned. While many analysts, traders were discussing where will bitcoin price go next – below USD 7,000 or USD 6,000 – the most popular cryptocurrency made one of its largest moves up.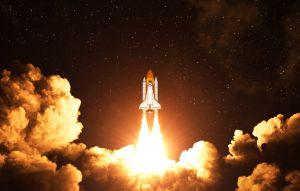 In less than one day, the price skyrocketed from c. USD 7,500 to more than USD 10,100. At pixel time (05:52 UTC), it corrected lower and trades at c. USD 9,710. It's up by 30% in the past 24 hours, by 22% in the past week and by 14% in the past month. Last time bitcoin price was at this level is the end of September.
Moreover, bitcoin dominance, or the percentage of the total market capitalization, jumped by c. 3 percentage points, to 67.6%. The total market capitalization increased by 24%, to USD 257.9 billion.
BTC price chart: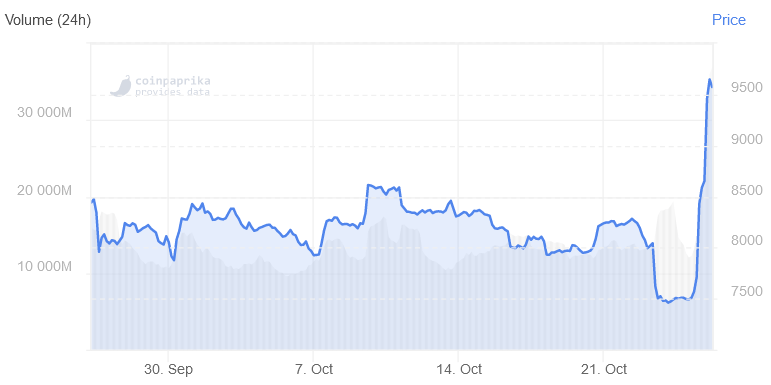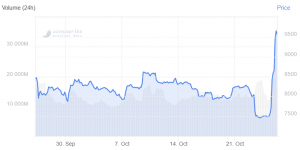 "This positive sentiment, along with a good buying opportunity at the key USD 7,500 support level, has led to there being more buyers than sellers — which, at the end of the day, always leads to markets going higher," Jeff Dorman, chief investment officer at Arca, a Los Angeles-based asset manager that invests in cryptocurrencies, told Bloomberg.
_________________________
Money flows in the past 24 hours, in million USD
| Trading Pair | October 25 (16:50 UTC) | October 26 (08:11 UTC) |
| --- | --- | --- |
| BTC/USDT | 2,400 | 5,700 |
| BTC/USD | 517 | 1,300 |
| BTC/CNY | 74 | 232 |
| BTC/JPY | 78 | 254 |
| BTC/EUR | 97 | 228 |
| BTC/KRW | 38 | 98 |
| BTC/GBP | 39 | 55 |
Source: Coinlib.io
_________________________
While opinions are mixed as for what caused the rally, some analysts are attributing it to a recent news from China. China's President Xi Jinping urged the country to accelerate the development of blockchain technology due to its importance "in the new round of technological innovation and industrial transformation" of China.
Also, on Friday, Bakkt, the U.S.-based physically-settled Bitcoin futures trading platform, set a new daily record of 1,179 Bakkt Bitcoin Futures contracts traded, or 84% more than the previous record set earlier this week.
Meanwhile, other coins from the top 10 by market capitalization are up by 7%-31%. Ethereum increased by 16%, XRP is up by 9%. However, when measuring the returns in terms of bitcoin, only a few coins from top 100 by market capitalization are in green today. For example, ether is down by 10% against BTC, while XRP crashed by 15.5%.
Crypto researcher and analyst Willy Woo said that, in his view, Bitcoin bull market are in 3 phases.
"A pop out of accumulation. We are still playing this out. The second phase is a nice long, steady climb with lowish volatility. (The 3rd stage is mania when volatility goes out of control). On current timelines we'll enter phase 2 a few months before the May 2020 halvening when a bullish on-chain structure should coincide with halvening front running. That's the best time to deploy capital or go long with high certainty," he said.
____
Other reactions:
{no_ads}
---