Bitcoin Price and Ethereum Prediction; US CPI Figures in the Limelight
Disclosure: Crypto is a high-risk asset class. This article is provided for informational purposes and does not constitute investment advice. By using this website, you agree to our terms and conditions. We may utilise affiliate links within our content, and receive commission.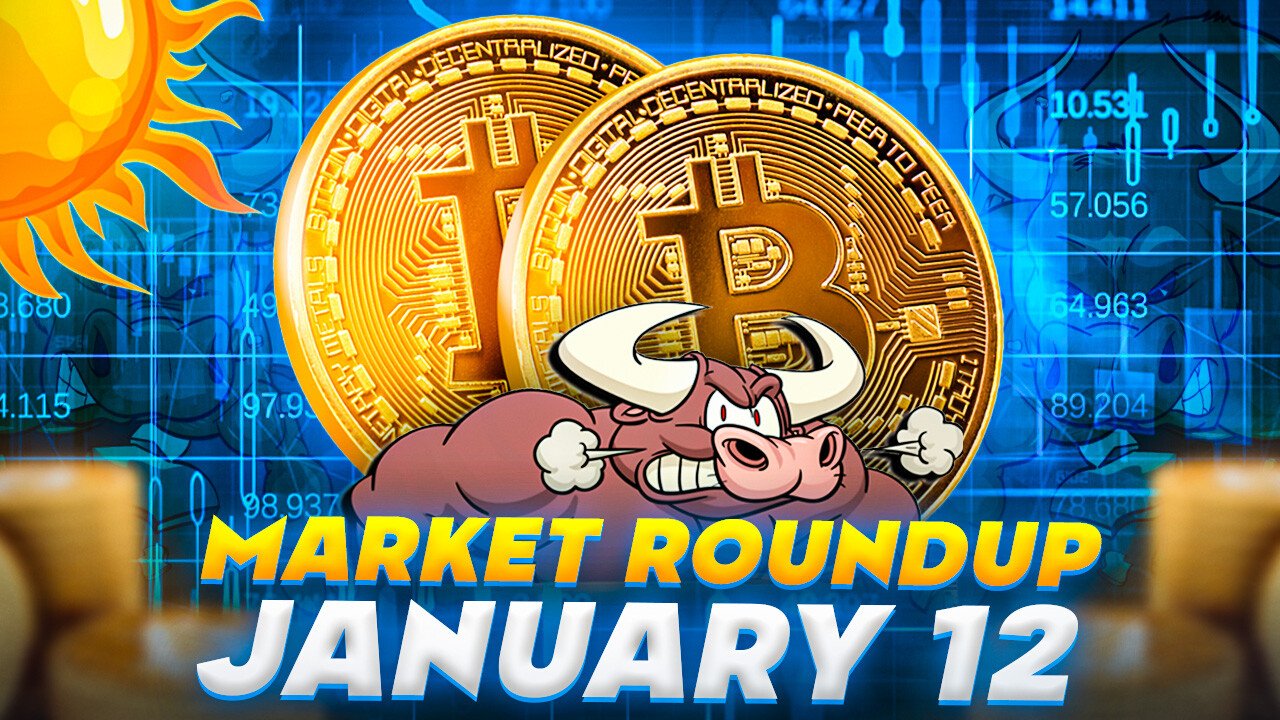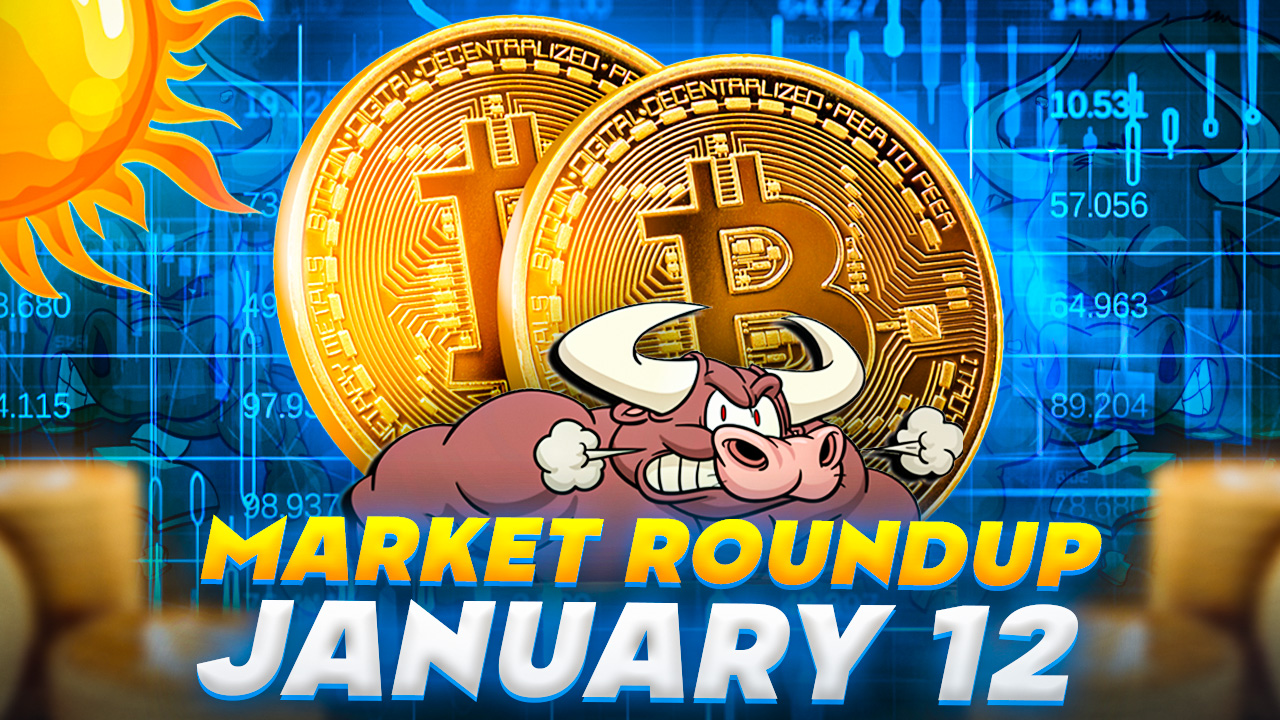 Bitcoin, the world's largest and most popular digital currency, extended its winning streak to nine days and reached an intraday high of around $18,224. Meanwhile, Ethereum, the second most valuable cryptocurrency, benefited from Bitcoin's rise, rising nearly 5% to $1,401.
Simply put, the world's two most popular cryptocurrencies, Bitcoin (BTC) and Ethereum (ETH), have continued to rise this month, adding more than 10% and 17%, respectively, around the $18,000 and $1,400 levels.
Bitcoin has been on the rise for the past two weeks. Current price for 1 bitcoin = 18250 usdt. Im can't wait for #Core (Solution Trilema Blockchain) pic.twitter.com/zeIFW8BPH1

— SHATOSHI #Brise 💎🚀 (@shatoshians) January 12, 2023
The reason for the continuous upward trend in all digital assets, however, was the expectation that inflation would cool and that the Federal Reserve would gradually raise interest rates as it neared the end of its aggressive monetary policy tightening campaign.
Aside from that, several encouraging developments in the cryptocurrency market are taking place, such as Dubai issuing federal regulations and FTX recovering customer funds, which are seen as major factors that have been supporting the world's two most popular cryptocurrencies, Bitcoin (BTC) and Ethereum (ETH).
The new chief executive of FTX, John J. Ray III, who has been tasked with recovering customer funds from the collapsed crypto exchange, said his team encountered an "unprecedented" lack of record keeping at the company. https://t.co/cATi3q6sv8

— The New York Times (@nytimes) December 13, 2022
Furthermore, El Salvador, a Central American country, recently approved legislation allowing it to sell Bitcoin-backed bonds. This news has also contributed significantly to the rise in Bitcoin prices.
In contrast, the majority of the 13 bitcoin mining stocks fell on Wednesday, with only six rising. As a result, this news was received negatively, despite the fact that it has not yet affected the price of bitcoin.
US CPI Figures in the Limelight
Inflation in the United States is expected to have decreased for the sixth consecutive month, to 6.5% in December 2022 (from 7.1% in November), the lowest level since October 2021. After increasing for four months in a row, and after increasing by 0.1% in November, the CPI is expected to level off in the coming months.
Core inflation is forecast to drop to 5.7% annually, the lowest level in a year, while monthly core inflation is predicted to increase at a slightly faster rate of 0.3% compared to 0.2% in November.
📢US CPI release today

Expectations leaning on a drop 6.5%

🟢 Bullish if we go below it
🟡 Neutral if it falls within expectations
🔴 Bearish if we go above it pic.twitter.com/OA8jirwZdF

— CryptoWhale™ (@SCryptowhale) January 12, 2023
Even though inflation appears to have peaked at 9.1% in June 2022, it is still more than three times above the Fed's 2% target and points to a general increase in the price level, especially in the services sector.
In November of 2022, the US consumer price index (CPI) that excludes seasonal factors dropped 0.1% to 297.711 points.
Risk-On Mood In Crypto Market
The global cryptocurrency market has been on a roll and has gained traction throughout the day, boosting cryptocurrencies such as Bitcoin (BTC), Ethereum (ETH), and many other coins.
However, the global cryptocurrency market capitalization increased by more than 3% on the day to $886.94 billion. Meanwhile, the total volume of the cryptocurrency market increased by 21.39 percent in the last 24 hours to $42.52 billion.
THE CRYPTO BEAR MARKET IS OFFICIALLY OVER 🚨

— Crypto Bitlord (@crypto_bitlord7) January 11, 2023
However, the reason for its ongoing upward trend might be attributed to favorable economic developments such as Dubai enacting federal-level legislation, FTX retrieving client funds, and macroeconomic conditions improving. This is why all digital assets have grown significantly since the beginning of the year.
El Salvador Passes a Legislation Approving a Bitcoin Bond
According to a report from Bloomberg on January 11, El Salvador has implemented a law that would permit the nation to issue bonds backed by Bitcoin. However, the law was recently adopted by the nation's Congress with 62 votes in favor and 16 votes against. The measure is now ready for President Nayib Bukele to sign.
It is also worth noting that the earnings from those bonds will be used to support Bukele's $500 million idea to develop a "Bitcoin City" near the coastal volcano Conchagua.
The city will utilize Bitcoin as its primary currency and will mine cryptocurrencies using clean volcanic energy. Therefore, this was viewed as another major aspect that had a positive influence on BTC prices.
US Dollar Under Pressure
Another factor that has aided cryptocurrencies is the decline in the value of the US dollar. The broad-based US dollar failed to maintain its modest recovery, falling to a seven-month low ahead of US inflation data, which could provide more clarity on how far inflation has eased in the world's largest economy and the Federal Reserve's rate-hike plan.
Gold rose above $1,880 an ounce hovering near its strongest levels in eight months amid a general dollar weakness, as investors cautiously awaited key US inflation data that could influence the trajectory of Federal Reserve #Gold #Prices #Trading #newshttps://t.co/KjCK44kVk2 pic.twitter.com/KtmiC4mWE7

— B- Trams (@btramsnews) January 12, 2023
As we already stated that the dollar has already fallen to new lows versus its peers this year due to expectations that the Fed may be reaching the climax of its aggressive monetary policy tightening campaign and that it may not need to hike rates as far as previously thought.
Bitcoin Price
Bitcoin is presently trading at $18,200, with a $16 billion 24-hour trading volume. Bitcoin is on a bullish streak, but it is now encountering immediate resistance near the $18,350 level. A bullish breakout of this level has the potential to take Bitcoin to $19,850 or even higher.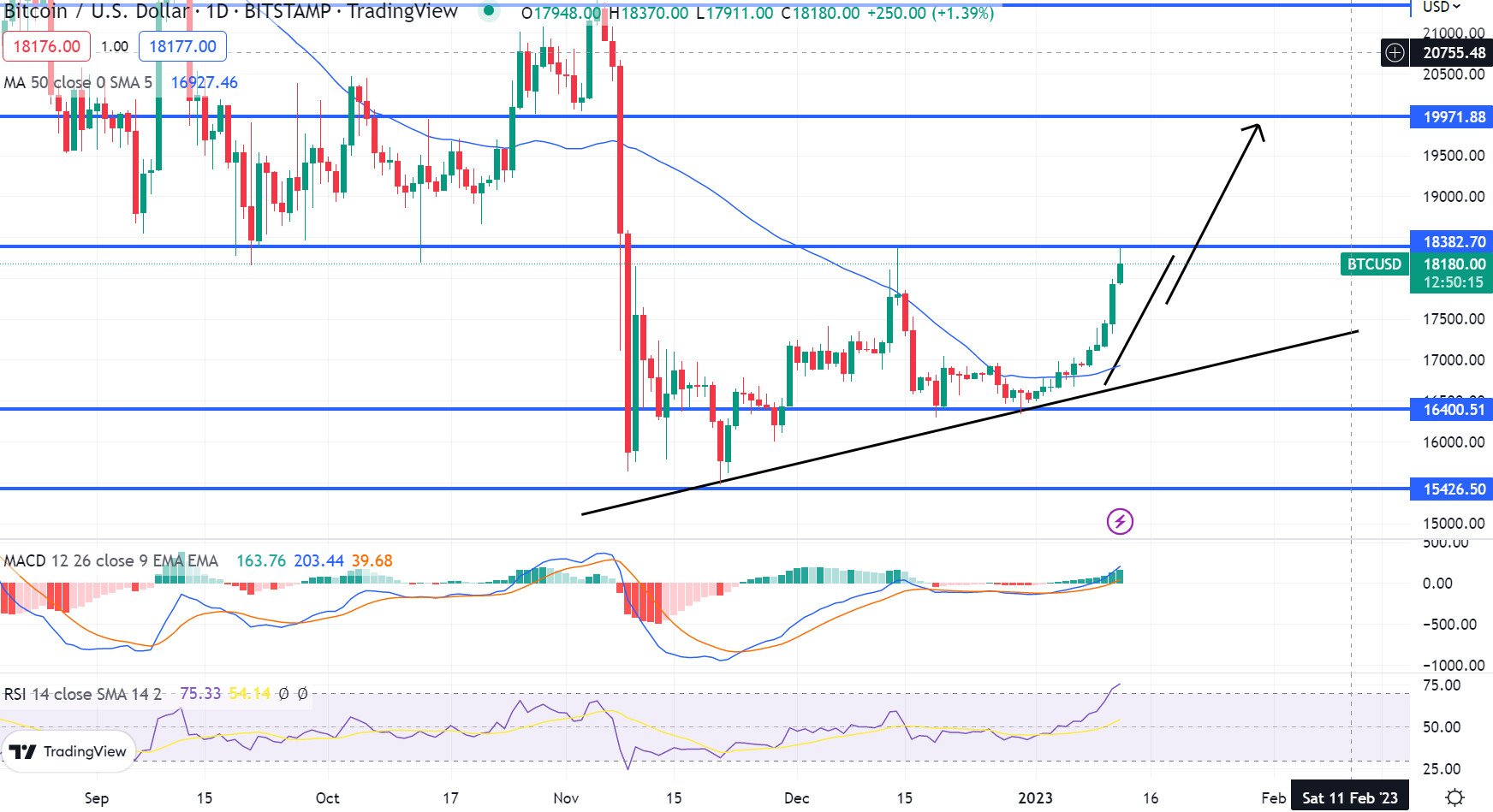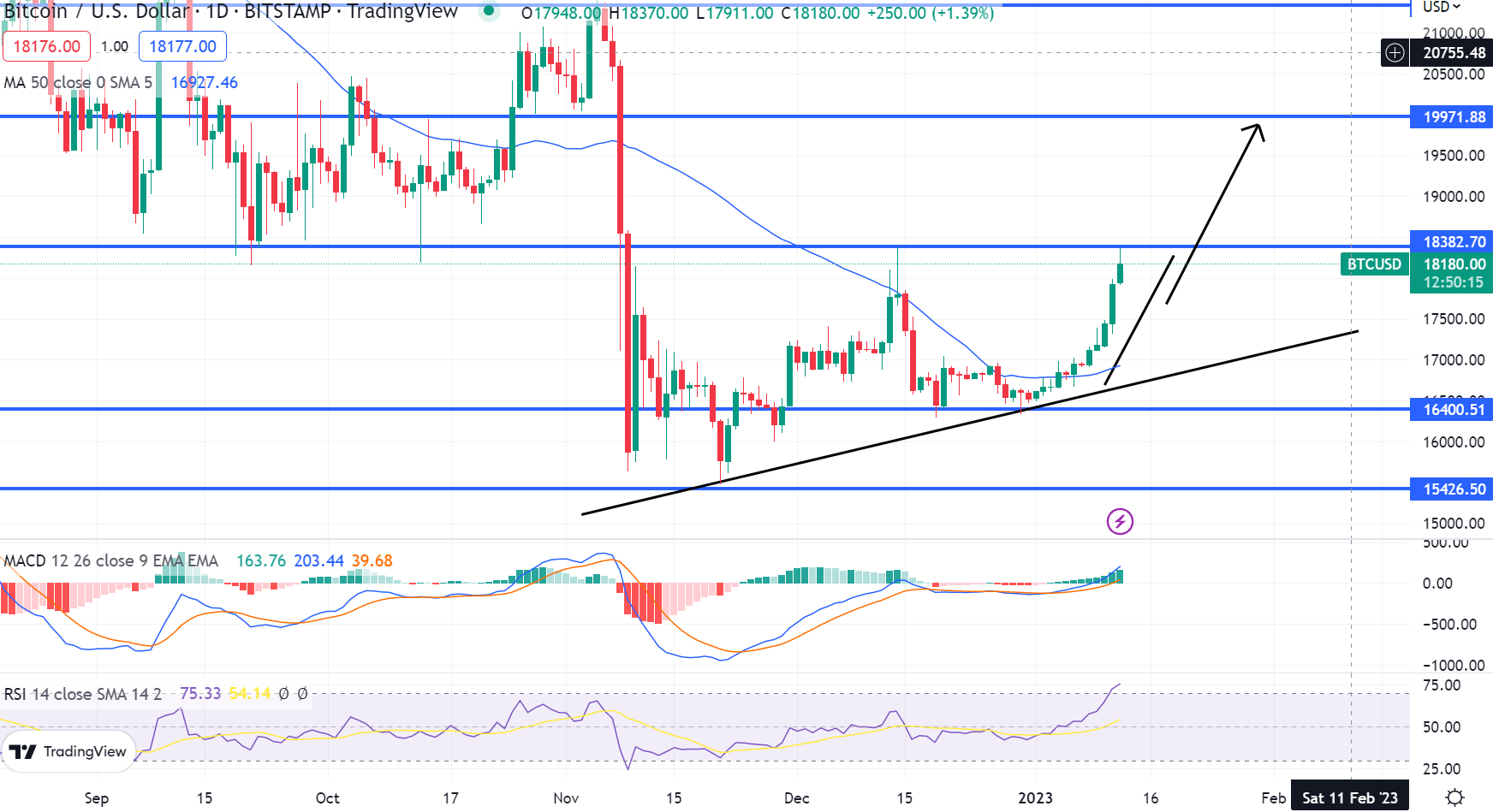 On the downside, Bitcoin's immediate support level remains at $16,800 or $16,400. While the RSI and MACD indicators have reached overbought levels. As a result, we must keep an eye on $18,350, as failure to break above this level may result in bearish price action in BTC.
Ethereum Price
The current price of Ethereum is $1,396, with a 24-hour trading volume of $10 billion. The ETH/USD pair has sliced through the major resistance level of $1,350 and now it's heading north toward the next resistance area of $1,500 level.
On the lower side, Ethereum's immediate support prevails at $1,350, and the closing of candles above this level is likely to drive an uptrend. If the $1,400 level is breached, the ETH price may move to the next resistance zone of $1,500.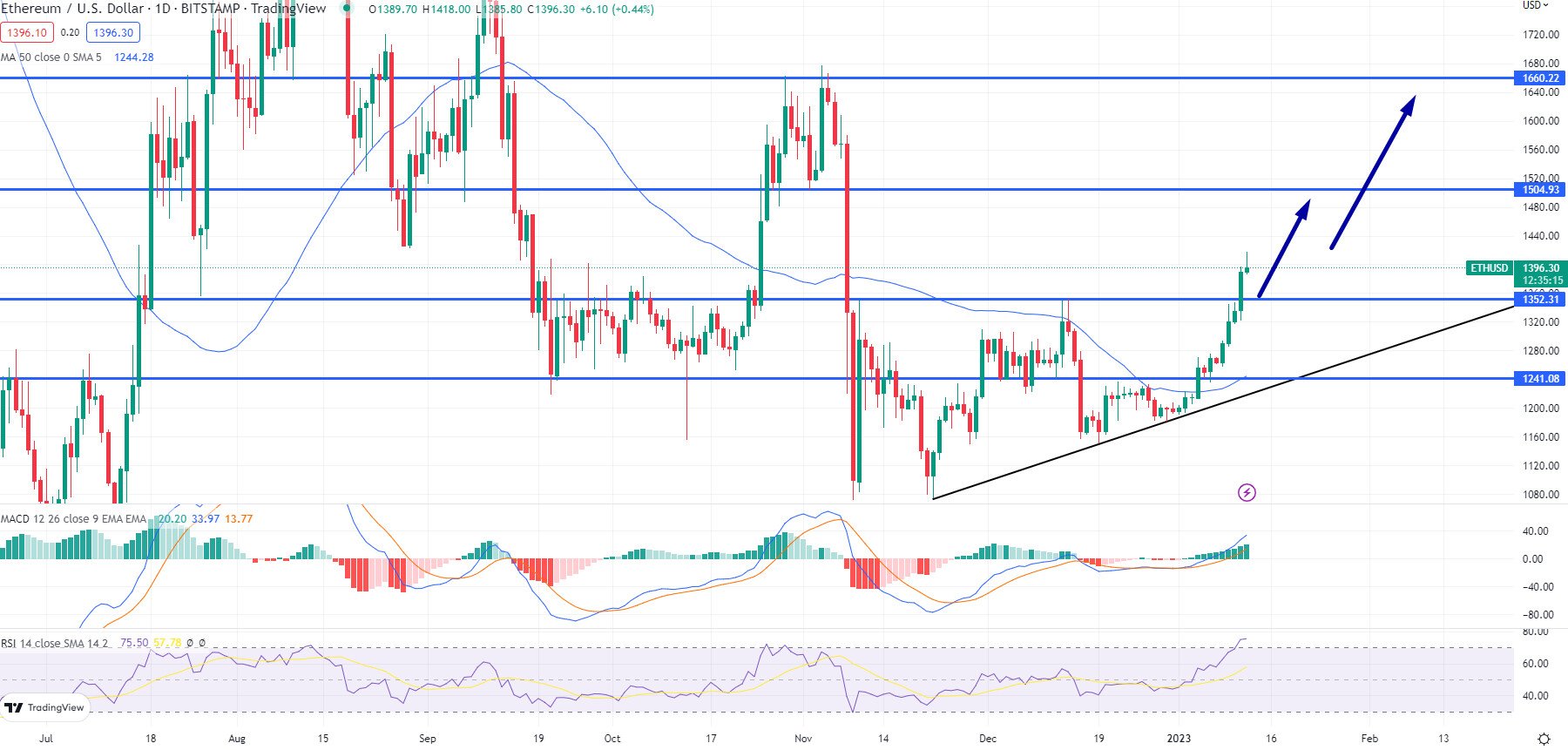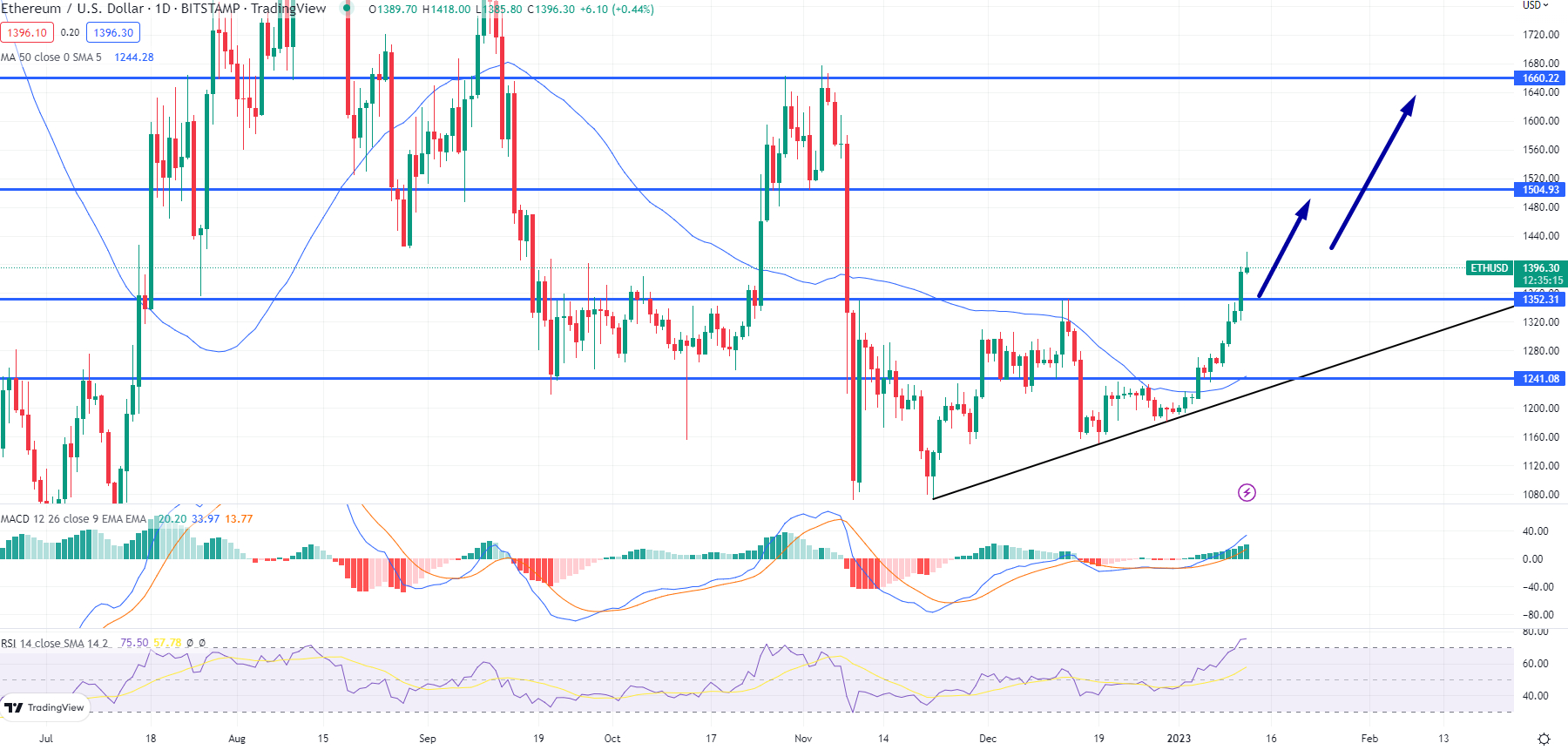 On the downside, the ETH price may find support around $1,375, and a bearish break of that level may allow for additional selling to $1,330. Today's bullish tendency is dominant, so search for buying opportunities.
Alternative Coins with Massive Growth Potential
Given the recent decline in the cryptocurrency market, a few alternative currencies are generating news.
FightOut (FGHT)
The FightOut (FGHT) platform works similarly to a personal trainer, with the exception that workout time is paid in advance using the FGHT token. All activities are tracked and can be used to improve one's metaverse avatar's metrics.
The FGHT presale is going well, with almost $2.80 million raised thus far. The current selling price of 60.06 FGHT for $1 (FGHT can be purchased using ETH or USDT) is expected to rise as the sale progresses.

Visit FightOut Now
C+Charge (CCHG)
C+Charge is working on a blockchain-based EV payments software that will, for the very first time, give carbon credits to EV drivers every time they charge. C+Charge envisions this as a method to level the playing field in the carbon credit market, which has traditionally been dominated by a few large corporations.
According to prognosticators, the project has potential since it will benefit from the anticipated significant development in the carbon credit market. Coherent Market Insights estimates the market to be worth over $2.4 trillion by 2027, up from its 2019 value of approximately $211.5 billion.
For C+Charge, the potential to earn carbon credits is a further incentive to speed up the already rapid shift toward EVs. The voluntary credit market (VCM) is expected to expand to $100 billion by 2030, and analysts believe that startups like C+Charge will play a significant role in this expansion. So far, the presale has so far raised $244,700.
Find The Best Price to Buy/Sell Cryptocurrency


---