Bitcoin Price and Ethereum Prediction: A Tale of Two Cryptos as BTC Fights Resistance at $23,750 and ETH Awaits Its Fate
Disclosure: Crypto is a high-risk asset class. This article is provided for informational purposes and does not constitute investment advice. By using this website, you agree to our terms and conditions. We may utilise affiliate links within our content, and receive commission.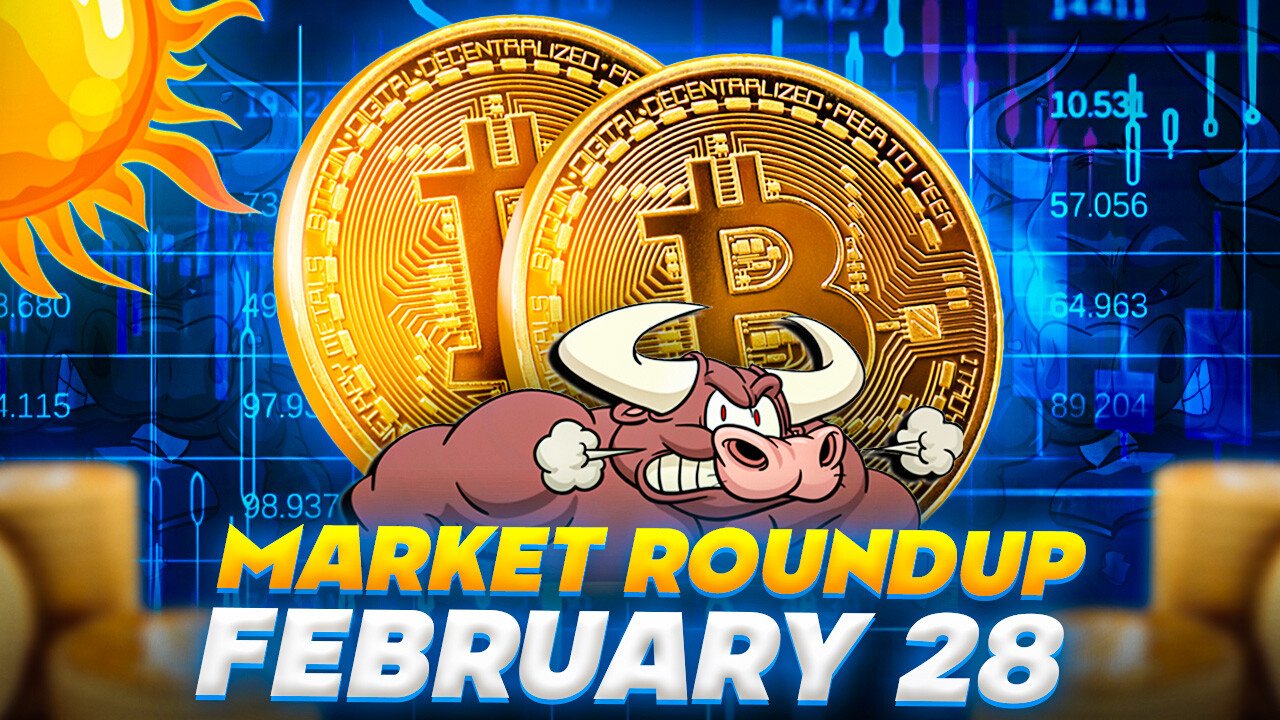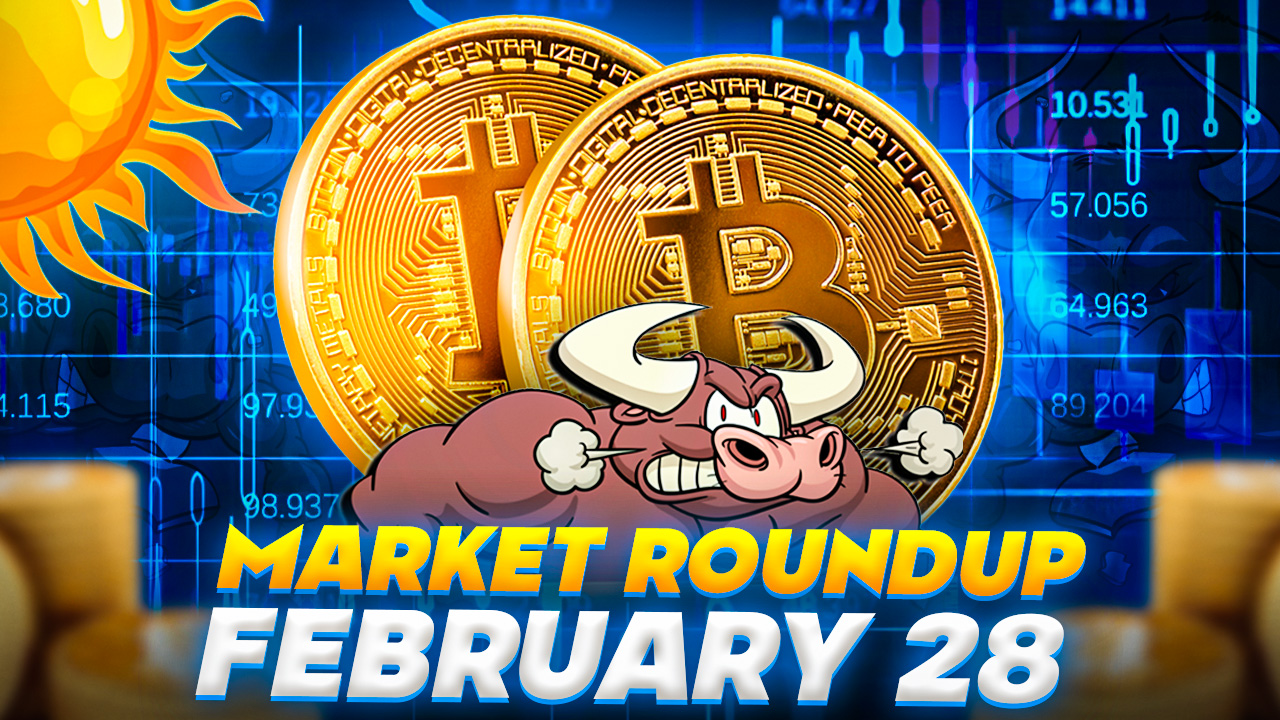 Bitcoin and Ethereum were unable to reverse their downward trend and remained under pressure. While BTC is hovering around the $23,500 level as investors opted for safer investment options amidst growing macroeconomic uncertainties.
However, the sharp decline in Bitcoin's value came after the release of a series of robust US data that indicated a strengthening US economy and reduced the need for government support in the form of low-interest rates.
This caused concerns among investors and traders about inflation and the potential for interest rate hikes.
#TATuesday #Giveaway: #Bitcoin 📉

BTC may plunge below $20K soon?

1️⃣Chart $BTC as you see fit! https://t.co/d29SWOhq2n
2️⃣Like, RT & @ friends
3️⃣Comment your TA & #BTC Price Guess below

JOIN NOW👉 https://t.co/m5eRurXDvK #Gateio #btcprice #bitcointrading pic.twitter.com/FHbmk7gcDx

— Gate.io (@gate_io) February 28, 2023
The global cryptocurrency market is currently experiencing a downturn, with Bitcoin struggling to surpass the critical $23,750 resistance level, which could result in a drop in price to $22,800. In the last 24 hours, Ethereum has also experienced a 0.99% decrease in its value.
The #Bitcoin Bull Market is now in full effect according to the DXY correlation coefficient

High correlation after a bear market negative correlation has been the start to every Bull Market

2/3 times this was the precursor to rally, what do you think will happen this time? pic.twitter.com/z516j35BDg

— CryptoCon (@CryptoCon_) February 27, 2023
Bearish Crypto Market & Rising Inflation Concerns
This week, the global cryptocurrency market has seen a decline, dropping from $1.11 trillion to $1.07 trillion at the beginning of Tuesday. Bitcoin (BTC), the oldest and most valuable cryptocurrency, has been trading around the $23,000 level.
Other popular cryptocurrencies, such as Dogecoin (DOGE), Litecoin (LTC), Ripple (XRP), and Solana (SOL), have also experienced minor losses.
"The stronger than expected inflation numbers raised concerns about further hikes in interest rates, which has already curbed demand in the U.S."
–ANZhttps://t.co/q2FrQoQZgb#energy #OOTT #oilandgas #WTI #CrudeOil #fintwit #OPEC #commodities

— Art Berman (@aeberman12) February 28, 2023
This is due to investors being cautious about investing in riskier assets, as they are concerned about the mounting macroeconomic issues that have been worsened by higher-than-expected inflation rates.
Bulls Take Control as Poor Economic Statistics Weigh Down Markets
Bitcoin's recent downward trend may not be long-lasting, as the US Commerce Department announced on February 27 that durable goods orders had fallen 4.5% in January from the previous month. This has increased the pressure on the Federal Reserve to end its interest rate hike program earlier than expected.
Seriously bad news…
Durable goods order the biggest drop!
Durable goods are generally defined as those whose expected lifetime is greater than three years, and spending on durable goods is much more volatile than spending in the other two categories https://t.co/Kc5DLIg1YO

— NOVA REAL INVEST (@novarealinvest) February 27, 2023
On Monday, the US Census Bureau released data indicating that orders for durable goods in the US declined by $13 billion or 4.5% to reach $272.3 billion in January, which is slightly lower than market expectations of a 4% decline, following a 4% increase in December.
These statistics suggest that the Federal Reserve may end its interest rate hike program sooner than anticipated.
UK Banking Regulator to Propose Regulations for Issuing Cryptocurrencies
The Financial Services and Markets legislation is expected to allow the Bank of England's Prudential Regulation Authority to support global economic growth. Vicky Saporta, the executive director of the Prudential Policy Directorate at the Bank of England (BOE), announced in a speech on February 27 that the Prudential Regulatory Authority (PRA), which is the banking regulator of the country, plans to introduce regulations for the issuance and ownership of digital assets.
#tazow UK banking regulator to propose crypto issuing, holding rules after Basel 3 finalized #crypto https://t.co/QuKLzeIcNK pic.twitter.com/5MxCnrXcxr

— Tazow – $TZW (@_Tazow) February 27, 2023
Although the move by the Prudential Regulation Authority to propose regulations for issuing and owning digital assets may be seen as positive news for the cryptocurrency industry, it is unlikely to have an immediate impact on cryptocurrency prices.
Upcoming Economic Events
Traders will be closely monitoring the release of China's February Purchasing Managers' Index (PMI) on Wednesday. Despite expectations that the data will show an increase in business activity from the previous month, the country's massive manufacturing sector is still expected to remain close to the contraction zone.
This development is important for the global economy as China is the world's second-largest economy and a significant contributor to international trade.
Analysts forecast a smaller contraction in UK output than before because of falling energy prices and better than expected business and consumer sentiment https://t.co/Z04Eljbfik pic.twitter.com/XxBVTgYZaY

— Financial Times (@FinancialTimes) February 27, 2023
In addition, market attention is also on the upcoming US PMI data, as well as consumer sentiment and labor market indicators for January and Q4. Any indications of economic strength in the US could give the Fed more room to continue raising interest rates, which could be negative for cryptocurrencies.
Bitcoin Price
Today's Bitcoin price is $23,435 with a $22.2 billion 24-hour trading volume. Bitcoin has fallen by 0.30% in the last 24 hours. With a live market cap of $452 billion, CoinMarketCap currently ranks first. It has a maximum supply of 21,000,000 BTC coins and a circulating supply of 19,303,806 BTC coins.
The BTC/USD pair's technical outlook remains relatively unchanged, as BTC remains consolidated below the resistance level of $23,750 while maintaining immediate support at $22,800. If the price drops below this level, Bitcoin may encounter support at $22,150.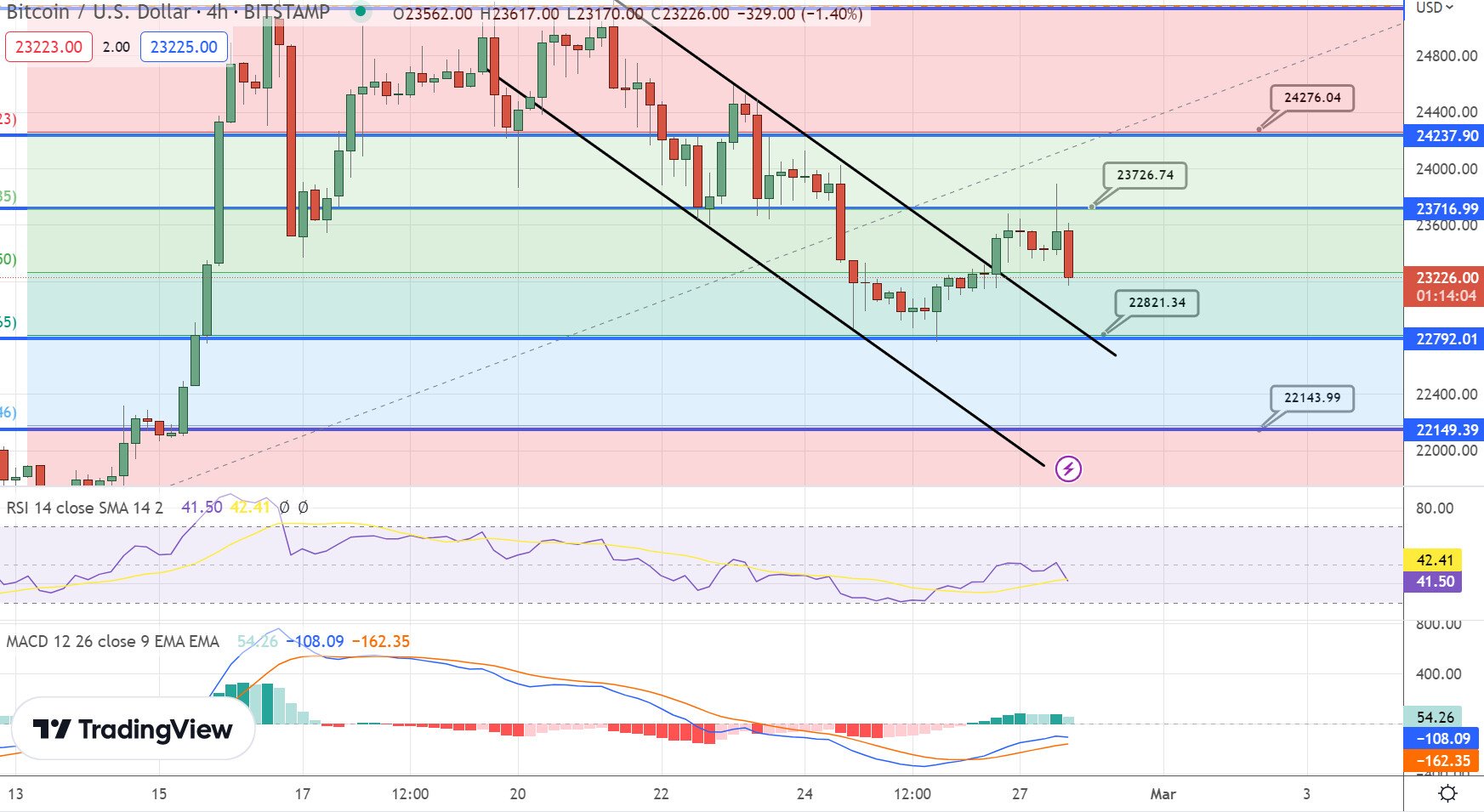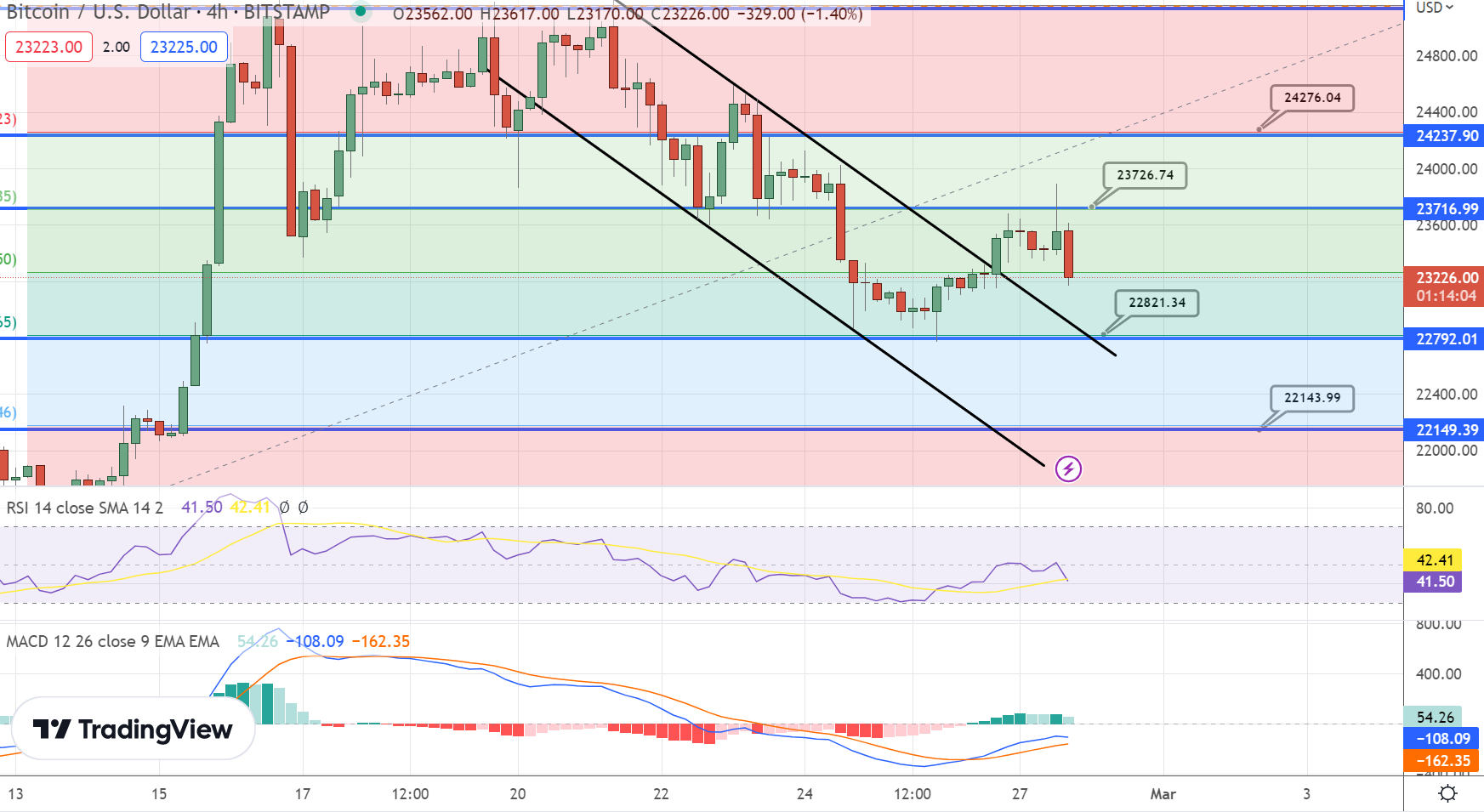 However, since the BTC/USD pair is in the oversold zone, a rebound could occur, potentially breaking through the resistance level of $23,750 and leading to a price increase of $24,250.
The BTC/USD pair's immediate support level is at $22,800, and if it breaks below this level, it could potentially expose the price of BTC to the next support area at the $22,150 level.
Ethereum Price
As of now, Ethereum is priced at $1,628 with a 24-hour trading volume of $6.9 billion. In the past 24 hours, the price has decreased by 0.50%. According to CoinMarketCap, Ethereum holds the second position with a current market cap of $199.2 billion.
From a technical standpoint, the ETH/USD pair is currently encountering a near-term obstacle at the $1,665 level, and surpassing this barrier may reveal further upward movement toward the $1,725 level. The RSI and MACD indicators have moved into the buying zone, suggesting that the probability of a sustained uptrend is high.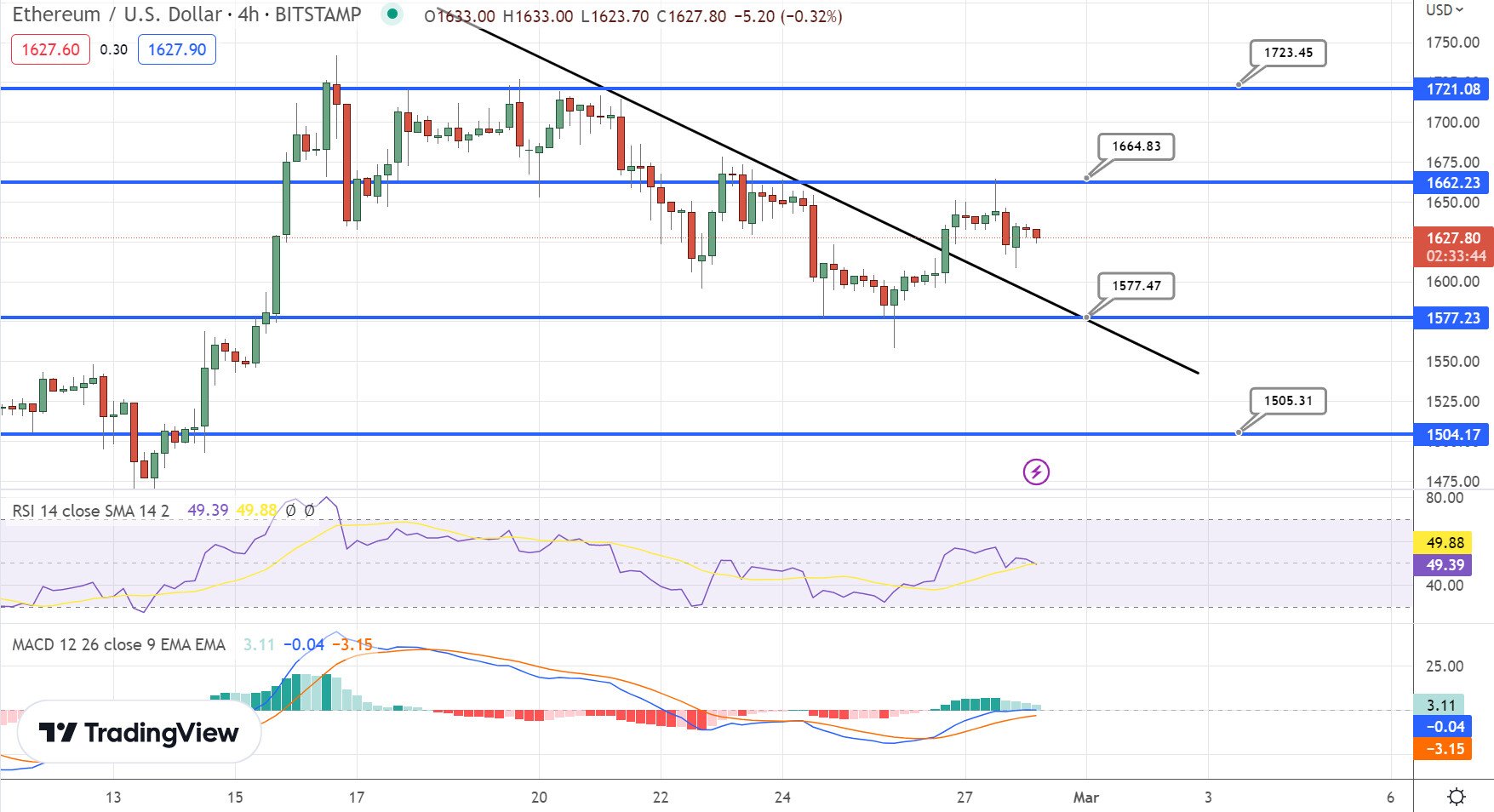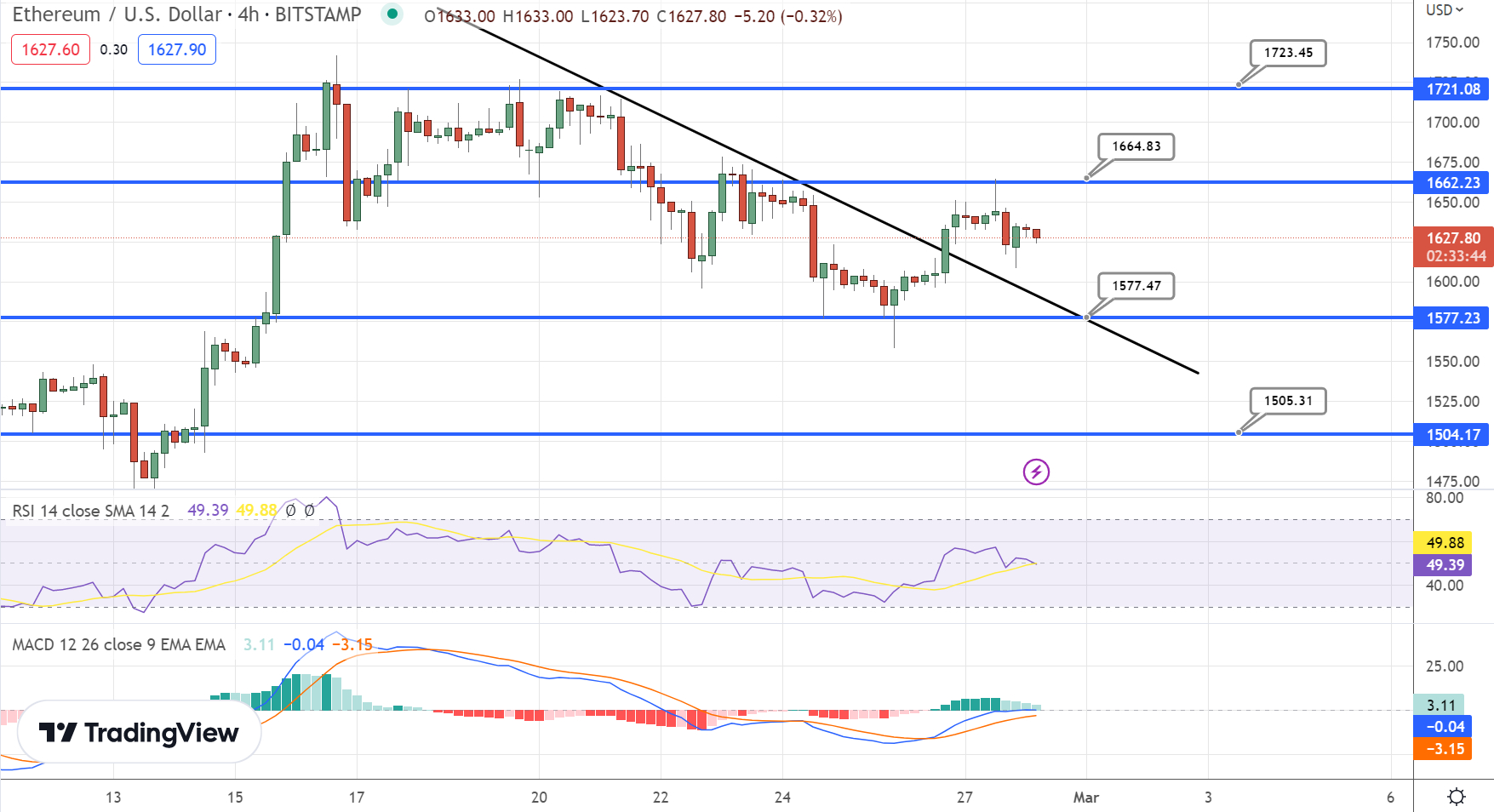 On the downside, Ethereum's immediate support is at the $1,577 mark. A break below this level has the potential to push the ETH price toward the $1,500 mark.
Top 15 Cryptocurrencies to Watch in 2023
Investors in the cryptocurrency market have many options beyond Bitcoin (BTC) and Ethereum (ETH). The Cryptonews Industry Talk team has compiled a list of the top 15 altcoins to watch in 2023.
The list is regularly updated with new ICO projects and altcoins, so make sure to check back frequently for the latest additions.
Disclaimer: The Industry Talk section features insights by crypto industry players and is not a part of the editorial content of Cryptonews.com.
Find The Best Price to Buy/Sell Cryptocurrency


---