Bitcoin Price and Ethereum Prediction: Are BTC and ETH Poised for a Surge Ahead of FOMC Minutes Tomorrow?
Bitcoin and Ethereum are two of the most widely traded cryptocurrencies in the market, with both having experienced a lack of volatility over the past few days. As investors and traders eagerly await the Federal Open Market Committee's (FOMC) minutes scheduled to be released tomorrow, the question on everyone's mind is whether BTC and ETH are poised for a surge.
Bitcoin (BTC), the world's largest cryptocurrency, has continued to rise and has gained some traction above the $25K mark. Meanwhile, the second most popular cryptocurrency, Ethereum (ETH), has surpassed $1,700 for the first time since September 2022.
Bitcoin has risen 14 percent in the last seven days, indicating rapid growth. Other well-known cryptocurrencies, such as Dogecoin (DOGE), Solana (SOL), Litecoin (LTC), and Ripple (XRP), also saw marginal increases.
The total market capitalization of all cryptocurrencies was $1.13 trillion, representing a 1.67 percent increase in a 24-hour period.
However, the reason for its upward rally could be linked to improved macroeconomic conditions and investors' renewed market optimism. Furthermore, the Hong Kong Securities and Futures Commission (SFC) has recommended new laws for cryptocurrency trading platforms in order to increase investor safety. This was regarded as yet another important factor influencing Bitcoin values.
US Dollar's Rally has Come to a Halt
The US dollar, which had been on an upward trend due to strong labor market statistics and persistent inflation, lost some of its momentum as traders awaited economic data to determine whether it was still justifiable to push the dollar higher. Despite having risen for three consecutive weeks, with a gain of about 1.7% in February, the US dollar index has now settled around 104, after reaching a six-week high of 104.67 on Friday.
Therefore, the bearish US dollar has played a significant role in supporting BTC prices, since Bitcoin has a high inverse connection to the US Dollar Index (DXY).
Moving on, the market is now waiting for the release of the minutes from the Fed's most recent meeting. However, traders are anticipating European and American manufacturing data later on Tuesday, as well as the core PCE price index on Friday, to help guide their next movements.
Hong Kong Proposes Crypto Platform Regulations
Cryptocurrency prices have received a further boost due to new licensing guidelines for crypto exchanges in Hong Kong, which are aimed at establishing the city as a hub for digital currencies. On Monday, the Securities and Futures Commission (SFC) of Hong Kong issued regulations for virtual asset trading platforms and is now inviting public feedback.
According to the announcement, all cryptocurrency trading platforms, including those that currently exist, should begin assessing and upgrading their systems and procedures to conform with the new regime. They further added that those who do not intend to apply for a license have to start making arrangements for a peaceful exit from the Hong Kong market. Stablecoin regulation will begin in Hong Kong in June of this year as well.
Bitcoin Price
Technical analysis shows that Bitcoin's price has been fluctuating slowly within a tight range of $23,700 and $25,200. If the BTC/USD price is able to break out above the $25,200 resistance level, it may continue rising toward the $26,000 level, which is the next significant level of resistance.
However, the leading technical indicators, including RSI and MACD, are showing divergence. While the RSI is currently above 50 and in the buying zone, the MACD is forming histograms below 0 and in the selling zone. Investor indecision is often a result of this kind of disparity.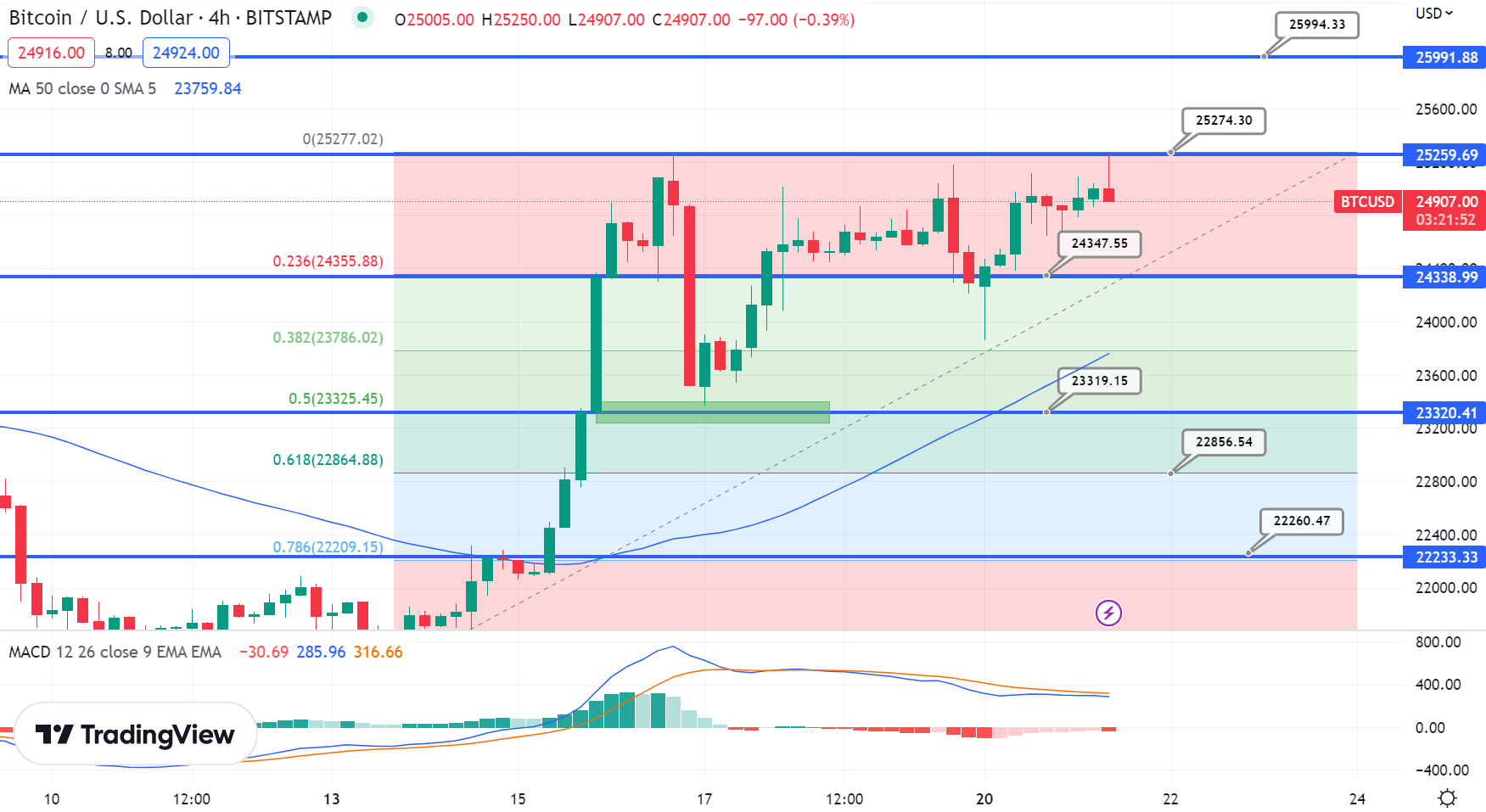 In the event that the price of Bitcoin drops below the present support level of $23,750, the 50% Fibonacci retracement mark would act as the next support level at $22,850.
The minutes from the next Federal Open Market Committee meeting are due out on Wednesday, so all eyes will be on that event in the coming week. Bitcoin's price movement may be affected by these minutes.
Ethereum Price
The ETH/USD pair has experienced a boost in positive momentum after establishing support near the $1,650 mark. Ethereum's price has been fluctuating within a narrow range during the past two hours, as evidenced by the formation of a symmetrical triangle pattern on the 2-hour timescale, which indicates market uncertainty.
Ethereum's price might hit $1,720 if the cryptocurrency has a positive rebound over the $1,650 level. Further gains for the bulls are possible if prices break out to the upside from the symmetrical triangle pattern and the $1,720 mark.
To offset this decline, Ethereum has the support of around $1,650 and $1,625. Analyzing the price of Bitcoin is similar to analyzing the RSI and MACD, which are displaying divergence. The $1,760 and $1,800 price levels are expected to function as barriers in both cases.
Bitcoin and Ethereum Alternatives
In addition to Bitcoin (BTC) and Ethereum (ETH), there are several other altcoins in the cryptocurrency market that show significant potential. The CryptoNews Industry Talk team has conducted an analysis and created a list of the top 15 cryptocurrencies to watch in 2023.
This list is updated regularly with new altcoins and ICO projects, so it is recommended to check back frequently for the latest additions.
Disclaimer: The Industry Talk section features insights by crypto industry players and is not a part of the editorial content of Cryptonews.com.
Find The Best Price to Buy/Sell Cryptocurrency
---