Bitcoin Car-driving Crypto Fan Beats NASCAR Champ in e-Sports Showdown
A Bitcoin (BTC) aficionado has pulled off a famous cryptocurrency-related e-sports first – by beating a pro-NASCAR driver in a racing game.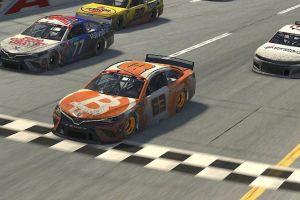 Bryan Cook, who goes by the name of Boris on Twitter, won his virtual NASCAR race in a car emblazoned with Bitcoin logos, beating pro driver Kyle Busch, the reigning NASCAR Cup Series champion – in front of an online audience of 50,000 viewers.
Cook's accomplishment was made on the iRacing platform, a virtual racing simulator whose operators say it can accommodate over 140,000 gamers (also known as sim racers) across the world.
With the coronavirus pandemic putting the brakes on real-life racing, pro drivers such as Busch, as well as fellow NASCAR stars Dale Earnhardt Jr. and Denny Hamlin, took part in the contest. The real-life pro racers have been trying their hands at gaming in a bid to keep the sport going while North America continues to lockdown.
Cook wrote, in a Reddit post,
"I won in the virtual Bitcoin race car tonight and beat the real Dale Earnhardt Jr, Kyle Busch, and other pro drivers in front of 50,000+ live viewers."
In addition to his gaming and crypto intrestest, Cook works full-time as the chief digital officer (CDO) of Joe Gibbs Racing, a NASCAR race team based in North Carolina that is owned by former NFL coach Joe Jackson Gibbs.
Cook also celebrated his win on Twitter.
Adam Stern, a motorsports/e-sports reporter at Sports Business Journal, tweeted that the world of crypto was "thrilled with Joe Gibbs Racing digital exec [Bryan Cook] … after he won an iRacing event with a Bitcoin paint scheme."
Echoing Stern's observation, a Reddit user replied to Cook's post, stating that the CEO was "one of the stars aligning for Bitcoin mass adoption".
Cook replied he was just "thankful to be given a spot in the field."
Cook wrote,
"I've been sim racing for 25+ years, since I was 12-13. Along the way, I've raced with people who are now professionals in the racing industry. I have also made a career out of the racing industry. So when coronavirus hit, the sim racing community looked to organize these races to help fans have some escape and entertainment."
---