Bitcoin and Most Altcoins Turn Bearish, BNB Hits Top 10
Bitcoin price failed to break the USD 3,500 resistance and declined to USD 3,400. Ethereum and ripple declined heavily and traded to new weekly lows. Binance coin (BNB) rallied and became the 10th largest cryptocurrency by market capitalization.
There was a minor upside correction in bitcoin price above the USD 3,450 resistance. However, BTC/USD failed to break the USD 3,480 and USD 3,500 resistance levels. Finally, sellers had the upper hand and they succeeded in pushing the price below the USD 3,450 and USD 3,420 level. The market sentiment turned bearish and it seems like there could be more losses in the near term. Ethereum and ripple also declined heavily and traded below the USD 105 and USD 0.295 support levels respectively to start a fresh decline.
Total market capitalization

Bitcoin price
There was a downside break in bitcoin price below the USD 3,420 and 3,400 levels. BTC/USD traded close to the USD 3,375 level and later bounced back above USD 3,400. However, the price is trading (UTC 08:20 AM) with a bearish angle and it seems like there could be more losses below USD 3,400 and USD 3,375 in the near term.
The main support is at USD 3,320, below which there is a risk of more downsides towards the USD 3,250 level. On the upside, there are many resistances near the USD 3,440 and USD 3,450 levels.
Ethereum price
Ethereum price failed to gain traction and declined below the USD 107 and USD 105 support levels. ETH/USD almost touched the USD 100 support level and it is currently consolidating losses.
If there is a downside break below the USD 101 and USD 100 support levels, there could be heavy declines in the short term. On the upside, resistances are seen near the USD 105 and USD 107 levels.
Bitcoin cash, eos and ripple price
Bitcoin cash price failed to stay above the USD 116 and USD 115 support levels, opening the doors for a test of the USD 112 support. BCH/USD is currently trading in a range, with supports near the USD 112 and USD 110 levels.
EOS tumbled below the USD 2.35 support and tested the USD 2.30 level. The price is currently trading with a bearish bias and it could even break the USD 2.30 support level.
Ripple price performed badly this week as it traded below the USD 0.310 and USD 0.300 support levels. XRP/USD even broke the USD 0.295 support and it is down around 2.2%. The next major support is at USD 0.290, followed by USD 0.288.
Other altcoins market today
The past few hours were mostly bearish, but a few small cap altcoins gained traction and traded higher, including BNB, AOA, THETA, ETP and R. Out of these, BNB, the native token of major exchange Binance, rallied close to 15% and AOA is up more than 11%. Moreover, BNB managed to become the 10th largest cryptocurrency by market capitalization (USD 1.17 bn.)
Overall, bitcoin price is back in a bearish zone after it failed to clear the USD 3,500 resistance. The current technical structure is negative, suggesting more downsides in BTC/USD below the USD 3,350 level in the coming sessions. Similarly, ethereum might decline below the USD 101 support and ripple price might slide below USD 0.290.
_____
Find the best price to buy/sell cryptocurrency: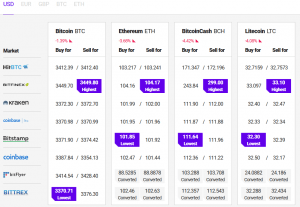 ---