Bitcoin and Ethereum Price Prediction – Slow Advance Before the Charge or Shift Down?
Disclosure: Crypto is a high-risk asset class. This article is provided for informational purposes and does not constitute investment advice. By using this website, you agree to our terms and conditions. We may utilise affiliate links within our content, and receive commission.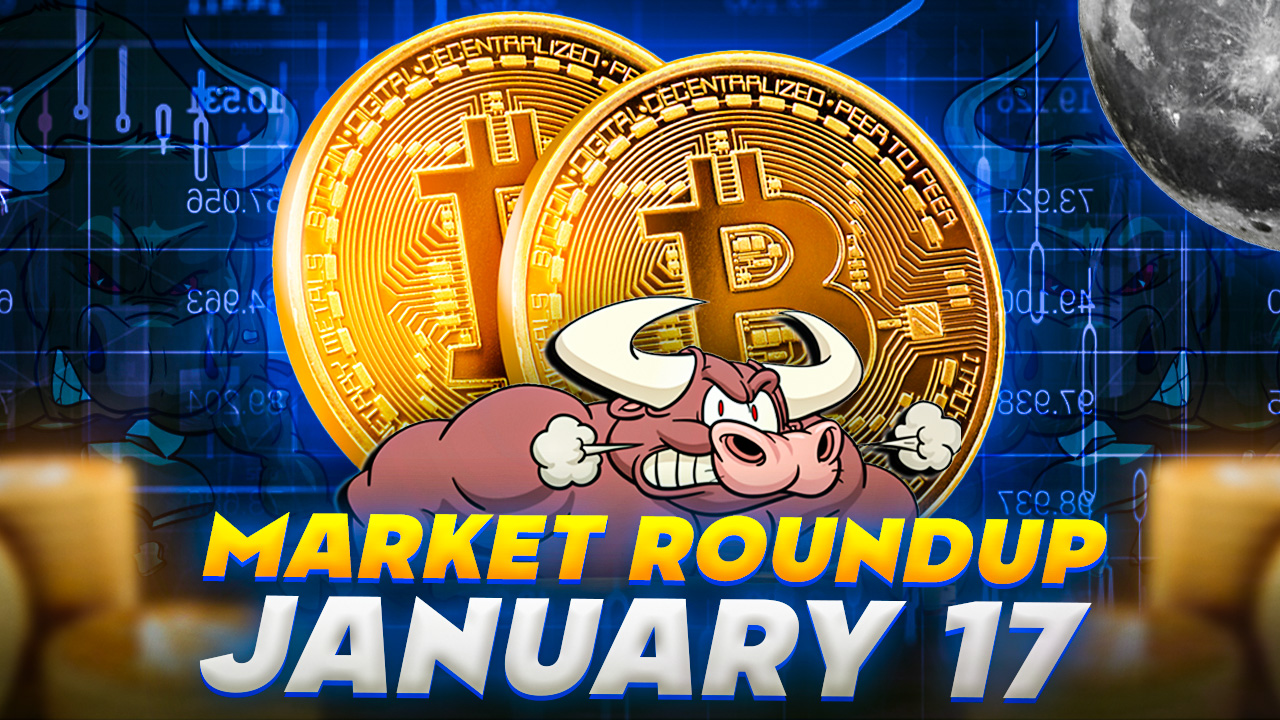 The two leading cryptocurrencies, Bitcoin and Ethereum, have experienced a volatile market in recent months. As the prices of these digital assets continue to fluctuate, investors and analysts are looking for signs of what the future may hold.
Bitcoin has been experiencing a meteoric rise, surpassing $21,300 and Ethereum is not lagging behind either, having hit a peak of over $16,000.
Binance Launch In Bahrain: What You Need To Know About Crypto Exchange Trading
Binance, the top crypto exchange in the world, has announced the launch of binance.bh via a press release. This enables users to trade digital assets with ease and convenience.
Binance.bh will allow Bahraini citizens to carry out transactions in their own currency, making deposits and withdrawals easier. Additionally, they can access a wide range of properly regulated products and services from Binance.
#TBThursday Binance Bahrain launch ❤️🇧🇭🚀 pic.twitter.com/ak0tSnHyxS

— Bayan Alsayed (@Bayan_alsayed88) January 15, 2023
By connecting their bank accounts to their Binance.bh accounts, Bahrain users can take advantage of recharge/withdrawal services of local currencies through the platform. This is offered as part of the products and services available at Binance.bh.
The Central Bank of Bahrain and the Economic Development Board were instrumental in guiding Binance's expansion into new markets. The success of this venture further cements Binance's presence in the region.
We're still excited about the #Binance Bahrain 🇧🇭 Launch event that took place yesterday. It was an honor to have a panel discussion that included CZ and H.E. Khalid Humaidan, Chief Executive of the Economic Development Board (EDB) pic.twitter.com/5zttE9fSNr

— Binance MENA (@BinanceArabic) January 13, 2023
Binance made headlines recently as they claimed to be hiring while other exchanges are unfortunately cutting back. This development arrives immediately after Binance's decision to expand into Sweden and Bahrain.
This news has been a catalyst for the recent surge in cryptocurrency prices.
Bitcoin Price
Bitcoin has seen a slight rise of 0.15% rise over the last 24 hours and a whopping 22% surge in the last 7 days, the price currently being at $21,357. Trading volume for Bitcoin has also reached $25 billion in the same time frame.
On the 17th of January, Bitcoin's attempt to break above the $21,400 barrier was unsuccessful and it appears that it could be heading for a downward correction.
This further solidifies with both RSI and MACD exhibiting an overbought condition. The closing of Doji candles just below this level could also point to a bearish movement in the near future.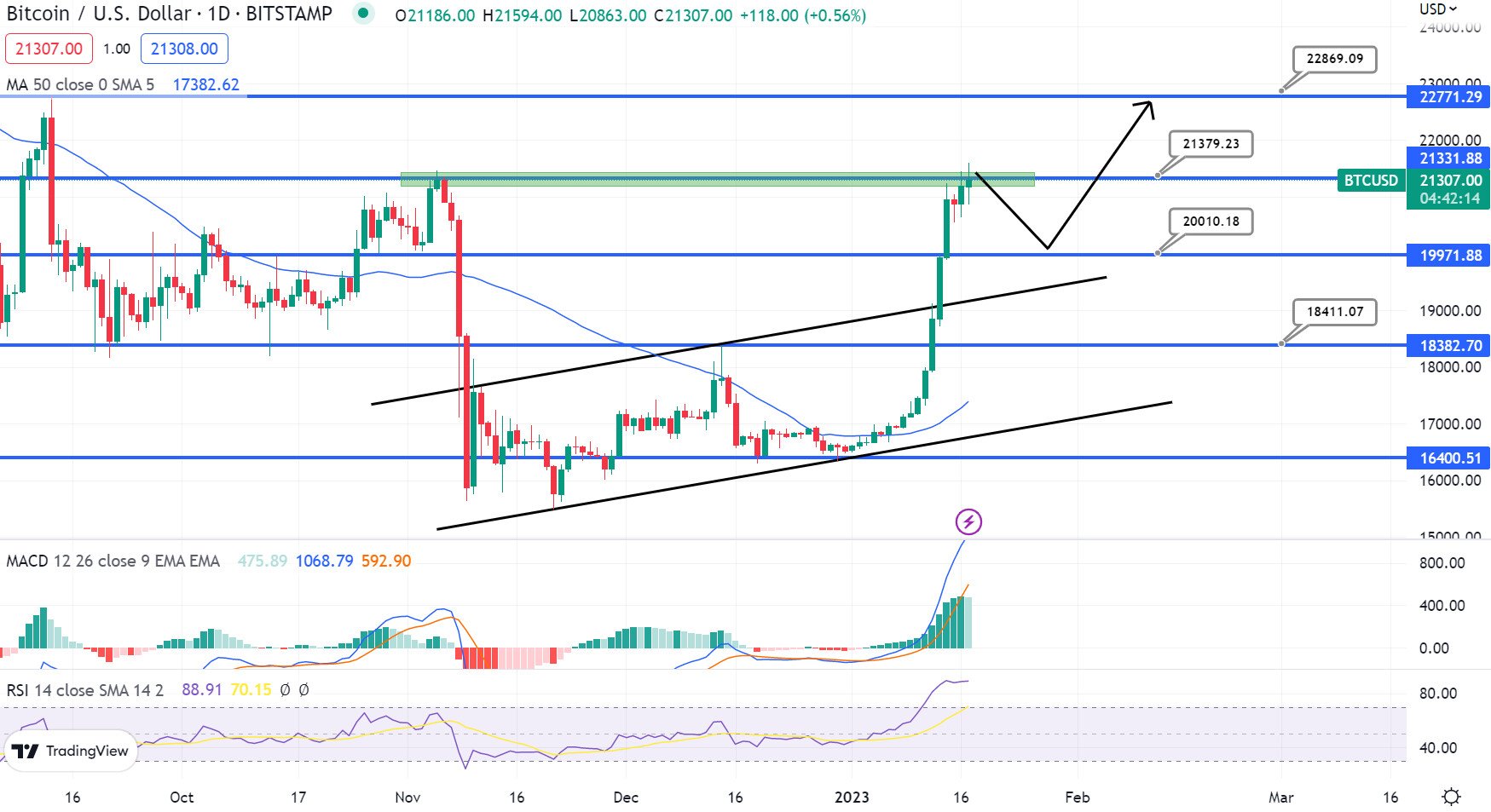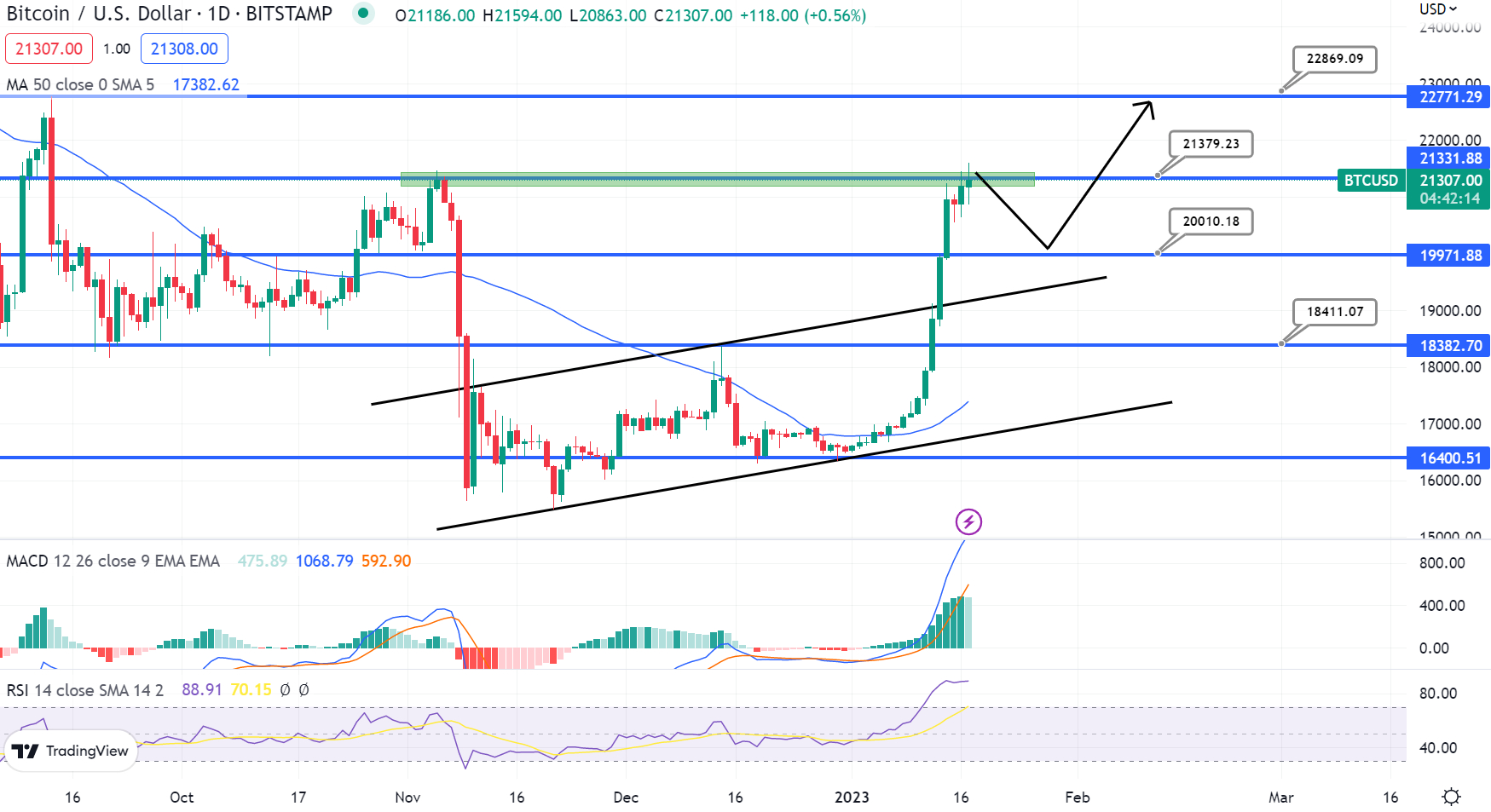 In the daily chart, a double top resistance could be indicating a bearish trend or correction. If prices breach the $20,800 or $20,000 mark, selling may occur until it reaches around $19,250.
In addition, a surge in the demand for Bitcoin could propel it beyond the $21,400 threshold and shoot up toward the $22,850 mark.
Ethereum Price
Ethereum, the world's second-largest cryptocurrency, has seen an 18% surge in its value during this past week and is now trading at a high of $1,590.
Ethereum's price has been steadily increasing, with its major support point at $1,500. If this level is maintained well, there could be a potential rise to the next resistance level of $1,660.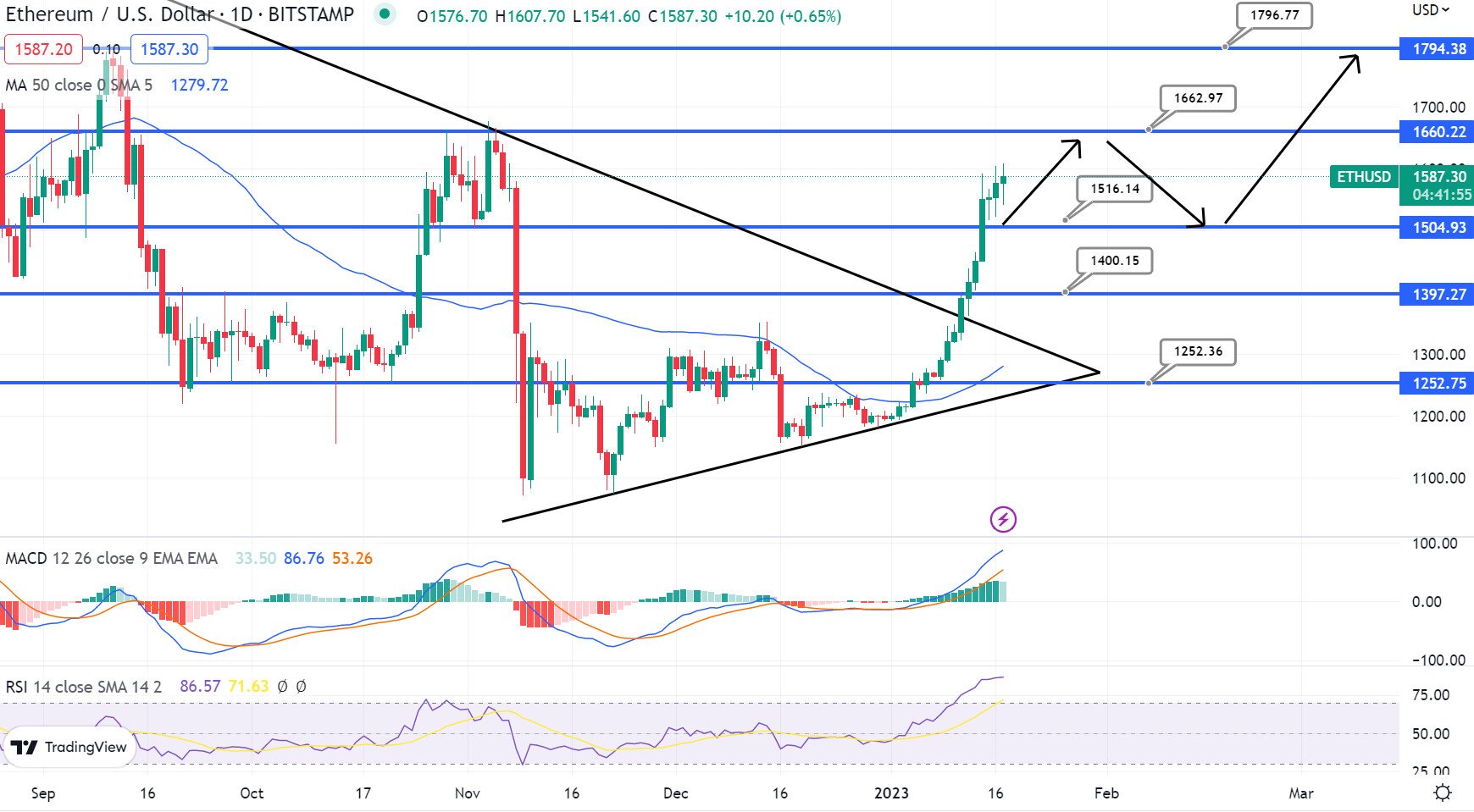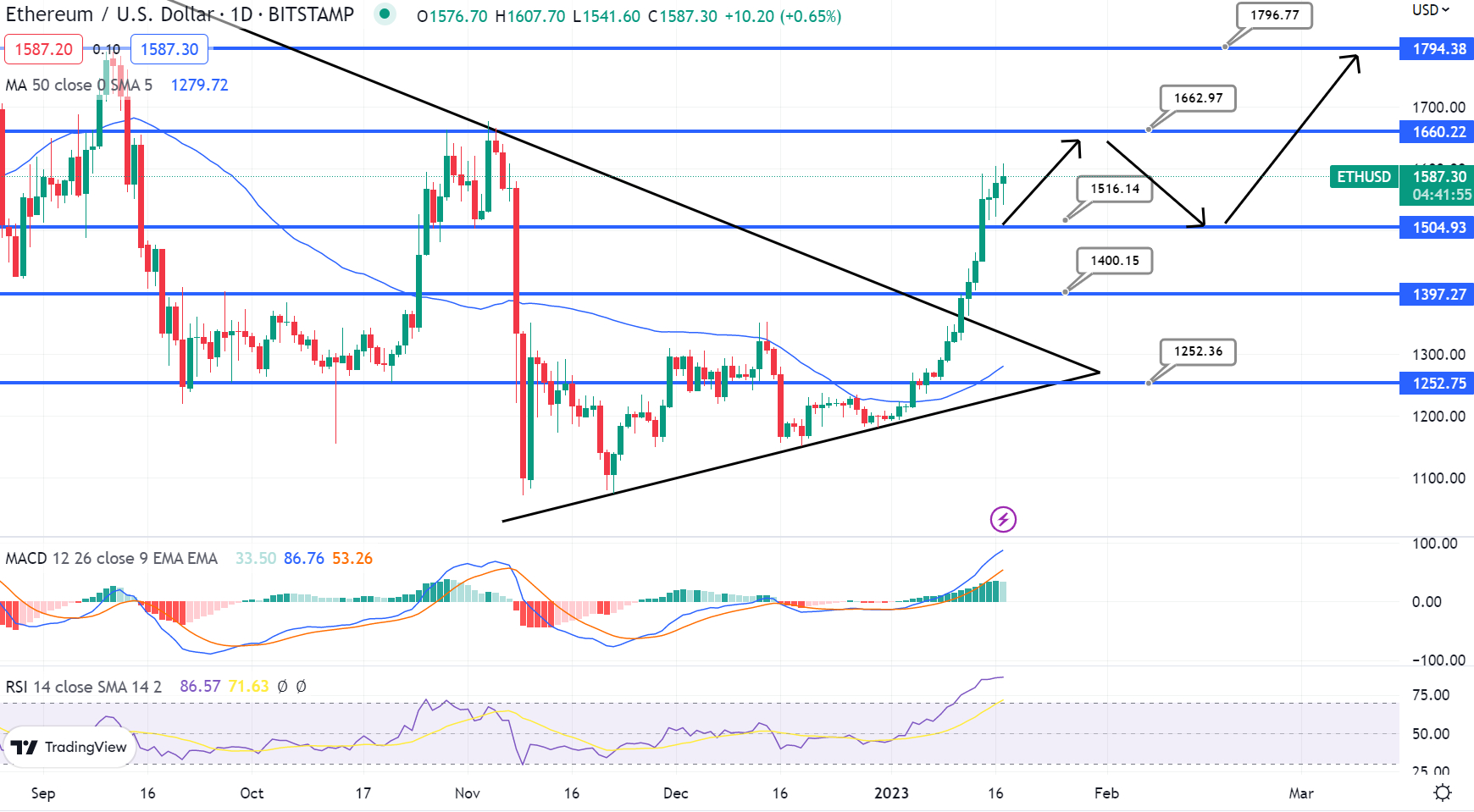 Ethereum recently achieved a new level of success when its price broke through the $1,500 resistance level. This was due to the presence of three white soldiers and a bullish engulfing candle, indicating strong buying pressure from investors. The good news for Ethereum is that its price may continue to rise in the near future.
The cryptocurrency market is currently displaying bullish tendencies, making ETH with values over $1,550 a lucrative investment opportunity. On the upside, Ethereum has the potential to reach its next resistance level of $1,650.
Investing In Presale Coins: Get Ahead Of The Curve With These Top Picks
Presale altcoins offer amazing lucrative opportunities for crypto enthusiasts, however, they come with associated risks. It's essential that you thoroughly assess the pros and cons before investing your hard-earned money in any presale coin.
Researching the market trends and understanding the potential rewards and risks can help you make informed decisions.
FightOut (FGHT)
FightOut is a simple and inexpensive way to stay fit and healthy. With FGHT tokens, you can get personal training at a fraction of the price! It's the perfect solution for anyone who wants to have fun while working out without breaking the bank.
The FGHT presale was a great success, raising a whopping $2.99 million in investment. All avatar-related activities have been documented and can be used to improve the results of the performance evaluation.
Don't miss this amazing opportunity! With 60.06 FGHT for every $1 (in ETH or USDT) and the discount only lasting 6 days and 7 hours, it is essential to take advantage of this offer as soon as possible. The price of FGHT is expected to increase during the sale period, so act quickly!

Visit FightOut Now
C+Charge (CCHG)
C+Charge is introducing a revolutionary, blockchain-powered EV payment mechanism. This platform will reward EV drivers with carbon credits in exchange for their first-time charging.
This could level the playing field in the carbon credit market, which has long been dominated by a few corporations. It has the potential to even out the competition and enable more businesses to enter the market.
The potential to earn carbon credits from C+Charge has been a major motivator in their quest to increase the use of electric vehicles and move towards a more environmentally responsible future. This extra incentive has encouraged them to intensify their efforts.
Analysts anticipate that the Voluntary Credit Market (VCM) will be worth $100 billion by 2030. C+Charge is already driving this expansion, having raised $308,600 in its pre-sale.
Meta Masters Guild (MEMAG)
Don't miss out on the incredible opportunity to purchase Meta Masters Guild tickets during their presale; mobile gamers should be sure to take advantage of this. MEMAG, the native coin of this Ethereum-based gaming guild, can be used to incentivize staking and selling. This guild offers a unique variety of Web3 and play-to-earn games with tokenized NFTs that provide an immersive gameplay experience.
MEMAG's launch is divided into seven phases, with the initial phase pricing set at $0.007. Upon release, it is expected to skyrocket to $0.023 per MEMAG, offering early adopters a whopping 228.5% return on investment.
The release of Meta Kart Racers in the second quarter of this year is expected to result in a boom in growth for the Meta Masters Guild. If economic and market conditions improve, the platform's native coin could see significant gains.
Don't miss this opportunity; its Stage 2 has started and MEMAG has already raised $526,059 out of $1,120,000.
Find The Best Price to Buy/Sell Cryptocurrency


---