Bitcoin and Altcoins Bears Gain Momentum
Bitcoin price tumbled below the USD 3,600 and USD 3,500 supports. Ethereum and ripple fell significantly and declined more than 10%. Bitcoin SV performed well and overpowered BCH.
The past few hours were super bearish as there was an aggressive selling in the crypto market. Bitcoin price declined below the USD 3,600 and USD 3,500 support levels and traded to a new 2018 low below USD 3,400. All major altcoins are down more than 10%, including ethereum, ripple, bitcoin cash, and litecoin. Ethereum broke the USD 100 support and nosedived below the USD 95 and USD 90 levels. Ripple also extended losses below the USD 0.320 support and even broke the USD 0.300 support. The current (UTC 08:20 AM) market sentiment is extremely bearish, which may result in more declines in the coming sessions.
Total market capitalization

Bitcoin price
After a short term bounce, bitcoin price faced sellers near the USD 3,800 level. BTC/USD started a new downward move and broke the USD 3,700, USD 3,600 and USD 3,500 support levels. Sellers even pushed the price below the USD 3,400 support to set the pace for more losses.
The price is currently down around 11%, with an immediate support at USD 3,320. If there is a downside break below USD 3,320 and USD 3,260, the price is likely to trade towards USD 3,050 or USD 3,020. On the upside, an initial resistance is at USD 3,500, above which the main hurdle is at USD 3,620.
Ethereum price
Ethereum price declined sharply below the USD 100 support. ETH/USD is down more than 15% and it broke the USD 90 support. The next key support is at USD 80, which may stop the current slide.
On the upside, an initial resistance is near the USD 92 level, above which the previous support near USD 98 - USD 100 will most likely act as a solid hurdle for buyers.
Bitcoin cash and ripple price
Bitcoin cash fell another 15% and traded close to the USD 100 level. BCH remained under pressure and it seems like it may even settle below USD 100. On the other hand, BCHSV surpassed BCH value and traded above the USD 100 and USD 105 levels. It is currently up around 20% and it may continue to rise towards USD 120.
Ripple price is also down around 10% and broke the USD 0.320 and USD 0.315 support levels. XRP/USD remains in a downtrend and it may even trade towards the USD 0.285 or USD 0.265 support level.
Other altcoins market today
Many few small cap altcoins fell significantly and posted losses more than 20%, including FCT, POLY, MITH, IOST, EOS, WAVES, STRAT,
RVN, STEEM and DASH. Out of these, FCT is down around 30% and POLY fell close to 28%.
Overall, bitcoin moved further into the red zone and posted heavy losses below the USD 3,600 support. BCT/USD may correct higher in the short term, but upsides will most likely be limited near USD 3,500 or USD 3,600. Likewise, altcoins like ethereum, ripple and ADA are likely to extend losses below the recent lows in the near term.
_____
Find the best price to buy/sell cryptocurrency: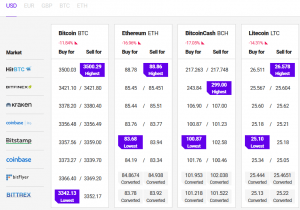 ---