9 Best Telegram Games for 2023 - Find Telegram Channels & Bots for Gaming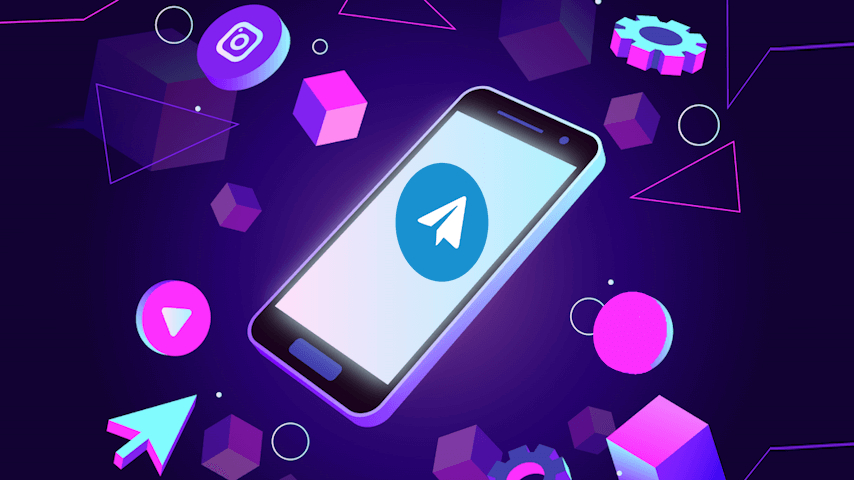 Telegram allows developers to create their own bots, so users now have access to hundreds of independent games.
In this guide, we explore the 8 best Telegram games in 2023. We also discuss where users can find Telegram games and how to remain safe when playing them.
9 Best Telegram Games: Our Top Picks for 2023
Listed below are the 9 best Telegram games to play today:
TG.Casino - This is a fully licensed cryptocurrency casino that is 100% accessible via Telegram. TG.Casino uses its native token, $TGC, to give players special access to casino games and staking opportunities. Users can get a 150% matched deposit bonus with this new Telegram game.
Mega Dice Casino: Mega Dice has just launched its much-anticipated Telegram casino - providing access to slots, table games, and even live dealers. Unlike other Telegram games, Mega Dice offers interactive graphics and video feeds rather than text prompts. Players can gamble cryptocurrencies on their chosen games and Mega Dice processes withdrawals instantly. Most importantly, Mega Dice is the only regulated casino on Telegram.
Quizarium: This Telegram game is based on trivia and it requires at least two players. Before getting started, players need to choose their topic (e.g. music or general knowledge) and the number of rounds. Quizarium will then post a question - the player with the most correct answers wins the game.
Hangbot: Hangbot is a Telegram game based on Hangman. It can be played solo or with friends. Hangbot will randomly generate a secret word and players need to guess one of its letters. An incorrect guess results in a lost life. Players win the game if they can guess the word before all lives are lost.
Unobot: Unobot is based on the popular card game, UNO. Players are randomly dealt cards, which come with a number, color, and symbol. At least one of these metrics needs to be matched with the previously played card. This Telegram game requires at least two players.
Aviator: Aviator is a crypto crash game. Backed by Spribe, players first need to choose their stake and hit the 'Bet' button. Then, the multiplier will continue increasing until it crashes. Players cashing out before the crash will win the collected multiplier. This game is available on the Mega Dice Telegram casino.
Dice: Another popular crypto game available on Telegram is Dice. Players can set their betting parameters and odds, before guessing whether the dice will land higher or lower on the next roll. When playing dice at the Mega Dice Telegram casino, games are backed by provably fair.
Chess Exercises: This Telegram game will suit chess pros - or those looking for insights on how to improve their gameplay. Put simply, Chess Exercises sends an image on an in-game chess board. Players need to select the best move based on several options.
Poker Bot: Poker Bot is a popular Telegram poker game that is used by over 670,000 people. Available in 14 languages, the game follows the Texas Hold 'em rules. Instead of playing with real money, Poker Bot gives players virtual chips. Each poker game is text-based with emojis representing cards.
A Closer Look at the 8 Best Telegram Games
Still not sure which Telegram game to start with? Below, we review the 8 best Telegram games in full.
1. TG.Casino - Fully Licensed Telegram Casino Offering a 150% Matched Deposit Bonus, Stake-and-Earn Huge APYs with $TGC
Our recommendation for the best Telegram game in 2023 is TG.Casino, a new cryptocurrency casino platform. Notably, TG.Casino is one of the first online casinos to be completely accessible via Telegram.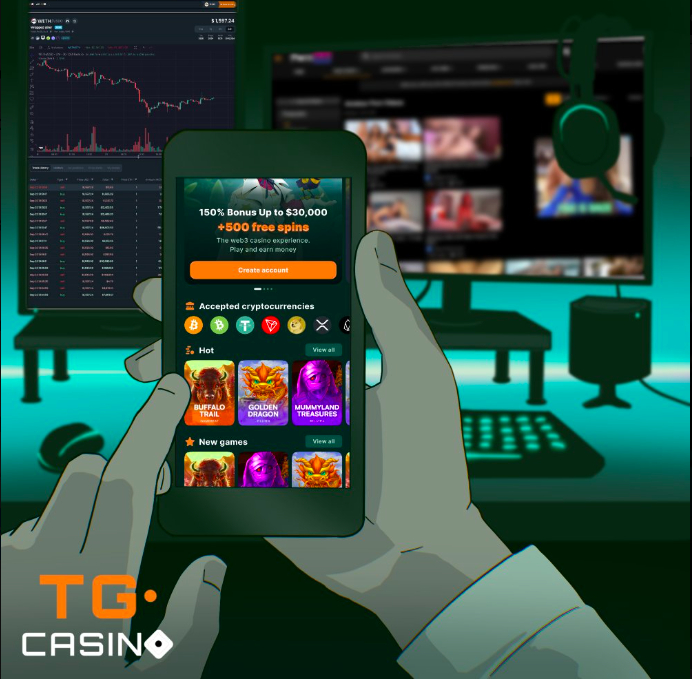 The casino will take advantage of the robust security features that Telegram offers. Furthermore, when joining this casino, users do not need to complete any KYC (Know Your Customer) forms. Since Telegram has more than 800 million users, TG.Casino wants to attract a large demographic of casino players.
To widen the user pool, TG.Casino will also offer multiple earning opportunities through $TGC, its native cryptocurrency. Investors who purchase $TGC through the ongoing presale can stake the token and earn a huge APY (Annual Percentage Yield) of 2,296%.
The TG.Casino will also buy back a certain number of $TGC tokens when they start making profits. 40% of the tokens will be burnt, and 60% will be offered to token holders through a staking pool. On the TG.Casino, users can leverage the $TGC token to get exclusive access to certain casino games.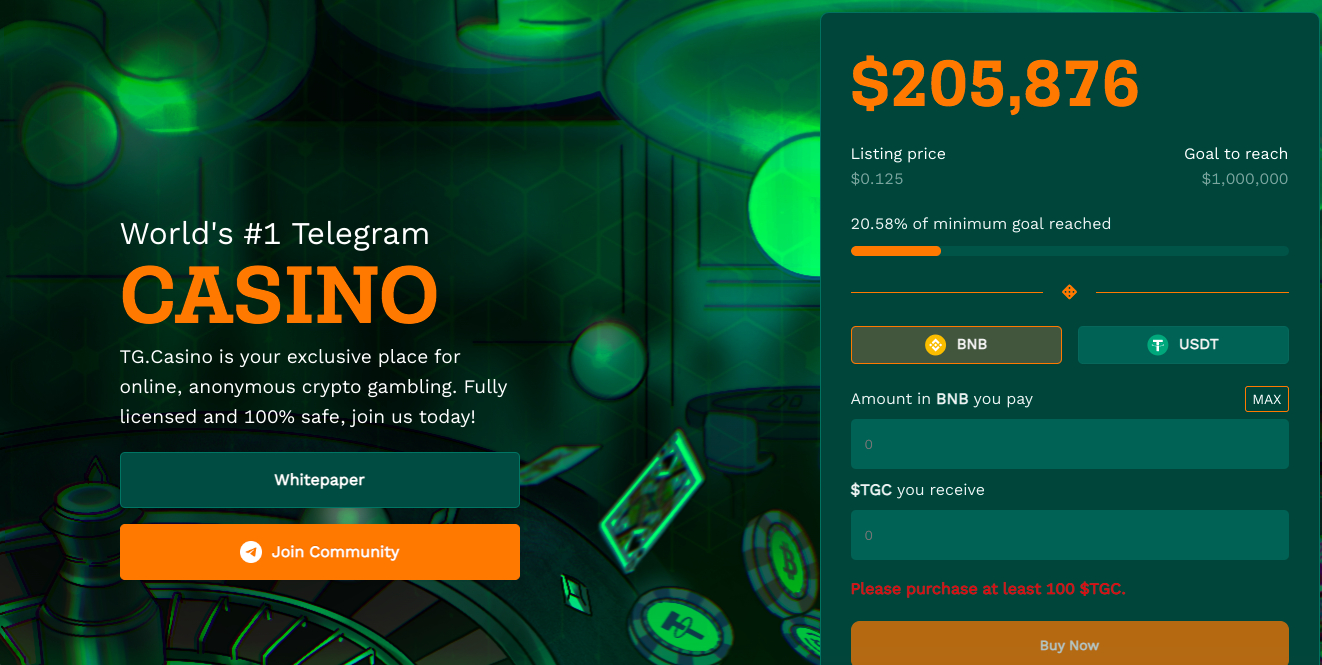 The TG.Casino will also distribute tokens as community rewards on the platform. Those who buy at least $5K worth of $TGC on the presale can get access to exclusive NFTs and other post-launch rewards. The platform will feature thousands of casino games and sports betting markets.
Furthermore, users can make instant payments and deposits with other popular cryptos such as Bitcoin and Dogecoin. On your first deposit, TG.Casino will offer a 150% matched deposit bonus of up to $30,000 + 500 free spins.
Since the $TGC presale started a few days ago, TG.Casino has raised more than $205K. Read the TG.Casino whitepaper and join the Telegram channel for more information on this new casino platform.
Pros
Offers casino games and a sportsbook
150% matched deposit bonus +500 free spins
Staking rewards through the $TGC token
Fully accessible via Telegram
Cons
Tough competition in the online crypto casinos space
| | |
| --- | --- |
| Presale Started | 21 September 2023 |
| Purchase Methods | ETH, USDT, BNB |
| Chain | Ethereum |
| Min Investment | None |
| Max Investment | None |
2. Mega Dice Casino - Regulated Telegram Casino With Instant Crypto Payouts
Mega Dice is a popular Telegram gaming bot for casino and gambling fans. Put simply, Mega Dice is the first regulated online casino to launch on Telegram. It supports a wide range of gambling games with immersive and interactive graphics. For example, players can gamble on slots like Extra Juicy, 5 Lions, Sizzling Hot Deluxe, and Big Bass Amazon.
Other popular slot games include RIP City, Gems Bonanza, and Wanted Dead or a Wild. Mega Dice slot games are provided by tier-one developers like Evolution, Nolimit City, and Pragmatic Play. Not only is Mega Dice one of the best Bitcoin slots sites but it also supports provably fair games. These are games backed by blockchain technology.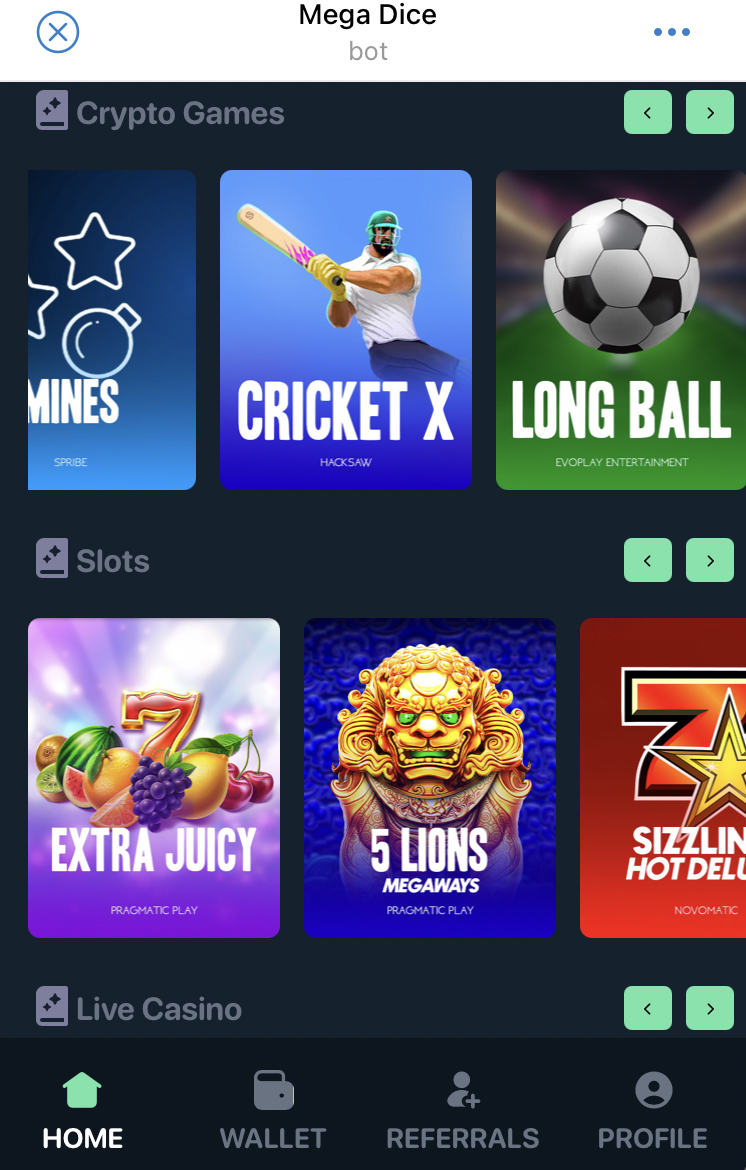 Examples include plinko, dice, Aviator, and mines. In addition, the Mega Dice Telegram casino also includes table games. For instance, roulette and blackjack. These games can also be played with live casino dealers. This means that players can enjoy the real casino experience but through the Telegram app.
So how does Mega Dice work and how is it possible to gamble on Telegram? First and foremost, players need to visit the Mega Dice Telegram channel. A pop-up window will then appear via the Telegram app. Players can then choose which cryptocurrency they want to deposit into Mega Dice.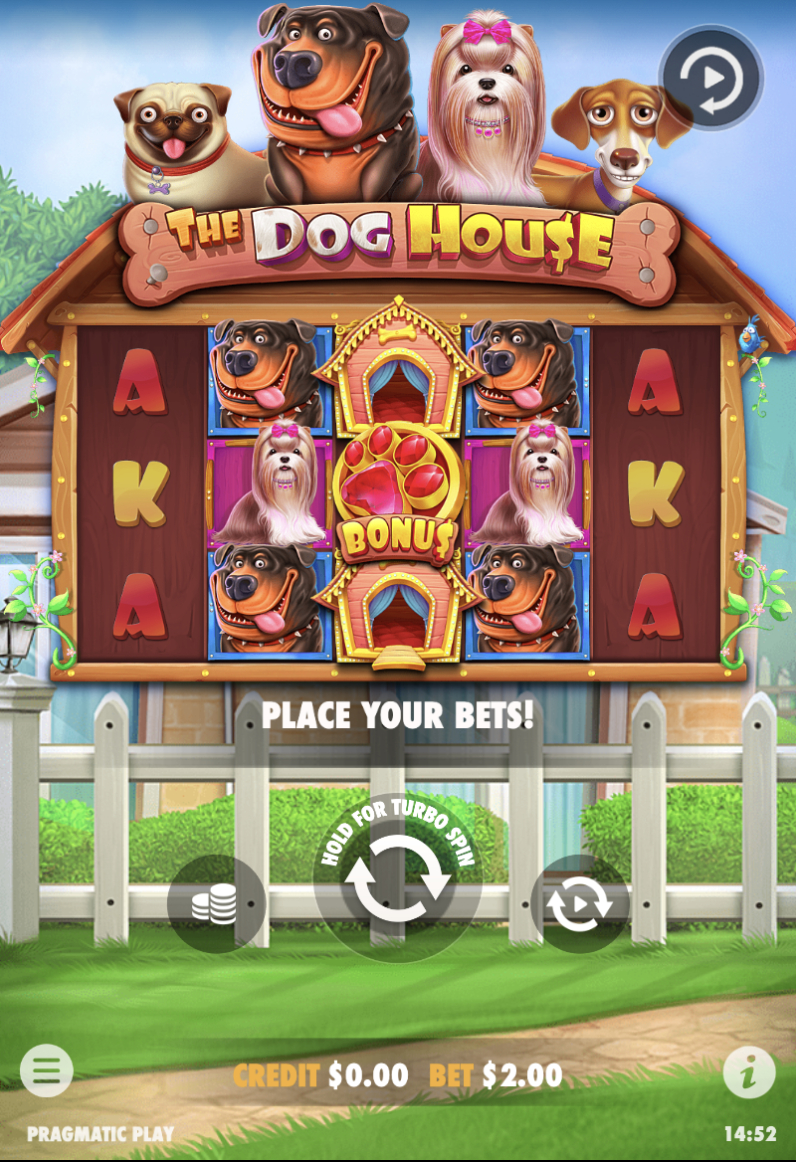 A unique wallet address will then be displayed - this is where the cryptocurrency tokens need to be transferred. A few minutes later, the funds will show in the player's Mega Dice balance. They can then choose which games they want to play. At any stage, players can withdraw their cryptocurrency winnings from Mega Dice.
Crucially, Mega Dice processes payments instantly, so they are immediately transferred to the player's private wallet. Another feature of the Mega Dice Telegram casino is that there is no requirement to manually open an account. Instead, players gamble through their Telegram username.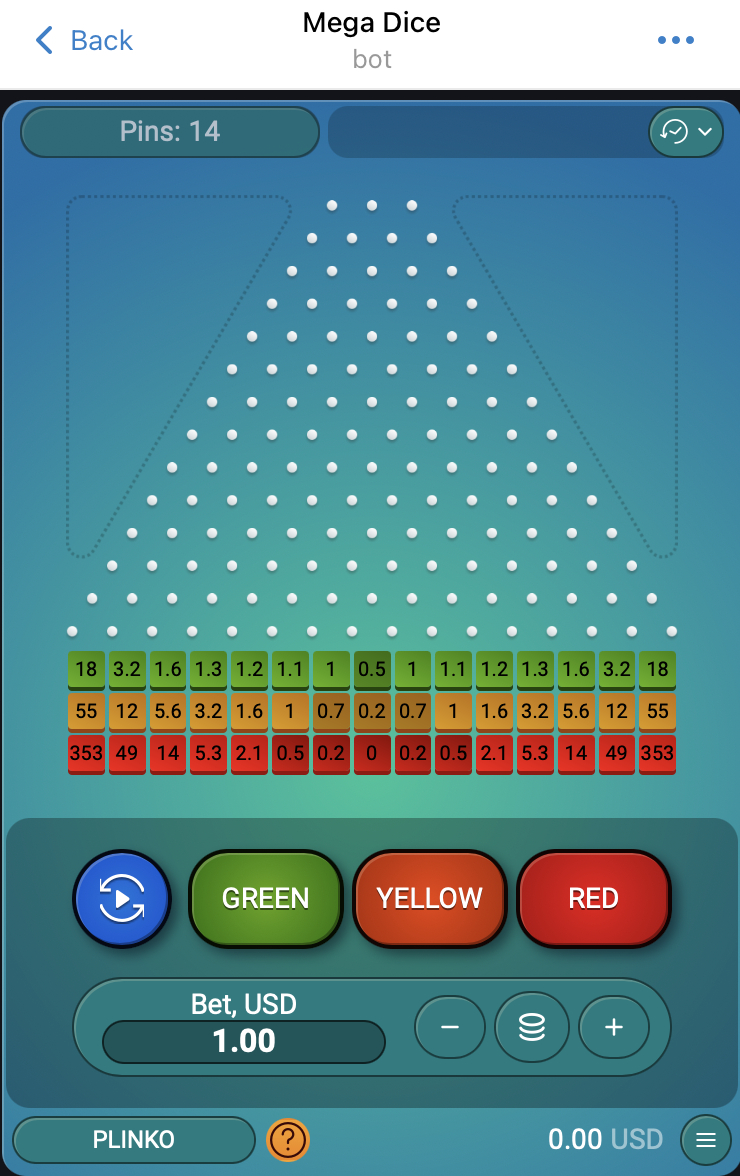 This means that Mega Dice does not collect any personal information - allowing players to gamble anonymously. We also found that Mega Dice is one of the best Bitcoin casinos for bonuses. The first deposit is matched by 200% up to 1 BTC. Moreover, first-time players will receive 50 free spins (a $20 minimum deposit is required).
Our Mega Dice review also found that players can try most of its games for free. In this instance, players will gamble with 'virtual funds' rather than cryptocurrencies. Another benefit is that Mega Dice offers 24/7 support via Telegram. Most importantly, the Mega Dice Telegram casino offers a safe gambling experience; the platform is licensed by the Governor of Curaçao.
Pros:
Gamble on Telegram via a regulated and trusted provider
Supports table games, slots, provably fair, live dealers, and more
Fully interactive gaming experience without leaving the Telegram app
One of the best Bitcoin gambling sites for instant withdrawals
200% deposit bonus and 50 free spins for new players.
Cons:
Sports betting is only available on the main Mega Dice website
3. Quizarium - Play Trivia Games With Two or More People
Quizarium is one of the best Telegram games for trivia fans. This is a multiplayer game, so at least two players are required. After joining the Quizarium Telegram channel, players will need to select their preferred category.
This can be anything from general knowledge and sports to music and movies. Next, players will need to select how many rounds they want to opt for. This refers to the number of questions that the Quizarium will create.
Then the fun begins - a question is posted by the bot and players have one minute to answer. The player that answers the most questions correctly wins the game. Additionally, Quizarium also has a rankings board. This allows players to compete with players from around the globe.
4. Hangbot - Hangman-Style Game - Guess the Word Before Lives are Lost
Hangbot is also one of the best Telegram games for knowledge-based fun. This game takes inspiration from the classic Hangman game. After joining the Hangbot Telegram group, players need to decide whether they want to play solo or with a group of friends.
Then, the Hangbot bot will randomly generate a word. Players will only be able to see how many letters the word has. The objective is to guess one letter from the secret word. If the player guesses correctly, they can then choose another letter.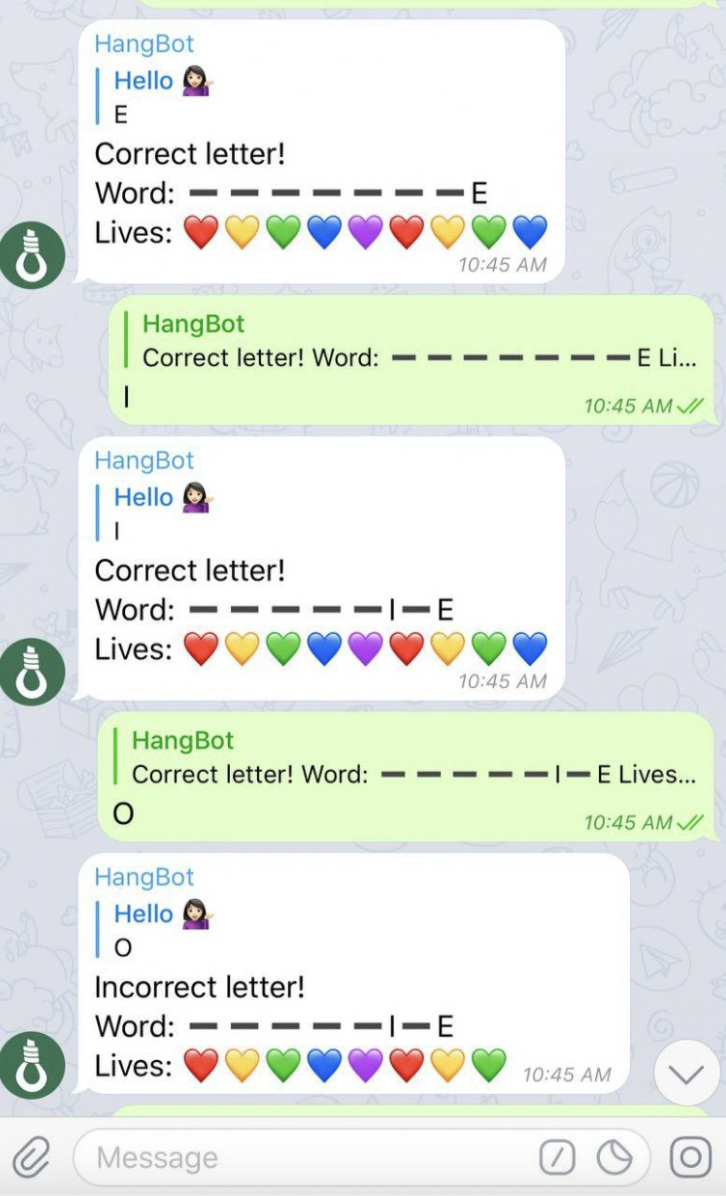 If an incorrect guess is made, the player loses a life. When all lives are lost, the player loses the game. Hangbot is available in a range of different languages. Users can also hit the /statistics command to see how they compare with other players.
5. Unobot - Play UNO With Friends via Text Commands
Unobot is one of the best Telegram games to play with friends. As the name suggests, this Telegram game is based on the UNO card game. For those unaware, the objective of UNO is to remove all cards from a hand before other players.
To start, a card is added to the discard pile. The next player can add one of their cards to the discard pile if they match the color, number, or symbol. If not, they are required to pick up a card from the discard pile.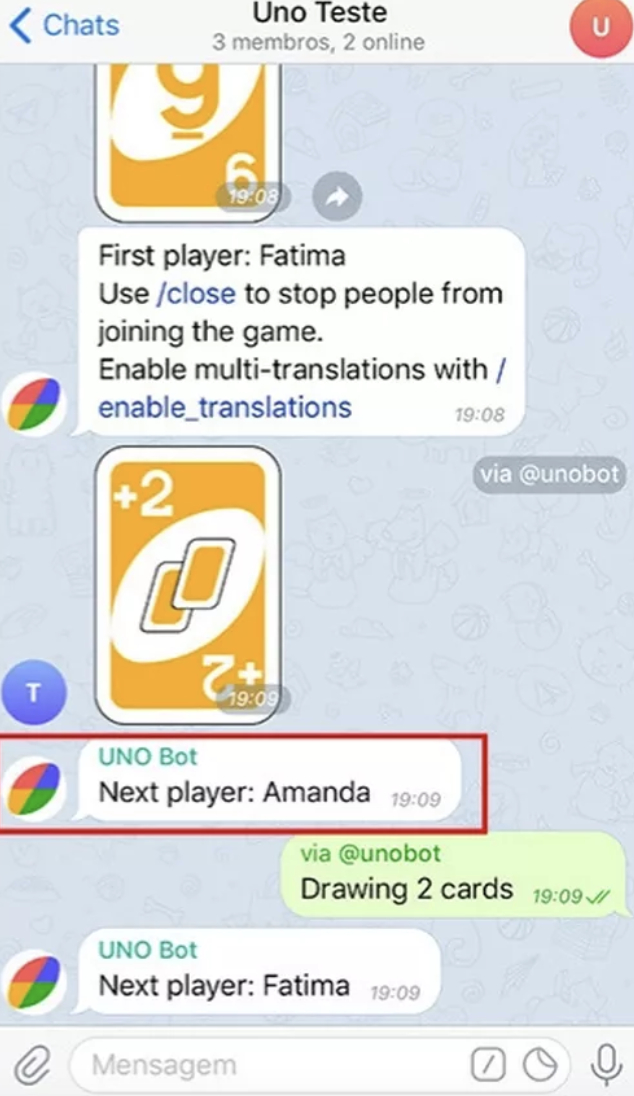 The first player to remove all of their cards wins the round. Naturally, Unobot needs to be played with at least one other player. So this Telegram game won't suit those who want to play solo. To get started, players will first need to create a new Telegram group for the game.
Unobot can then be added to the group. This requires the command /join@unobot. Then, to start the game, enter the command /start@unobot. The first card will then be added to the discard pile, represented by an image.
6. Aviator - Fun Crypto Crash Game With Real Payouts
Aviator is one of the best Telegram games for instant-win gambling. This popular game is based on the 'crash' franchise. Put simply, a virtual plane is launched into the sky and as it continues flying, the win multiplier increases.
For example, suppose the player wagers $1 and the win multiplier is currently at 3x. If the player chooses to exit the game, they will win $3. The Aviator plane will eventually crash. And when this happens, any players still in the game will lose their original stake.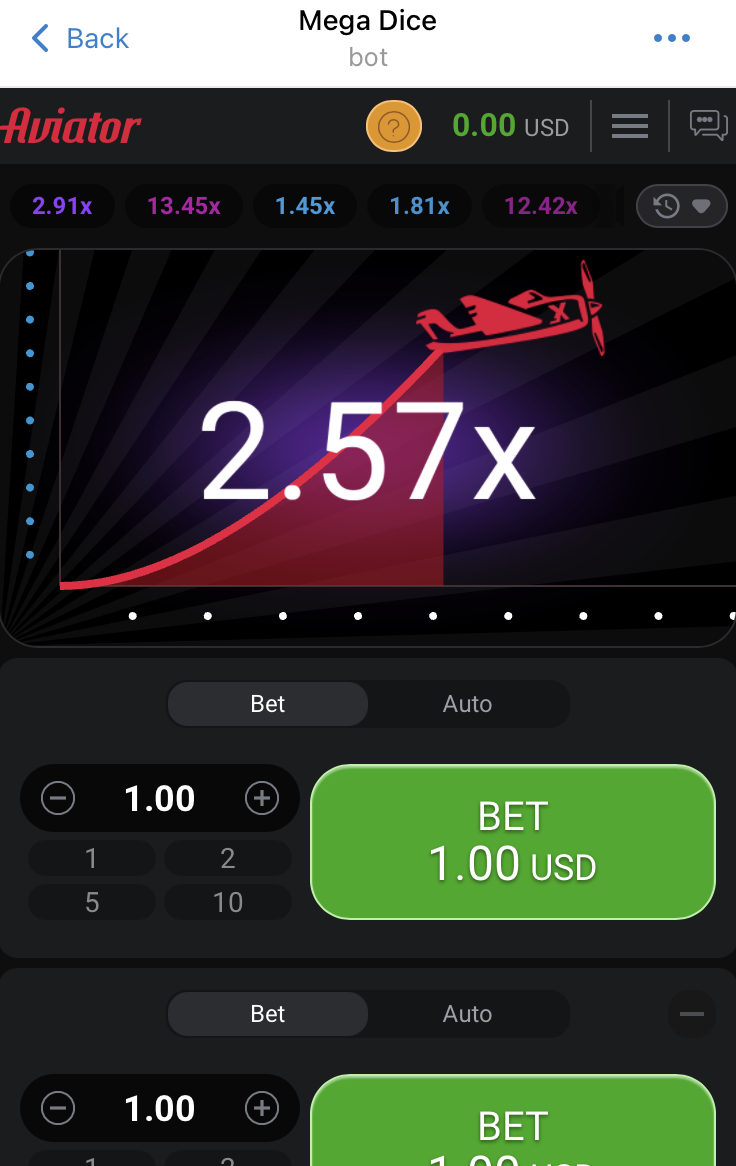 The game then resets and users can play again. Aviator is backed by provably fair technology, which means outcomes are generated by the blockchain. This gives players confidence that they are playing a legitimate and fair game.
Aviator can be played at the Mega Dice Telegram casino with demo funds or cryptocurrencies. If opting for the latter, payouts are processed instantly. Players can cash out their winnings at any time by withdrawing the cryptocurrencies back to their wallet.
7. Dice - Guess Whether the Dice Will Land Higher or Lower to Win Prizes
Dice is also one of the best Telegram games for players who like to gamble online. This is another game that is backed by provably fair technology, ensuring that each outcome is fair and random. Dice is very simple - players need to guess the outcome of the next roll.
Unlike a traditional dice, numbers range from 1 to 100. But before getting started, players can set their implied odds. For example, suppose the player sets the medium at 50. This means that the odds are 50/50, and players need to guess whether the dice will land higher or lower.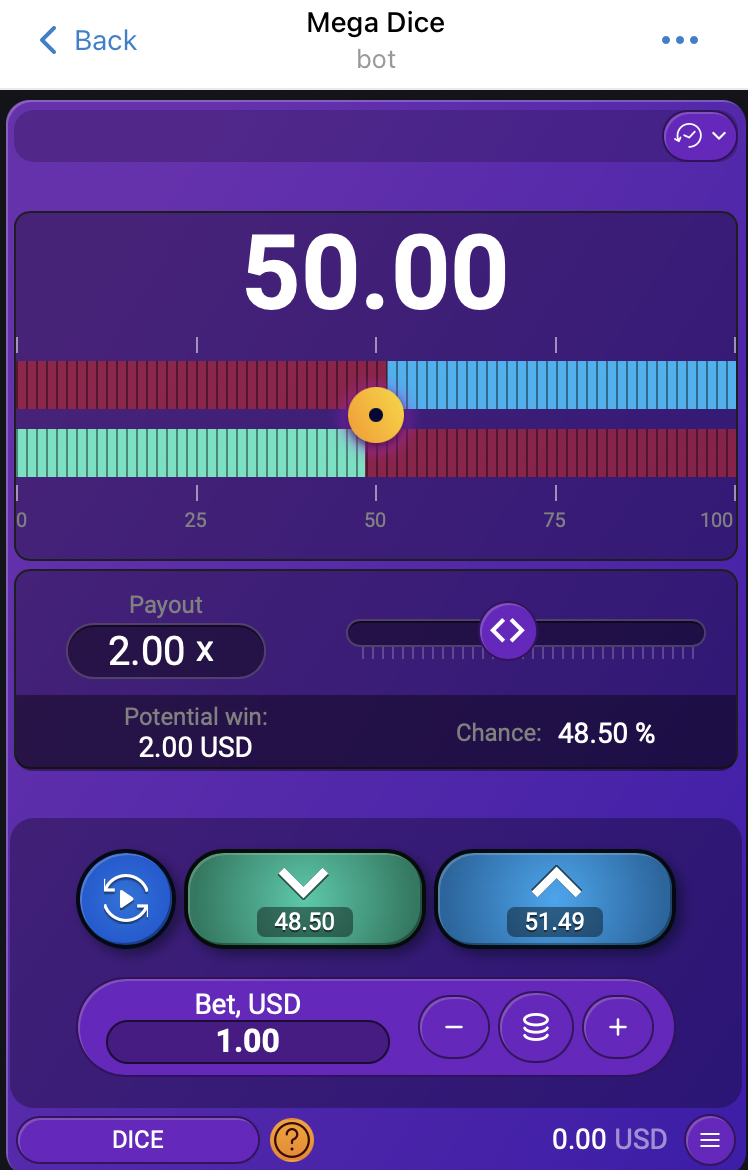 If they guess correctly, they win the game. Players can adjust their settings to target higher wins. For instance, setting the medium at 80 and guessing that the dice will land higher on the next roll. Dice can be played for fun or with cryptocurrencies on the Mega Dice Telegram casino.
8. Chess Exercises - Improve Your Chess Strategy by Choosing the Best In-Game Move
Chess Exercises is one of the best Telegram games for chess fans. This isn't a classic chess game - rather, players can improve their strategy through in-game training. For example, after joining the Chess Exercises Telegram group and starting the game, an image will be posted.
The image represents a mid-game chess board. Players will need to determine the next best move in the respective game. The Chess Exercises bot gives players multiple options to choose from. If the most favorable move is selected, a new image will appeal.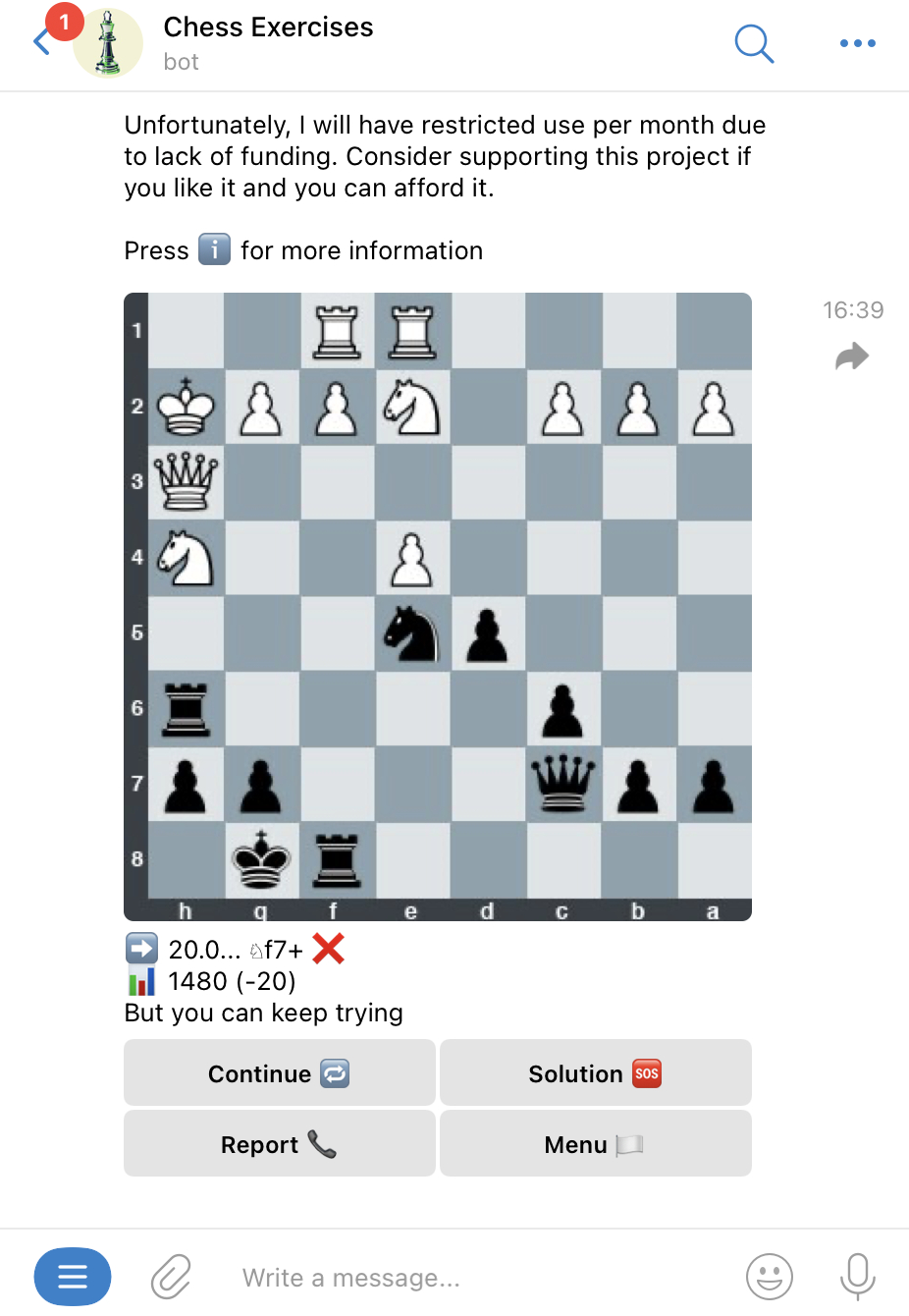 If not, players will be given another chance to select the best move. Players can also reveal the correct move if they are simply looking for insights. One of the best aspects of Chess Exercises is that it can be played solo.
Moreover, Chess Exercises has a global leaderboard, which keeps things competitive. All players start with 1,500 points. This increases or decreases depending on the player's ability to choose the best chess moves correctly.
9. Poker Bot - Free Texas Hold 'em Game With Other 670,000 Players
Poker Bot is one of the best Telegram games for playing poker. The game is super-popular, with more than 670,000 players already joining the channel. Poker Bot uses the Texas Hold 'em rules and all games follow the cash table format.
But instead of using cash, Poker Bot players gamble with virtual coins. This keeps the game completely risk-free. Although each game requires at least two players, Poker Bot supports solo gaming.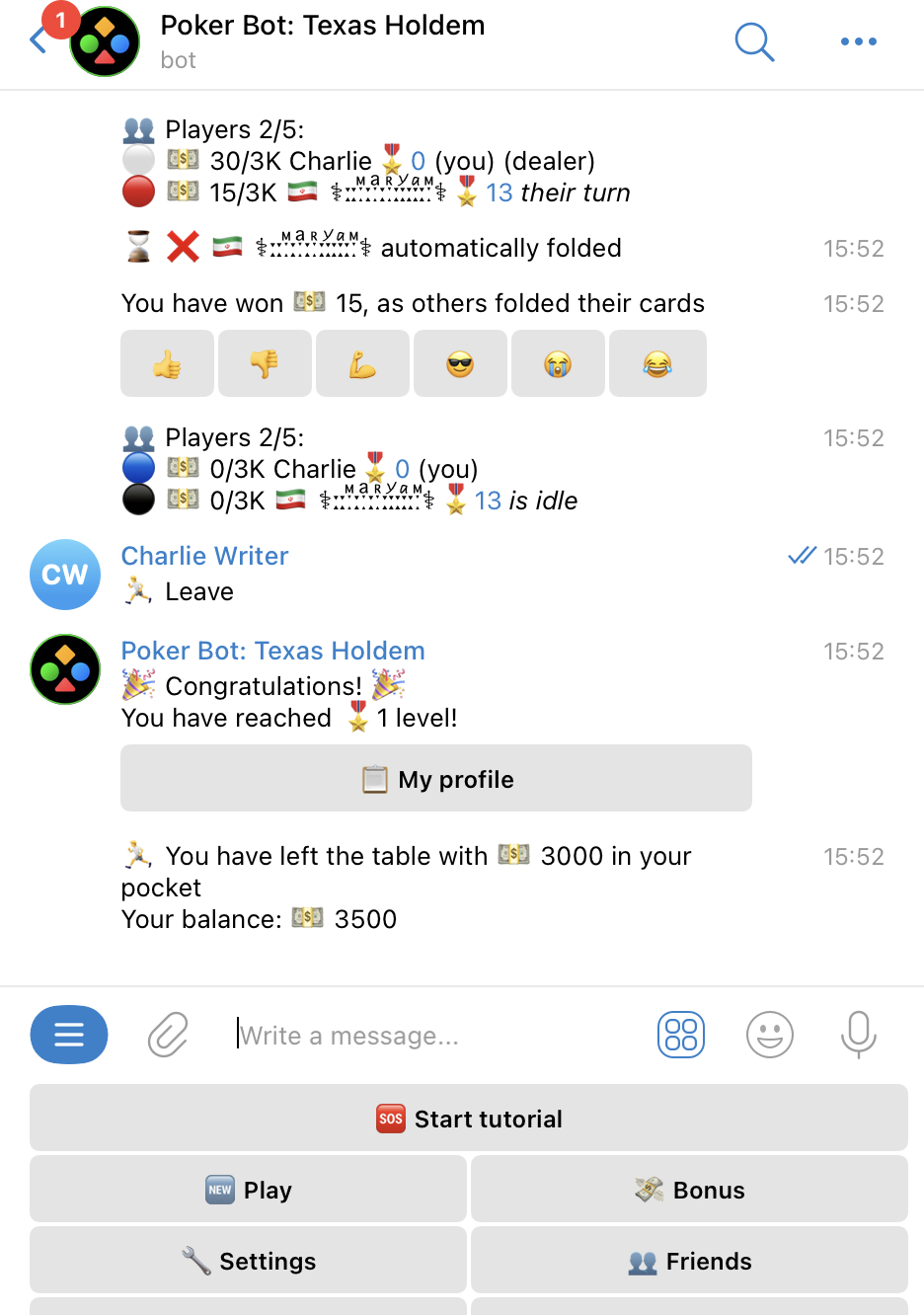 This is because players can join another table at the click of a button. Poker Bot uses text and emojis to represent the player's cards. Players can use commands to generate their required move, such as raise, call, or fold.
While it can take time to get used to the Poker Bot format, this Telegram game offers a comprehensive tutorial. This explains how each round works and what commands need to be given. There is also a leaderboard, which is based on the number of poker coins held.
What Games Does Telegram Support?
The possibilities are endless when searching for the best Telegram games. This is because anyone can create a Telegram bot and launch it to the public. Although many Telegram games are somewhat basic, there's still lots of fun to be had.
Here's an overview of the different types of games that can be played on Telegram.
Knowledge Games
Knowledge-based games are highly suitable for Telegram, as there is no requirement for complex graphics or video fees. For example, Quizarium is one of the best Telegram games for testing general knowledge.
Users can select their preferred category and Quizarium will generate a set of questions. Each question comes as a simple text-based message. Users reply to the question and Quizarium will inform the user whether the answer is correct or incorrect.
Another knowledge-based game is Chess Exercises. When starting the game, the Telegram bot will send an image of a chess board. Players need to select the next best move, based on a set of multiple-choice options. Once again, this type of game is ideal for Telegram.
RPG Games
We also came across a range of role-playing games (RPG) on Telegram. These games are a lot more expansive, where players take the role of a character in a fictional world. They need to complete certain tasks, such as entering battles or searching for potions.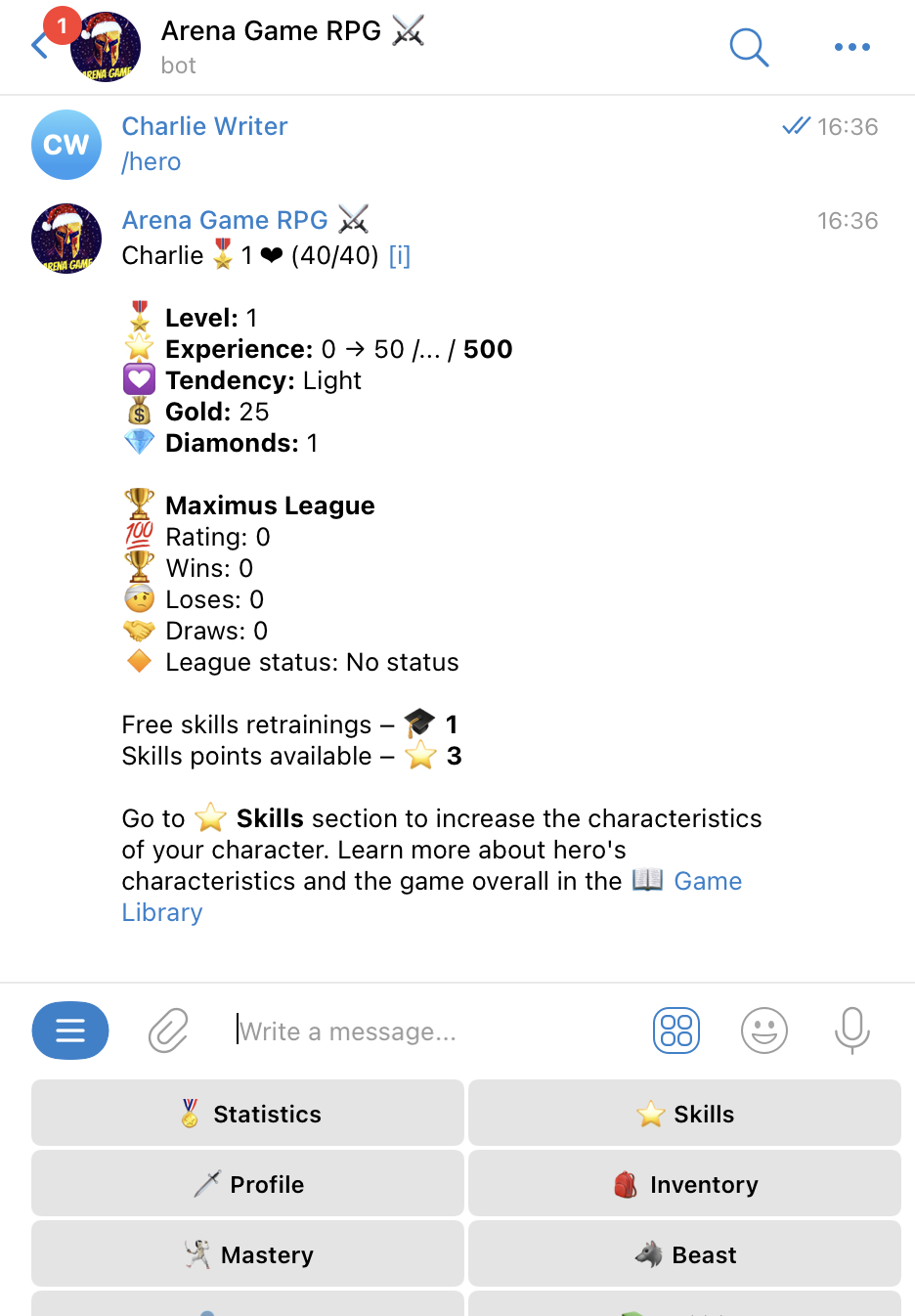 The main drawback here is that RPG Telegram bot games are cumbersome to play. Each and every move is text-based, which makes it difficult to get fully immersed in the game.
Multiplayer Games
Some of the best Telegram games require at least two players. This makes them ideal for friends that want a simple but fun way to play games.
For example, Unobot allows friends to play UNO through text prompts and images. Players can also chat with each other while playing - adding to the enjoyment.
Similarly, Poker Bot is a fun multiplayer game that can be played with friends or randomly assigned people. This will appeal to players that want to play poker without risking any money.
Gambling Games
Gambling games are also becoming popular on the Telegram app. The vast majority allow players to gamble virtual funds, meaning that they cannot win real money. For example, Poker Bot allows players to wager virtual chips on Texas Hold 'em tables.
That being said, Mega Dice recently became the world's first regulated casino to launch on Telegram. It doesn't use text promotes like most gambling games. Instead, Mega Dice players have access to a fully immersive gambling experience through a video feed.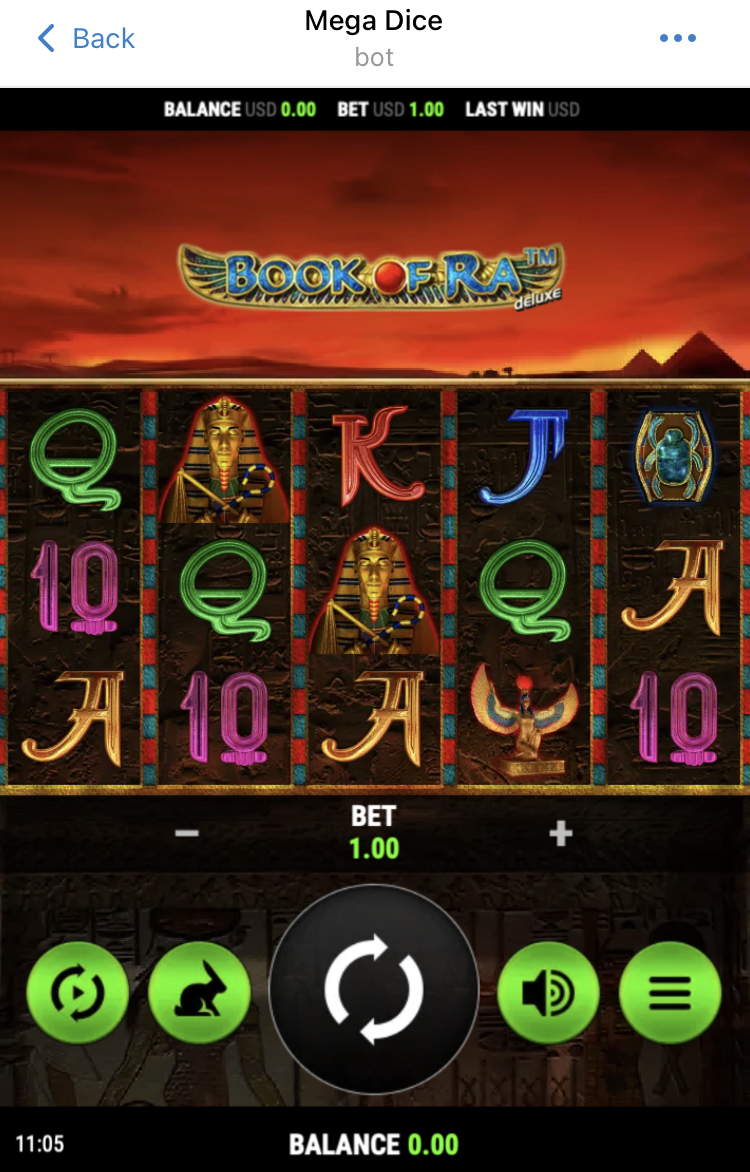 This includes popular games like roulette, blackjack, Aviator, and slots. Instead of gambling with virtual chips, players can wager cryptocurrencies. This includes Bitcoin and some of the best altcoins, like Dogecoin and Ethereum.
What are the Benefits of Playing Telegram Games?
Discussed below are some of the main benefits of playing Telegram games in 2023:
Social Interaction
Many of the best games on Telegram are multiplayer. This promotes social interaction, not least because friends can enjoy the same games together.
In most cases, players can create a separate group and add the Telegram gaming bot. This allows friends to play and communicate in privacy.
That said, some Telegram games allow users to play with people outside of their friends list. Poker Bot is a great example here. This Telegram game has a pool of over 670,000 users.
As such, players don't need to have friends on Telegram to play a round of Texas Hold 'em. Instead, Poker Bot will add the users to an active table that already has players.
Play Games Anonymously
Most online gaming platforms require players to open an account and add some basic personal information. This won't suit all players. Instead, many people prefer to play online games anonymously.
Telegram is ideal here, as users only need a valid mobile number to join the app. As such, other players will only see their username.
This is also the case when gambling on Telegram. For example, the Mega Dice Telegram casino allows players to bet on slots, table games, and more without revealing their identity. Players can deposit, wager, and withdraw funds with cryptocurrencies - which are also anonymous.
Free to Play
The vast majority of Telegram games are free to play. This is a major benefit for those who do not want to spend any money. In turn, if the player doesn't enjoy a particular Telegram game, they haven't lost anything.
This is in contrast to mobile games on the Google Play and App Store. While the app might be free to download, users are often forced to buy in-game assets to progress. If not, they will be inundated with ads. No such system exists when playing games on Telegram.
Educational Value
Some games on Telegram offer educational value to players.
For example, Quizarium is ideal for improving knowledge of specific subjects. This is because Quizarium allows players to choose their preferred topic when receiving questions. This could be useful for someone looking to learn about history or science, for instance.
Similarly, Hangbot allows players to improve their word knowledge. This could also be useful for someone who is learning a new language and prefers a fun-based approach to education.
Telegram Gambling: How Does it Work?
One of the newest niches in the Telegram gaming world is gambling. This means that players can gamble via the Telegram app rather than needing to sign up with an online casino.
In this section, we explain the basics of how Telegram gambling works and where to find a trusted provider.
Telegram Gambling Games
First and foremost, let's explore some of the most popular gambling games that can now be played on Telegram:
Blackjack: Blackjack is one of the most popular gambling games on Telegram. There are many Telegram bots that allow users to play against the dealer directly. Due to the simplicity of the game, blackjack rounds can be represented by card emojis. Players can send their commands in text form, such as /stick or /hit.
Roulette: Roulette is another popular gambling game on Telegram. Most Telegram bots will ask the player to select their preferred color or number. The bot will then randomly generate the winning number via an emoji.
Slots: Slots are more difficult to implement into a Telegram bot. We found that most slot games use emojis to represent symbols, such as bars, bells, or cherries. The player's virtual balance will then update, depending on which symbols are generated.
Dice: Dice is ideal for Telegram gambling, as players simply need to guess the number of the next roll. This can be randomly generated by the Telegram bot and shown as a dice emoji.
Poker: Telegram also hosts plenty of poker games. These usually require multiple players and most opt for the cash table format. This means that users bet virtual coins and prompts are given in text form.
One of the most interactive ways to gamble on Telegram is to use the Mega Dice casino channel. The reason for this is that gambling games are viewed via a pop-up window that can handle HD video feeds - as in the image below.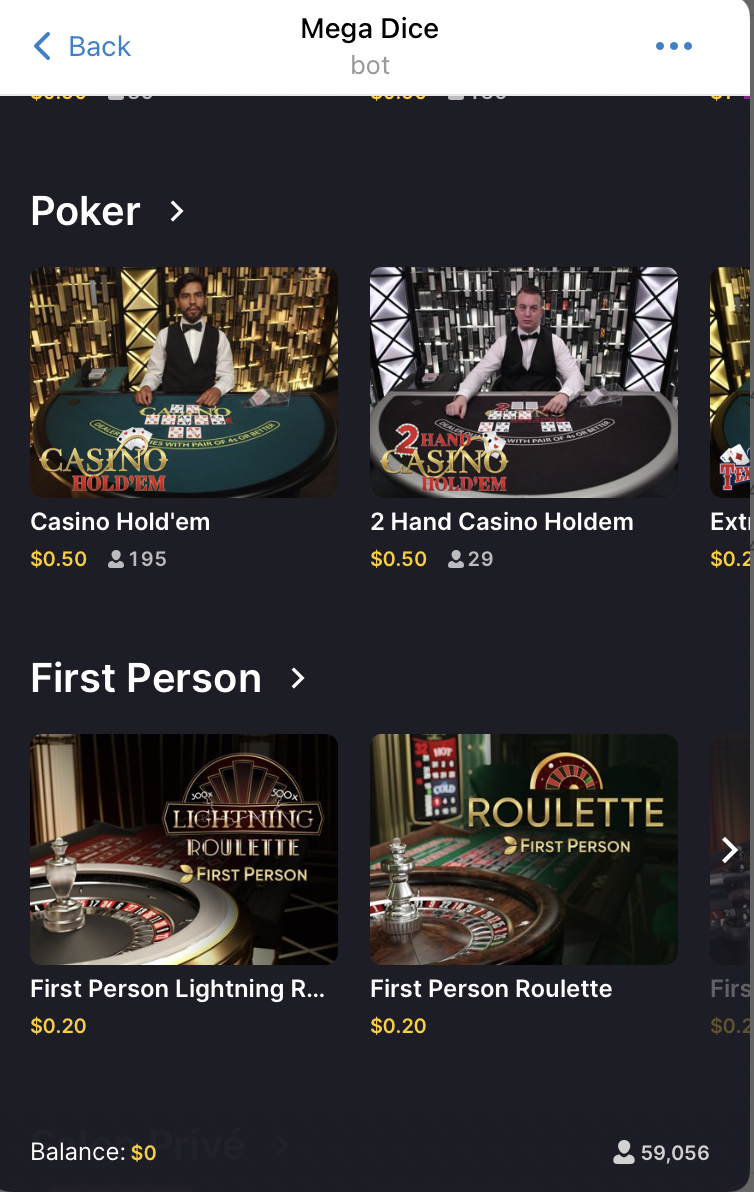 For example, instead of viewing slots as emojis, the Mega Dice Telegram casino allows players to spin the reels in real-time. Moreover, the Mega Dice Telegram casino also supports live dealer tables. This means that players can play blackjack and roulette with human dealers.
Can You Win Real Money on Telegram Gambling Games?
When researching Telegram gambling games, we found that many providers support virtual coins. While this enables players to enjoy popular casino games like slots and roulette, real money cannot be won.
That was until the recent launch of the Mega Dice Telegram casino. As we mentioned earlier, Mega Dice is the only regulated casino on Telegram - it holds a Curaçao eGaming license. This enables Mega Dice to facilitate crypto gambling on the Telegram app.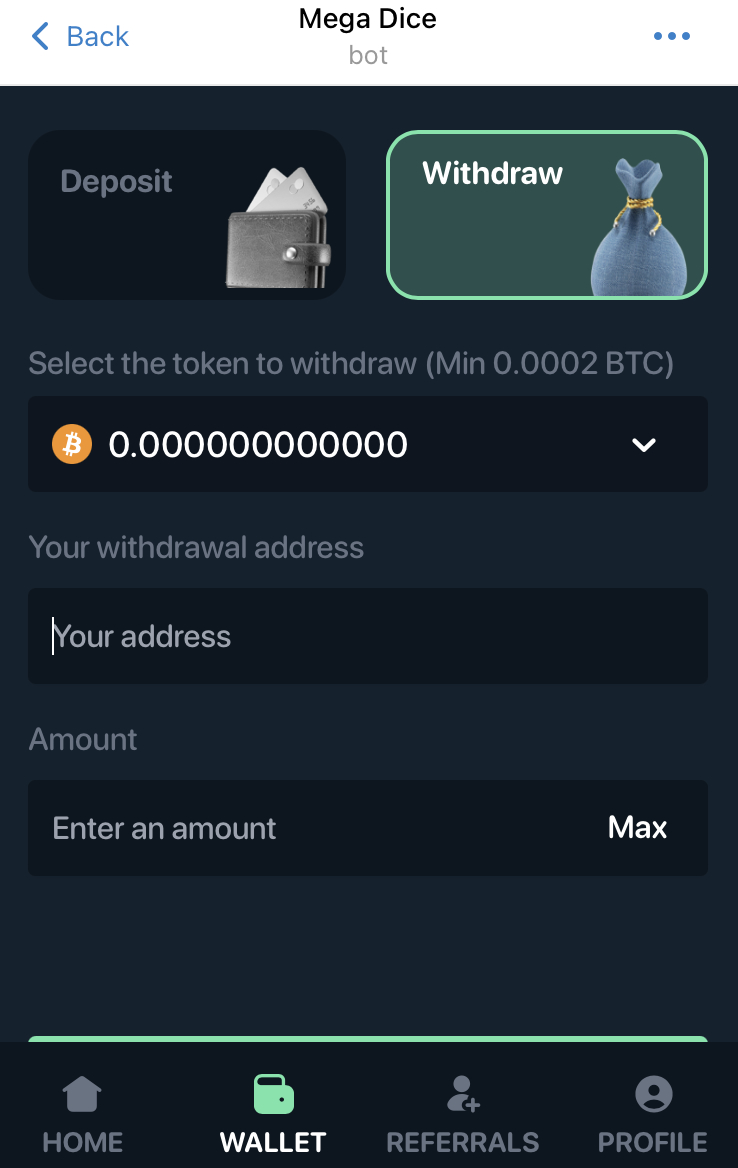 The process is very straightforward too. Players are given a unique wallet address to transfer cryptocurrencies like Bitcoin or Dogecoin. They can then play their preferred games directly in the Mega Dice Telegram channel.
Players can withdraw their winnings back to the same wallet address at any time. Mega Dice approves payouts automatically, so players won't need to wait more than a few minutes to receive their winnings.
Those with an interest in Telegram gambling should ensure they use a trusted and regulated provider. We came across several gambling channels that accept cryptocurrencies but do not hold any licenses. We suspect that most of these Telegram channels are scams. This is why we prefer regulated Telegram casinos like Mega Dice.
Where to Find the Best Games on Telegram?
Telegram is primarily an app for secure and encrypted messaging. This means that it doesn't have a dedicated gaming section, nor does it provide a list of active games. Instead, finding the best Telegram games requires some legwork.
Here's some tips on how to find a Telegram games bot.
Manual Search on Telegram
If the user already knows the specific game they want to play, they can search for its unique Telegram channel. The search bar can be found within the 'Chat' section of the Telegram app.
Another option is to search for the game type and see what results come up. For example, in the image below, we have searched for the popular party game 'Cards Against Humanity'.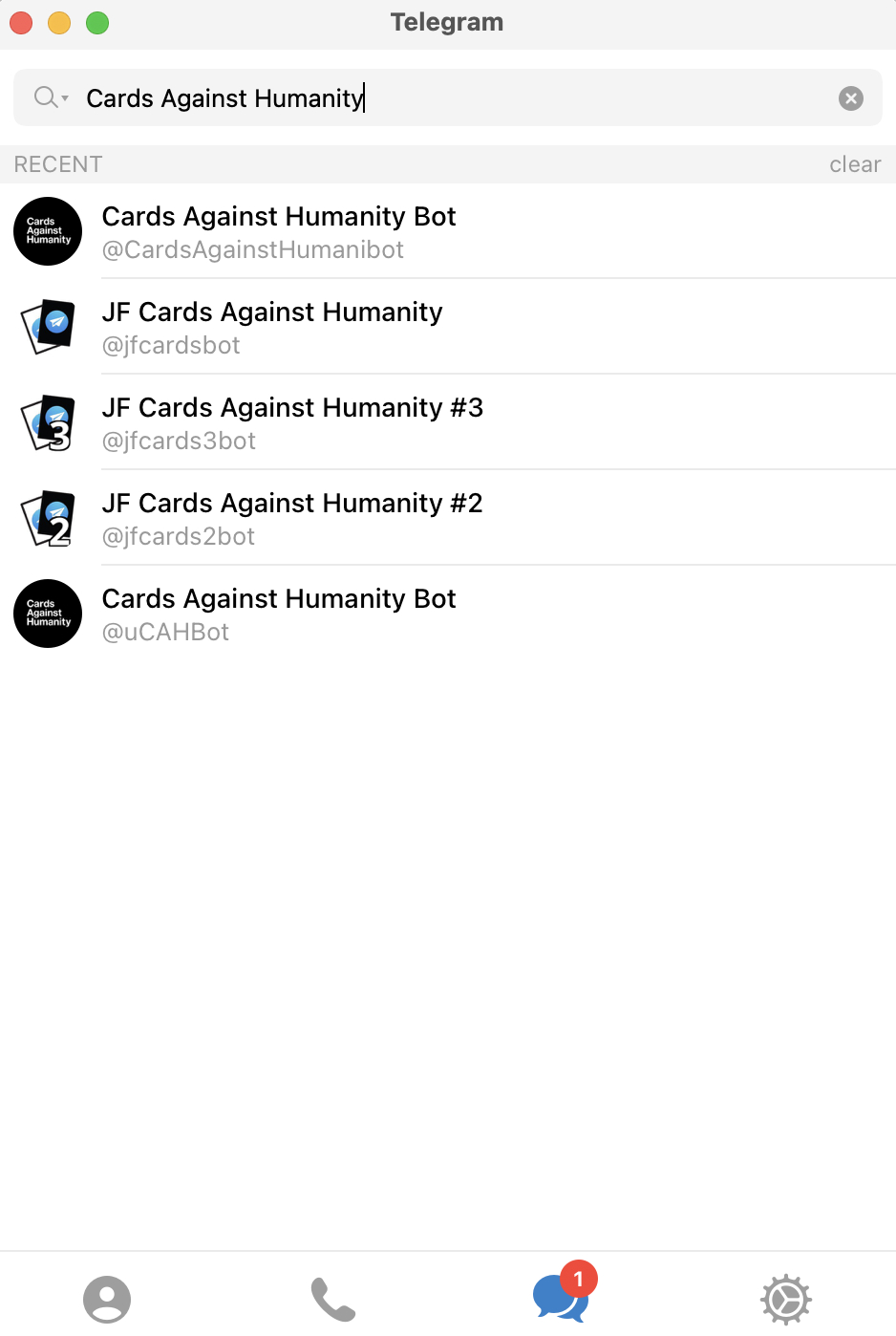 This brings up several results, which we can manually click on. The top result is a Cards Against Humanity bot, which allows us to play the game with friends.
However, some search results will bring up thousands of Telegram channels. This can make it channeling to find an actual gaming bot.
Reddit
We found that some of the best Telegram games are advertised on Reddit by their respective developers. Not only does this allow players to find new games but also assess feedback from other Reddit users.
For example, the /TelegramBots Reddit group has over 30,000 members. While not all posts are related to games, many are.
@gamebot
Another option is to search for @gamebot on the Telegram app. This Telegram bot will suggest three games to players after entering the chat.
However, all games require multiple players. This means that players will need to add friends to the chat before being able to access any games.
Are Telegram Games Safe?
Overall, Telegram games are safe to play. After all, Telegram is considered the best messaging app for privacy and encryption. Accounts are tied to the user's mobile number rather than their name or location. This enables players to remain anonymous when playing Telegram games.
Moreover, Telegram games are played directly within the app. This means there is no requirement to download or install any software. This protects users from unwittingly installing a virus on their smartphone or tablet.
However, like all online ecosystems, players should take precautions to stay safe. For example, if a Telegram gaming bot posts an external link - never click it. This could be a virus or malware.
Additionally, some Telegram games allow players to join with random people. This can also present risks, as Telegram users can send private messages without needing to be on their friend list. In this instance, it's best to block and report the user if the private message appears suspicious.
Conclusion
Telegram games come in many shapes and sizes. This includes everything from chess and quizzes to RPGs and card games.
Overall, we are impressed with TG.Casino. This cryptocurrency casino is 100% accessible via Telegram and offers thousands of casino and sports betting markets. With $TGC, the native token, users can earn huge staking APYs and NFT rewards.
$TGC is priced at just $0.125 on presale. TG.Casino has raised more than $205K since the presale started.
References
https://www.reddit.com/r/TelegramBots/
https://www.kabinetvandegouverneur.org/nl/
https://www.curacao-egaming.com/
https://coinmarketcap.com/currencies/bitcoin/
https://www.cnbc.com/quotes/DOGE.CM=
FAQs
Which Games can you Play on Telegram?
There are hundreds of Telegram gaming bots, ranging from quizzes and UNO to slots and poker. Games are created independently, meaning anyone can launch a Telegram game.
What is the Best Telegram Game?
One of the best Telegram games is the TG.Casino a fully licensed Telegram casino. Users can access thousands of casino games, and get special access to certain games with the $TGC token. The $TGC crypto can be purchased for $0.125 on presale.
How do you Find Games on Telegram?
To find a game on Telegram, enter its unique channel name in the search box. This can be found in the chat section of the Telegram app.
Can we Play Chess in Telegram?
Yes, there are several Telegram bots that allow users to play chess. One of the most popular is @chessy_bot.
Disclaimer: The text below is an advertorial article that is not part of Cryptonews.com editorial content.
---