8 Best Gambling Tokens to Buy in 2023
Disclosure: Crypto is a high-risk asset class. This article is provided for informational purposes and does not constitute investment advice. By using this website, you agree to our terms and conditions. We may utilise affiliate links within our content, and receive commission.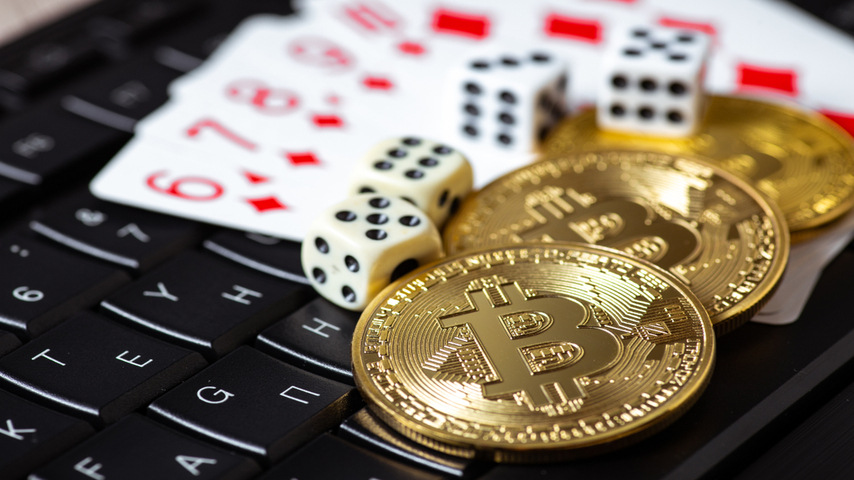 The best gambling tokens are those that offer rewards to holders and that offer additional utility, such as access to special features, revenue share and NFTs that you can trade.
The reason why investors are drawn to gambling tokens is mostly because of the high reward potential. But there's also the growing global betting industry, which is expected to soar to $114.4 billion by 2028. If we add in the anonymity feature of crypto gambling and the revenue share, investing in gambling tokens seems even more enticing.
To find the best gambling tokens that offer rewards to holders we compared hundreds of them in terms of market capitalization, active daily users and revenue.
The Top 8 Gambling Tokens to Invest in
TG.Casino Token — Best gambling token presale where you can stake your tokens while you wait for the token launch. Once live, the online casino will share a portion of its daily profit with token holders while burning the rest.
Meme Kombat — A new token presale that adds fun to crypto betting. You can wager on battle outcomes of meme characters like Pepe and Doge and earn rewards, or simply stake your tokens and earn a juicy 112% APY while you wait for the presale to end.
Rollbit Coin — One of the leading online casinos that offers multiple casino games and sports betting, as well as trading NFTs and crypto futures. The latter comes with a massive 1,000x leverage, which could make it appealing for seasoned traders.
FUNToken — A leading gaming platform that helps game developers build their online games and casinos into the Web3 ecosystem.
Solcasino — Solana's most popular online casino offers hundreds of casino games and sports betting, as well as revenue share with NFT holders. The latter also get rakeback rewards when engaging in gambling activities on Solcasino.
Decentral Games DG — One of the rare online casinos built directly into a virtual world. You can play poker directly into Decentraland's metaverse or play in your browser and earn rewards.
Exceedme — An innovative esports gaming platform where gamers earn tokens when playing competitively with their friends or in competitive matchmaking. This includes matches in popular games like Dota 2, Counter-Strike and more.
Blockchainbets — One of the rare online casinos that shares 100% of the profit with the Blockchain bets token holders who stake their tokens.
Reviewing the 8 Best Gambling Tokens
The best gambling tokens excel in rewards, utility and security. The way they work is designed to entice new users to join the ecosystem, which in turn should positively impact the token price.  
1.TG.Casino Token — Best Online Casino Presale Where You Can Stake Your Tokens During the Presale And Earn a Portion of The Casino's Daily Profits
TG.Casino token aims to join the big league of online gambling by merging online casino games, cryptocurrencies and Telegram gambling. Its token is the $TGC and is now available for presale at a listing price of $0.125.
There's already over $230,000 raised in a few days with a soft cap of reaching $1 million, which is likely to happen very soon. Update – over $1 million has now been raised.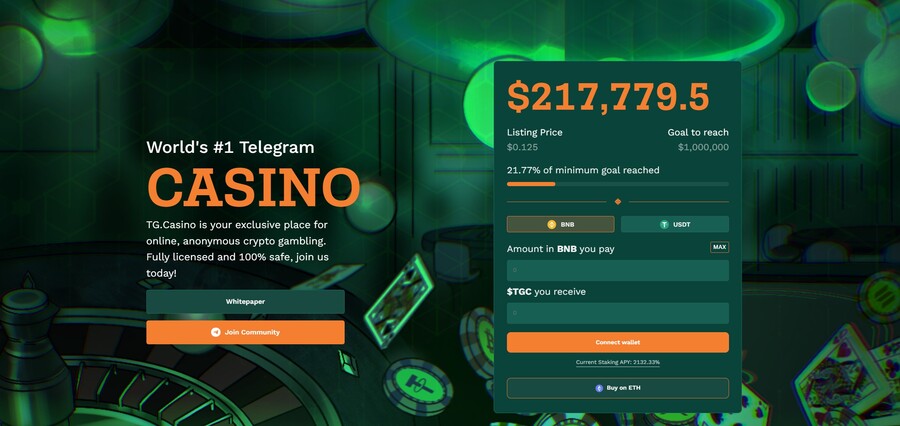 You can buy $TGC tokens in the presale with ETH, BNB and USDT and get additional benefits, including:
Rewards once TG.Casino goes live on Telegram.
Exclusive NFTs and post-launch rewards for those who invest over $5,000 in the presale.
TGC staking during the presale, which gives you the opportunity to earn more tokens before the launch on major exchanges.
Currently staking APY stands close to 2,000%, which can give a huge boost to those who get in early.
As a $TGC token holder, you will earn 60% of the TG.Casino daily profit, while 40% of the profit will be burned to lower the token supply and help push the price up, according to TG.Casino's whitepaper. Both of these features are designed to provide value for $TGC token holders.
There will be 100 million tokens in total, 40 million of which are dedicated to the presale and 20 million for the staking rewards. The good news is that there's no vesting for your presale tokens, meaning you can sell them as soon as the token launches on major exchanges. The token launch is planned after the presale ends.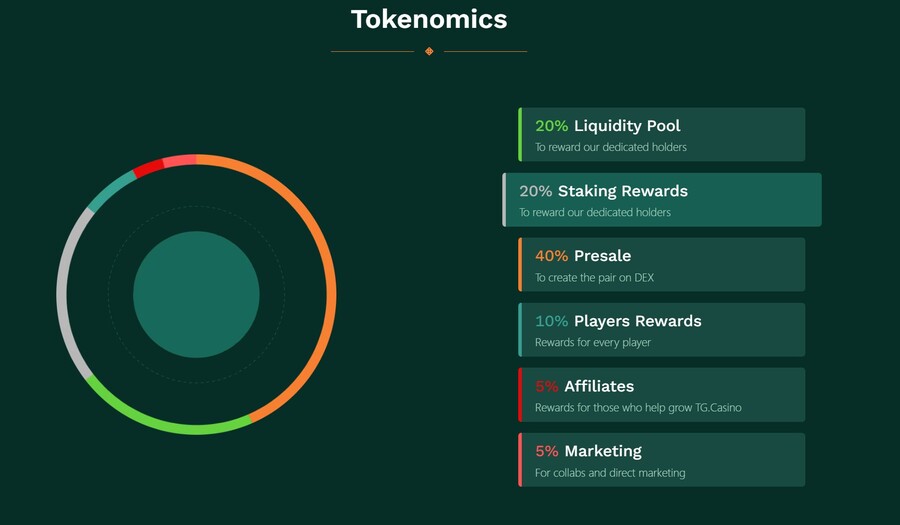 As for the casino itself, there won't be any Know Your Customer (KYC) process involved, which makes gambling anonymous. Also, there won't be any account setup, and you can play the casino games on your smartphone via the Telegram app.
TG.Casino will offer hundreds of games, including slots, poker, table games and more. There will also be sports books with more than 30 different sports you can bet on, which makes it one of the best Telegram gambling tokens.
The casino is fully licensed and based in Curacao. To get more updates, follow TG.Casino on X and Telegram.
| | |
| --- | --- |
| Hard Cap | $5,000,000 |
| Total Tokens | 100,000,000 |
| Tokens available in presale | 40,000,000 |
| Blockchain | Ethereum |
| Token type | ERC-20 |
| Minimum Purchase | $5 |
| Purchase with | USDT, ETH, BNB |
2. Meme Kombat — New Token Presale That Lets You Wager on Meme Battles and Earn 112% Staking Rewards During the Presale
Meme Kombat is a new presale that has already raised over $100,000 in a few days after launch. That's not a surprise given how Meme Kombat rides upon the meme tokens wave, which has proven to be loved by crypto enthusiasts.
However, this isn't just a meme token — it's part of an upcoming meme battle arena where you can pit memes and bet on them. If you ever wondered whether DOGE can beat Shiba Inu, now you'll find out, and you can even profit if you bet on the winner.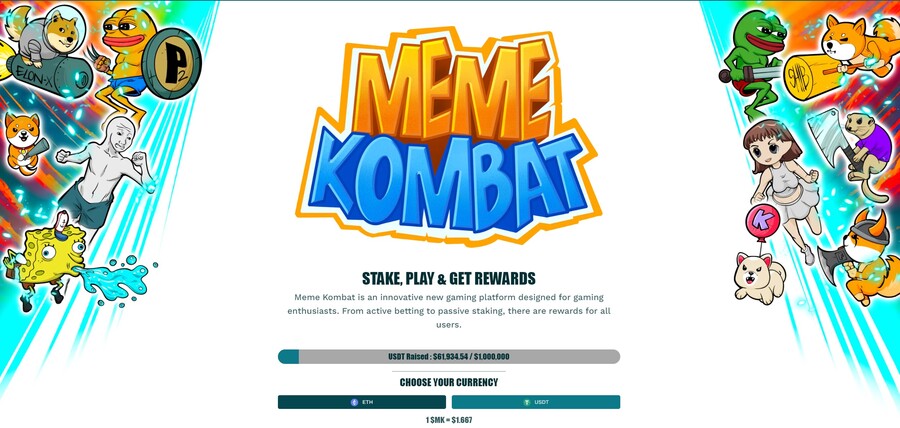 The way it will work is each meme character has a card with skills and stats. Outcomes of each battle are executed in real-time on the blockchain by an AI-generated random event. Learn more about the mechanics in Meme Kombat's whitepaper.
There will be several betting opportunities, such as player vs. player where you bet against other players; player vs. game where you wager on the outcomes of battles against the game where each meme character has different odds; direct betting where you can wager on specific battles or characters; and side action betting where you can dig deeper and wager on battle events like how will a certain character win.
All this adds complexity and fun to betting while giving you the chance to earn tokens at the same time.
Meme Kombat's token is $MK and it comes with two main use cases:
Wagering. $MK token holders can bet their tokens on the outcomes of meme character battles. Winners take valuable prizes, including $MK tokens.
Staking. Stake your tokens to earn a passive annual percentage yield (APY), which stands at 112%. This is an excellent opportunity to increase your token holdings while the presale is still ongoing.
Purchase $MK tokens in a presale using ETH, BNB or USDT, where the price of each $MK token is $1.667.
The total presale supply is 6 million tokens, which is 50% of the MK total supply. Once the presale ends, which is planned for late Q3 2023, the game will launch Season 1. This will feature battles, leaderboards and more.
Seeing how meme tokens sell out fast, this presale may not last long. Follow Meme Kombat on X and on Meme Kombat's Telegram channel to get updates. 
| | |
| --- | --- |
| Hard Cap | $10,000,000 |
| Total Tokens | 12,000,000 |
| Tokens available in presale | 6,000,000 |
| Blockchain | Ethereum Network |
| Token type | ERC-20 |
| Minimum Purchase | $5 |
| Purchase with | USDT, ETH, BNB |
3. Rollbit Coin — A Leading Online Casino Where You Can Play Games, Bet on Sports, Trade NFTs and Crypto Futures With 1,000x Leverage
Rollbit is a crypto casino founded in early 2020 on the Solana blockchain but got an upgrade in March 2021, and recently moved to Ethereum. The casino offers a variety of gambling games, such as slots, roulette, and blackjack, as well as sports betting in sports and esports like Dota 2 and Counter-Strike. This is a rare feature as most online casinos offer betting only on traditional sports.
Aside from gambling, you can trade NFTs or get loans by using your NFTs as collateral. For seasoned traders, Rollbit offers crypto futures with up to 1,000x leverage. This means you can quickly make a lot of money, but you can just as quickly lose them.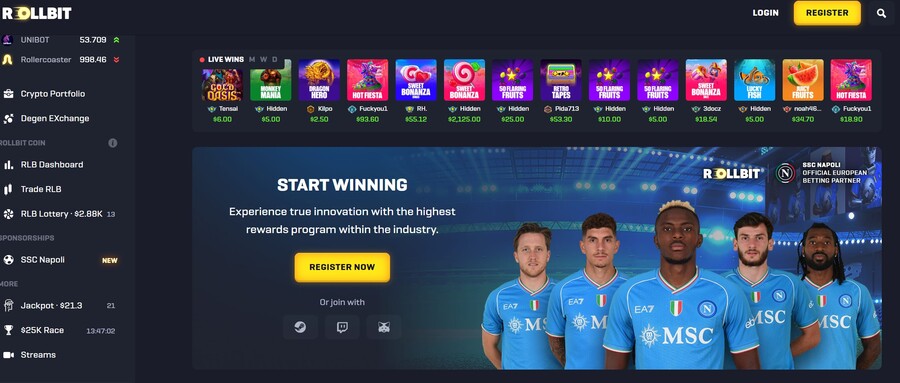 One of the reasons for Rollbit's success could be attributed to catering both to Web3 and Web2 users. You can sign in with an email or via your Steam or Twitch accounts. If you're wondering how to gamble with cryptocurrency, the Web3 part lets you connect via the MetaMask crypto wallet. You can deposit funds via card or Google and Apple Pay, making it even more accessible to a wider audience.
In August 2023, one of the co-founders said the casino would buy 60% of all fees generated and burn them to increase demand for the token. And it seemed to be working. The token was up 60% after the announcement.
The platform's token RLB was created in November 2021 and was airdropped to Rollbit users. With the token, you can stake it to earn rewards or participate in a lottery and other activities on the platform. You can earn a 10% cut of the RLB tokens the team buys for burning if you get a Rollbot NFT and stake it.
All this potentially makes Rollbit one of the best gambling tokens to buy now.
| | |
| --- | --- |
| Blockchain | Ethereum Network |
| Token type | ERC-20 |
| Total supply | 5,000,000,000 |
| Burning mechanics | Yes |
| Deposit methods | BTC, ETH, LTC, Sol, Google Pay, Apple Pay, card |
4. FUNToken — A Gaming Platform That Helps Onboard Gamers and Game Developers Into the Web3 Gaming Ecosystem
FUNToken is designed to give developers, gamers and gaming operators transparency and economic opportunity as they are integrated into the cryptocurrency world.
There are two tokens on the platform: FUN token, which is on the Ethereum network, and XFUN token, which is on the Polygon network. Polygon is a layer 2 Ethereum blockchain that makes transactions faster and cheaper. Both tokens have a 1:1 ratio and you can easily swap them in the platform's proprietary XFUN Wallet.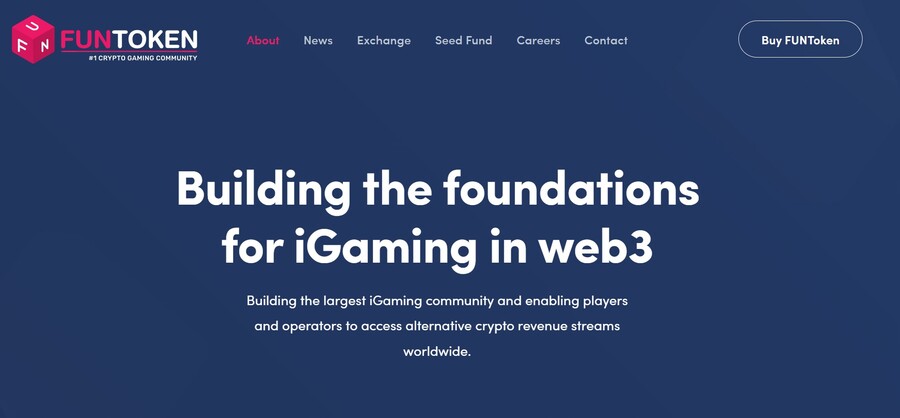 The platform has several dApps that can be used by gaming studios to build an online casino or a betting platform. There's also a software solution for arcade gaming platforms and metaverses.
The idea is to use the FUN token by any other game that utilizes FUNToken's gaming solutions. In other words, you can build an online crypto game that uses the FUN token, which should drive token demand as more games are being built on the platform.
You can buy the FUN token on multiple centralized exchanges.
| | |
| --- | --- |
| Blockchain | Ethereum and Polygon |
| Token type | ERC-20 |
| Total supply | 10,977,277,070 |
| Burning mechanics | No |
| Deposit methods | FUN |
5. Solcasino — The Most Popular Online Casino on The Solana Blockchain That Shares Revenue With the NFT Holders and Gives Rakeback Rewards
Solcasino is one of the leading casinos on the Solana blockchain and the first Solana casino licensed in Curacao. There, you can play a variety of gambling crypto games like slots, roulette and card games but you can also bet on sporting events. Some of the games have a prize pool where the winner takes it all.
The platform's native currency is SCS, which you can stake to earn an annual percentage rate (APR) of 58%. However, you're not limited to SCS, you can use other Solana tokens like BONK, SAMO, DUST, SOL, USDC and more to play and bet on sporting events.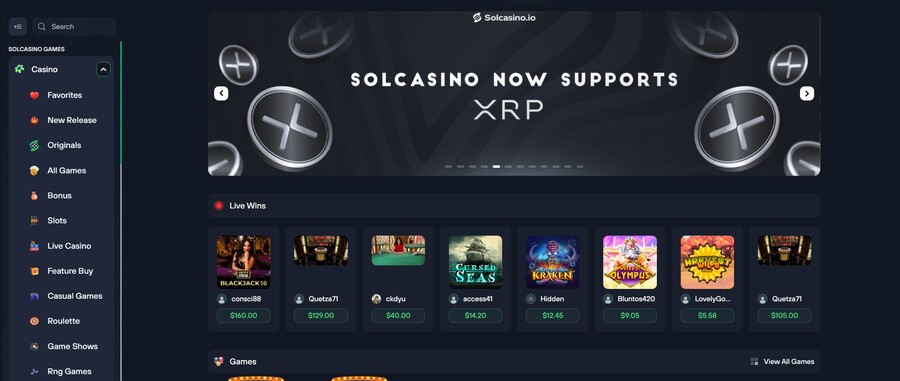 Even though Solana is the native blockchain for Solcasino, there is multi-chain support for BTC, ETH, BNB, MATIC, APTOS, CANTO and FTM.
There's also an ongoing lottery where the prizes can reach up to $100,000 for a ticket price of $2. 
The most useful feature is undoubtedly Solcasino's NFTs. These participate in the casino's revenue share when you lock them up for staking for a period of time. You can also earn rakeback, which is a reward you earn when you play on the Solcasino. This makes SCS one of the best gambling tokens on Solana and one of the most popular gambling tokens overall.
| | |
| --- | --- |
| Blockchain | Solana |
| Token type | SPL |
| Total supply | 10,000,000,000 |
| Burning mechanics | No |
| Deposit methods | SOL, BTC, ETH, BNB, MATIC, APTOS, CANTO and FTM |
6. Decentral Games DG — An Online Casino Built in The Decentraland Metaverse Where You Can Earn Prizes Like MacBooks, iPhones and Airpods
Decentral Games is an online casino built in the Decentraland metaverse. You can play poker in the virtual world or you can do it in your browser. And that's all you can do. There are no hundreds of casino games or sports betting. It's just playing poker virtually.
That's not all bad, however. Decentraland was one of the most popular metaverses, which saw virtual plots of land sell for $900,000 and another Decentraland plot sold for $2.4 million during the bull run of 2021. Whether the next bull run repeats these figures remains to be seen.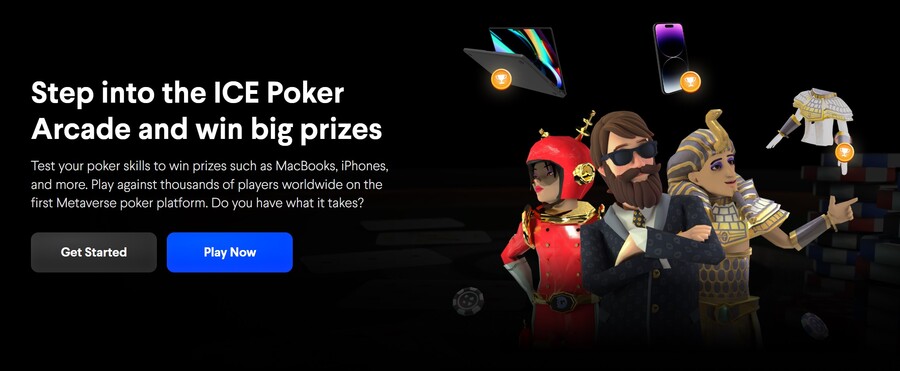 The Decentraland Games token is DG, which is an ERC-20 token, also used as a governance token in the decentralized autonomous organization (DAO). This also makes you a partial owner of the casino. The DAO treasury currently has around $9.8 worth of ERC-20 tokens and by voting you can decide what can be done with these funds.
To play, create an account by signing in with your email or using Twitter or Discord accounts to log in. To participate in the games, you need at least one ICE NFT wearable, which gets you a set number of chips to play.
Prizes include MacBooks, iPhones, Airpods and more.
| | |
| --- | --- |
| Blockchain | Ethereum |
| Token type | ERC-20 |
| Max supply | 1,000,000,000 |
| Burning mechanics | No |
| Deposit methods | DG |
7. Exceedme — An Esports Gaming Platform Where Gamers Earn XED Tokens by Winning a Prize Pool or by Betting
Exceedme isn't an online casino, but a tournament platform where gamers can play competitive games like Counter-Strike, Dota 2, Valorant and Call of Duty and earn rewards. These games can be played between friends in competitive matches with stakes or in matchmaking tournaments.
By playing, gamers earn the XED token, which can be used to level up and gain access to higher leagues with higher stakes and rewards. XED is an ERC-20 token, but there's also a Polygon and BNB Smart Chain version.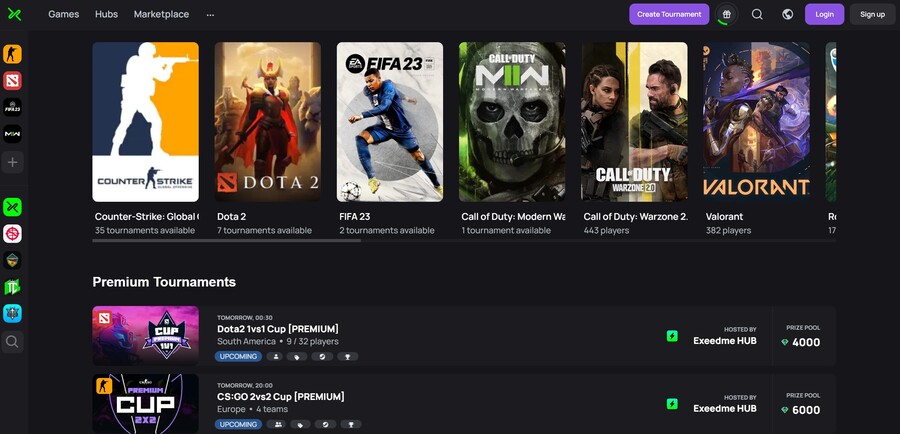 Win or lose, players still earn XED tokens for their participation in the platform. By playing more, gamers get to unlock achievements that come with NFTs. These are tradable within the platform, which can be an additional income for active players.
Betting with cryptocurrency is something users on the platform can do. But you'll need to stake your XED tokens first. The more tokens you stake, the higher wager limits you get in matchmaking. 
You can redeem your tokens for Counter-Strike skins and gift cards for Playstation, Steam, Fortnite, Blizzard and more.
| | |
| --- | --- |
| Blockchain | Ethereum, Polygon, BNB |
| Token type | ERC-20 |
| Max supply | 100,000,000 |
| Burning mechanics | No |
| Deposit methods | XED |
8. Blockchainbets — An Online Casino That Shares 100% of The Profit With BCB Token Holders Who Stake
Blockchainbets is an online casino with table games, poker, slots, jackpots and even scratch cards. There are also sports betting on popular sports like football, MMA, tennis and basketball. 
You can use the platform anonymously as it doesn't require KYC. All you need is a crypto wallet like MetaMask and you're good to go.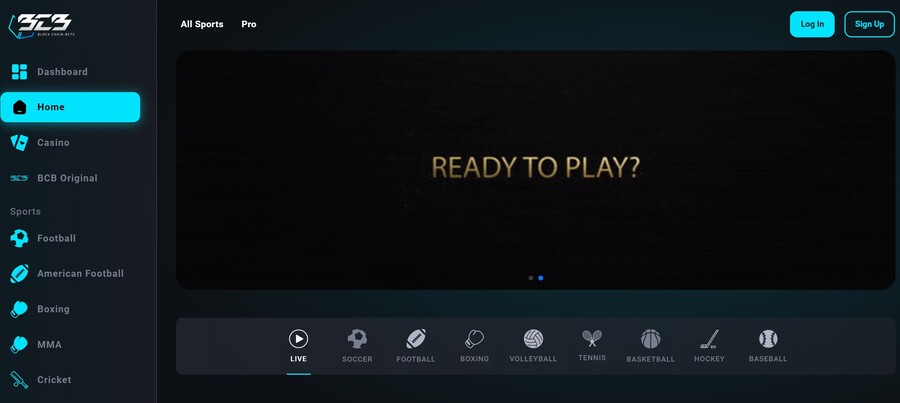 For gambling with cryptocurrency, you would need USDT even though the platform's token is BCB. The BCB is an ERC-20 token.
Similar to other online casinos, you can stake your tokens to get a revenue share. In this case, 100% of the casino profit is shared among stakers. And if you lock your tokens for a certain amount of time, you can get an APR boost. A seven-day lock gives you a 3x boost, while a 30-day lock gives you 6x boost on the tokens you earn. 
There are 877 million in circulation out of 1 billion tokens. The rest have been burned so far.
| | |
| --- | --- |
| Blockchain | Ethereum |
| Token type | ERC-20 |
| Max supply | 1,000,000,000 |
| Burning mechanics | No |
| Deposit methods | USDT |
What are Gambling Tokens?
Gambling cryptocurrency, also known as 'GambleFi', continues to evolve by integrating blockchain technology and crypto trends. These tokens often act as digital currency used exclusively on gambling platforms, which allows users to participate in betting activities, play online casino games, and access gambling with crypto.
These tokens can also be used to vote in a DAO, if the token has one, or stake them to earn a revenue share. These two aspects reflect the industry's shift towards decentralization.
Another feature of the best gambling tokens is transparency. This comes as an integral part of blockchain technology whose ledgers are immutable and available for everyone to see. This can help in building trust among users, as they can verify the fairness of games and the distribution of rewards.
On top of that, gambling tokens in 2023 offer anonymity and privacy. Users can engage in online gambling crypto activities without revealing their personal and financial information, which isn't the case with traditional gambling platforms. Typically, all you need to use these platforms is a crypto wallet.
How Do Gambling Tokens Work?
The best gambling token works by using blockchain technology to create a secure, transparent, and efficient system for conducting transactions on gambling platforms. 
Here's how that looks:
Getting gambling tokens. Users can buy tokens directly from cryptocurrency exchanges and deposit them on the gaming platform via crypto wallets like MetaMask.
Participation in games. Select a game or a sporting event you want to bet on and select the amount of tokens you want to use. Typically you can use a stablecoin like USDT for playing.
Rewards. Some platforms may distribute gambling tokens as bonuses, rewards, or promotions to encourage user participation.
Access to exclusive services. Token owners of that particular casino may get benefits like access to higher wager amounts or VIP events.
Withdrawals. You can withdraw your winnings directly into your crypto wallet without complicated procedures.
GambleFi vs GameFi
While GambleFi and GameFi both operate within the realm of blockchain and cryptocurrency, they serve different purposes. Understanding these differences is crucial to making an informed decision on whether to invest in gambling or gaming tokens.
They Have Different Utilities
Gambling tokens, such as Rollbit's RLB, are specifically designed for use on online gambling platforms. They are used to place bets, enter games and claim rewards within the gambling ecosystem. Some online casinos give voting rights in the DAO to token holders.
On the other hand, GameFi coins are used within the broader context of decentralized finance (DeFi) in the gaming industry. They can be used for purchasing in-game assets, for trading at in-game marketplaces, staking and even participating in governance decisions within the DAO. 
Some games, like Axie Infinity, have a dual-token structure: SLP for in-game uses and AXS for DAO governance.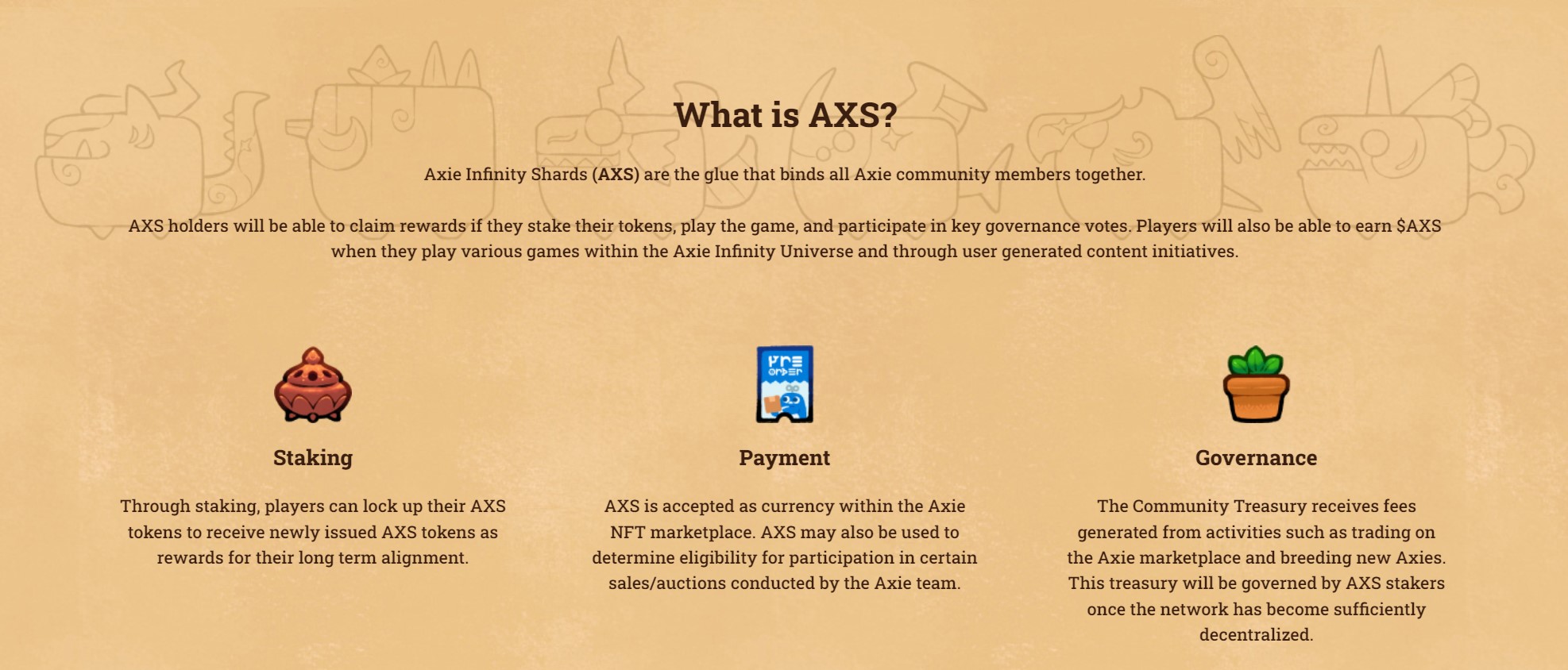 Anonymity Features
Gambling tokens often prioritize user anonymity, which allows individuals to participate in gambling activities without revealing personal or financial information. This is often done directly via a crypto wallet.
Even though blockchain tech gives users anonymity, GameFi coins may or may not prioritize user anonymity, depending on the specific project and its goals. Some games may require only a crypto wallet, while others may require that you sign up with your email or provide additional personal details.
Value
The value of gambling tokens depends on the use cases within the gambling platform. Outside of it, they may not have significant value unless the gambling platform grows significantly.
GameFi coins may hold investment value and could potentially appreciate in value based on the success and adoption of the gaming project or platform they are associated with. That's because a certain in-game asset like a character, weapon or skin, may be rare and more sought after if more players join.
Advantages of Buying Gambling Tokens
Buying gambling crypto tokens comes with anonymity, global accessibility, faster and cost-effective transactions, transparency, access to gambling telegram groups and potential rewards. 
Rewards
The best crypto gambling token comes with rewards for token holders who stake. This means you don't even have to gamble to benefit from rewards. Some gambling tokens, like Meme Kombat, give you 112% staking APY while you wait for the token to launch.
Other tokens like TG.Casino and Solcasino offer revenue share to the token and NFT holders.
Of course, a lot of gambling platforms give rewards to participants, meaning you can earn gambling tokens by participating in the platform's activities.
Anonymity and Privacy
Being an inherent feature of cryptocurrencies, the best gambling cryptocurrency offers anonymity for holders. This means you can engage in gambling activities without revealing your identity.
What's more, gambling tokens are like any other crypto tokens. All you need is a crypto wallet to store them and that's it. Even if someone sees the token in your wallet, they wouldn't necessarily know what kind of token it is. 
Global Accessibility
Gambling tokens like all cryptocurrencies enable individuals from different parts of the world to participate in online gambling platforms without worrying about currency conversion or international transaction fees.
This makes accessing these platforms seamless and hassle-free. It also opens the potential for more users to come in, which would generate more revenue for the token holders.
Potential for Appreciation
Some gambling tokens may also hold investment value, given that the cryptocurrency ecosystem is still in its infancy. Once it goes mainstream and more users flock to the cryptocurrency world, the tokens may appreciate in value.
Given all the advantages of blockchain gambling, this could be easily achieved when macroeconomic factors change.
Earning ROI From Gambling Tokens
Return on investment (ROI) from gambling tokens involves various strategies such as early investment in a presale, staking rewards, exclusive access and rewards, participation in platform governance, and engaging in gambling activities.
While the potential for earning a substantial ROI exists, you must assess the risks and do your own due diligence before you invest given the volatility and uncertainties inherent in the cryptocurrency and online gambling markets.
Investment in Presales
Investing in tokens during their presale phase can potentially offer substantial returns if the platform gains popularity and the demand for the tokens increases.
SUI, one of the most popular crypto presales, gained over 7,100% after launching on exchanges. This doesn't mean that every presale will perform the same. In fact, it's most likely that 90% of the tokens won't repeat SUI's success. Which is why it's important to do your own research before jumping in.
Staking Rewards
Some gambling platforms let you earn rewards when you stake your tokens on the platform. The rewards often come from the revenue generated by the gambling platform, which can range from 60 to 100%. But it can rarely come from a separate token pool dedicated for staking rewards.
The latter is often the case with token presales. That's because some of the presales let you earn more tokens while you wait for the token to launch on exchanges. This gives you even more tokens in your wallet when you decide to sell, which can potentially increase your ROI.
Exclusive Access and Rewards
Holding gambling tokens may grant users exclusive access to premium games and services. Some platforms, like Exceedme, give access to higher wager limits to those who stake more coins.
Gambling platforms may offer loyalty rewards and bonuses to token holders, contributing to increased earnings and a higher ROI.
Engaging in Gambling Activities
The main utility of gambling tokens is to be used on gambling platforms. You can bet on sporting events or play poker and roulette.
Some gambling platforms may reward users for being active and give out their own tokens. However, unless you're a professional poker player or an esports gamer, there's no guarantee that this can increase your ROI in the long run, which is why simply staking your gambling tokens might be the best bang for the buck.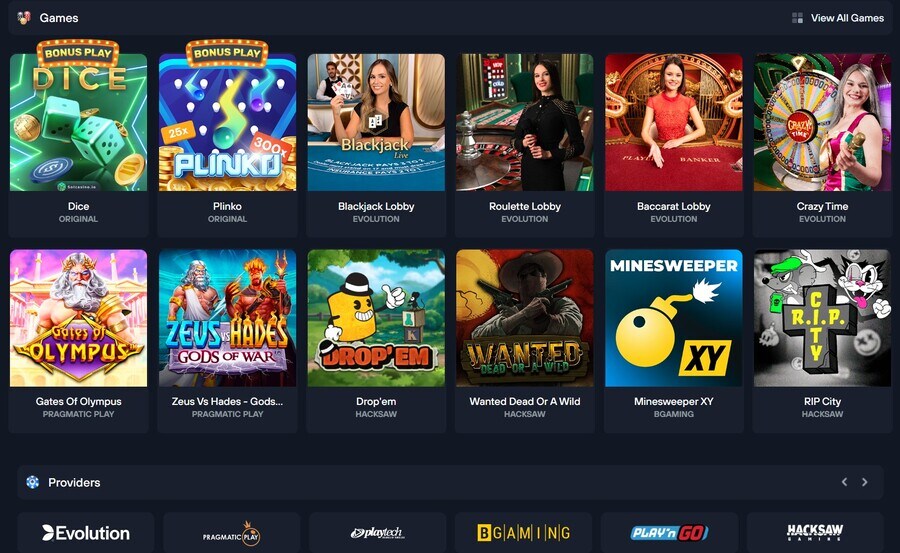 Are Gambling Tokens Safe?
Gambling tokens offer various security features, such as blockchain technology and anonymity, but they are not without risks. Market volatility, regulatory uncertainty and potential vulnerabilities can affect your holdings.
Blockchain tech is a secure and immutable ledger, which makes transactions secure and transparent. A gambling platform can be hacked, and if your funds are on the platform, they could be exploited. Recently, an Australian crypto casino Stake was exploited for $41 million with the funds being withdrawn on Ethereum and Polygon networks.
You can avoid this if you frequently withdraw your winnings and tokens from the platform and deposit only when you intend to engage in activities.
However, gambling tokens, similar to all cryptocurrencies, aren't immune to market volatility. If the sentiment is positive and macroeconomic trends are favorable, gambling tokens along with most cryptocurrencies should trend upward, and vice versa.
How to Protect Your Crypto Tokens

Simply buying your gambling tokens doesn't necessarily mean they can't be taken from you.

Here's how to up your game:

Never share your seed phrase. Your crypto wallet stores all your coins, not just your gambling tokens. If anyone asks for your seed phrase, they plan to scam you. No one in good fate will ever ask for your seed phrase.
Use a hardware wallet. Wallets like Trezor and Ledger keep your crypto safe by keeping your seed phrase offline and on the hardware wallet itself. This means that for someone to steal your coins from your hardware wallet, they would need to have the wallet itself and know the PIN number.
Don't connect your wallet to every link you get. Scammers typically use links with typos or fake links to legit companies and products. Never connect your wallet and approve transactions unless you are 100% sure it's legit. As a solution, use a burner wallet. These are wallets where you don't hold your crypto, and you use it to connect to sites. If it's a fake site, there won't be anything to steal from you.
Test with a smaller amount. In addition to burner wallets, test the links with a small amount. If someone scams you, it would be easier to swallow.
Are Gambling Tokens Legal?
This largely depends on each country and its regulations. In some countries like the UK, Australia and Canada, crypto gambling is legal. In others, like China and Qatar, it's illegal.
On the other hand, within the US, the area of crypto gambling is kind of confusing. There is no legislation on crypto gambling but there is legislation around online gambling. Some states have made online gambling completely legal, while others only allow for sports betting. And some states have banned online gambling completely.
This means that globally crypto gambling isn't regulated, but it's not prohibited. 
Avoiding Scams and Fraud

The crypto space is still plagued by scams and frauds. Even though the crypto scam revenue dropped 46% in 2022, there is still a risk of being scammed in 2023.

The most common crypto scams include:

Pump and dump schemes. This type of scam was popular in the stock market but as more money started pouring into the crypto world, scammers shifted their focus there. The idea behind pump and dump is that a group of people start pumping the price of a certain cryptocurrency and when new people buy it, they simply dump their tokens and cash out.
Rug pulls. Rug pulls are another popular crypto scam where the developers create a token and then remove the token's liquidity from the pools, leaving investors with tokens that they can't exchange for anything else.
Giveaway and impersonation scams. Scammers can hack someone's social media account and promote a fake giveaway. That happened with Ethereum's founder Vitalik Buterin's Twitter account, which was hacked where the hacker posted a fraudulent link to Buterin's followers promising an exclusive NFT. Everyone who connected their wallets lost their funds, which totaled $690,000. As a rule of thumb, use a burner wallet to connect and mint NFTs.
Do You Pay Tax When You Buy Gambling Tokens? 
Gambling tokens are just like any other cryptocurrency when it comes to taxes, which means it depends on the country you live in as each country has different rules and regulations.
For example, in the US, buying cryptocurrencies is not a taxable event, meaning you can buy gambling tokens and hold them without paying taxes. Taxes are due when you sell or trade your gambling tokens and recognize a gain, in which case only the profit is taxable. For example, you spend $1,000 on gambling tokens and later sell for a $3,000 profit. You will pay taxes on the $2,000 profit. If you recognize a loss, you can deduct that from your taxes.
However, if you buy one cryptocurrency to buy another, say you buy Ethereum to buy X token, this is considered taxable by the IRS if you sold your Ethereum for more than you bought it.
On the other hand, gambling winnings in the UK, Australia and Canada are tax-free.
To better understand crypto gambling taxes, consult a professional in your country.
Conclusion
The year 2023 was a significant milestone for the evolution of gambling tokens, especially those offering lucrative rewards. As the industry continues to grow, tokens that offer unique benefits, such as revenue sharing, staking, loyalty bonuses and exclusive access to premium games will likely gain prominence.
Consider gambling token presales as one lucrative investment option as they let you buy the tokens at a discount before launching on exchanges. Stake your coins while you wait for the token launch to increase your holdings.
However, make sure to do thorough research on tokenomics, utility, platform reputation, and regulatory compliance, to make the right investment decision when choosing the best gambling tokens to invest in.
References
FAQs
Which gambling token is best?
Gambling tokens that offer revenue share, like one of the telegram gambling tokens TG.Casino, or Solcasino SCS token may be considered one of the best because you can earn rewards even without gambling.
Are gambling tokens safe?
Gambling tokens are just like any other cryptocurrency. They are susceptible to market volatility, hacks, scams and bugs. If do your due diligence and use a hardware wallet to store your tokens, your gambling tokens will be safe.
What's the best place to buy gambling tokens? 
The best place to buy gambling tokens is either on a centralized exchange like Coinbase and Kraken, on a decentralized exchange like Uniswap, or directly from the gambling website.
Disclaimer: The Industry Talk section features insights by crypto industry players and is not a part of the editorial content of Cryptonews.com.
---