8 Best GambleFi Coins to Invest in 2023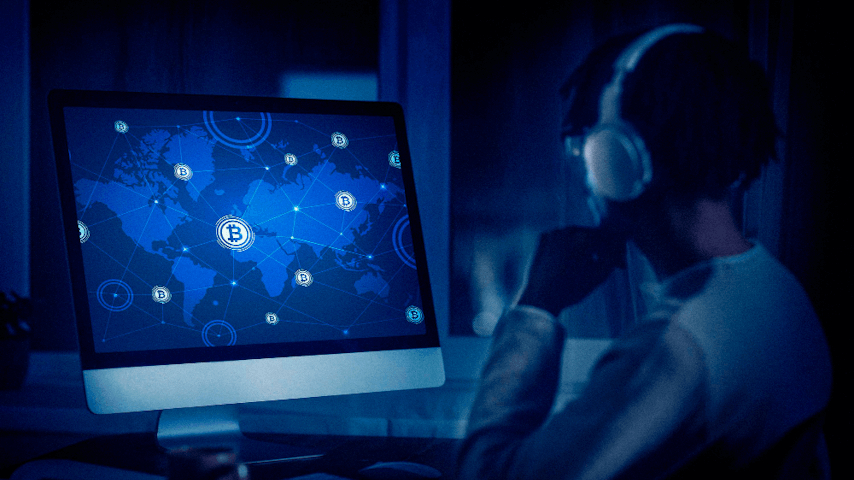 The gambling industry has historically been one of the first movers to take advantage of new technology, like the internet in the early 1990s. Now, it's also making a move into cryptocurrency, launching a new class of tokens known as GambleFi coins.
In this guide, we'll explain everything crypto investors need to know about GambleFi and highlight the 8 best GambleFi coins to invest in today.
The Best GambleFi Crypto Tokens to Buy Now
We've evaluated dozens of new and established GambleFi tokens to bring investors the 8 best GambleFi coins for 2023.
Mega Dice - Online crypto casino with thousands of games. Players can join online or play with a Telegram bot and get a 1 BTC welcome bonus when they join. Mega Dice doesn't have its own crypto token, but accepts Bitcoin, Ethereum, and other popular coins.
Blockchain Bets - Community-owned crypto project offering peer-to-peer sports betting. Players can wager on football, basketball, soccer, and more from anywhere in the world with no KYC requirements.
FUNToken - GambleFi infrastructure project offering a token and wallet for gambling dApps. Anyone can use FUNToken to create their own decentralized casino, sportsbook, and more.
GambleFi.io - The original decentralized gambling DAO. GambleFi offers zero-loss sports betting, enabling bettors to get their initial wager back even if they lose. Offers rewards to users who stake the platform's $BETIFY token.
Decental Games - Unique gambling platform offering ICE poker within the Decentraland metaverse. Players can win prizes like MacBooks and iPhones while playing against competitors from all over the world.
CasinoCoin - GambleFi token built on Ripple's blockchain to make it faster, cheaper, and easier for players to move money across crypto casinos and sportsbooks. Players can manage all of their gambling accounts from a single app.
Polker - Free, play-to-earn poker platform built on the Unreal Engine. Offers a wide range of play options including adventure mode, tournament play, custom rooms, and more.
Zen Sports - Online sportsbook launching decentralized peer-to-peer betting. Players will be able to create any wager they want as long as someone is willing to take the other side of the bet.
Analyzing the Best GambleFi Cryptocurrency to Invest in
What makes these GambleFi tokens the best bet for investors today? We'll explain everything investors need to know about these projects.
1. Mega Dice - Crypto Casino Offering a Telegram Bot, 1 BTC Welcome Bonus, and Thousands of Games
Mega Dice is one of the top crypto casinos online in 2023. This casino offers thousands of games including slots, blackjack, roulette, baccarat, and more. It even has live tables where players can bet with a live dealer 24/7.
Mega Dice isn't technically a GambleFi crypto project. Unlike the other projects on this list, it doesn't offer its own crypto token. Instead, players can join the casino and start betting with Bitcoin, Ethereum, Litecoin, Bitcoin Cash, and several other popular tokens.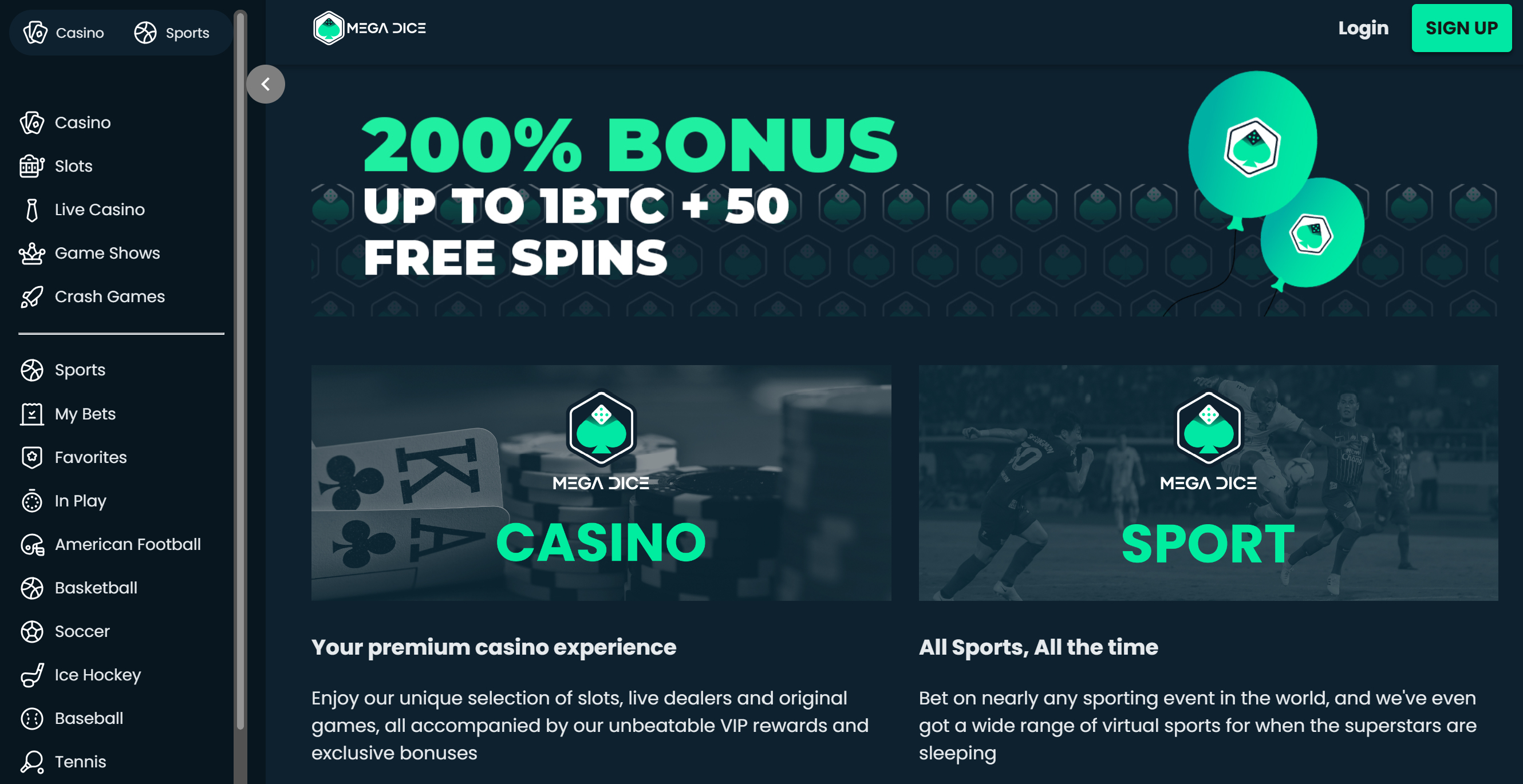 The reason we include Mega Dice on this list, though, is that it's not just an online casino. It's also one of the best Telegram casinos, and casinos with Telegram bots are frequently associated with GambleFi tokens. The connection makes sense, since Telegram bots make it easier for players to wager with no middleman and no KYC requirements.
Players can access most of Mega Dice's games through Telegram and play with fully encrypted messages. The casino doesn't require ID verification when playing on Telegram, but it pays out winnings just like it does online. All players need is a Telegram account.
New players can make a deposit to Mega Dice from within Telegram. The minimum is just 0.01 BTC, but players who deposit at least $20 worth of crypto will qualify for a welcome bonus.
Right now, the bonus is a 200% deposit match up to 1 BTC—that's nearly $30,000 in bonus cash—plus 50 free spins.
There are tons of games to play with the bonus, and players can withdraw their winnings from the casino at any time. Mega Dice pays out winnings in crypto instantly and with no fees.
Best of all, the casino is fully licensed in Curacao and follows all anti-money laundering rules. Players can get 24/7 customer support.
Mega Dice appears to be the future of crypto gambling, so investors won't want to miss out on this pioneering casino.
2. Blockchain Bets - Community-owned Project for Peer-to-peer Sports Betting with No KYC
Blockchain Bets is a community-owned, decentralized sportsbook offering peer-to-peer betting. On this platform, players can take wagers on sports like football, basketball, soccer, and more.
Players bet directly with one another, meaning that every bet is backed by an opposing bet from someone else on Blockchain Bets. The platform collects a small spread on each wager, enabling the Blockchain Bets treasury to grow over time.
Blockchain Bets is a great investment because that growing treasury is used to provide rewards to investors in the platform's $BCB token. In fact, 100% of profits are distributed to community members who stake $BCB.
According to Blockchain Bets, roughly 45% of the total circulating supply of $BCB has been staked to the platform. Less than half of the initial 1 billion token supply is still in circulation after recent burns, which is also good for the token's price appreciation.
Since Blockchain Bets launched the $BCB token in January, it's up more than 325%. That's not counting the rewards paid out to early investors who have staked their tokens, either.
Blockchain Bets is designed to operate across blockchains, meaning this project has immense opportunity for growth. It's also one of only a handful of online sportsbooks to offer fully KYC-free wagering. So, the platform could capture a significant chunk of the betting market in places where legal sports betting isn't allowed.
3. FUNToken - Create Gambling dApps Using a Ready-made ERC-20 Token and Wallet
FUNToken is a multi-purpose GambleFi coin designed to make the online gambling experience better than ever.
This project offers a token, $FUN, and a crypto wallet, XFUN. The XFUN wallet enables players and gambling platforms to easily move funds between each other on the blockchain. Transactions are decentralized, secure, and gas-free.
That gas-free part of FUNToken is especially important. This is the first GambleFi platform to our knowledge that eliminates costly transaction fees when players deposit or withdraw funds to or from their favorite decentralized casino or sportsbook.
The XFUN wallet also has several other important benefits. Players can sign up for a wallet and start playing with decentralized gambling sites that use $FUN with no KYC requirements. In addition, XFUN supports a wide range of casino and sportsbook dApps, so players can seamlessly move between their favorite gambling platforms.
$FUN is currently listed for trading on most top crypto exchanges, including Binance, Bitfinex, Uniswap, and more. The XFUN wallet is available on Google Play and the Apple App Store.
The price is down 44% over the past 12 months, partly because altcoins like $FUN were hit hard by the crypto winter. For investors, the current price could represent a chance to buy $FUN at a steep discount.
4. GambleFi.io - Bet on Sports without Risking Any Money, Plus Earn Staking Rewards
GambleFi.io was the first decentralized gambling DAO and the project that put GambleFi on the map. The platform eliminated the sportsbook as a middleman, enabling players to bet directly with one another. Anyone can create a custom wager on GambleFi.io and any other player can take the other side of that bet.
What's really unique about GambleFi.io is that it offers zero-loss betting. If a player wins their wager, they earn crypto just like they would at one of the best Bitcoin NFL betting sites. However, if they lose their bet, they get a rebate for the amount they wagered. It's win or break even, with no chance of losing money.
GambleFi.io funds this zero-loss betting system by taking a cut of every wager's payout for its treasury. The treasury is also used to pay out generous rewards to players who stake the platform's $BETIFY token.
GambleFi's price has been trending downward in recent months, and the token is currently listed only on decentralized exchanges. For investors, this looks like an opportunity to buy $BETIFY tokens at a discount. A centralized exchange listing could send the token price shooting higher.
5. Decentral Games - Play ICE Poker in the Decentraland Metaverse and Win High-tech Prizes
Decentral Games is the platform behind ICE Poker, an incredibly popular poker game in the Decentraland Metaverse.
In order to play ICE Poker, players have to do a few things. First, they need to create an avatar in the Decentraland metaverse. Players can customize their look using free and collectible NFTs, which is almost as fun as the poker game itself.
To get a seat at the table, players must have an ICE Poker wearable NFT. These can be purchased or borrowed at most major NFT marketplaces.
Players can choose from two poker gaming modes: challenge mode and arcade mode.
With challenge mode, ICE Poker players receive free chips each day and win prizes as they complete poker challenges. There's no money at risk.
In arcade mode, players face off against other poker players in tournaments. The top 2 players in each tournament earn prizes like a MacBook Pro, iPhone 14, and more.
Decentral Games also offers the $DG token, a governance and staking token that provides token owners with rewards from the project's treasury. In effect, owning $DG gives players access to a slice of the revenue earned from everyone who buys ICE Poker wearables and plays in tournaments.
Decentral Games is transparent about its revenue—last month, the platform earned about $107,000, which it then distributed to $DG stakers.
Investors can buy $DG on most major exchanges. It's down more than 50% over the past 12 months, but appears set to make a roaring comeback when the crypto winter ends.
6. CasinoCoin - Ripple-based dApp Streamlining Crypto Betting Across Multiple Casinos and Sportsbooks
CasinoCoin is another GambleFi token that's making it easier and cheaper for players to access their favorite decentralized gambling platforms.
CasinoCoin offers its own crypto wallet, which enables players to move seamlessly between gambling dApp platforms with a one-tap sign-up. Players can use whatever cryptocurrencies they already own to play, while gambling platforms benefit from the security and decentralization of CasinoCoin's wallet.
Importantly, CasinoCoin's wallet is built on XUMM, the blockchain built by Ripple for facilitating cross-border transactions. Using XUMM allows CasinoCoin to manage deposits and withdrawals with almost no fees compared to traditional online casinos. So, players can deposit and withdraw funds without paying huge gas fees.
CasinoCoin differs from GambleFi tokens like FUNToken in that it's designed for the regulated gambling industry. So, it does require KYC information, meaning players can't join anonymously. However, this also makes CasinoCoin potentially less prone to regulatory action in the future.
CasinoCoin's $CSC token is down more than 60% over the past year, but the token could jump after a recent favorable court ruling in Ripple's lawsuit against the SEC since CasinoCoin is built on Ripple's blockchain.
7. Polker - Free P2E Poker Platform Built on Unreal Engine
Polker is a play-to-earn poker platform that allows anyone to join and earn collectible NFTs.
Unlike many other GambleFi platforms, Polker doesn't actually involve gambling crypto. So, it's the perfect platform for players who want to try their hand at decentralized poker without risking real money.
The platform offers many different ways to play and earn, including adventure mode, tournament play, custom rooms, and more. Players can compete against each other and against virtual characters in poker games with unusual rules and twists. It's also possible for players to host their own custom poker tables and make up their own rules.
Polker's $PKR GambleFi token brings a lot of value for investors. 20% of all the platform's revenue is used to buy back $PKR tokens on the open market, pushing up the value of the coin. On top of that, 50% of all $PKR tokens will eventually be burned to make the token deflationary.
8. Zen Sports - Create Any Wager through Decentralized, Peer-to-peer Sportsbook
Zen Sports is a decentralized sportsbook that offers players many different betting options. Like traditional online sportsbooks, players can bet against the house on standard moneyline, over-under, futures, and prop bets.
On top of that, players can also create custom wagers for anyone to take the other side of. This makes it possible for anyone to create or take a wager that doesn't exist at any other sportsbook.
Zen Sports sweetens the deal for players by offering 3% cash back on every lost wager, including peer-to-peer bets. Players will also earn 5% cash back on every wager they place in their first 15 days of joining Zen Sports as a welcome bonus.
Zen Sports' $SPORTS token has been one of the hottest GambleFi tokens recently, gaining nearly 400% in the last 12 months.
What are GambleFi Tokens?
GambleFi tokens are cryptocurrency tokens associated with decentralized gambling platforms. The term GambleFi was originally introduced by the GambleFi project as a play on the terms DeFi (decentralized finance) and GameFi (gaming finance).
Currently, most GambleFi tokens are built around betting on casino games, poker, and sports. However, it's possible that GambleFi could expand to include other types of betting. For example, non-traditional casino games like crash are increasingly popular.
Some GambleFi projects are decentralized casinos or sportsbooks themselves. These platforms may achieve decentralization by sending wagers to a treasury, which can then be distributed to investors who own the project's tokens.
Other platforms achieve decentralization by offering peer-to-peer betting, in which players bet directly against one another by taking opposite sides of a wager.
An increasing number of GambleFi tokens and dApps support decentralization within the gambling industry and grow the overall market for blockchain-based gambling.
Why Invest in GambleFi Crypto Coins?
Investors have a lot of opportunities in the crypto space, especially now that the crypto winter is coming to an end. So, why should investors choose GambleFi as the best niche to invest in?
This market presents a potentially great opportunity for investors. Let's take a closer look at why GambleFi coins are so hot right now.
Access to the Fast-growing Gambling Market
According to Grand View Research, the global online gambling market is expected to grow at a compound annual growth rate of 11.7% between now and 2030, ultimately reaching a value of $153 billion by the end of the decade.
That's fueled in large part by growth in the sports betting market, which Grand View Research estimates is growing at a rate of 10.3% per year.
Most investors won't be able to get in on this growth by buying a casino or sportsbook—that simply isn't feasible. But GambleFi tokens offer an accessible way to invest in the growth of online gambling. Anyone can buy GambleFi tokens from a centralized or decentralized crypto exchange.
On top of that, many GambleFi tokens are 100% community-owned and the projects distribute their profits directly to token holders. So, when investors own GambleFi tokens, their investment earnings can be directly related to the success of the decentralized gambling industry.
Opportunity for Staking Rewards
One of the key ways that GambleFi projects distribute their profits to token holders is through staking rewards. Many of the best GambleFi coins are ERC-20 tokens that use staking to validate transactions and secure the project.
Staking rewards can be significant, especially if a GambleFi project has a large volume of betting action. A portion of every bet ends up in the project's treasury, and the rewards paid to stakers are typically dependent on the size of the treasury.
Win Money and Prizes from Wagers
While most GambleFi projects don't require players to own the platform's token to play, some do. In that case, investing in a GambleFi token can open the door to fun casino games, poker play, sports betting, and more.
Most GambleFi tokens pay out real winnings to players in the form of cryptocurrency or prizes. That means that investing in GambleFi isn't just a chance to earn a return on an investment—it's also an opportunity to play and win real money.
Eliminate KYC Requirements
Another important benefit of GambleFi projects is that they typically lack the KYC requirements of most online casinos and sportsbooks. In other words, players don't need to give their name or address or share a copy of their ID when signing up to wager. They can play in complete anonymity.
That's good news for investors as well as players. Many bettors prefer to wager privately, so they're more likely to turn to GambleFi projects that don't have KYC requirements. As more players turn to GambleFi platforms, investors stand to benefit from appreciation in their tokens and increased staking rewards.
How to Find the Top GambleFi Cryptos to Invest in
The GambleFi sector is still a relatively new area within the crypto universe. So, there aren't that many projects for investors to explore—at least for now.
So, investors can start their search for GambleFi projects using market monitoring sites like CoinMarketCap. These platforms often list coins by category, and a growing number of sites now keep a list of gambling-related projects.
Another way to find top GambleFi projects is to follow our coverage at Crypto News. We've highlighted the best crypto casinos, NFT gambling sites, crypto NFL betting sites, and more. While not all casinos and sportsbooks offer GambleFi tokens, many platforms are working to become more decentralized and offer tokens to investors.
Are GambleFi Coins Safe to Trade? Potential Risks & Things to Bear in Mind
GambleFi coins are like any other cryptocurrencies in terms of safety. All of these coins are backed by blockchain technology—many of them by the widely used Ethereum blockchain—and trade on trusted decentralized crypto exchanges.
That said, there are some important things traders should keep in mind when trading GambleFi coins.
First, GambleFi is a relatively new category of crypto tokens. There is no guarantee that this sector of the market will gain popularity or that specific tokens will gain value. Investors should assume all money they invest in GambleFi tokens is at risk.
GambleFi tokens could also face regulatory risks. Although a recent court ruling in the US found that not all crypto tokens are securities, the relationship between GambleFi tokens and gambling means that they could come under scrutiny from gaming authorities.
Many GambleFi platforms do not follow KYC rules and are not licensed by casino or sports betting regulators. So, investors should be aware that the platforms behind these tokens could face future legal or regulatory actions.
Conclusion
GambleFi tokens give investors a way to get in on the boom in crypto casino gambling and sports betting. With many projects, investors can stake GambleFi tokens and earn rewards paid out from wagering revenue.
The best GambleFi project to check out today is Mega Dice. Mega Dice is a Telegram casino with thousands of games and a 1 BTC welcome bonus. It doesn't offer its own GambleFi token yet, but Mega Dice looks like it could be the future of crypto gambling.
References
https://www.reuters.com/legal/us-judge-says-sec-lawsuit-vs-ripple-labs-can-proceed-trial-some-claims-2023-07-13/
https://g3newswire.com/roundtable-the-rise-of-non-traditional-casino-content/
https://www.reuters.com/business/finance/signs-crypto-winter-ending-regulatory-fog-begins-lift-2023-07-14/
https://www.grandviewresearch.com/industry-analysis/online-gambling-market
https://www.grandviewresearch.com/industry-analysis/sports-betting-market-report
https://casino.betmgm.com/en/blog/player-identity-verification-online-casino-games/
https://news.bloomberglaw.com/crypto/ripple-token-is-a-security-in-institutional-sales-judge-rules
FAQs
What is GambleFi crypto?
GambleFi crypto tokens are coins issued by a decentralized casino or sportsbook or another gambling platform. They typically offer staking rewards to investors, making these tokens potentially lucrative investments.
What are the best GambleFi coins?
The best GambleFi coins in 2023 are $BCB, $FUN, and $BETIFY. Investors should also check out Mega Dice, which has one of the best Telegram casinos and accepts several popular cryptocurrencies for play.
Disclaimer: The Industry Talk section features insights by crypto industry players and is not a part of the editorial content of Cryptonews.com.
---