Best Crypto to Buy Now 3 July – Compound, The Graph, Filecoin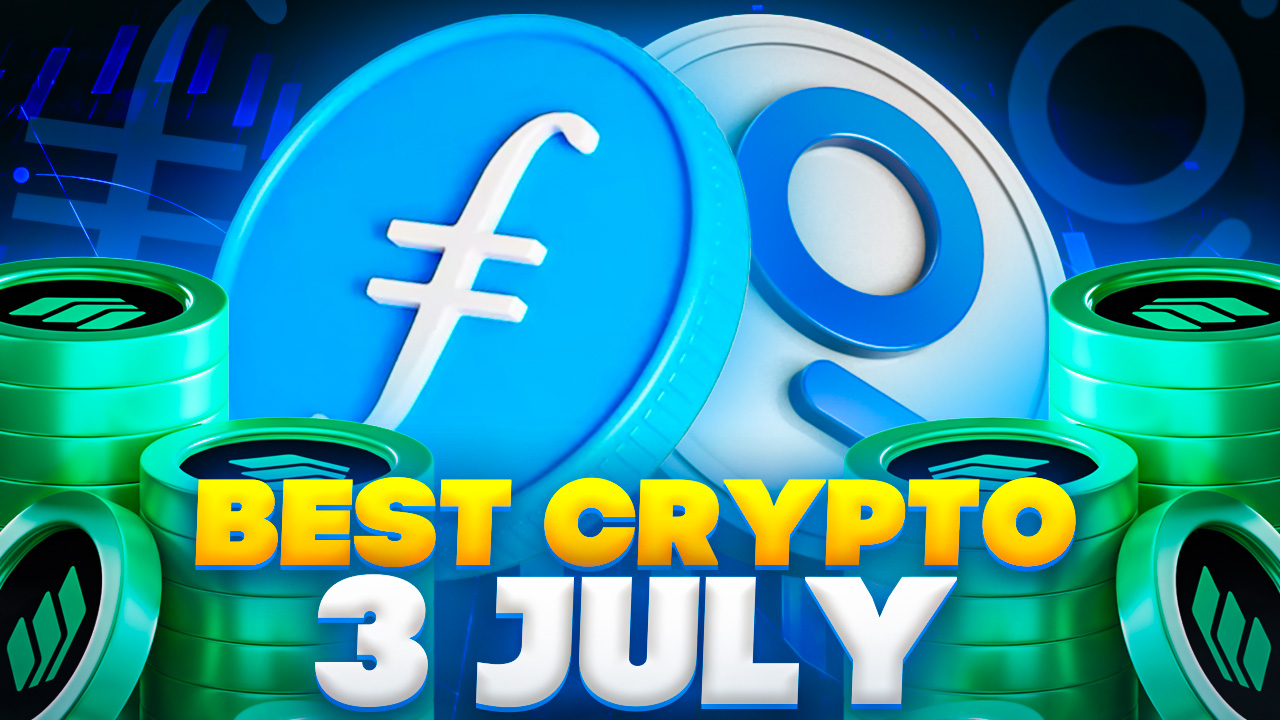 Bitcoin (BTC) and ether (ETH) are both trading with a positive bias amid a quiet start to the week.
BTC was last hovering in the upper $30,000s, close to its recent highs above $31,000, while ETH just hit its highest level since May in the $1,970s, with the world's second-largest cryptocurrency looking to retest the $2,000 level.
Tuesday is independence day in the US, so crypto trading volumes will likely be low amid market closures.
But a bombardment of key macro events is coming later this week, including Fed meeting minutes on Wednesday, US ISM Services PMI and JOLTs jobs data on Thursday and the official US jobs report on Friday.
While the first two days of the week are expected to be quiet for crypto markets, the second half of the week could see a pickup in volatility.
For crypto investors keen to diversify their holdings away from blue-chip names like bitcoin and ether, here are some of the best coins to consider buying on Friday.
Compound (COMP)
Compound (COMP), the token that powers the Compound Finance decentralized finance (DeFi) lending/borrowing protocol, has been pumping in recent weeks and just hit its highest level since last August.
COMP was last trading on major crypto exchanges around $63 per token, up and impressive near 170% from its June lows around $23.
If the cryptocurrency can decisively break above resistance in the $70 area, the door could be open to a quick run back towards $100.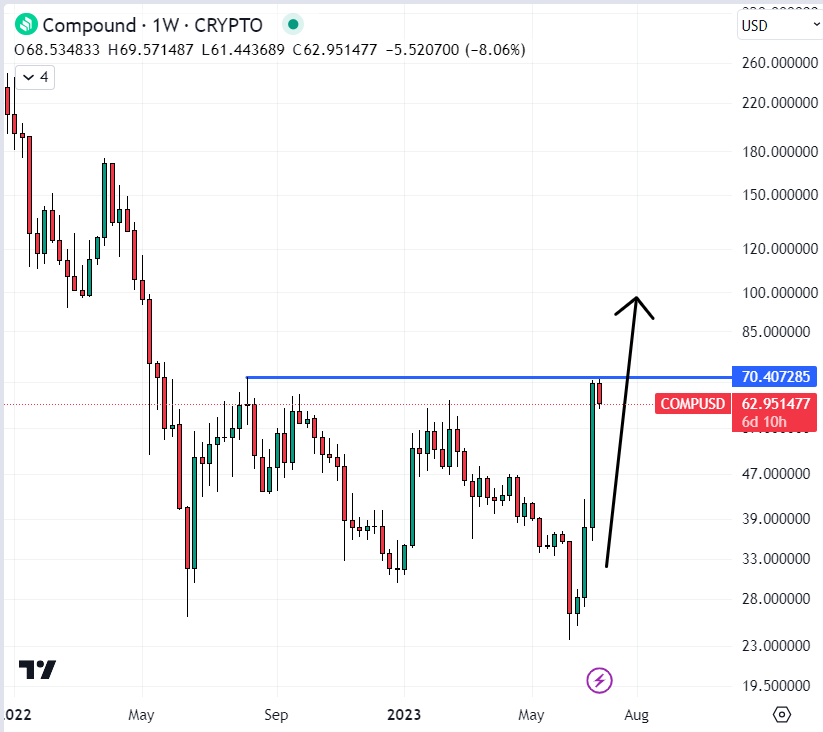 Wall Street Memes ($WSM)
Wall Street Memes, one of the internet's hottest retail investing communities, rose to prominence in the meme stock craze of 2021 and has recently been expanding its relevance in the cryptocurrency space with the presale of its new $WSM token.
The success of the $WSM presale, which has raised more than $12 million in just over one month, isn't surprising given the size of Wall Street Memes' community.
Not only are there 523k hyper-engaged community members on its wallstbets Instagram account, there are another 214k on Twitter and more than 100k across its two other Instagram channels, wallstgonewild and wallstbullsnft.
All told, Wall Street Memes has a 1 million-strong social community of degens, which analysts think all but guarantees that the $WSM token will be listed on tier 1 crypto exchanges like Binance.
With 30% of the token supply being held back for community rewards, it can reasonably be expected that airdrops to holders will be a big part of the ecosystem.
Indeed, the first $WSM airdrop is open now.
Analysts are already predicting big things for Wall Street Memes when it lists on exchanges and you can be a part of it.
The Graph (GRT)
GRT, the cryptocurrency that powers the decentralized blockchain data indexing and querying protocol The Graph, has been pumping in the last two days.
GRT/USD was last at $0.135, up nearly 30% in two days and now up around 50% from June's lows under $0.09.
The cryptocurrency is in the process of confirming a bullish breakout above a downtrend from the yearly highs.
If confirmed, GRT could quickly surge towards $0.23.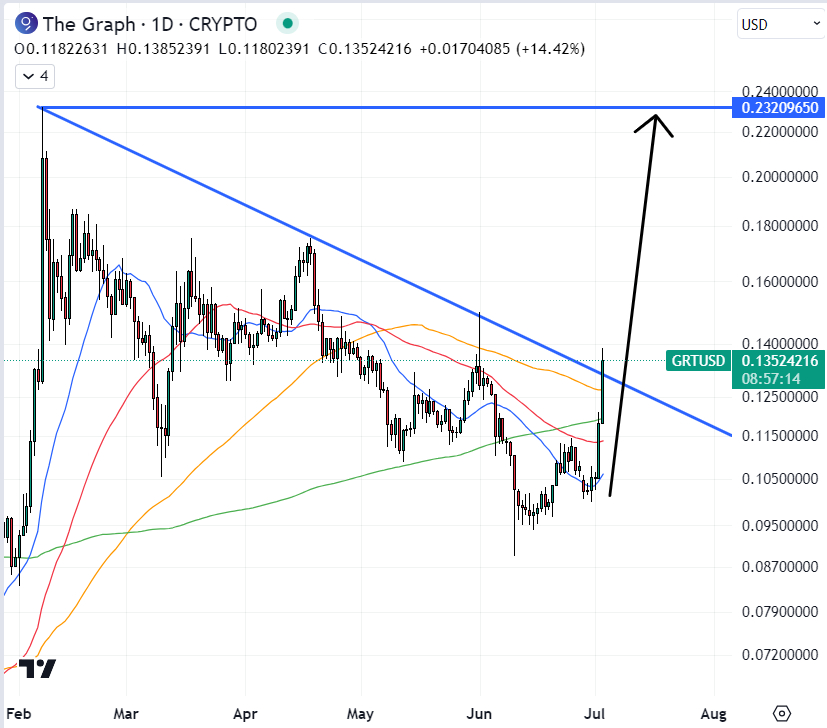 Ecoterra ($ECOTERRA)
As outlined in the project's whitepaper, ecoterra is building an all-in-one $ECOTERRA-powered green web3 ecosystem, designed to encourage recycling via its first-of-its-kind Recycle-to-Earn (R2E) app.
The platform will also facilitate trade in recycled materials and encourage individuals and businesses to offset their carbon footprint.
And the project's presale of its native $ECOTERRA token has been absolutely flying.
Sales recently surpassed $5.7 million, a strong vote of confidence from the crypto-investing community in the project's vision.
Observers expect the pace of the presale to pick up now that the project is accepting invitations for users to try out a demo version of the flagship R2E application.
Nascent green Web3 projects such as ecoterra are expected to play an increasingly important role in global efforts to address climate change in the decades ahead, as crypto's broader adoption increases.
Investors have no time to lose if they want to secure their $ECOTERRA bag at a favorable price.
That's because the presale will end when ecoterra's presale hits $6.7 million, a milestone that could be hit in a matter of weeks given the pace at which $ECOTERRA has been selling recently.
$ECOTERRA will then launch across major crypto exchanges next quarter, with many analysts predicting big upside for the token as a broader investor base rushes into to secure one of the crypto industry's most promising green crypto tokens.
Investors can currently secure $ECOTERRA tokens at a price of $0.01 each and get a 10% bonus.
Filecoin (FIL)
Filecoin (FIL), the cryptocurrency that powers the Filecoin decentralized data storage network, has popped close to 20% higher on Monday.
Technical buying as a result of a bullish breakout above a downtrend from the yearly highs could be the catalyst.
For now, the bulls are being kept in check by sell pressure ahead of the 200DMA, which has acted as a key level of support and resistance in recent months.
A break above here could bring a retest of earlier yearly highs in the $9.45 area back into play.
---