Beaxy Exchange Adds Support for Six National Currencies
Disclosure: Crypto is a high-risk asset class. This article is provided for informational purposes and does not constitute investment advice. By using this website, you agree to our terms and conditions. We may utilise affiliate links within our content, and receive commission.
Disclaimer: The text below is a press release that was not written by Cryptonews.com.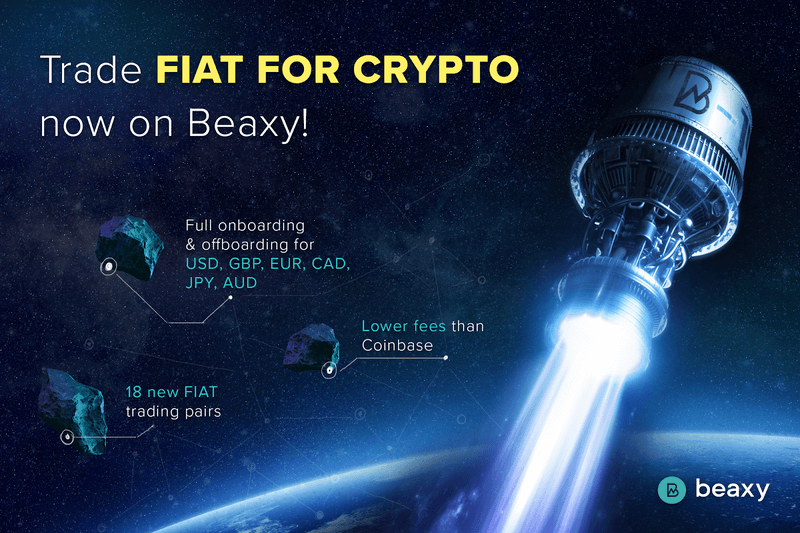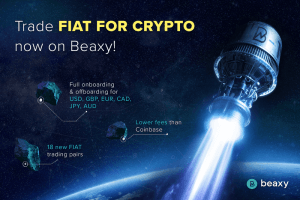 Beaxy Exchange's mission is to help cryptocurrency traders and investors build their financial future. By increasing their exposure to a diverse range of assets, providing them with assistive trading tools, and giving direct & consistent support, Beaxy demonstrates not only the right care for the well-being of the community but their commitment to helping its clients improve their life.
Becoming a Global Fiat to Crypto Ramp
Since launching in 2019, Beaxy, the AI-driven cryptocurrency exchange, has sought to help cryptocurrency traders build their financial future. They are driven by the belief that cryptocurrency is the future of finance and commerce. Cryptocurrencies are knocking harder at the door of the existing financial systems, and with the rise of the DeFi industry, cryptocurrencies are becoming increasingly capable of democratizing finance and banking the unbanked. As such, Beaxy Exchange has been focused on trader's ability to safely transition between cryptocurrencies and fiat in order to partake in this financial revolution.
Beaxy is going after a critical layer of friction that hinders the widespread adoption of cryptocurrency. That is the ability to transition between cryptocurrencies and fiat currencies quickly and with low fees. Going beyond that, Beaxy has built the first truly global fiat to crypto on and off-ramp that enables its clients to deposit, withdraw, and trade cryptocurrencies with six major national currencies regardless of the traders location or country of residence.
Beaxy Exchange has taken note of trader's appetite for a wider variety of national fiat options that can be used to take advantage of global mispricing and foriegn exchange arbitrage opportunities. This is a unique implementation in the world of crypto exchanges. Many exchanges offer support for multiple national currencies, but no others provide access to them outside of the countries the currency is based in. For example, Coinbase offers cryptocurrency to fiat trading pairs for USD, EUR, and other national currencies. However, US clients of Coinbase can only transfer their holdings in USD. Breaxy Exchange gives access to multiple global currencies, ultimately giving traders more options and a higher degree of flexibility with their decision making. This could also work to bring more FOREX-dedicated traders over to the cryptocurrency markets.
Coming Soon to Beaxy: ACH Deposits and Withdrawals
In collaboration with their US Trust partner, Prime Trust, Beaxy introduced it's three-phase fiat to crypto rollout plan in a press release that was issued on August 3rd, 2020.
Phase One: Support Added for USD
In the first phase, the US-based trading platform opened deposits, withdrawals, and trading support for USD. This featured three USD trading pairs; BTC-USD, Ethereum-USD, and BXY-USD. BXY is the native asset for Beaxy Exchange and is used by its traders to receive discounts on trading fees and earn loyalty rewards by keeping them locked. Currently, Beaxy's clients can add and remove fiat currency from their account via wire transfers, which are generally executed in less than 24 hours.
Phase Two: Support Added for Six National Currencies
In the second phase of the rollout plan, Beaxy added deposit, withdrawal, and trading support for five additional fiat currencies. Which include: the Euro, Great British Pound, Japanese Yen, Canadian Dollar, and the Australian Dollar. This makes Beaxy the only cryptocurrency exchange to offer six major global fiat currencies to retail users as the quote currency of a crypto to fiat trading pair. It also provides traders all around the world with the ability to safely and easily convert crypto into these major national currencies. It is also worth mentioning that fiat holdings on Beaxy are backed by FDIC insurance up to $250,000. This added benefit is provided through Beaxy's partnership with Prime Trust to ensure that funds held on the exchange are protected.
Phase Three: ACH Fiat Transfers Are Enabled
In the final phase of Beaxy's global fiat currency deployment, ACH transfers will be integrated for depositing and withdrawing the six national currencies that are available on the platform. Making the process of moving global currencies in and out of crypto faster, cheaper, and more convenient.
What Does This Mean for You?
The global cryptocurrency community can now benefit from the convenience of wiring your USD, EUR, GBP, JPY, CAD, and AUD directly from your bank to your Beaxy Exchange account to purchase your cryptocurrencies with ease. As a lower-fee option, trader's increase their profit margins by spending less on trading fees and no longer need to purchase cryptocurrencies elsewhere, only to lose money on the network fees when transferring them to a different wallet. With trader's paying a fee of 25 basis points to exchange crypto and fiat, Beaxy's trading fees are 50% less than Coinbase.
As a trader, you can now enjoy the benefits of Beaxy's globally sourced liquidity that provides tighter spreads and greater depth that allows you to enter and exit a position at more competitive levels. As well as the peace of mind knowing your fiat holdings on Beaxy Exchange are backed by FDIC insurance up to $250,000 per account.
Move Your Fiat on Beaxy Exchange
Beaxy believes that cryptocurrencies can thrive alongside national currencies. As such, their aim is to reduce that layer of friction between crypto and fiat currencies to the fullest extent possible. By providing an on and off-ramp for currencies that are used by more than one billion people worldwide, Beaxy took a giant leap in the right direction. The cryptocurrency exchange will continue working to close the gap between cryptocurrencies and the legacy financial system.
Check out Beaxy's BTC to USD trading pair and create your free account today to access the only cryptocurrency trading platform that provides retail traders with the opportunity to take advantage of truly global fiat to crypto trading.
Want to trade with a bigger stack? For a limited time, Beaxy Exchange is matching deposits with USDC up to $500. Opt-in to the Match Bonus program today, and initiate a deposit with fiat, cryptocurrency, or credit to receive up to 500 USDC in bonus funds!
---