Beating Pepe, SpongeBob on CEXs Quicker – LBank Exchange Listing Confirmed Today After Price Pumps 1,000% in 3 Days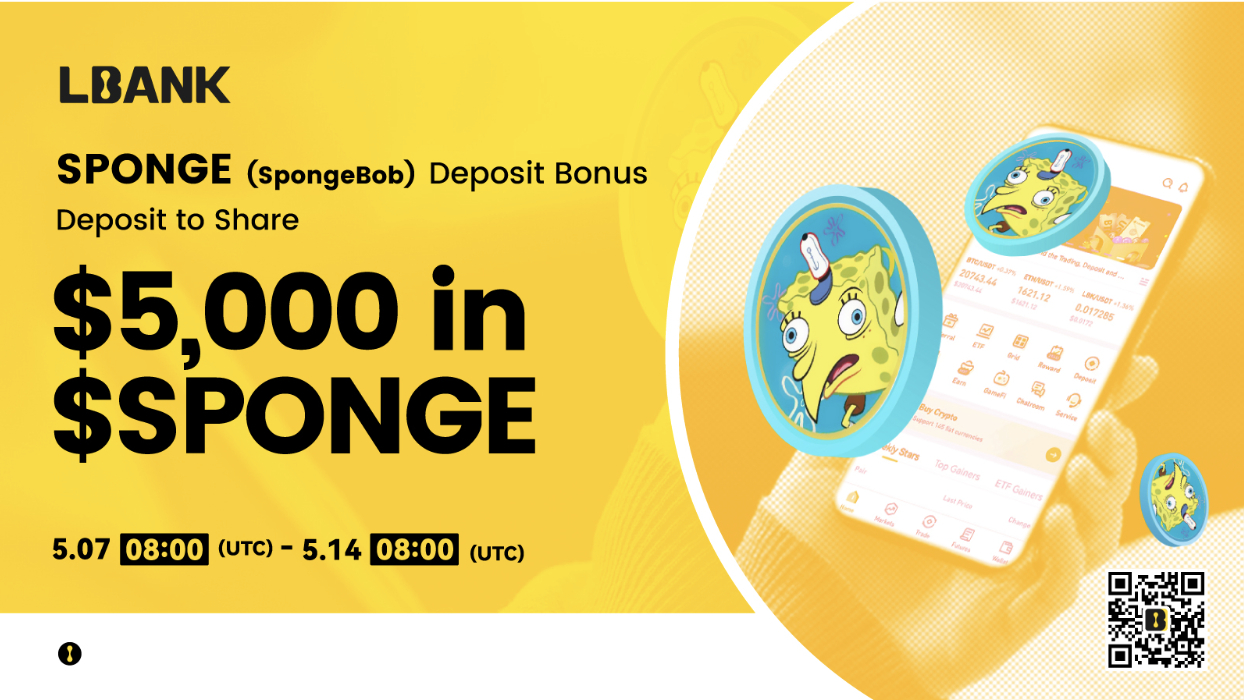 Sunday May 7th 2023 – Exploding meme coin $SPONGE launches today on the LBank centralized exchange (CEX) at UTC +8, Sunday May 7th.
Hong Kong-based LBank is the 16th-ranked exchange globally according to CoinMarketCap with 24-hour trading volume in excess of $800 million.
Get ready for trading by heading over to LBank and deposit now to share in the $5,000 bonus.
There's also more free money to be had by taking part in the SpongeBob meme contest with 50 $100 prizes up for grabs for the best Spongebob memes.
The SpongeBob token has come from nowhere to command a market cap of $27 million only three days after launching on decentralized exchanges.
Amazingly, SpongeBob has beaten Pepe in the time it has taken to secure its first CEX listings.
A rising clamor of listing inquiries are thought to be coming in at $SPONGE central.
Now talk of a Binance listing looming in the days ahead swirl, as the coin looks forward to a market cap in the hundreds of millions of dollars.
Yesterday SpongeBob blasted its way into the top 10 meme coins table rankings on CoinMarketCap yesterday, outperforming even Pepe in terms of its speed of ascent.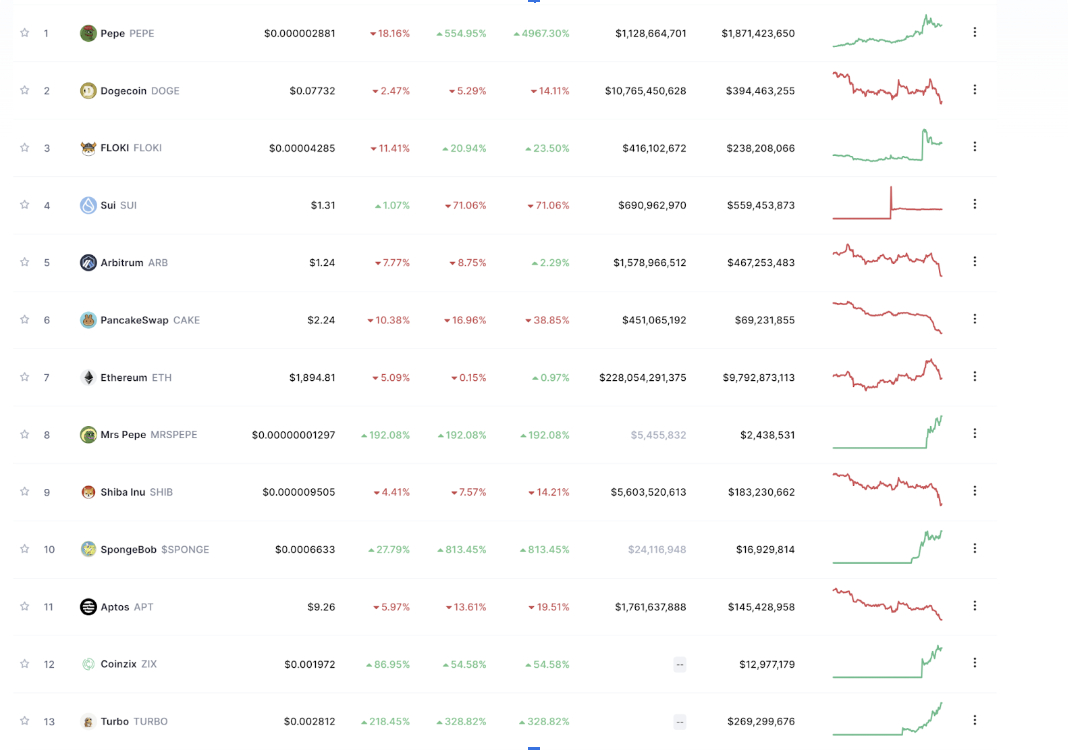 The Pepe-beating coin is currently the 6th-ranked meme coin by 7-day return, having shot up 814%.
Three effortless CEX listings in the bag – more big announcements coming
This latest news comes after the coin was fast-tracked for listing by exchanges taken aback by the mounting buying interest in the coin and the fat liquidity behind the project.
CoinW, ranked 23rd, and Toobit, ranked 32nd, both listed $SPONGE yesterday, a move that has come as a blessing for DEX buyers of modest means who were struggling with paying gas fees that were as high as $155 yesterday.
There are persistent rumors that the team behind Shiba Inu has a hand in the SpongeBob project.
Original meme coins Dogecoin and Shiba Inu are seeing trading volumes stall and prices slip as the price action – and in particular whale activity by deep-pocket traders – turns to the new offerings.
As seen below, buy orders in excess of $100,000 are becoming a regular occurrence for SpongeBob. One whale spent $338,723 to plant a flag in the $SPONGE bull run.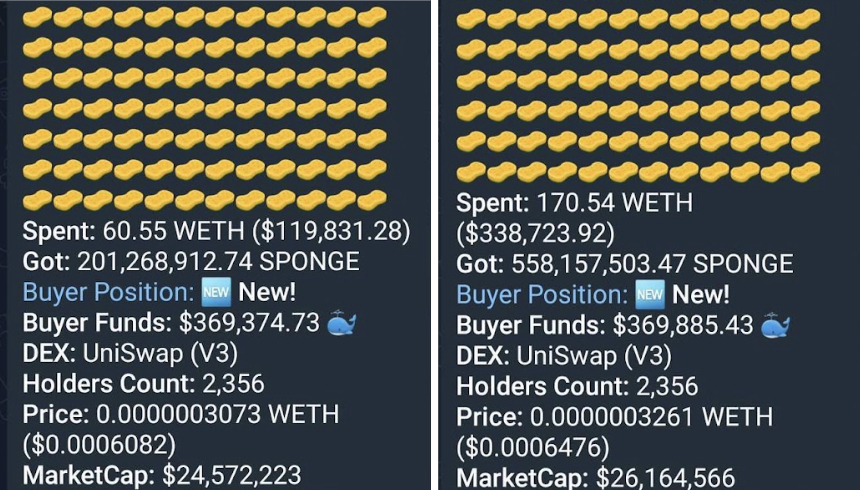 Parabolic returns as buyers flip from Pepe to $SPONGE
Crypto traders and investors who missed out on Pepe, Wojak, Pooh and Turbo, are turning to $SPONGE in droves, as evidenced by this recent message on the project's Discord server.
Analysts predict great things for SpongeBob, with gains that look set for parabolic returns on investment for early investors for a coin that is still only three days old.
$SPONGE was trading at No.3 on Twitter in India, as the hype began to traverse the world.
LBank's base in China is also sure to help boost buying in Asia too.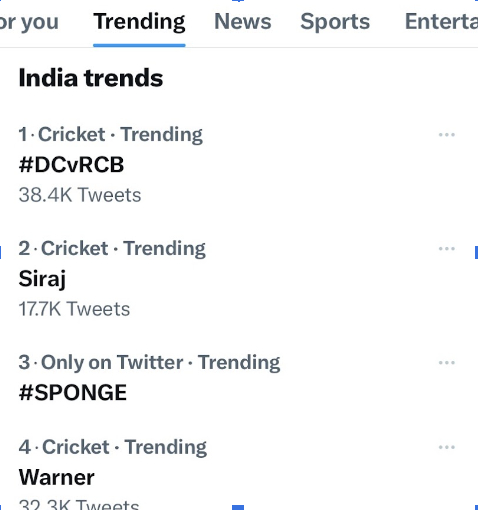 Exchanges compete to be first to list hot meme coin $SPONGE
Such is the melt-up in activity surrounding the new breed of meme coins represented by Pepe and $SPONGE, the Ethereum network is getting busier by the day, pushing up gas fees.
Crypto socials are lighting up with chatter about $SPONGE being the next Pepe coin. Pepe has seen gains of 7,000% while SpongeBob in its brief life to date has pumped as much as 1,000%.
SpongeBob is growing at a faster rate than Pepe as measured by a number of important metrics, chief among them time it has taken to get its first CEX listing mentioned above.
Pepe is now listed on both Binance and Kucoin, as competition among exchanges to list coins at the center of the new meme frenzy.
Rumors are circulating of more $SPONGE listings in a matter of days and hours.
Assuming a similar trajectory to Pepe, it is not fanciful to expect $SPONGE to start appearing on top 10 exchanges such as Kucoin and Binance.
Incredible! SpongeBob has better liquidity than Pepe
In many ways $SPONGE is superior to Pepe.
While Pepe has a token supply of 42 trillion (420,690,000,000,000), $SPONGE's is a relatively modest 40.4 billion (40,400,000,000).
Those tokenomics make $SPONGE a psychologically more appealing token to trade for many.
Then there's the fact that $SPONGE is up 40% at $0.0006575 in the past 24 hours but Pepe is down 14%.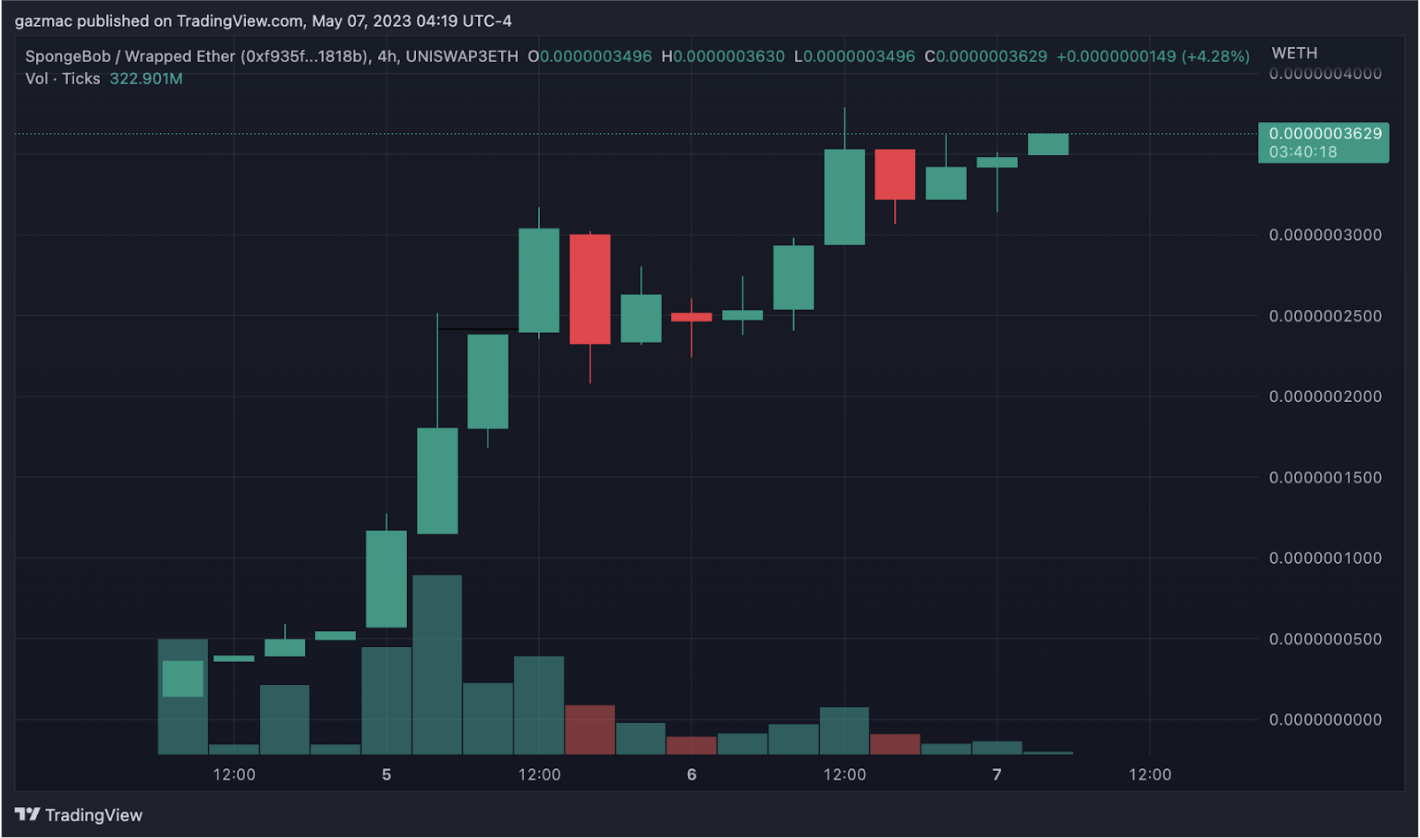 However, the killer metric is liquidity.
As alpha group tipster Captain Clutch pointed out a couple of days ago that $SPONGE had half the liquidity of Pepe but only, at that time, 100th of its market cap. See the data in the screenshot below.
The market cap of $SPONGE has since risen to $27 million but so too has its liquidity – now more than $8 million.
This means it is actually safer and likely more profitable to buy $SPONGE than Pepe, because Pepe's weaker liquidity and market depth means it is more prone to whales crashing the price.
Even more enticing, 99.54% of the liquidity is locked.
No.1 wallet commands 29% of supply and is vested for 2 years
Also adding to the stampede of CEXs seeking listings and traders looking to buy the next big thing in meme coins is the fact that the largest wallet is vested for two years, providing yet more incentive for exchanges and traders to enter the market.
The No.1 wallet holds 29% of supply.
Well-connected trader and analyst Captain Clutch told his followers to expect major marketing moves by the mysterious team behind $SPONGE to begin on Monday.
In his most recent tweet he says:
The chance to earn life-changing returns is at hand. Jump on Uniswap or one of the growing list of centralized exchanges listing $SPONGE and make the investment of a lifetime. DYOR.
---