Arbitrum Foundation Eyes Japanese Market for Ethereum Layer 2 Expansion
Disclosure: Crypto is a high-risk asset class. This article is provided for informational purposes and does not constitute investment advice. By using this website, you agree to our terms and conditions. We may utilise affiliate links within our content, and receive commission.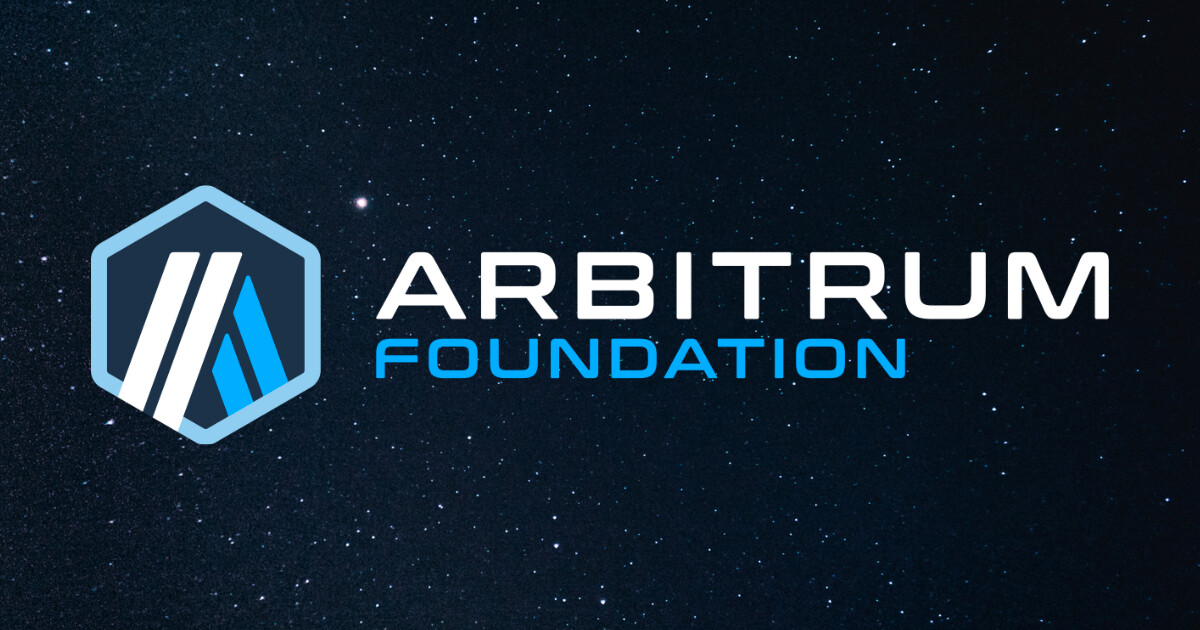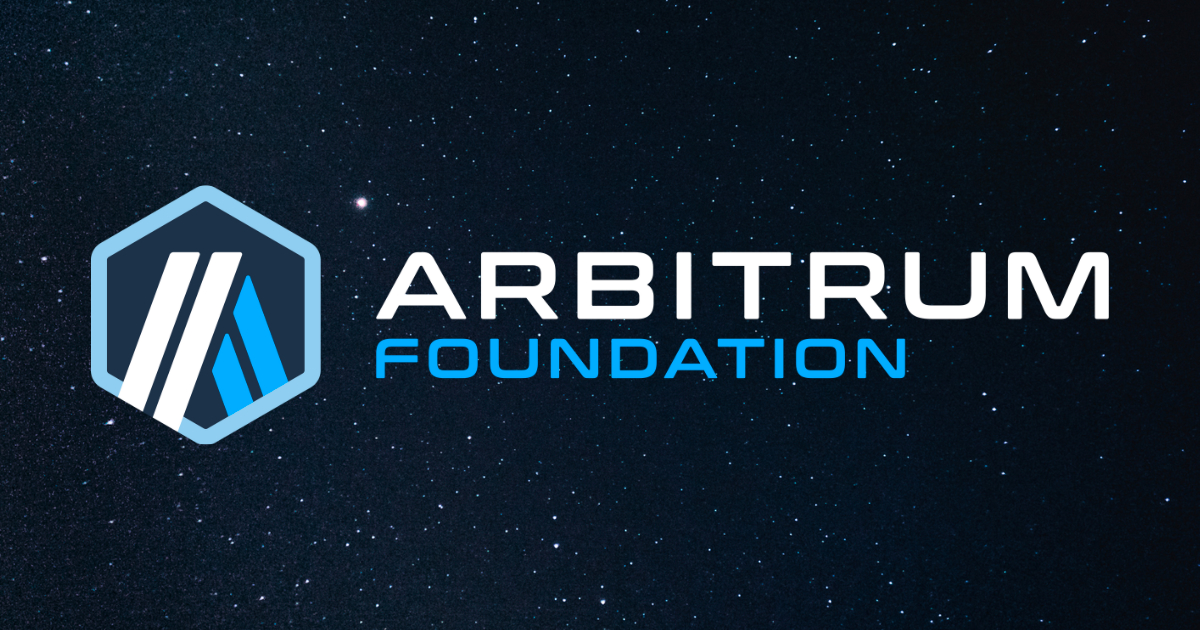 Today, the Arbitrum Foundation, an organization dedicated to supporting Arbitrum, an Ethereum Layer 2 network, announced a strategic partnership with protocol studio Fracton Ventures. 
The collaboration seeks to establish Arbitrum's footprint in Japan, an outcome to be achieved through the launch of Arbitrum Japan, a platform designed to kickstart ecosystem growth and community education initiatives. 
Collaboration to Accelerate Blockchain Adoption in Japan
Arbitrum Foundation's Head of Ecosystem Development, Nina Rong, noted the vast potential inherent in the Japanese market in the press release. 
"In our collaboration with Fracton Ventures, we feel we are uniquely positioned to reach a new demographic of developers, innovators, and blockchain-curious consumers that haven't previously been exposed to the benefits of blockchain technology," she said. "And how Arbitrum has leveraged that tech to become the leading Layer 2 scaling platform throughout the industry."
If you don't want to miss out Arbitrum's new growth plan with Fracton in Japan 🇯🇵 few accounts you should follow:@Arbitrum_jpn – Arbitrum Japan account@wecandaoit – Fracton, trusted partner in Japan@9dai_5 – fren of da show at Fracton@vvinyll – fren of da show at Fracton

— Nina Rong | Arbitrum (💙,🧡) (@nina_rong) September 29, 2023
Siddharth Pillai, Head of Partnerships at Fracton Ventures, expressed confidence in the ability of his organization to successfully deliver the vision of Arbitrum Japan. 
Pillai noted the untapped potential in the Japanese blockchain sector, which has not experienced a great amount of exposure to leading technology and developer tools. The introduction of Arbitrum Japan, he believes, will provide the opportunity to fully harness the power of blockchain within the region.
The partnership between the Arbitrum Foundation and Fracton Ventures is set to adopt a two-pronged approach towards achieving its goals. The first aspect involves business development and ecosystem building, while the second focuses on education and community support.
Fracton Ventures, operating out of Japan, will utilize its network of experts, investors, and developers in the region to grow the Arbitrum ecosystem in the Japanese market. This will involve fostering collaboration between companies operating in the web2 and web3 spaces and is expected to drive business development.
The second prong of the strategy involves the expansion of technical education content through Ask-Me-Anything (AMA) sessions and hackathons. University ambassadors and community managers will also be charged with leading activities to promote the adoption of Arbitrum among consumers.
Japan has established itself as a friendly environment for the growth of the crypto industry. Prime Minister Fumio Kishida expressed optimism about the potential of web3 to transform the internet and contribute to societal change during the WebX conference held in July.
Arbitrum's Journey so Far
Arbitrum's journey began with a token airdrop in March 2023, coinciding with the launch of the Arbitrum Foundation. The airdrop saw 1.16 billion tokens made available as a reward for early users of the Layer 2 network, granting them governance powers on the DAO which controls the Arbitrum One and Nova networks.
Despite experiencing some controversy early on, Arbitrum has made important progress, dominating the Ethereum Layer 2 scaling market in terms of total value locked (TVL).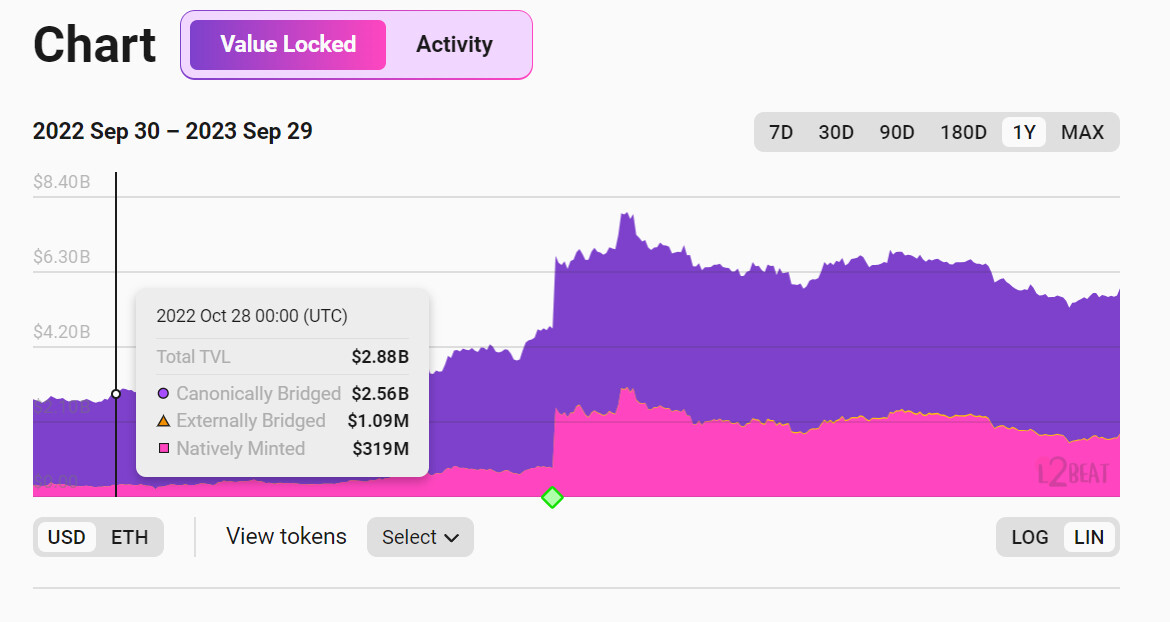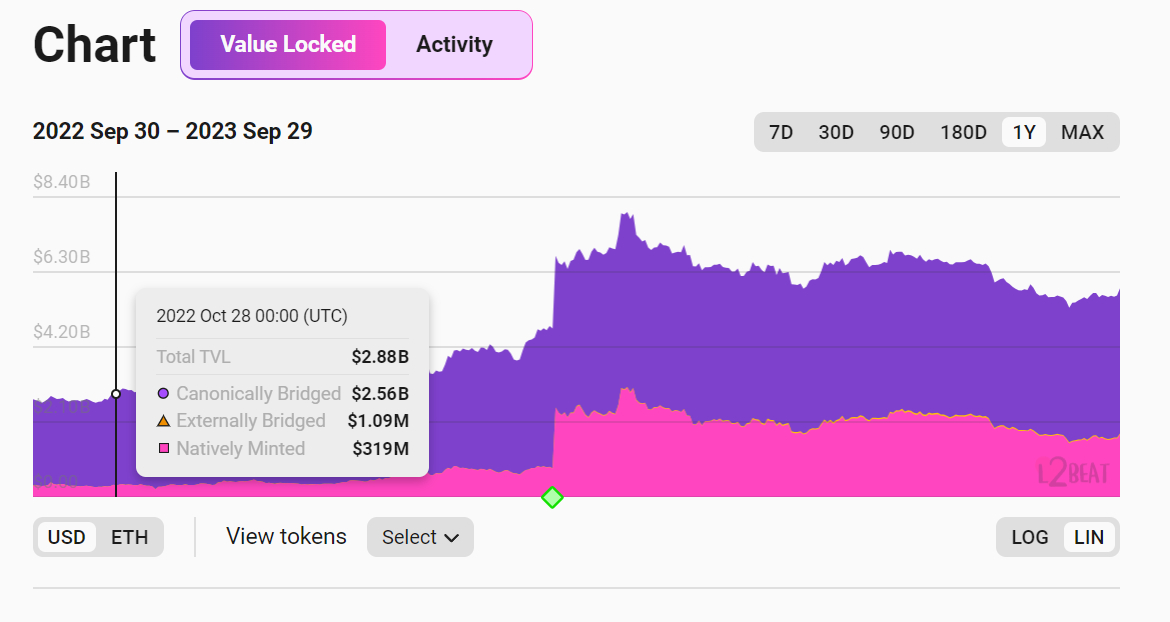 As of today, Arbitrum boasts a TVL of $5.9 billion across Layer 2 chains, according to L2BEAT, placing it ahead of rivals such as Optimism and Coinbase's Base.
The strategic partnership between the Arbitrum Foundation and Fracton Ventures holds great promise for the expansion of the Arbitrum ecosystem in Japan. With the right execution, this collaboration could boost the adoption of blockchain technology in the region, creating new opportunities and expanding possibilities for developers and investors.
---