Unleashing the Power of AI and Memes: AiDoge AI Meme Coin Presale Rockets Past $12 Million to Challenge Pepe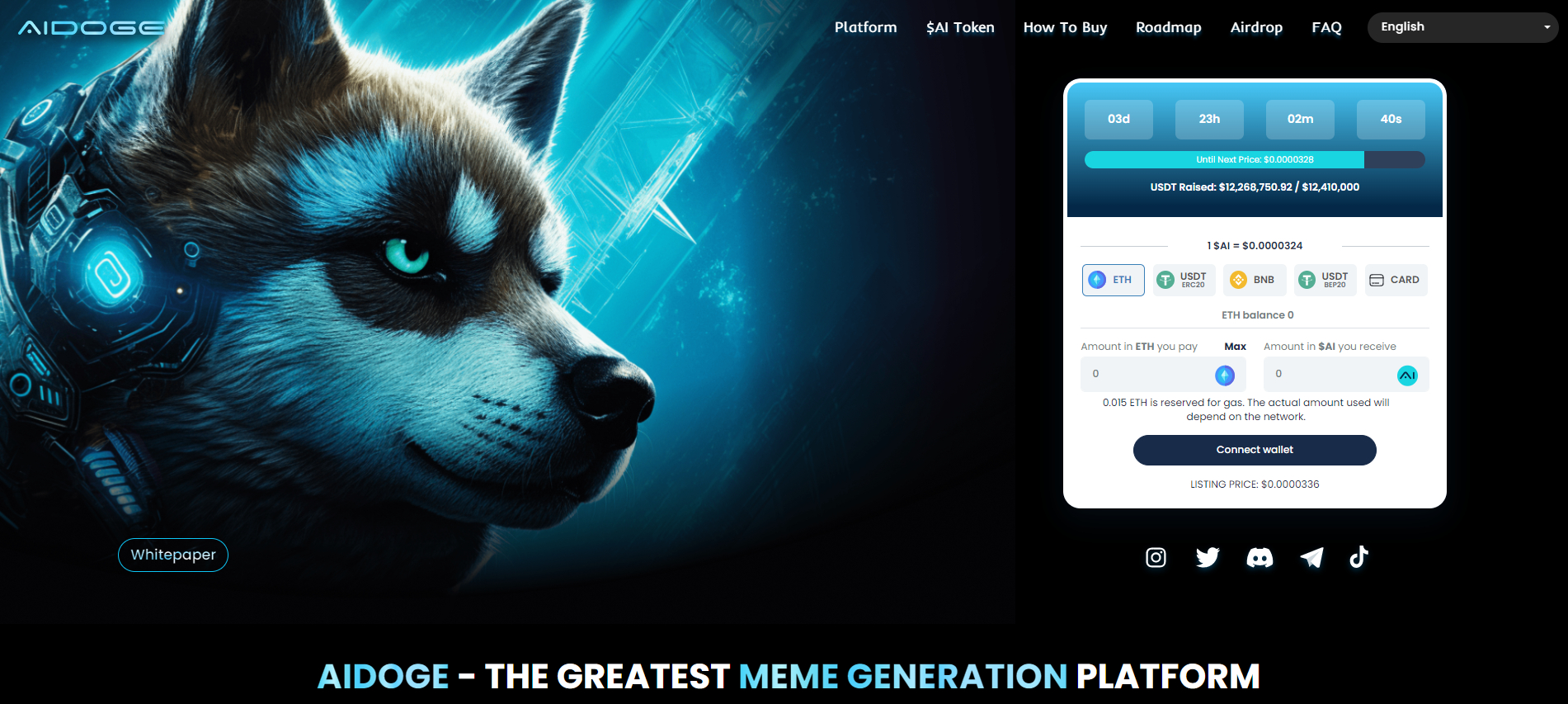 AiDoge, an AI-driven meme-generating crypto project, has successfully raised $2 million within a mere three-day span, pushing its presale total to an impressive $12 million.
With only 20% of the tokens remaining for presale, the clock is ticking for potential investors seeking to secure their stake at the lowest possible prices before the official listing of the AI meme coin.
The project, the first to introduce a meme-to-earn (M2E) ecosystem, has seized the attention of the crypto community—and the pace of funding has accelerated as the presale approaches its conclusion.
AiDoge "employs advanced AI technology for creating relevant memes based on user-provided text prompts," as noted in the project's whitepaper.
As the AI meme coin surpasses the $12 million milestone, it is on the brink of entering its 18th stage, which will commence once the raise hits $12,410,000—a moment that could be mere hours away.
AiDoge, not to be confused with ArbDoge (AIDOGE), has made a strong start in its quest to utilize AI technology to generate internet memes. The presale's success to date reflects the interest in a project that merges the allure of AI and meme coins, arguably the two most popular niches in today's crypto market.
When it comes to crypto portfolio allocation, savvy investors are keen to stake their claims in the most promising sectors to diversify risk and outperform average returns. These astute investors are showing a keen interest in AiDoge as they seek to acquire its $AI meme coin token.
The Market Sentiment and Value Proposition of AI Meme Coins
The market sentiment around meme coins like Pepe and Wagmi continues to be strong as traders search for the next coins that could potentially yield 100x returns.
A similar sentiment is evident in the crypto AI space, with a surge of AI-themed coins, some of which, such as SingularityNet, are reaping the benefits due to their longer presence in the market.
While meme coins are often dismissed as highly speculative trends, this analysis may overlook a key aspect of their inherent value. Memes are an integral part of internet communication and engagement. For meme coins, the name of the crypto and the community built around it are essential.
AiDoge embraces the appeal of meme coins and combines it with AI to create its meme generator technology—potentially becoming a key app in the online world, where the apparent frivolity of memes should not overshadow their real utility as effective and engaging communication tools.
AiDoge is utility-focused, unlike most meme coins, which explains the growing interest its AI meme coin is attracting. Its artificial intelligence focus and scalable use case make it a compelling value proposition. Its native asset, the $AI token, derives its value from being the primary currency of the AiDoge ecosystem.
Future Potential and Unique Business Model
The $AI token is used in three ways: to purchase credits to generate memes using the platform's AI technology; it can be staked to receive rewards and other benefits; and it is the currency in which rewards are paid to community members and creators.
An attractive feature of $AI is that it operates on the Arbitrum network, an Ethereum layer-2 scaling solution. This means that transactions will be faster and gas fees significantly lower than on Ethereum.
Given these factors, analysts are anticipating a significant rise in the AiDoge price. When $AI lists on exchanges at $0.0000336, it will have a $33.6 million fully diluted market cap, based on its total token supply of 1 billion.
Compared to Dogecoin and Shiba Inu, which both have market caps of around $10 and $5 billion respectively, AiDoge has a business model that provides it with ample room for growth.
AI Meme Coins: The Intersection of Memes and AI
AiDoge, which sits at the intersection of the meme and AI worlds, is building a new social platform that allows users to generate memes using AiDoge's advanced generative AI technology.
Users input text prompts to generate memes, making meme creation accessible to everyone. The system has been trained on extensive datasets of images and crypto news.
Once generated, meme creators post their content to the public wall and the community then votes for their favorites. The platform has an in-built mechanism to promote the best memes and reward their creators with $AI meme coin tokens.
As such, AiDoge offers meme creators for the very first time a viable income stream. It also provides verifiable provenance for the memes, thanks to the blockchain technology that underpins the ecosystem.
AiDoge is the world's first and only "meme-to-earn" (M2E) coin, developing a truly unique product that is already a big hit with crypto investors even before the product launches. Opportunities like AiDoge, which can potentially change the way people interact, don't come around that often.
The rise of AiDoge signals a new era in crypto markets. By successfully merging the worlds of AI and memes to create an AI meme coin, AiDoge has created a unique niche for itself. With its presale already surpassing $12 million and a promising future ahead, AiDoge is set to become a significant player in the crypto space.
As the world's first and only M2E AI meme coin, AiDoge is not just a cryptocurrency, but a platform that could potentially redefine the way we interact with memes and the internet.
---